For the last few years, blue has basically become a neutral color. Along with the beiges, blacks and grays, you can find some blue in almost every style of decorating. Maybe you didn't even noticed it when you started. A blue throw pillow, a blue print on the wall. Then you rolled out a blue rug. Next thing you know, you're rolling shades of blue on the walls. But it's not a bad thing, even if you're going off plan to add some blue in your home. This cool shade is associated with feelings of calm and order which is a good vibe for the space you live in. So grab your paint brushes and check out these 20 blue rooms to copy in your home, whether it's a farmhouse or modern paradise.
Classic Style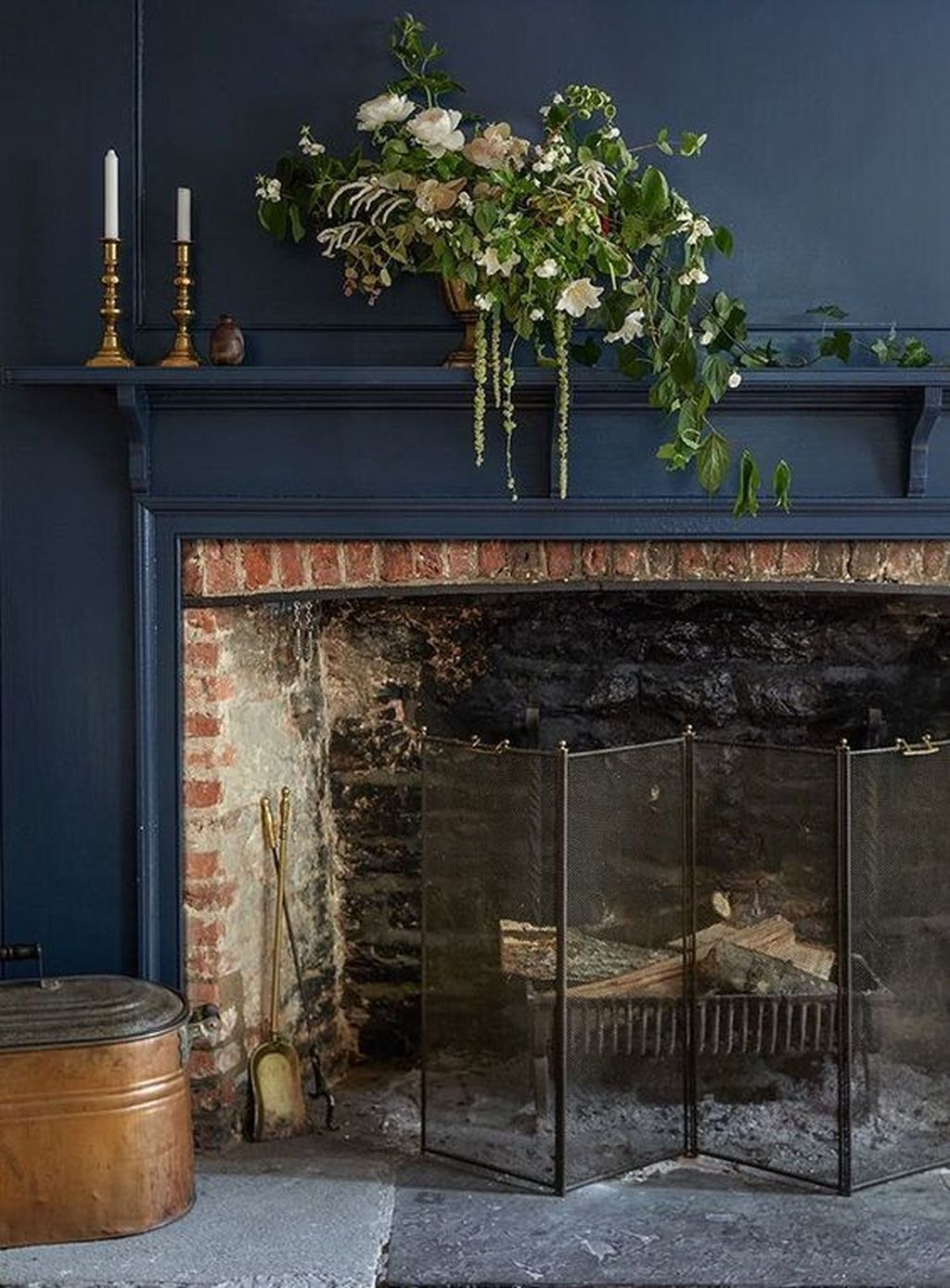 Classic decor might be one of the most common places to find blue walls. Since older homes often display so many imperfections, color and pattern can distract from those and draw attention to the charming details. A dusty navy might seem dark for a classic living room, but with plenty of light, you'll end up with a space that looks like it belongs in the English countryside.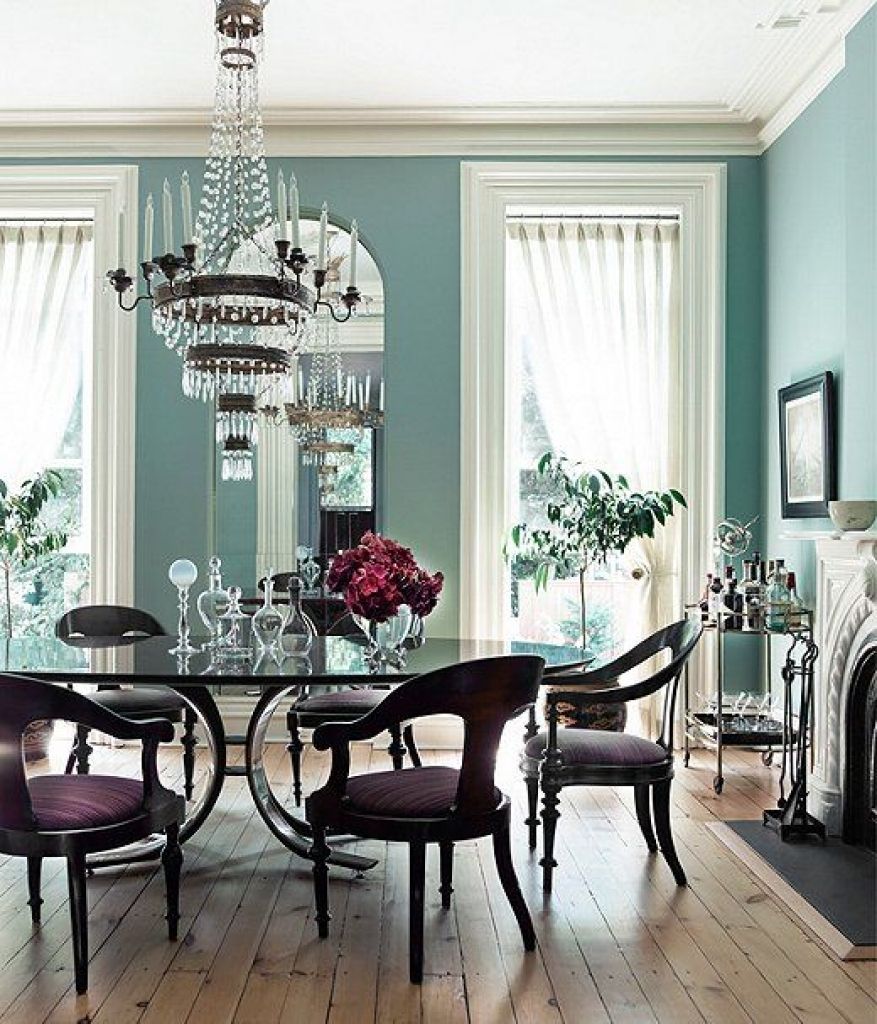 When you have wood floors, it's easy to let the rest of your decor play off that neutral color and deck your windows in cream along with everything else. However when you paint your walls blue, you make these classic features like wood floors and large windows really stand out. Not to mention the inevitable sparkly chandelier that your dining room proudly displays.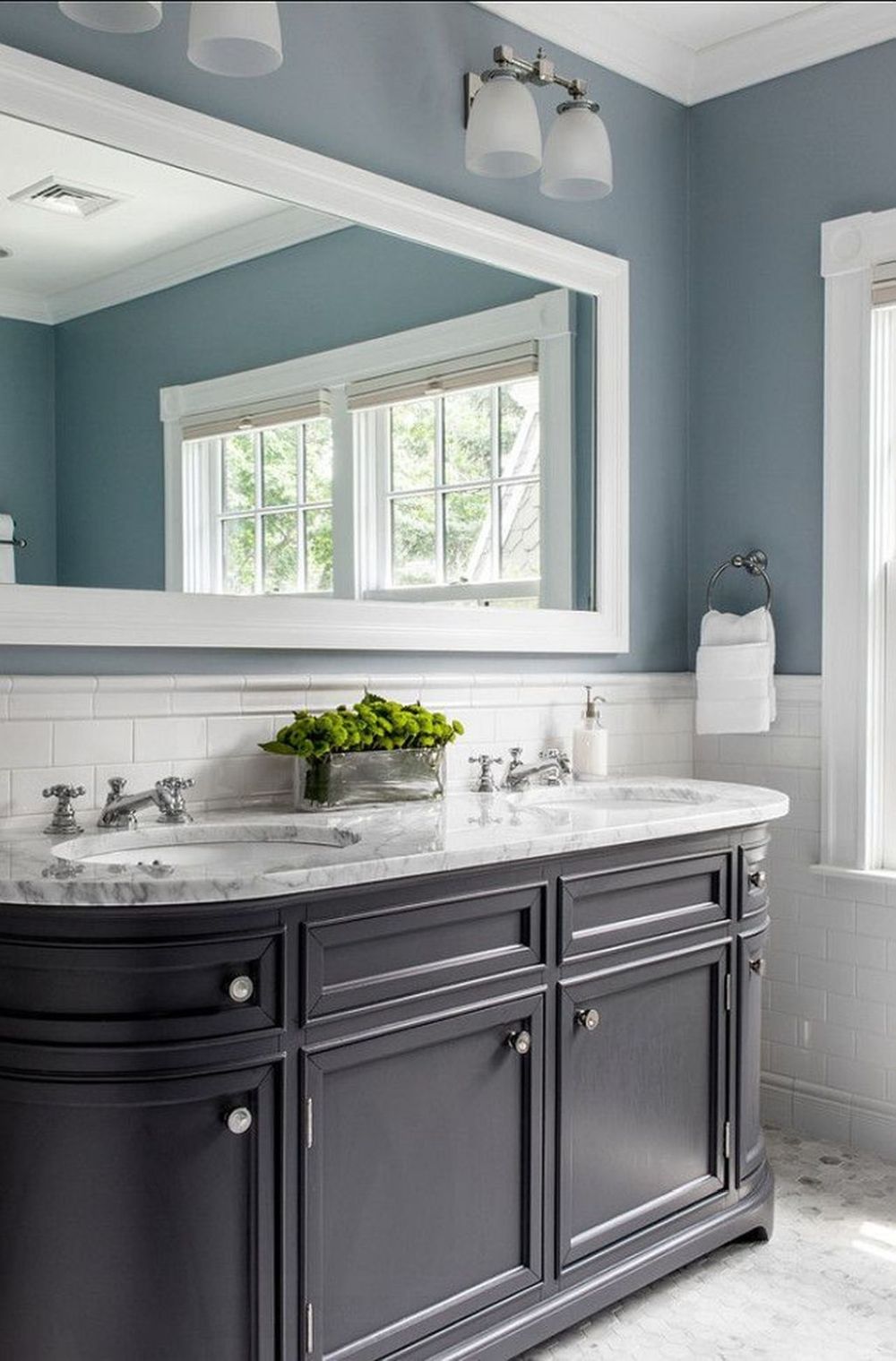 Yes, even a classic bathroom can benefit from blue walls. Many classic bathrooms have bulky vanities, large trim and lots of tile so really there isn't much wall space to be had. By painting it blue, you've added interest and depth to the space in a way that's cost effective and simple. Then those white fluffy towels won't feel so bland and boring.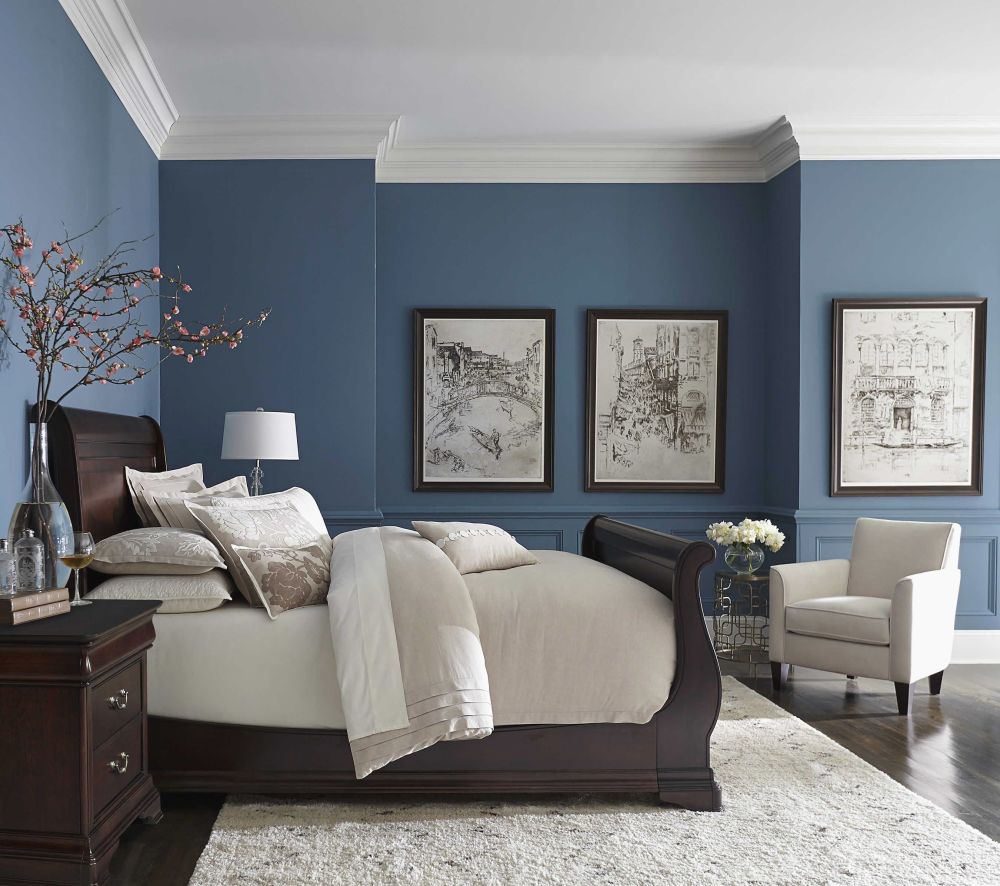 Finding blue in a classic bedroom is probably not a surprise. But it's essential if you want the other elements of your bedroom to stand out. Classic styled furniture is usually some shade of brown which is often topped with beige bedding. Blue walls add some cozy to the space while keeping that pulled together feeling.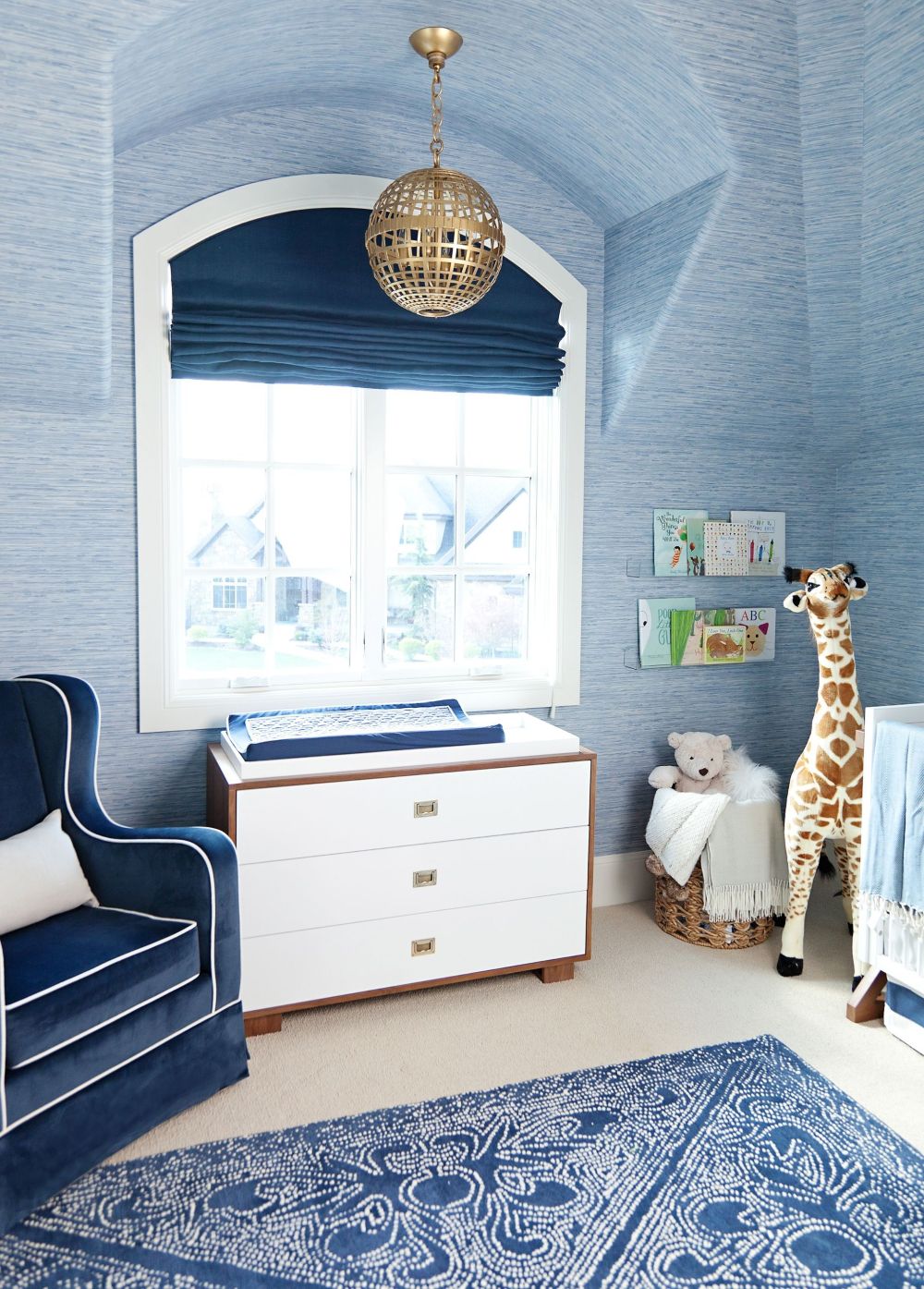 Yes, it's even possible to design a classic blue bedroom for your children! Blue wallpaper is the key to blue walls that feel friendly and welcoming. Choose something that has a soft pattern to it that will give you color without busyness.
Mid-century Style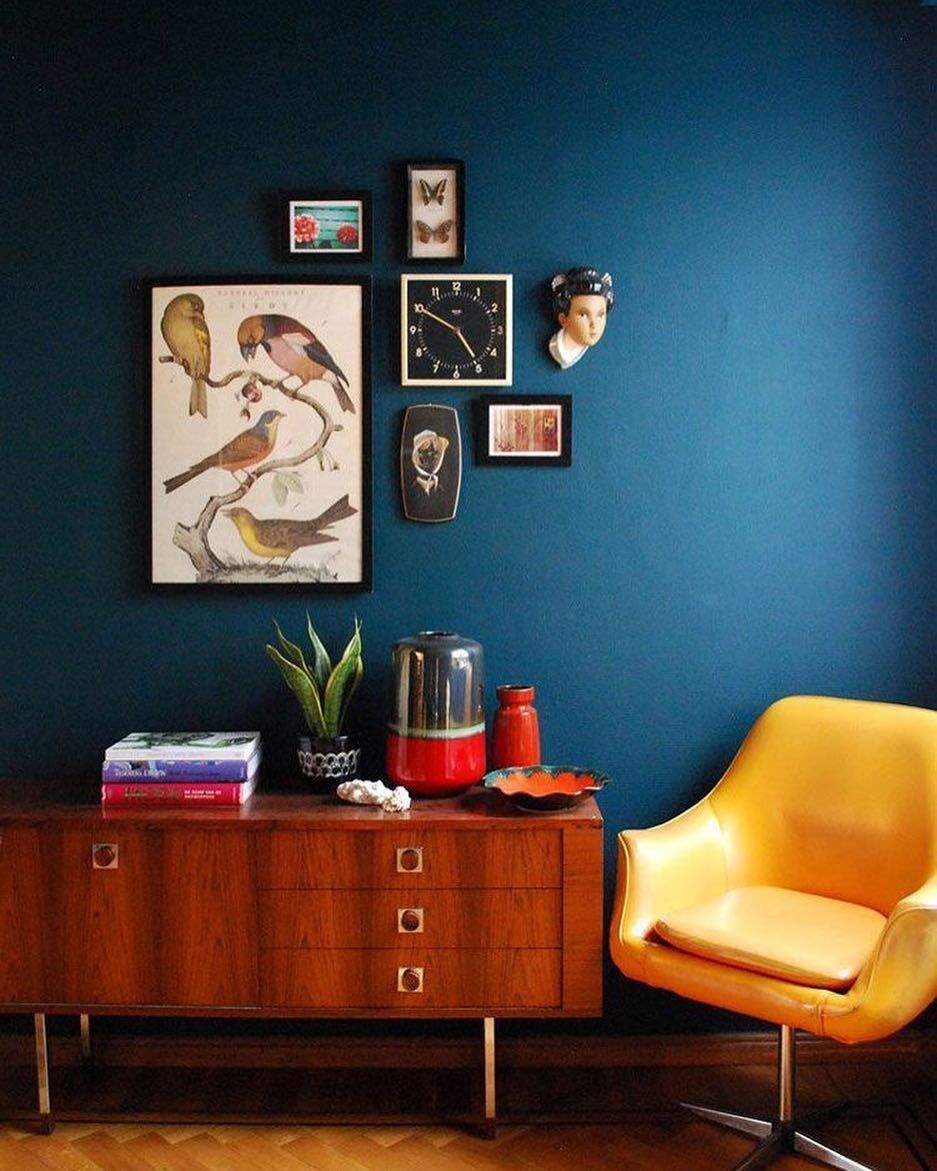 Mid-century styling is definitely brighter and shinier than classic styling. Reds, greens, yellows and oranges are common in it's decorating, along with metal accents. When decor is a little brighter on the eyes in your mid-century living room, a dark blue wall can bring some calm to the space. The rest of your color won't mind.
When you're aiming for mid-century decor, you often find some interesting furniture and accents. The best thing you can do is paint your walls blue and not worry so much about the other colors. Even a brighter blue against a funky chandelier can be the combination that makes your dining room perfect.
How can you really achieve mid-century modern in the bathroom without making it look like your Grandma's carpeted horror? With blue paint. Blue walls will set off your wooden accents and feel fresh while staying true to the style. Plus, after you've added your plants, you'll have a bonafide spa in your house.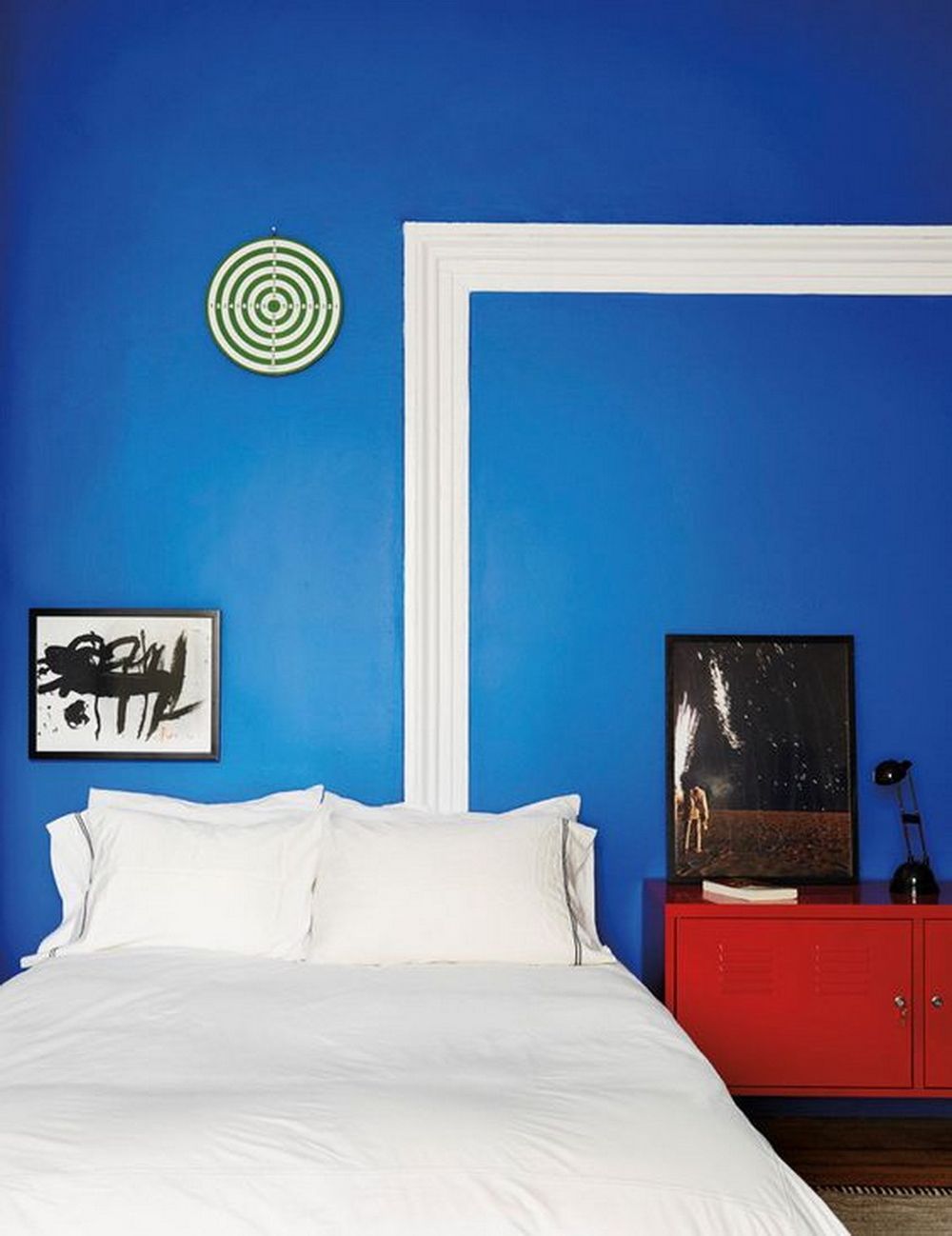 While it makes sense to tone things down in your bedroom, mid-century decor doesn't require it. Bright blue walls can look wonderful against your white duvet. Don't forget to get your samples first. It's important that your bedroom blue is bright enough to be happy but dark enough to be relaxing.
Kids bedrooms might be the easiest space to achieve that mid-century look. They already have the brightly colored toys! Go vintage with their furniture and give them a fun teal blue that will pull it all together. Those buckets of legos will look extra bright against something dark and calming.
Modern Style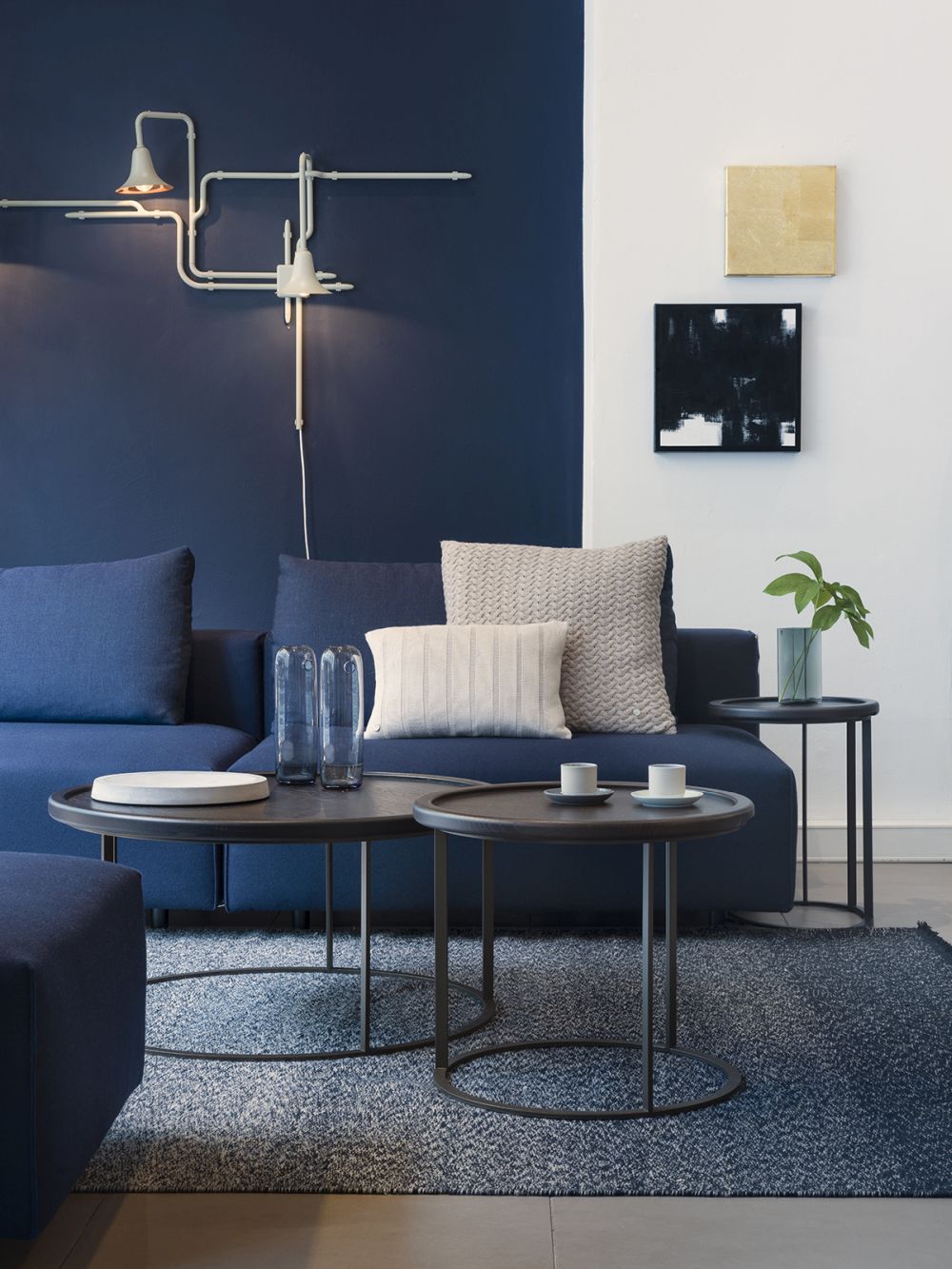 Blue in a modern living room? Whatever happened to the black, white and brown color scheme? Ever since the growth of customized furniture business, it's so simple to find the perfect modern sofa in that navy blue you love. To make that navy blue sofa blend into your modern home, it makes sense that you would paint the walls the same shade for the sake of simplicity.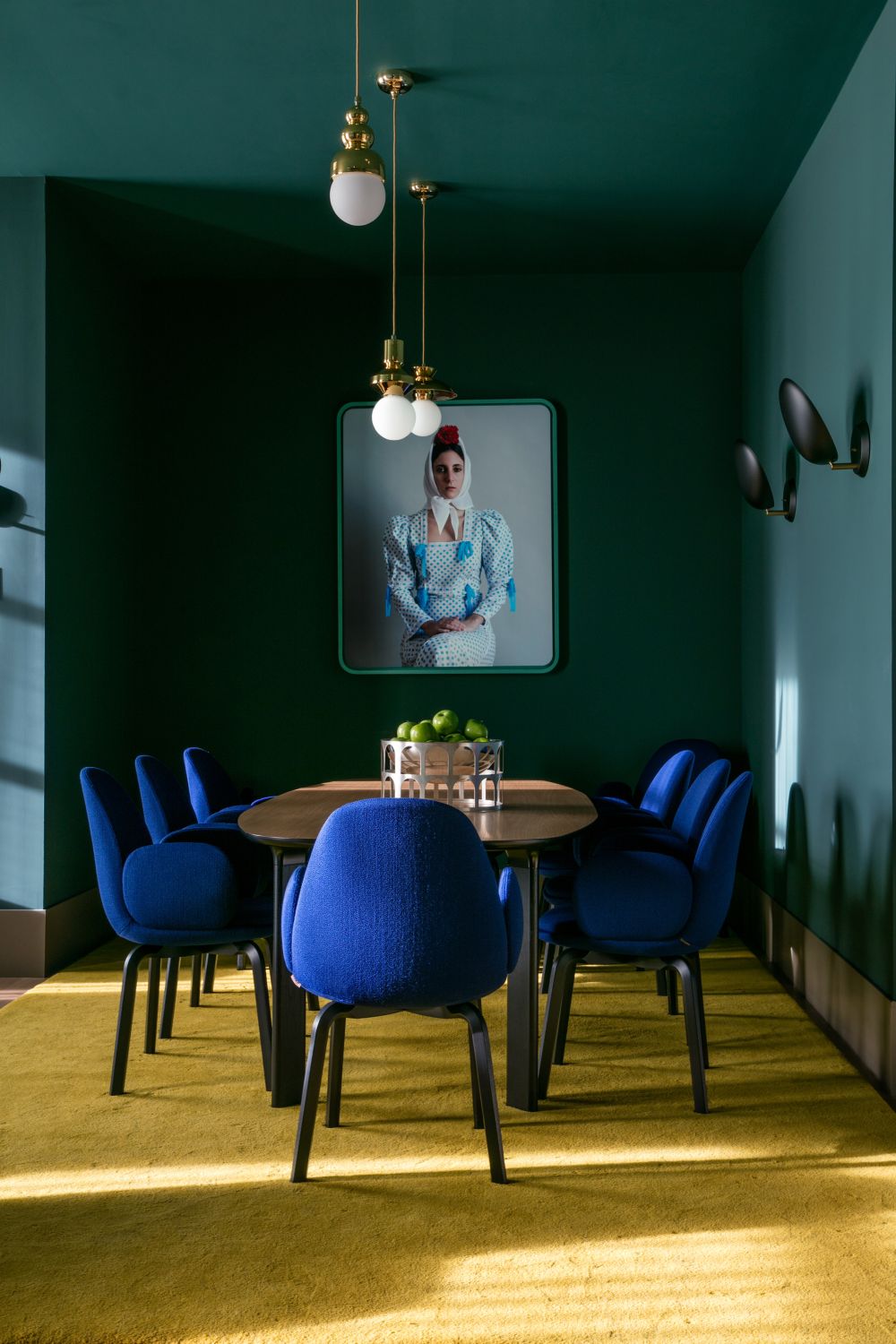 Rather than sticking to a particular color scheme that you identify as "modern", try keeping to designs that provide sleek lines and let the colors fall where they may. Blue walls will be a lovely backdrop against any other shades you bring in, whether white and black or yellow and green.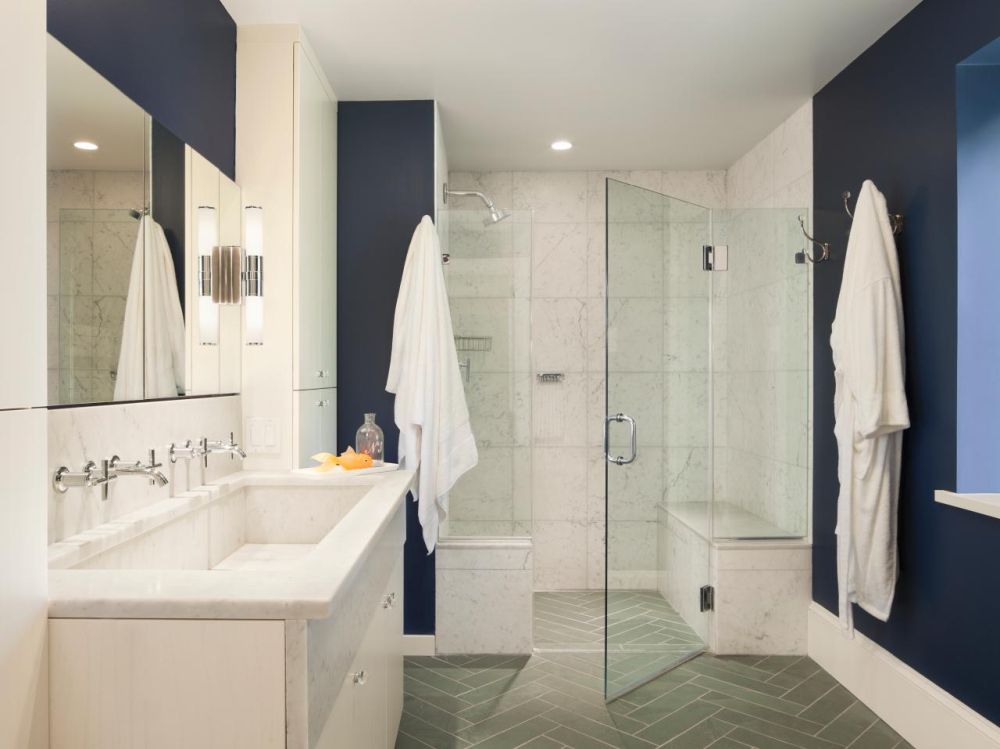 Modern bathrooms are all about texture meshed with simplicity. Rather than buying the colorful tile, paint your modern bathroom walls blue to help that lovely marble shower really stand out. It makes your decisions easier.
Speaking of simplicity, modern bedrooms are best known for this trait. With minimal furnishings and decor, it's really a space you can let your hair down and release the stress of it all. So painting your bedroom walls blue will give you a head start on the relaxation process as soon as you walk into the room.
When kids want to help decorate in a modern home, it can be difficult to keep things looking the way you like. Rather than denying them the opportunity, tell them that if it's blue, they can have it. You'll get varying shades due to their preference but the end result will be fun and cozy.
Farmhouse Style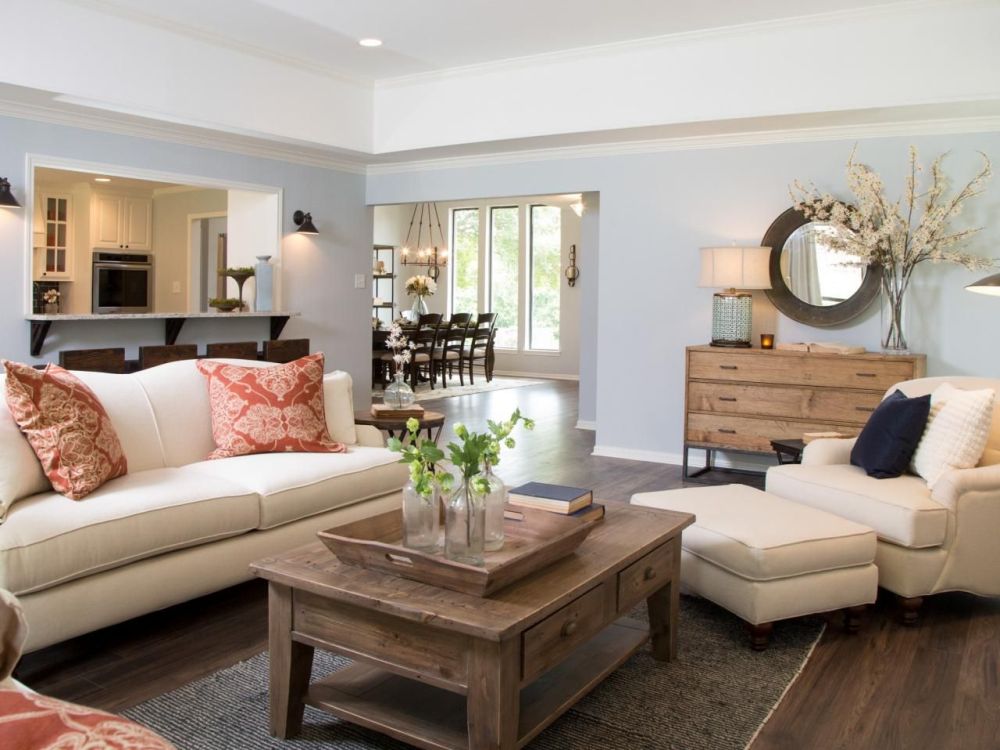 Farmhouse lovers well know that this style is made up of a lot of cream and brown with vintage touches mixed in. Vintage decor means you'll end up with varying shades of blue but if you paint that farmhouse living room in a light powder blue shade, you'll bring all the variations together.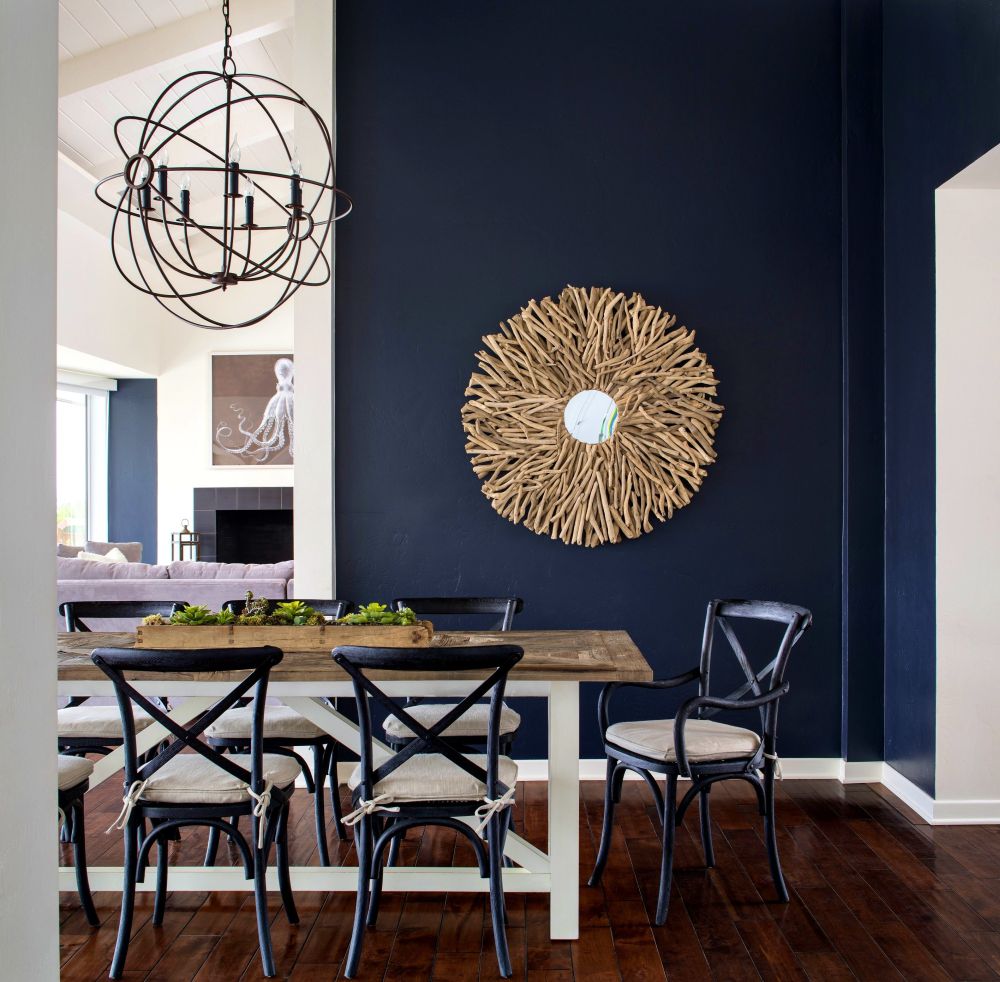 Maybe the cream is really getting you down and you're looking to make a statement in your home. Take a chance and go bold with your blue. A navy statement wall in your dining room will really make your farmhouse table pop as well as any wall art you have hanging. Just what your space needs to freshen up.
Farmhouse bathrooms are often covered in white beadboard. You can make yours interesting and unique by painting your beadboard blue! Suddenly your wood floors will seem warmer, your white towels fluffier and the whole room classier.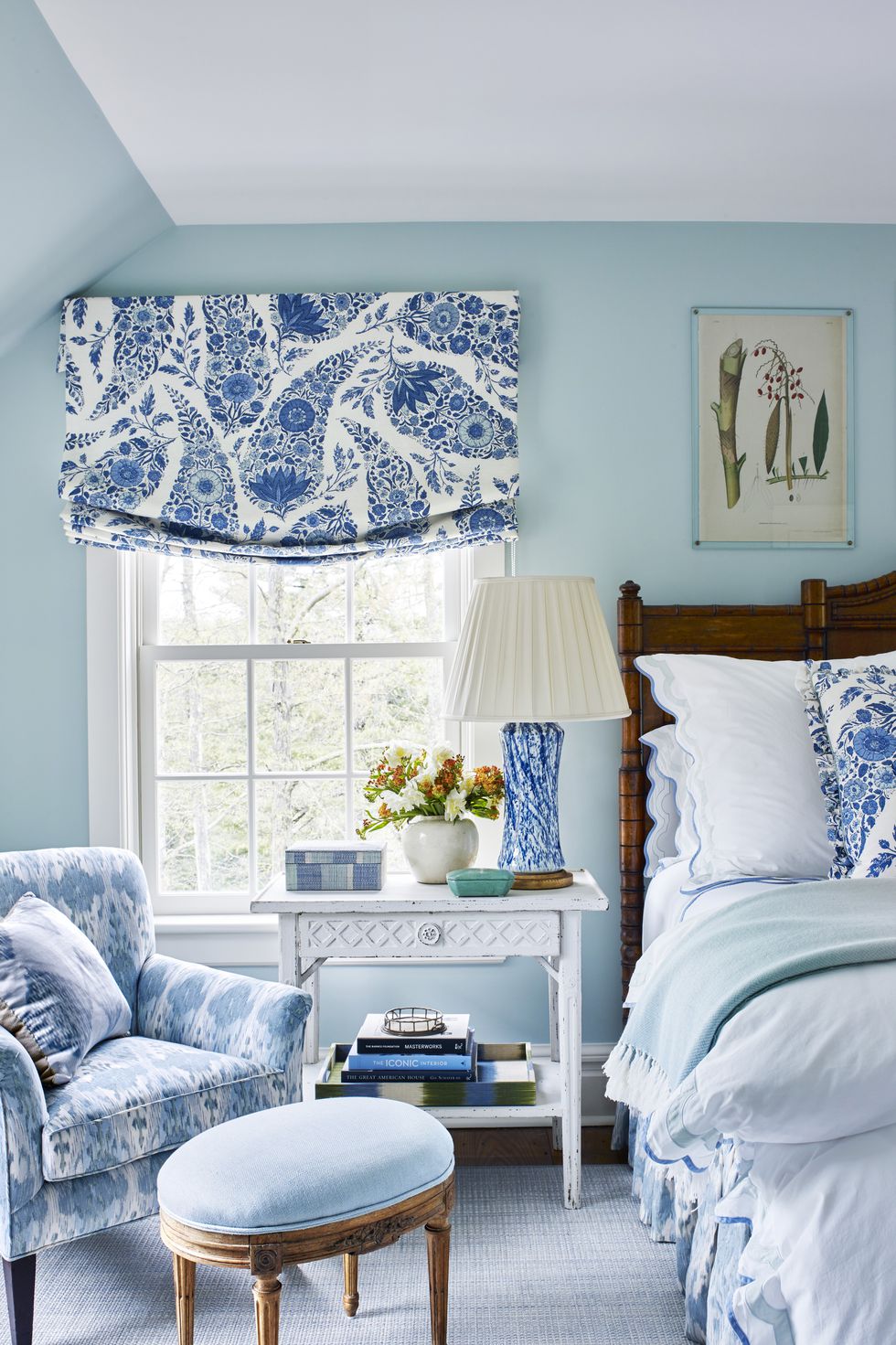 The bedroom in a farmhouse is possibly the easiest place to infuse with patterns. Curtains, bedding, accent furniture, there are so many choices to create a relaxing personal space. When you paint your bedroom walls blue, you give yourself some parameters for patterns which will help you keep things pulled together.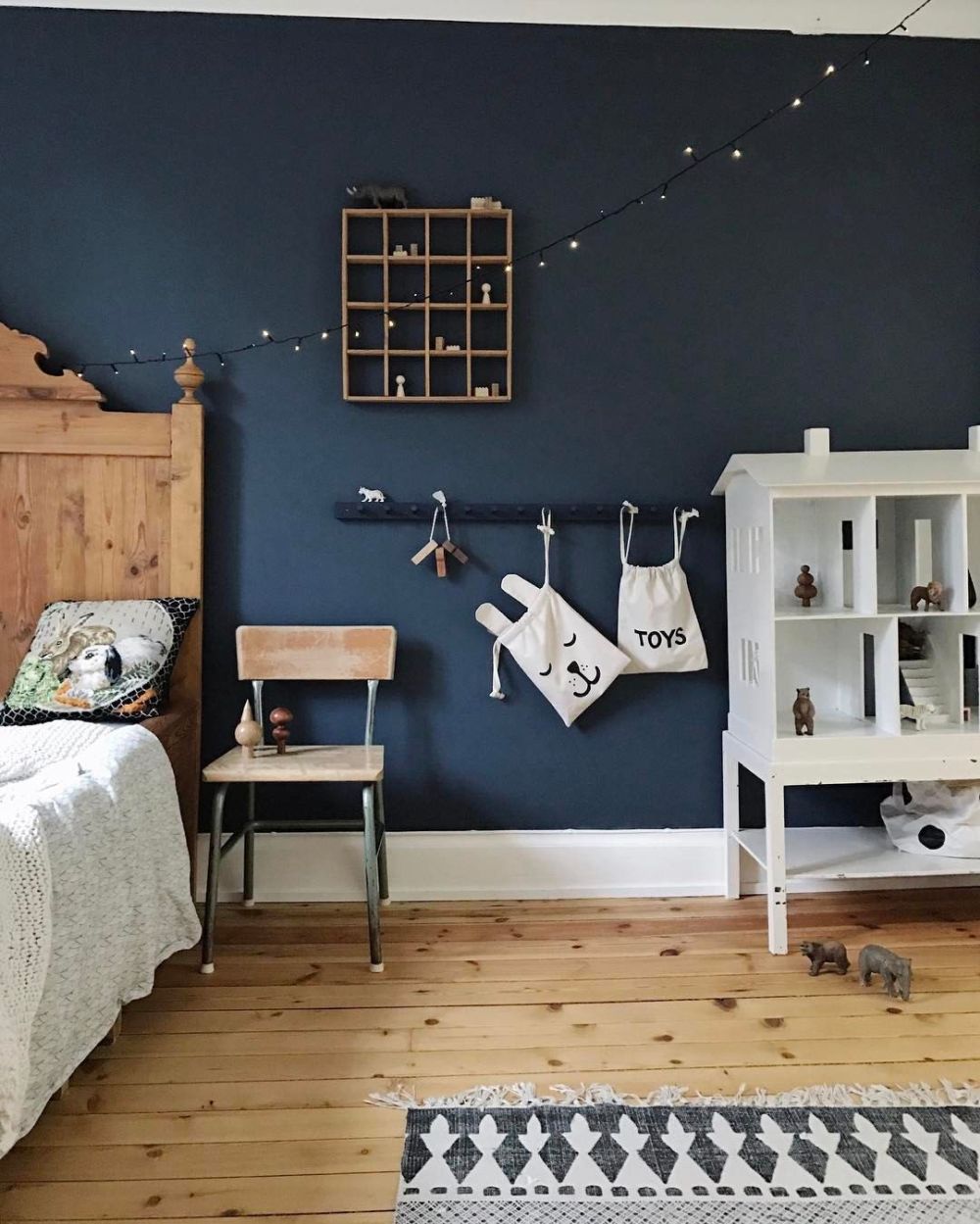 The kids bedroom in a farmhouse is probably the most fun room to design. You get to revive all kinds of vintage furniture and toys to display in their space. Give these treasures some blue walls to show off their best selves. You might just want to move in yourself rather than your kids.
The post 20 Beautiful Blue Rooms – Ideas To Decorate With Blue appeared first on Home Decorating Trends – Homedit.