We've previously talked a lot about fire pits in general and how you can organize them and make it more comfortable and inviting. What we didn't really focus on until now is the actual fire pit. Yes, the seating and the decor are important but everything ultimately revolves around the pit which sits at the center of this entire setup. Before anything else, it's important to make a distinction between the four main types you can choose from: wood-burning, gel fuel, propane fire and natural gas fire pits.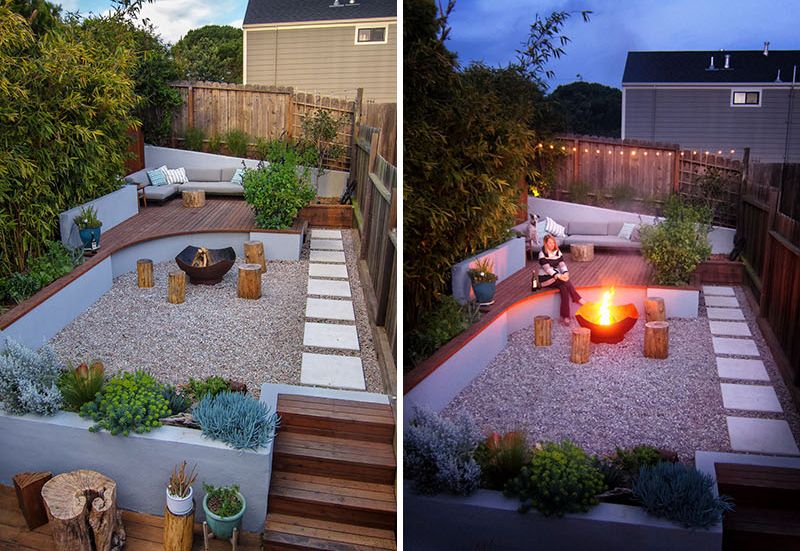 The wood-burning kind give you that authentic campfire-like experience which you can't really recreate through other means. They're usually made of steel and some in a variety of different styles and sizes. The size of the bowl dictates how big the fire can get so keep that in mind and choose a fire pit that suits your space. Gel fuel fire pits don't give off any smoke but they also don't give that burnt wood smell which some actually enjoy.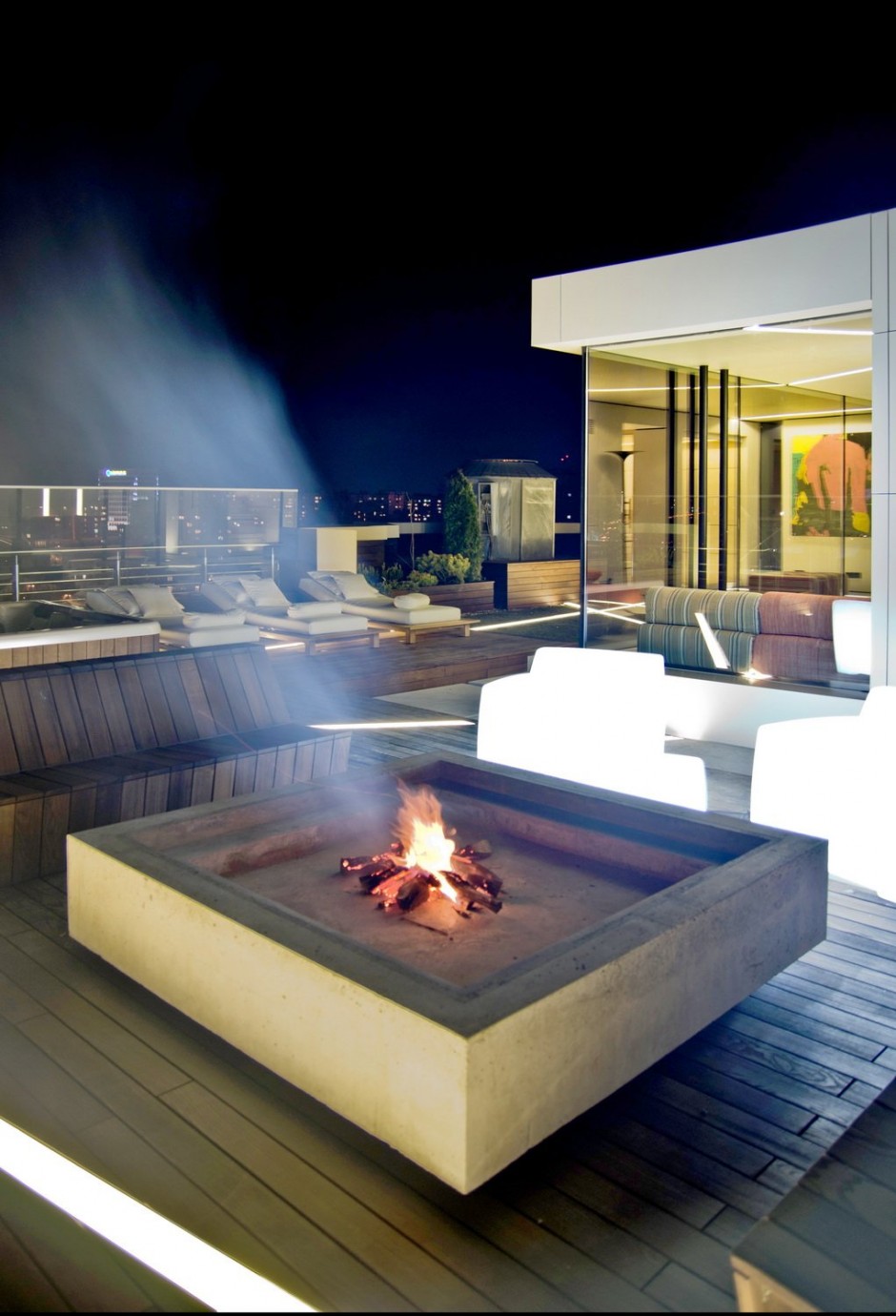 They also don't give off as much heat as the other types. They have reservoirs which need to be constantly replenished with gel fuel. In comparison, propane fire pits don't need to be refilled as they use propane tanks. They're also usually larger than the other previously mentioned types. The flame rises from beneath pebbles or faux wood. Natural gas fire pits are similar to the propane ones but need a permanent connection to a natural gas line.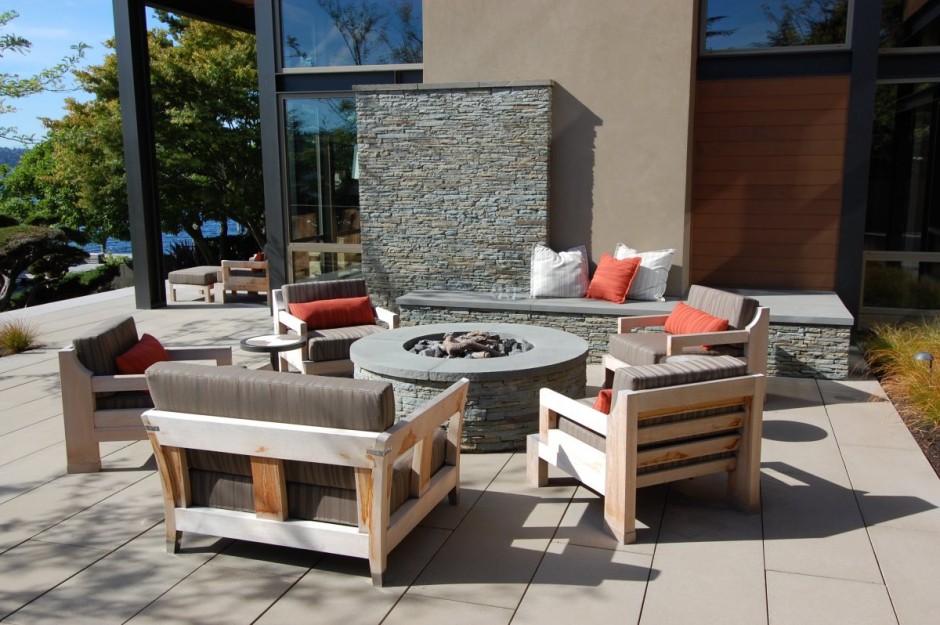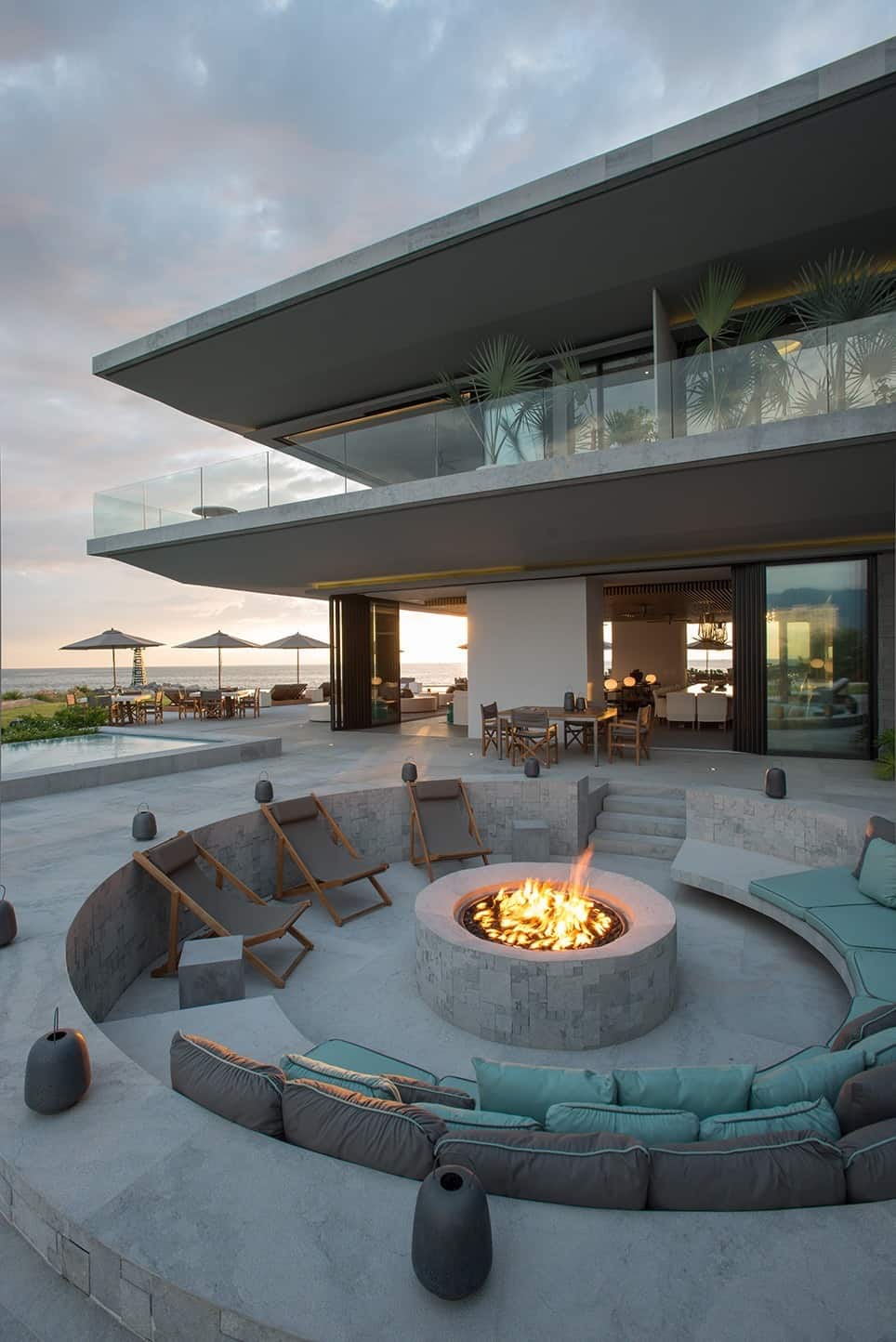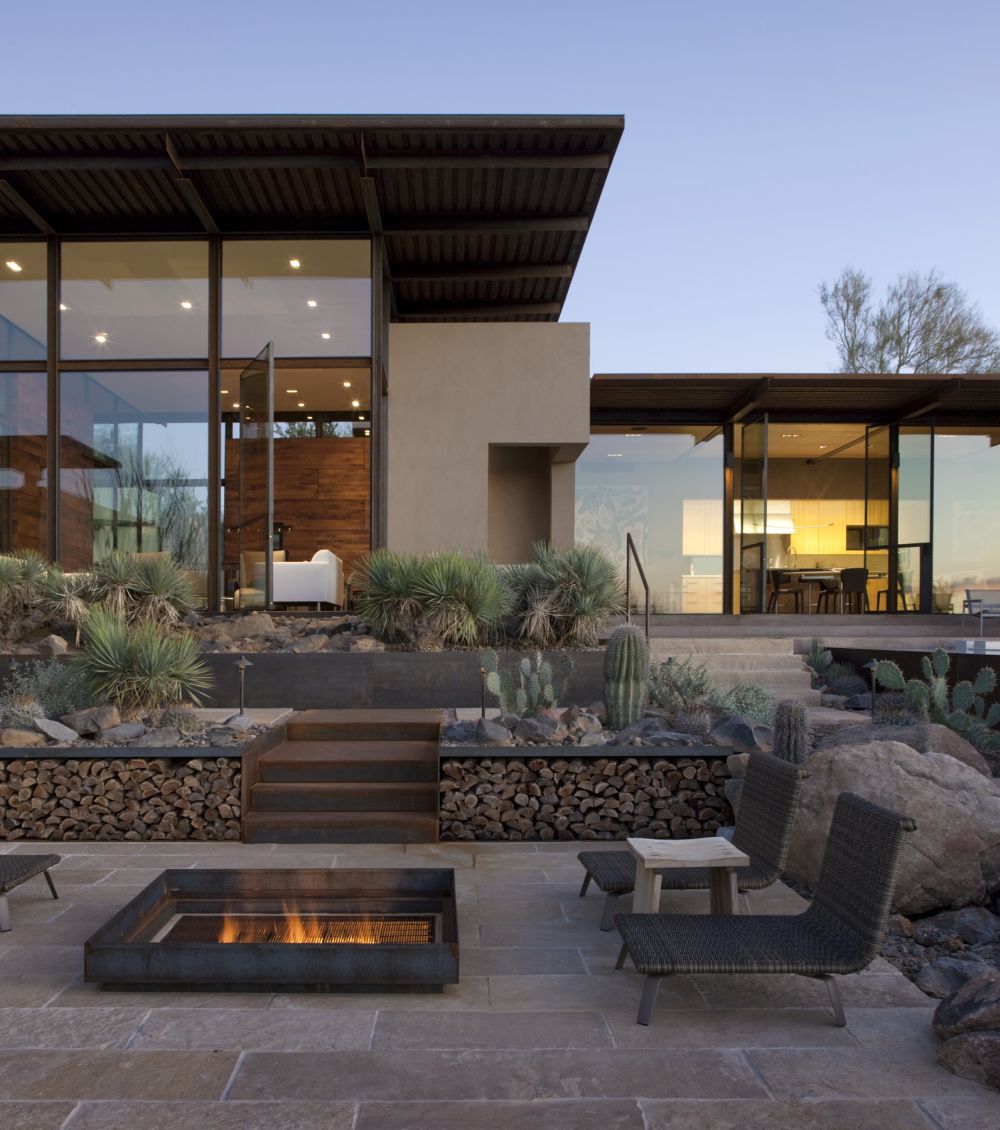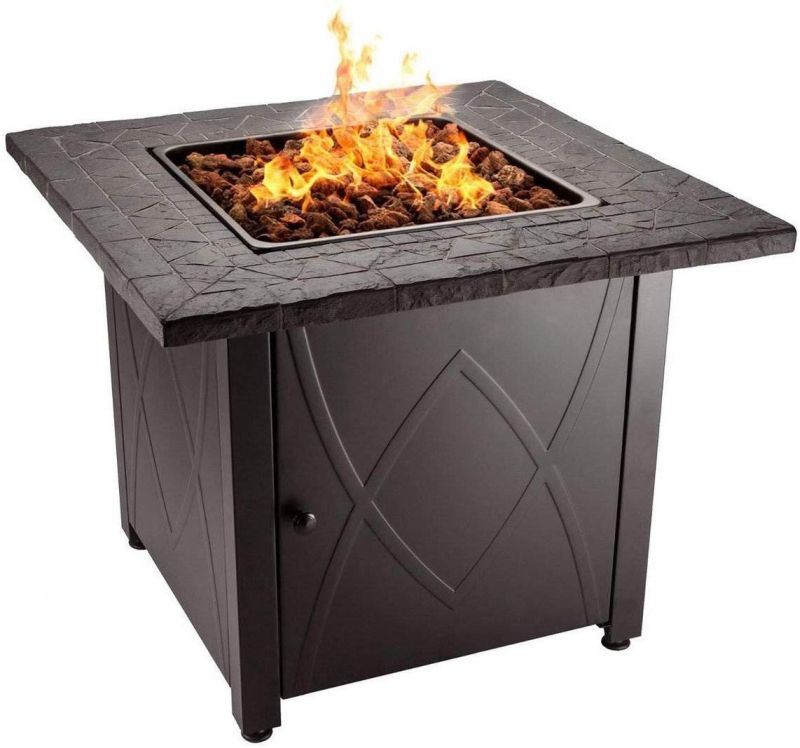 Top 12 Best Outdoor Fire Pits To Buy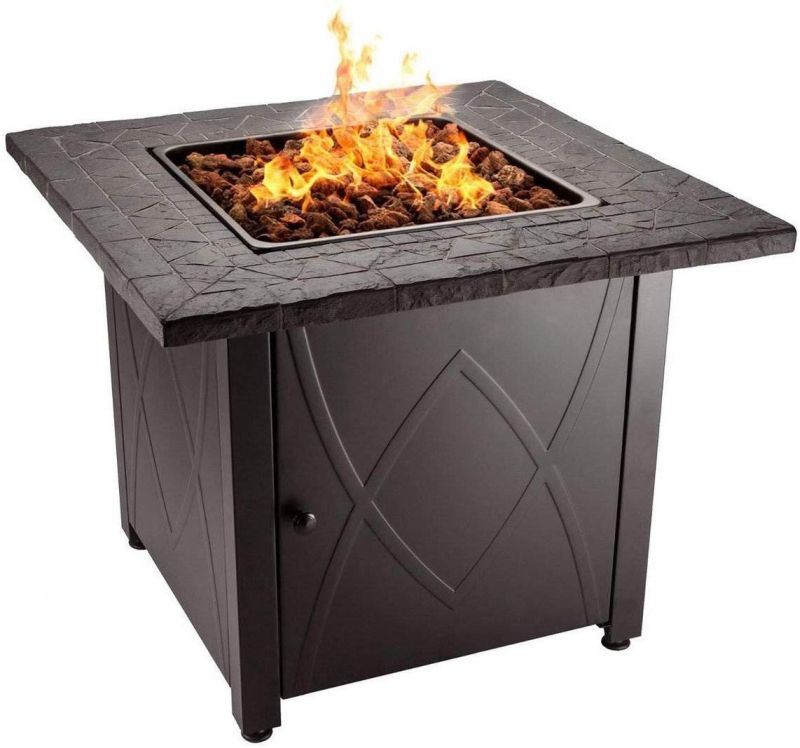 The blue Rhino fire pit features a square-shaped fire bowl made of black steel. It's a propane fire pit and it has a storage compartment for a 20lb tank beautifully concealed by solid steel side panels. It features a safety valve and piezo ignition for easy start and its total dimensions are 30 inches x 30 inches, height 24 inches. It weighs 65 lbs. 
Safety valve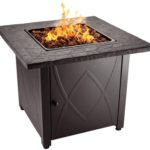 Blue Rhino Outdoor Propane Gas Fire Pit
Sleek solid steel side panels to conceal propane tank (20lb tank not included)
View Deal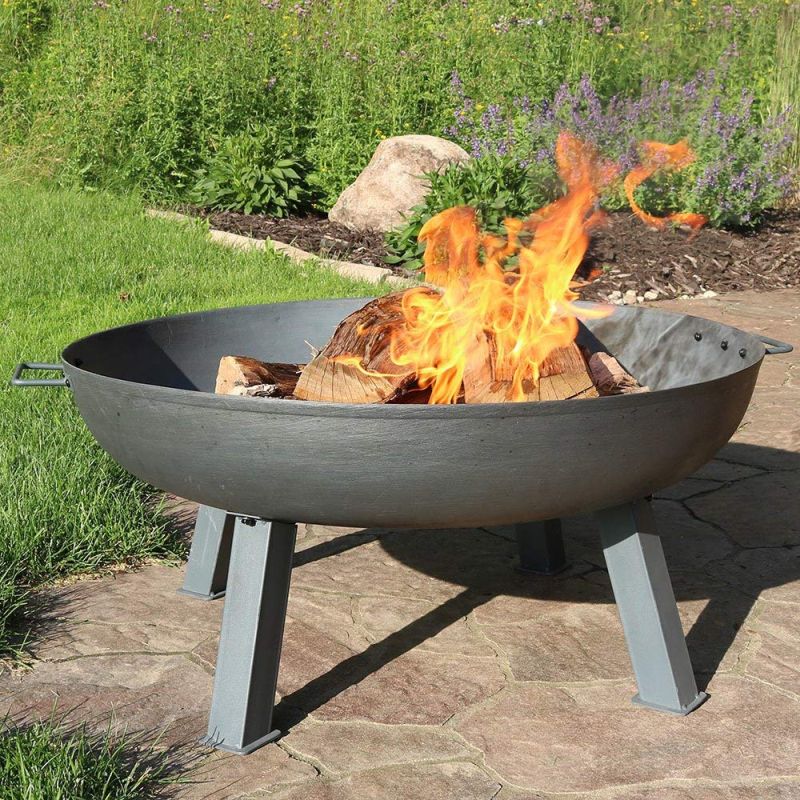 As you can tell by its design, this is a wood-burning fire pit. It has a large fire bowl which measures 34" in diameter and it has a simple, heavy-duty design. It's made from a cast iron material which a steel-like finish and it has handles which allow it to be moved around with ease.
1-year manufacturer's warrant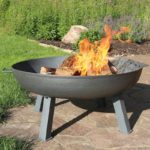 Sunnydaze Cast Iron Outdoor Fire Pit Bowl
Assembly is very easy: just attach the three legs and the handles and you're done.
View Deal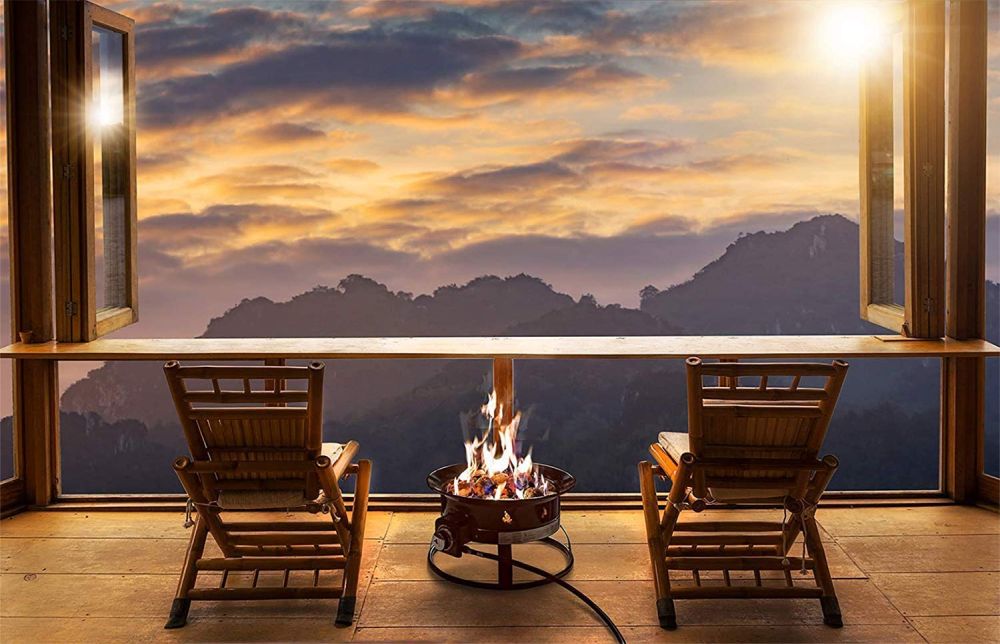 The compact size is one of the best features of this propane gas fire pit. It doesn't give off any smoke or smell and there's no leftover ash at the end, making this fire pit perfect for camping trips. It's lightweight and portable and you can assemble it without any tools. The overall dimensions are L 19" x W 19" x H 11" and it comes as a kit which includes a cover. 
high quality steel construction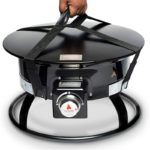 Deluxe Outdoor Portable Propane Gas Fire Pit
You can also be sure it will last for a long time thanks to its durable steel construction and protective enamel finish. 
View Deal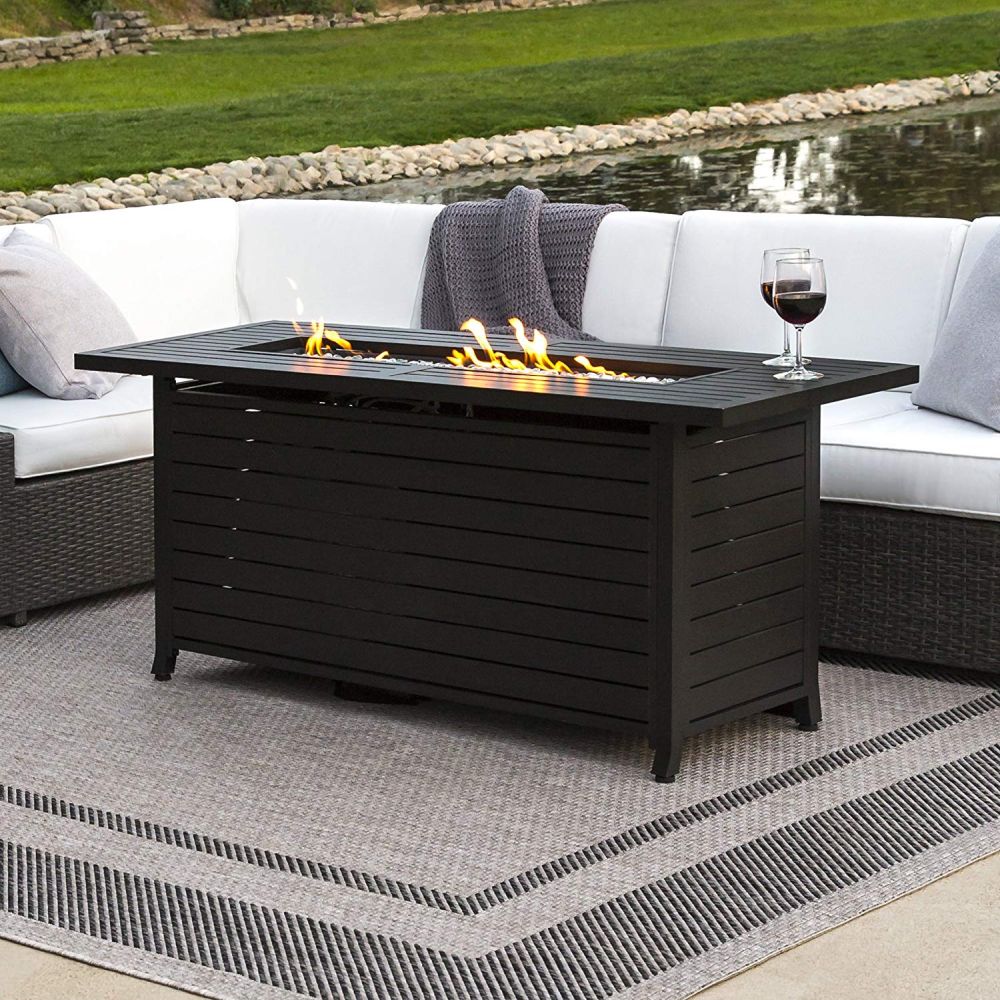 This is also a propane fire pit, this time with an adjustable stainless steel burner and extruded aluminum body. It's durable and weather resistant and although it has a heavy-duty construction it looks sleek and elegant. It comes with a lid and its bowl is filled with glass beads.
Adjustable stainless steel burner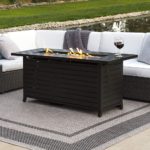 Rectangular Extruded Aluminum Gas Fire Pit Table
The propane tank can be conveniently stored inside, out of sight.
View Deal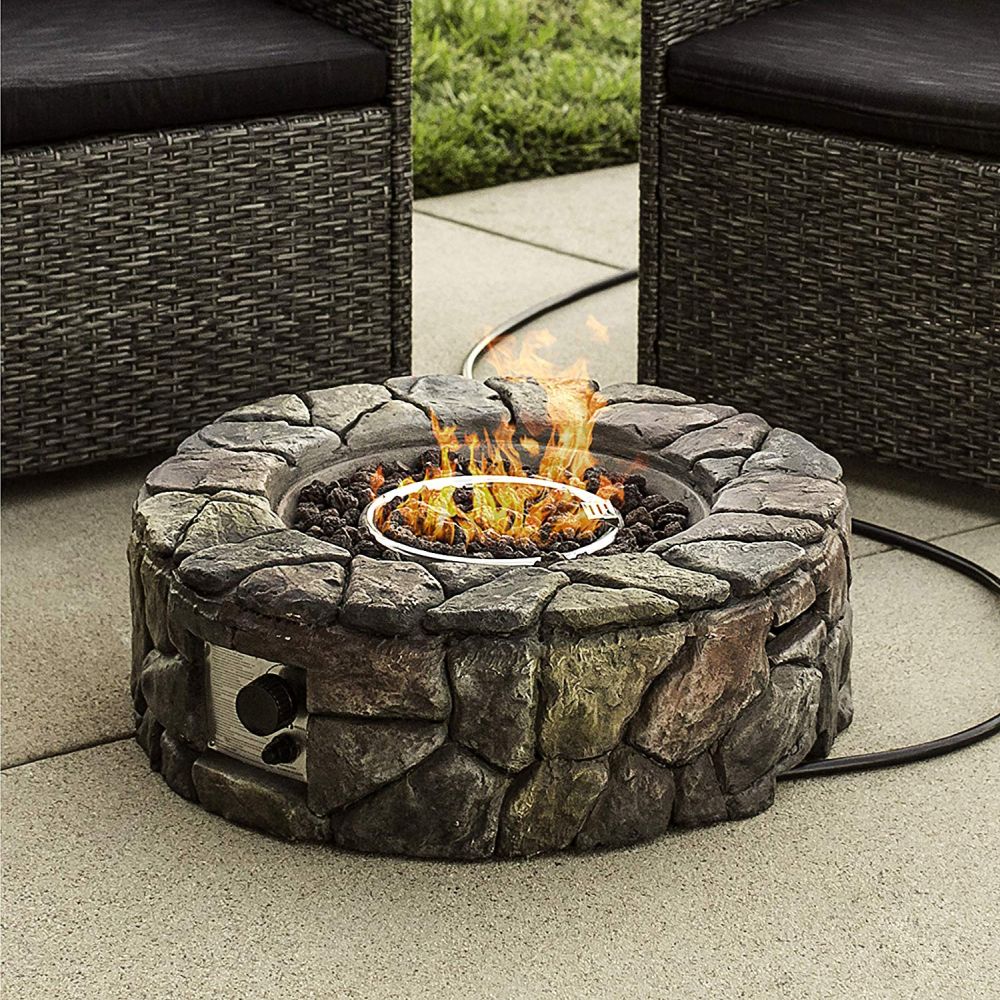 Unlike the other designs mentioned so far, this propane gas fire pit has a more natural and organic appearance. It features a natural stone shell which helps better blend in with the landscape. It has a stainless steel burner but there's no storage compartment for the propane tank, hene it needs to be stored outside of the fire pit. The overall dimensions 27.6″(Dia) x 9.5″(H). 
Multicolor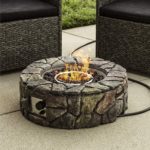 Patio Natural Stone Gas Fire Pit for Backyard
Fire pit's complete design features a stainless-steel burner, decorative lava rocks, a cover, and propane hose
View Deal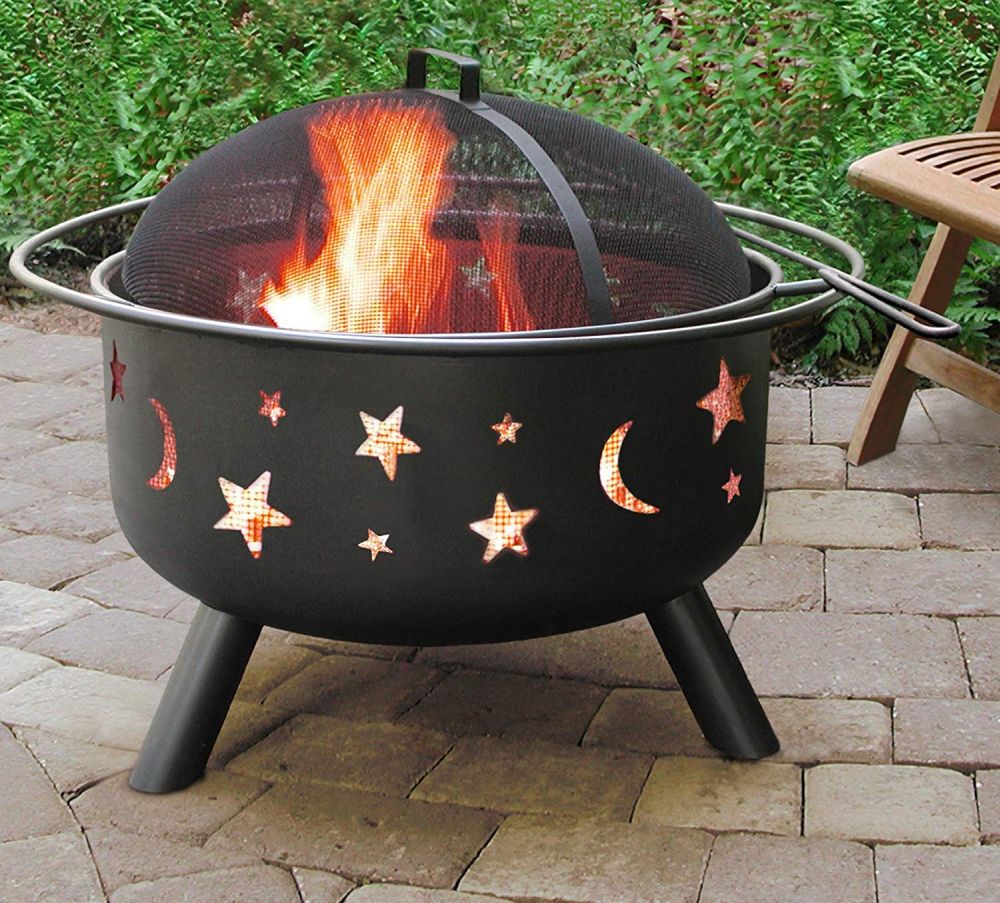 The sky lights up with this eye-catching fire pit, in a metaphorical sense of course. It has a very quirky design and a sturdy and durable steel construction with a black finish. There's are cutouts into the exterior shell of the fire bowl shaped like the stars and the moon.
Includes cooking grate
Big Sky Stars and Moons Firepit
It's also small and portable and it includes a cooking grate and spark screen.
View Deal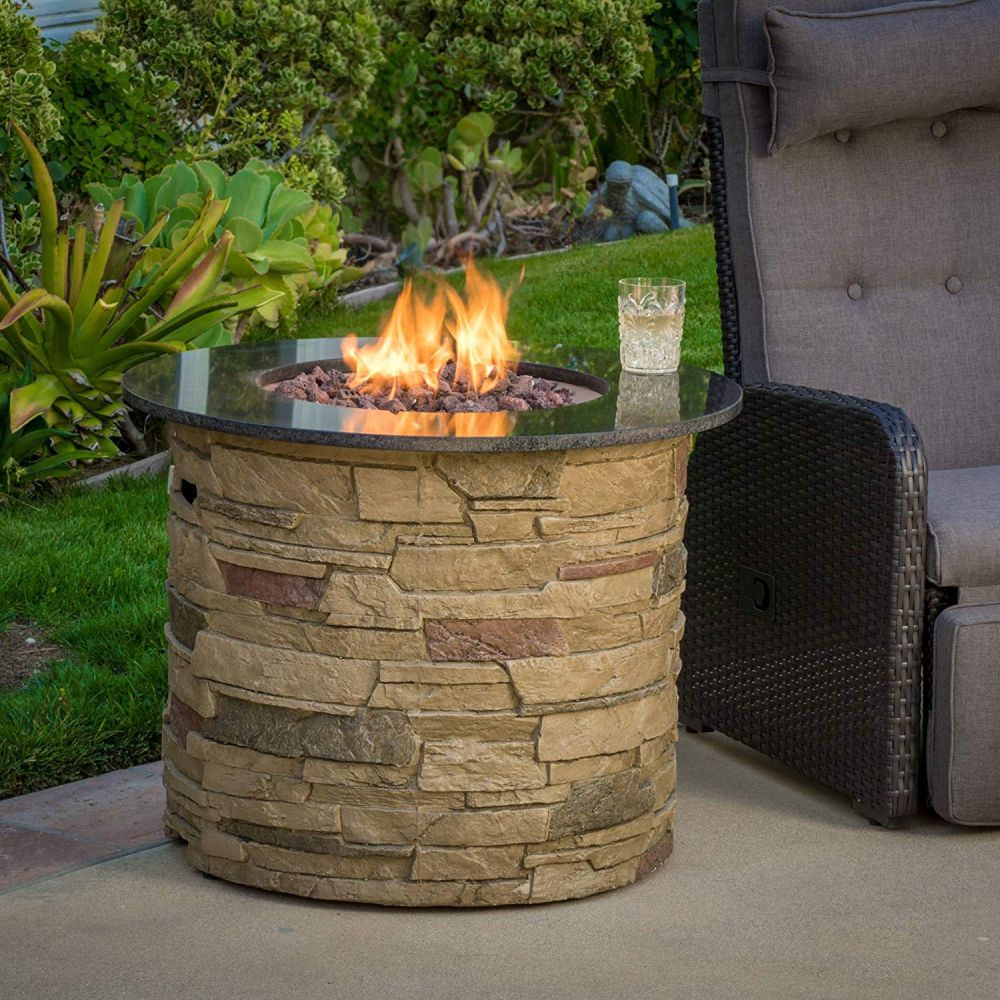 There's no need to worry about storage for the propane tank in this case. There's a generous storage compartment inside this fire pit which you can access from the side. The fire pit has a strong and sturdy steel construction with a magnesium oxide finish which makes it resistant to mold and mildew. Not just that but the design is also very attractive, replicating the look of natural stone.
handsome stone finish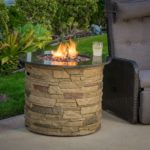 Rogers Round Stone Fire Pit Table
A bag of lava rocks is included.
View Deal
The Art Bella Vita fire pit is made to order and is fueled by liquid propane. It has a very sleek and modern design and it's portable meaning you can take it with you on your camping trips and easily relocate it if you ever want to redesign your backyard. It has a brass burner and all-weather electronic ignition system as well as an iron oxide finish which gives it a nice patina over time.
portable fireplace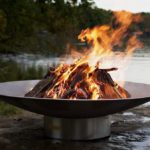 Fire Pit Art Bella Vita
It can be left outside without having to worry about rust.
View Deal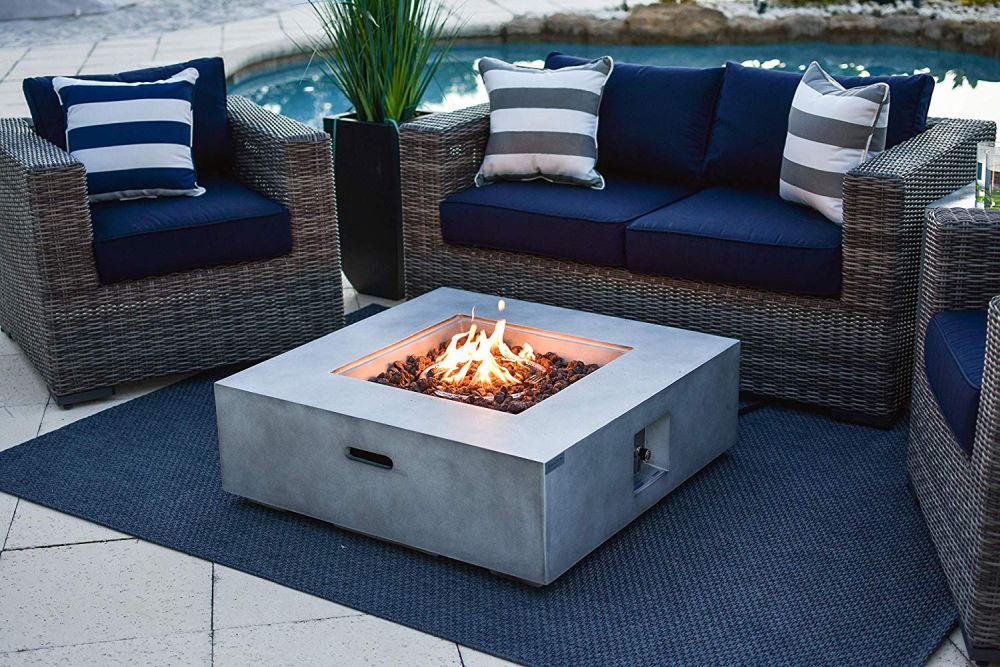 This is another case where the propane tank needs to be stored outside the fire pit which can be an inconvenience. However, it also allows the fire pit to have this low, coffee table-like structure and design. You can connect it to the propane tank via a gas hose and it's also possible to convert it to natural gas using a separate kit. It's made of lightweight fiber concrete and steel and it comes with a protective cover, a burner lid and a pack of lava rocks.
comes with lava rock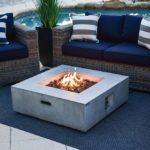 Concrete Outdoor Propane Gas Fire Pit Table
Cast from lightweight fiber concrete and steel that is tinted to the finish color for increased outdoor durability
View Deal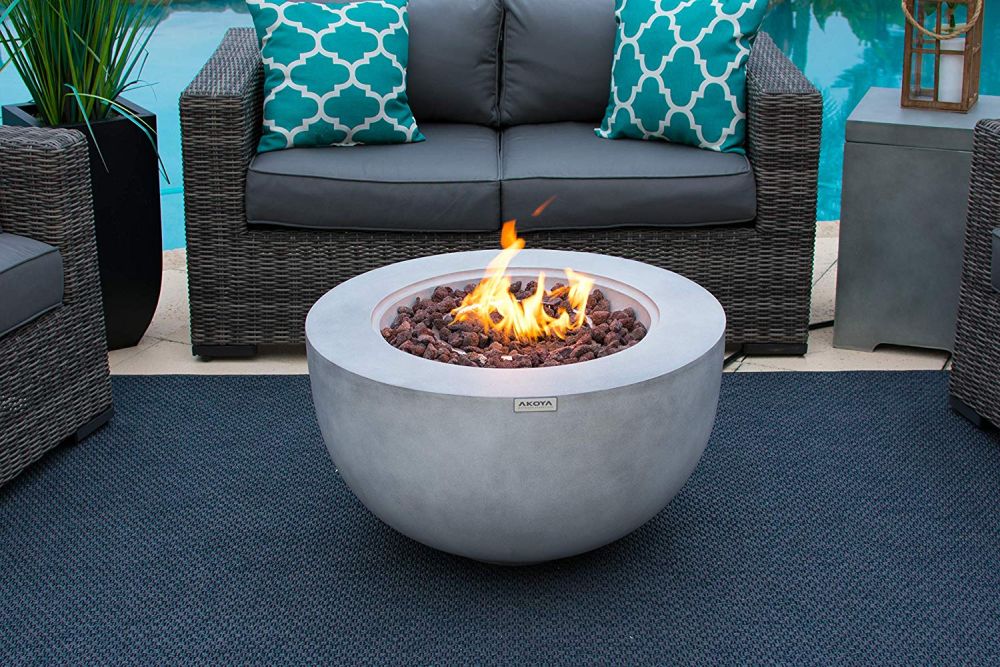 Concrete fire pits look modern and stylish, as also proven by this beautiful design. This is a propane gas fire pit which works with standard 20lb tanks and can offer up to 28 hours of burn time on its low setting. The tank is one again stored outside of the fire pit and connected via a gas hose. Again, you can convert it to natural gas if you want to and that can be done using a separate conversion kit.
Modern design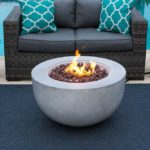 Fiber Concrete Outdoor Propane Gas Fire Pit Table Bowl
Fire pit Table comes with lava rock, protective cover, stainless steel burner lid.
View Deal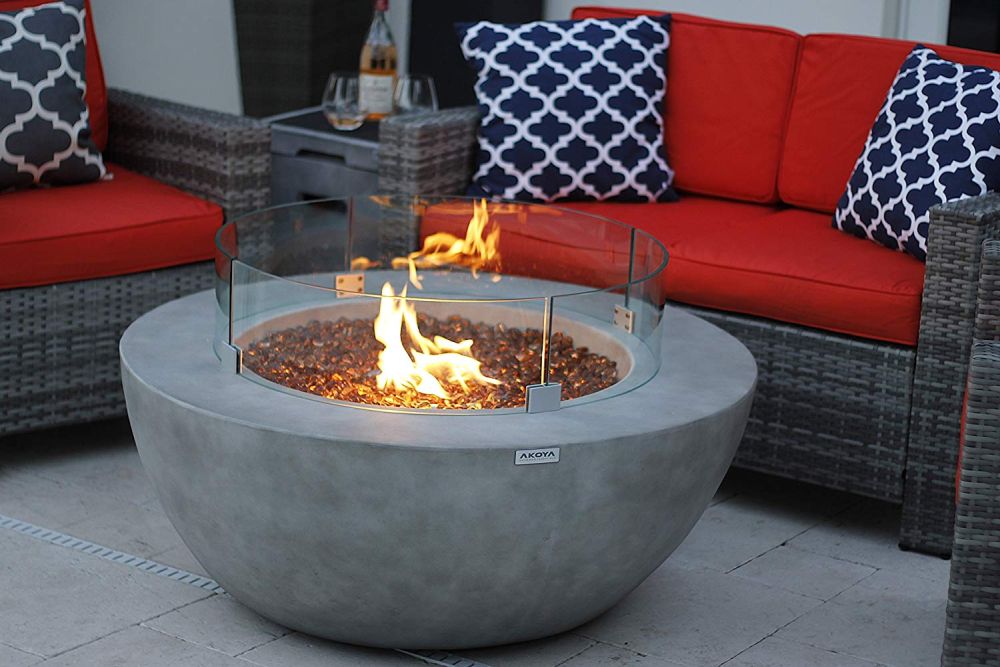 This fire pit is very similar to the one featured above, the main difference here being the glass guard. It measures 42" in diameter at the top and it uses liquid propane as fuel. The tank needs to be stored outside of the fire pit and connects via a gas hose. The body is made of fiber concrete and steel and has a beautiful grey tint.
Glass protection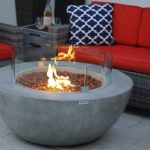 Modern Concrete Fire Pit Table Bowl with glass
The fire pit comes with a glass guard, a protective cover, a burner lid and 40 lbs of fire crystals.
View Deal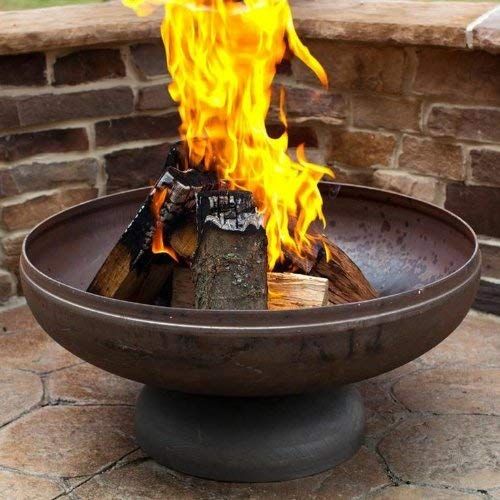 We end the list with a beautiful wood-burning fire pit made of durable steel. It has a large fire bowl and it practically requires no maintenance whatsoever. It's built to withstand everything nature can throw at it and it develops a nice patina over time which gives it a rustic appearance.
rain drain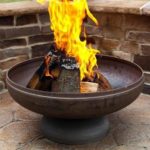 Ohio Flame Patriot 48-inch Wood Burning Fire Pit
There's also a rain drain at the center in case water gets inside.
View Deal
The post The 12 Best Fire Pits For The Perfect Outdoor Setup appeared first on Home Decorating Trends – Homedit.