36 square meters of space is not much to work with. But this small, twin-level apartment in Tel Aviv makes things work with a smart, space-savvy design that offers plenty of flexibility. Created for the lifestyle of a bachelor navigating the urban life, this revamped apartment is set in a building that was once used as commercial space. Poorly placed walls and interior partitions inside the apartment were done away with and the new dual level has one floor sitting well above street level and the other just below. Each floor offers something different and smart brick wall sections and wooden surfaces add further visual and textural contrast.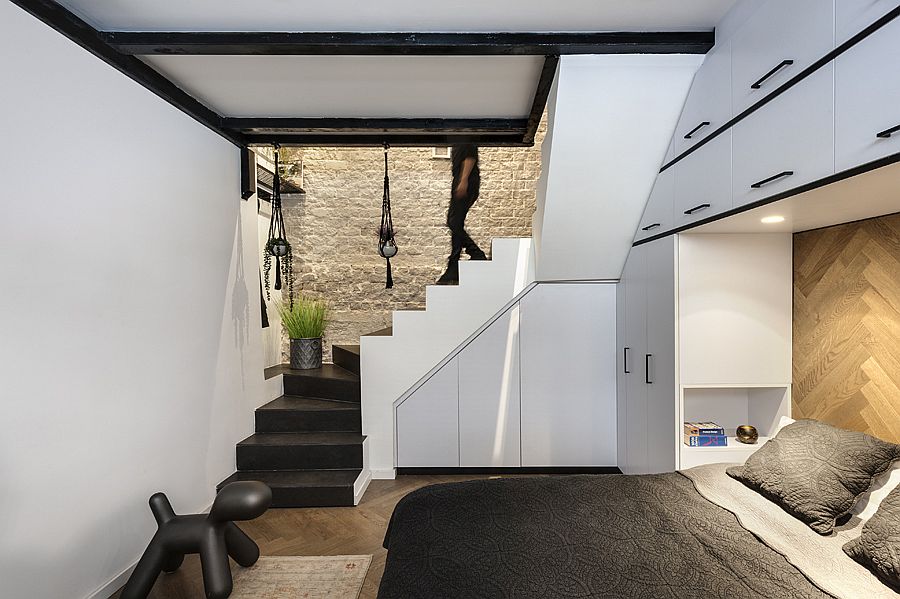 Nitzan Horovitz Architectural Design studio split the floor plan into two distinct zones; one on the lower level housing the private space and the other on the upper level holding the more public areas. Each one embraces a series of built-in shelves and cabinets in white Formica and black stripes that give visual continuity throughout the interior. The bedroom, bathroom and a small study sit on the lower level with the upper floor containing the kitchen, dining area and living space. Two different staircase sections lead to each of these areas and the overall flow and distribution is seamless. [Photography: Oded Smadar]
RELATED: Ultra-Tiny Manhattan Apartment with Wedge-Shaped, Space-Savvy Partition!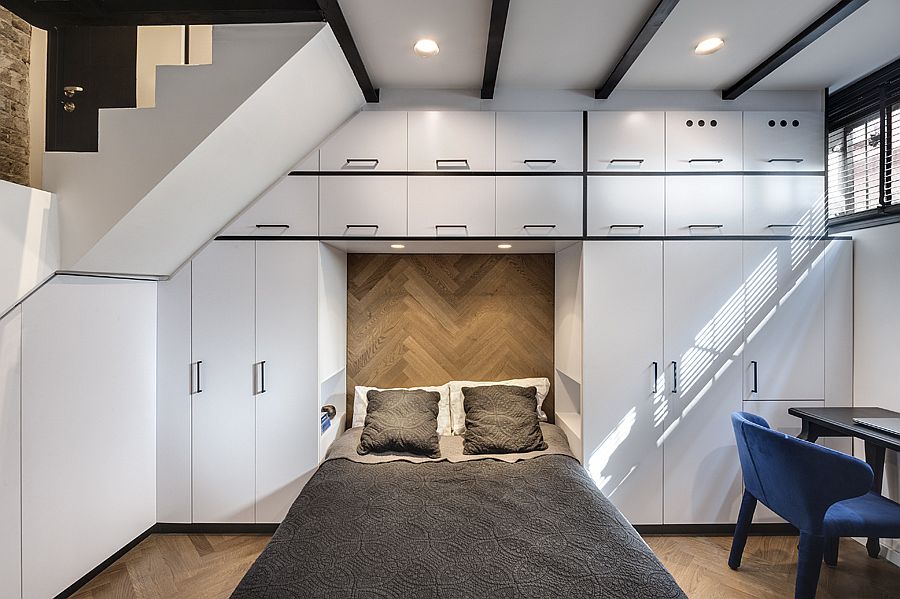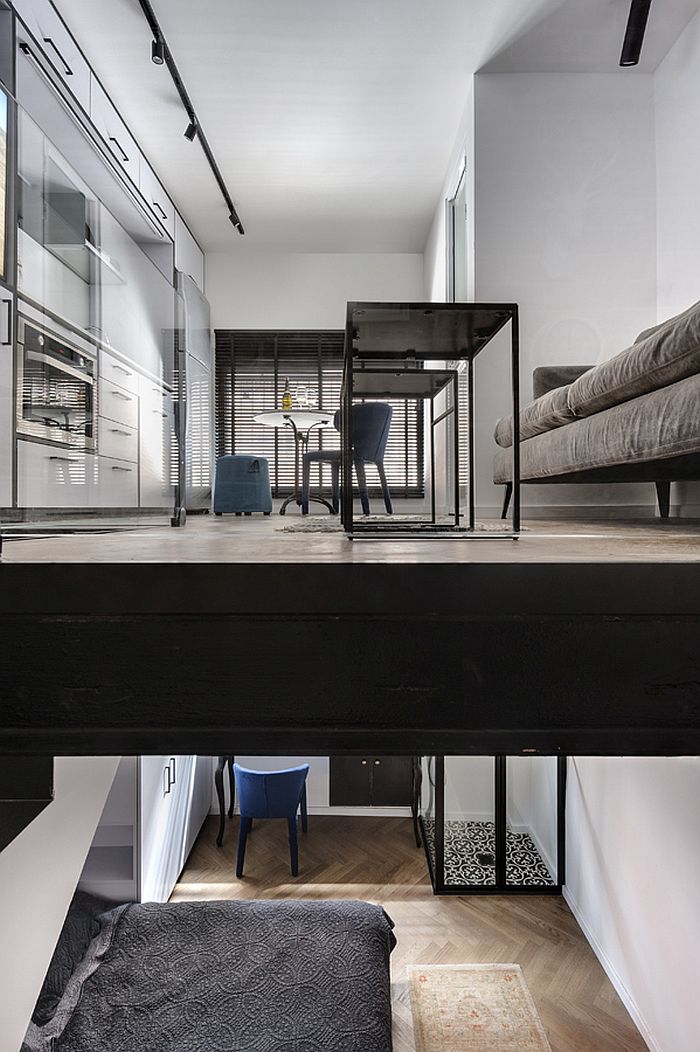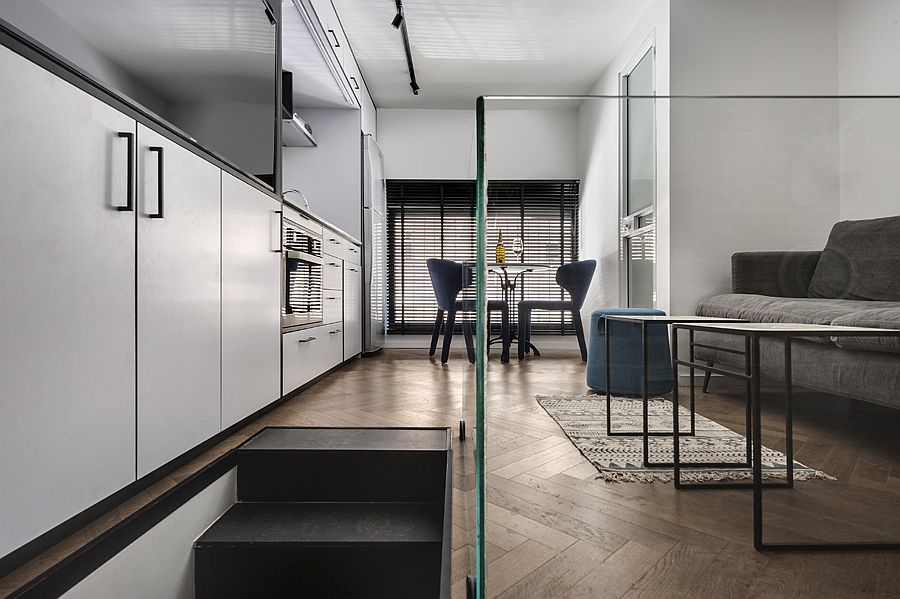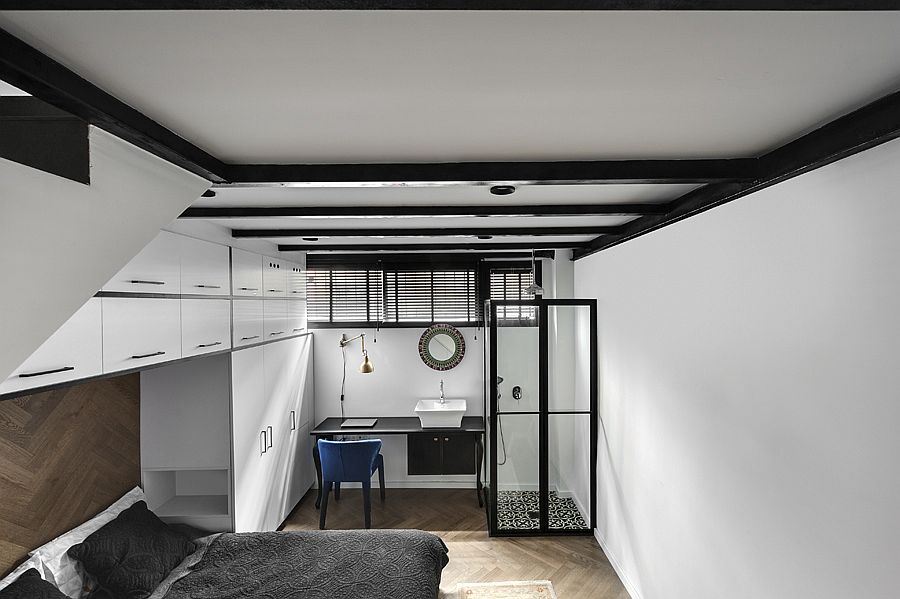 The stairs which are an important motif, paved with graphite porcelain tiles. The rest of the floor was covered with natural oak parquet. Moreover, three main materials stand out in the house – parquet, gray tile, and white Formica. The goal was minimal materials and simplicity in design.
RELATED: Colorful Renovation Brings Old World Charm To Small Tel Aviv Apartment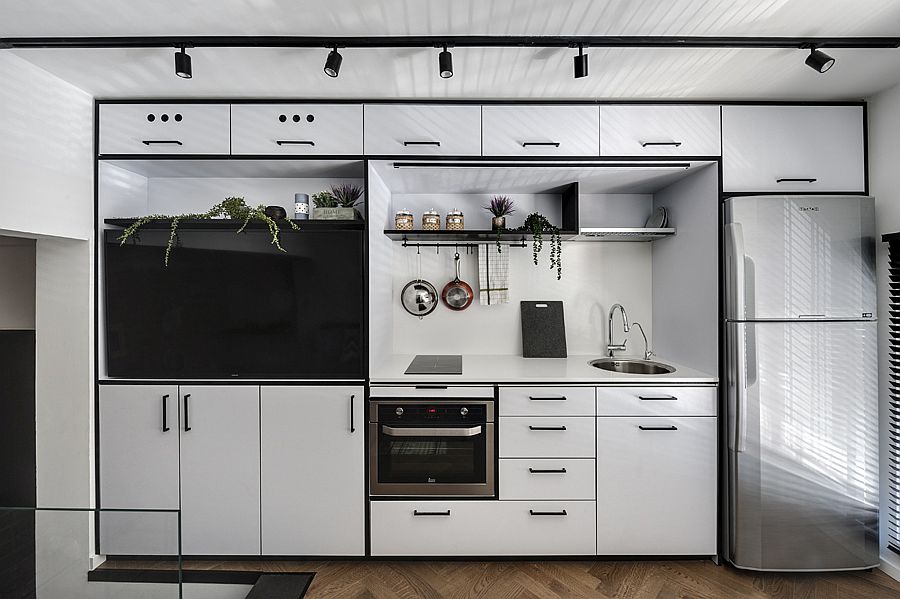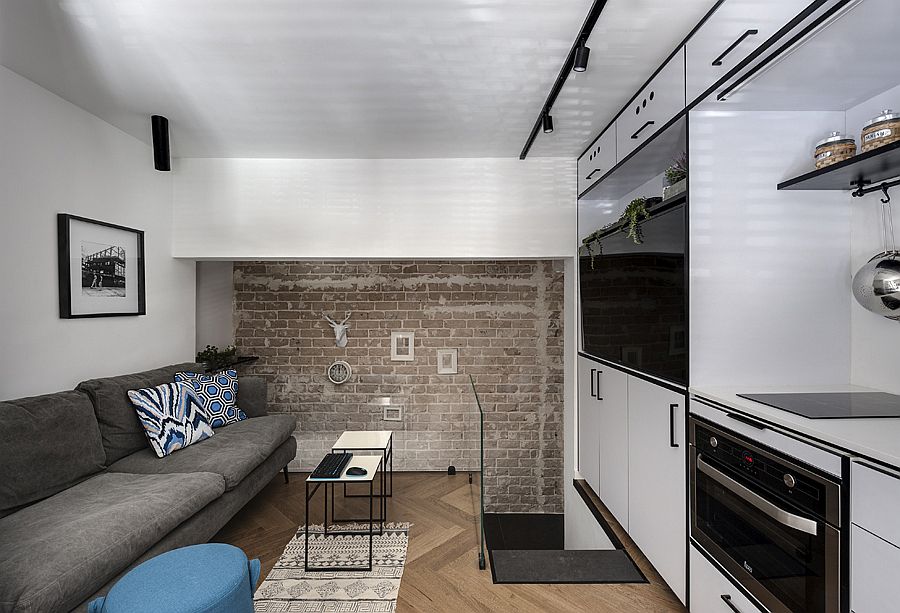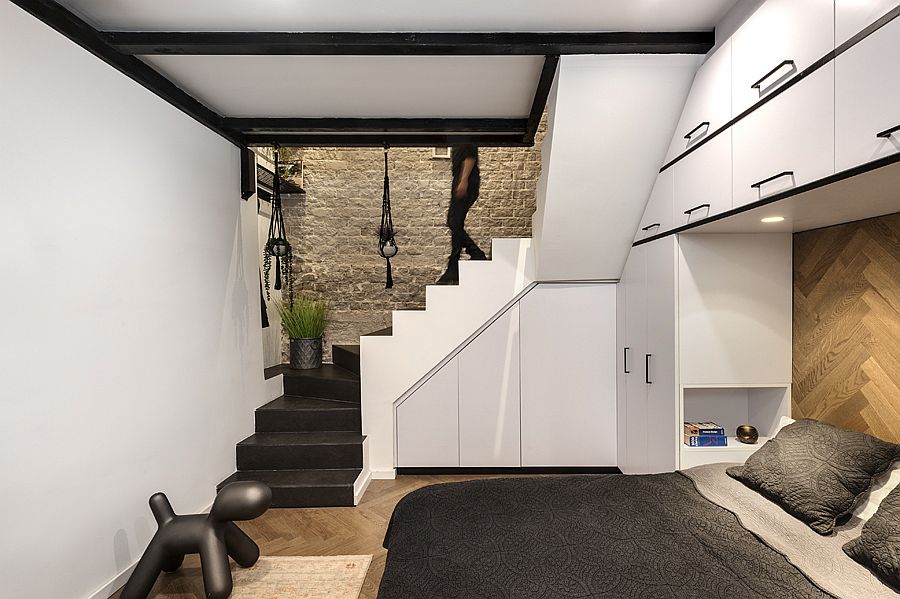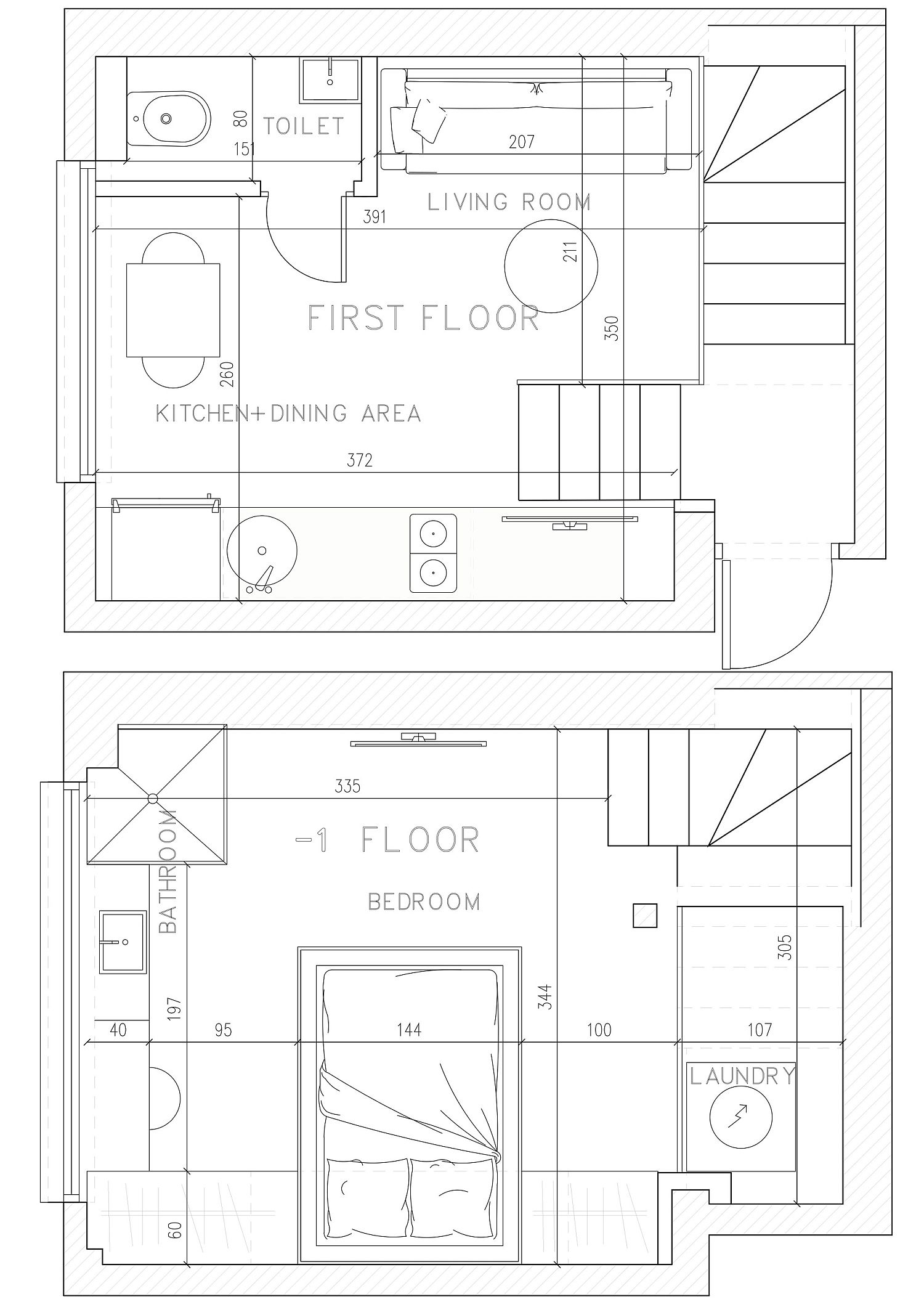 You're reading Twin-Level Ultra Tiny Apartment in Tel Aviv with Walls of Cabinets All Around!, originally posted on Decoist. If you enjoyed this post, be sure to follow Decoist on Twitter, Facebook and Pinterest.