Kids room organizers are abundant, but so are the ways in which our little ones like to destroy our organization and decluttering efforts – so it's essential that we have a few (or more) up our sleeve and ready to implement. Thankfully, we've found easy-to-do techniques that will help you tidy up nearly any nook or cranny of your home within mere minutes. Some you have to create and some you just need to buy at the store and be creative with your prepping. Let's have a peek, shall we?
1. Mini Crates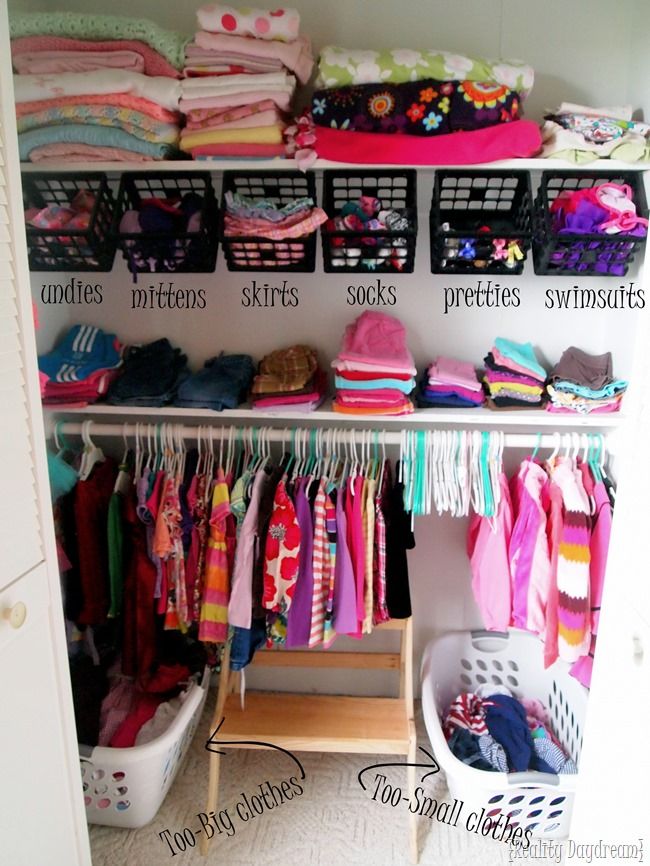 Reality Daydream walks us through how to organize a closet with what we already have in the house! Laundry baskets at the bottom can hold the clothes that need to be sold or donated, and smaller crates can be hooked onto rods or laid on the shelves to hold accessories or more compact clothing life socks or foldable sweaters. Just make sure you place a step stool inside for your little ones to grab their own necessities.
2. Labeled Bins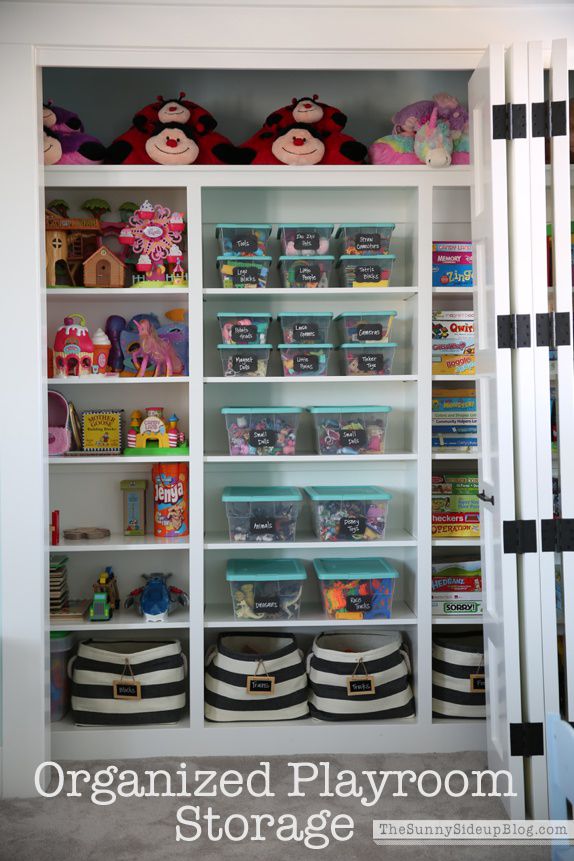 A collection of woven baskets and plastic bins will be your lifesaver and angel sent from above when it comes to organizing kids' closets and playrooms. Label them, organize, and you'll be able to recreate this easy peek from The Sunny Side Up Blog inside of your own home.
3. Chair Storage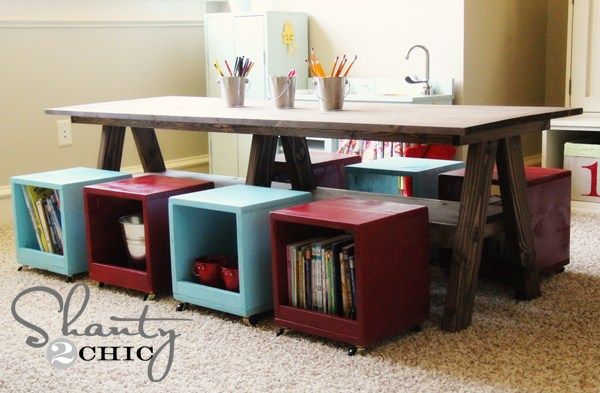 Who says you can't use every inch of space to tidy up and organize? That's what Shanty 2 Chic did with the playroom's table and chairs. All those tiny seats have a space to keep the good from cluttering up the corners. It's a genius innovation!
4. Under-the-Bed Storage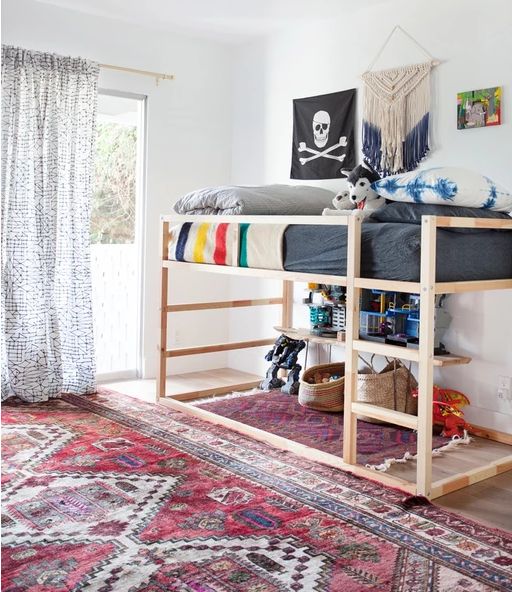 Under the bed storage looks a bit different at Veneer Designs than what you may be used to. Elevate the bed and utilize the space underneath to truly gain more square footage in a smaller bedroom. This is perfect to add in a small homework space or reading nook.
5. Industrial Shelving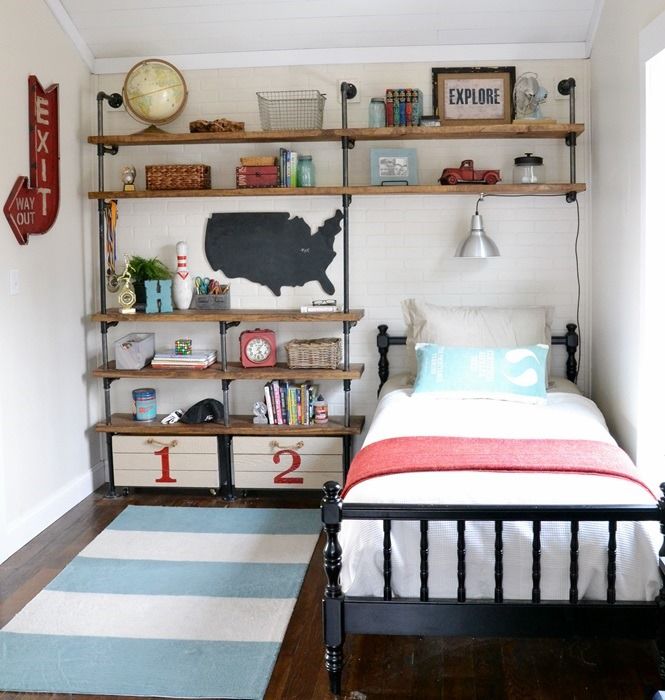 Sometimes a room really needs extra shelving. It helps with media organization and personal displays. We love this scene from Beneath My Heart because it gives wonderful inspiration in terms of styling. Grab the wooden palette and industrial hardware from the store and work on piecing them together – it doesn't take too much skill, don't worry!
6. Neutral Cubbies
This neutral nook is perfect for gathering inspiration. Keeping things within a clean palette gives off a clean ethos – which is what we're all aiming for at the end of the day right? Snoop around this space more by hopping on over to Young House Love.
7. Ladder Decluttering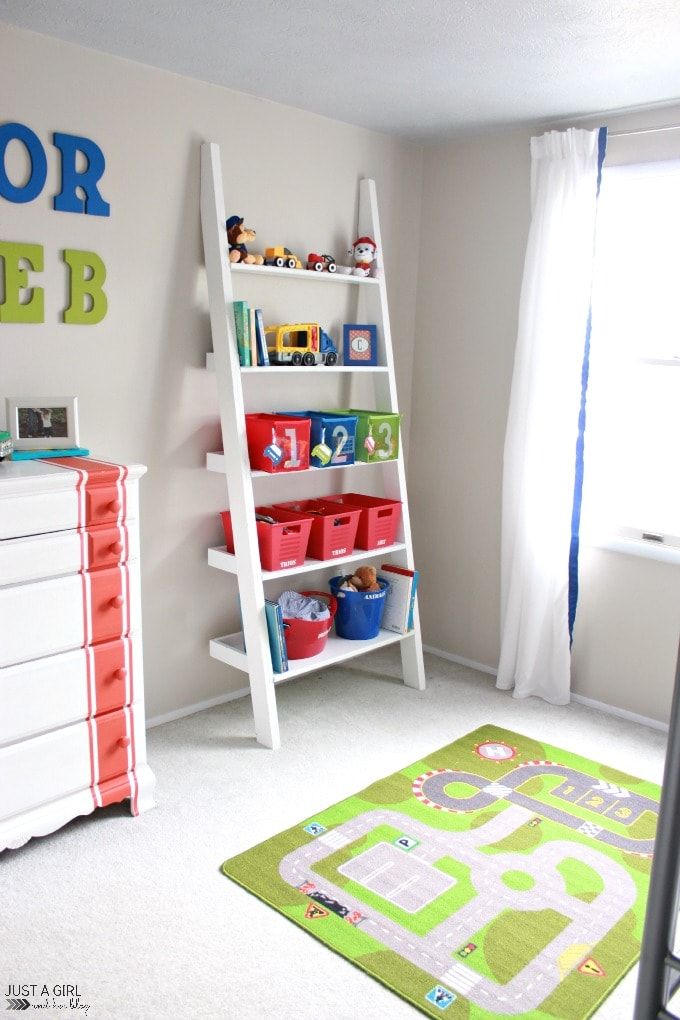 Vertical ladders work well at cleaning up the corners too. It brings the eye up and you can use the shelves to organize a lot of the nursery or bedroom goods. This look from Just A Girl gave us a lot of ideas for other parts of the home as well like the home office or craft room.
8. Bench Buckets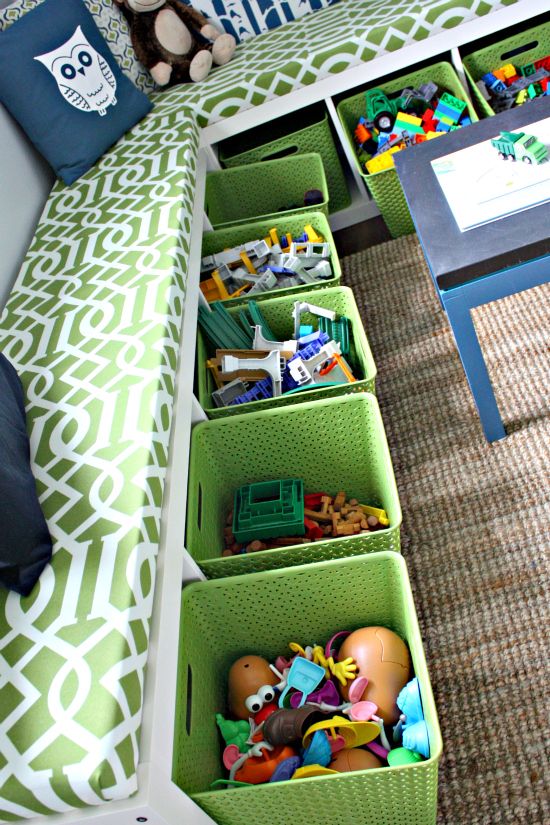 iHeart Organizing features some under-the-bench storage that we like as well. Those little cubbies can be used to organize play food, books, legos, and more. Even Playdoh could be stored underneath – in the breakfast nook – without causing too much fuss in other parts of the home.
9. Layered Closet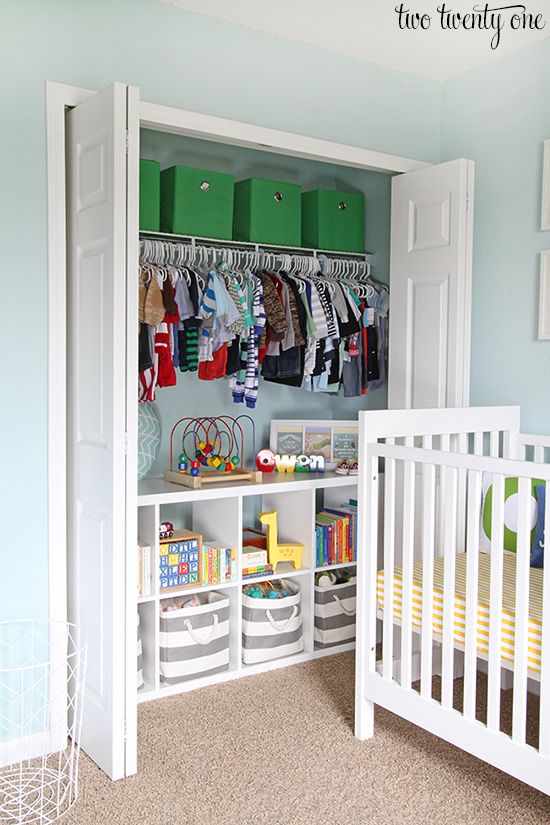 This closet from Two Twenty One utilizes all kinds of organizing techniques – and because of that innovation, this nursery is clean and bright. The clothing stays on top with fabric bins for accessories and then a cubby system below can be used to organize the little one's toys and boys.
10. Transitional 'Big Girl' Room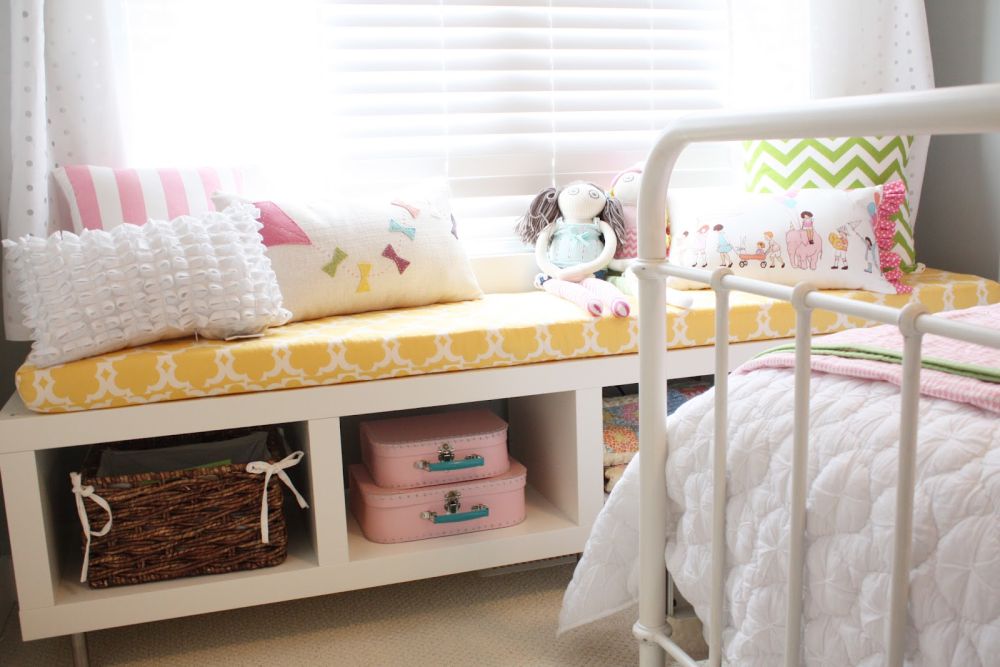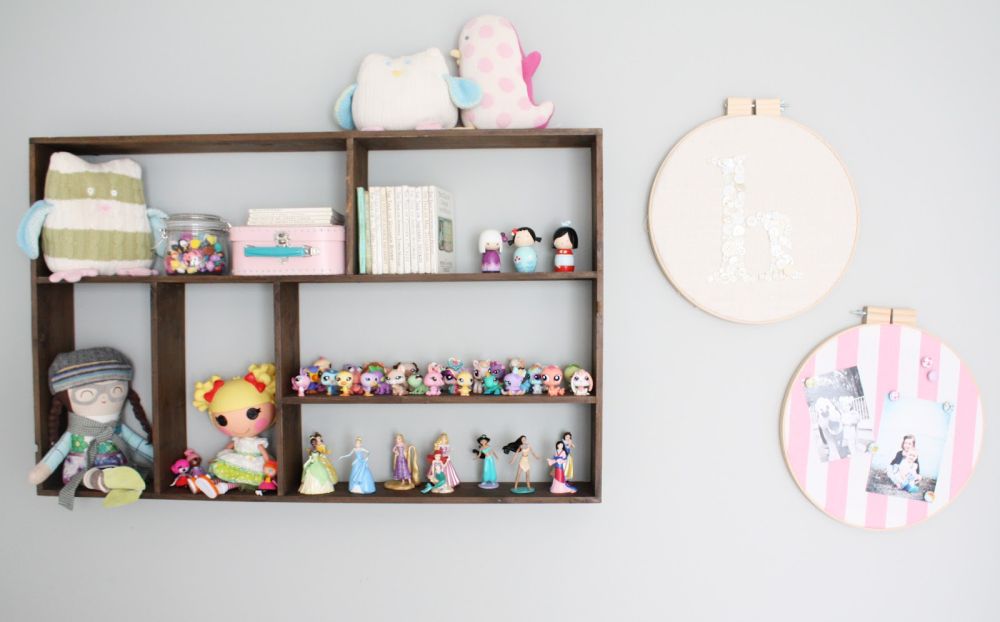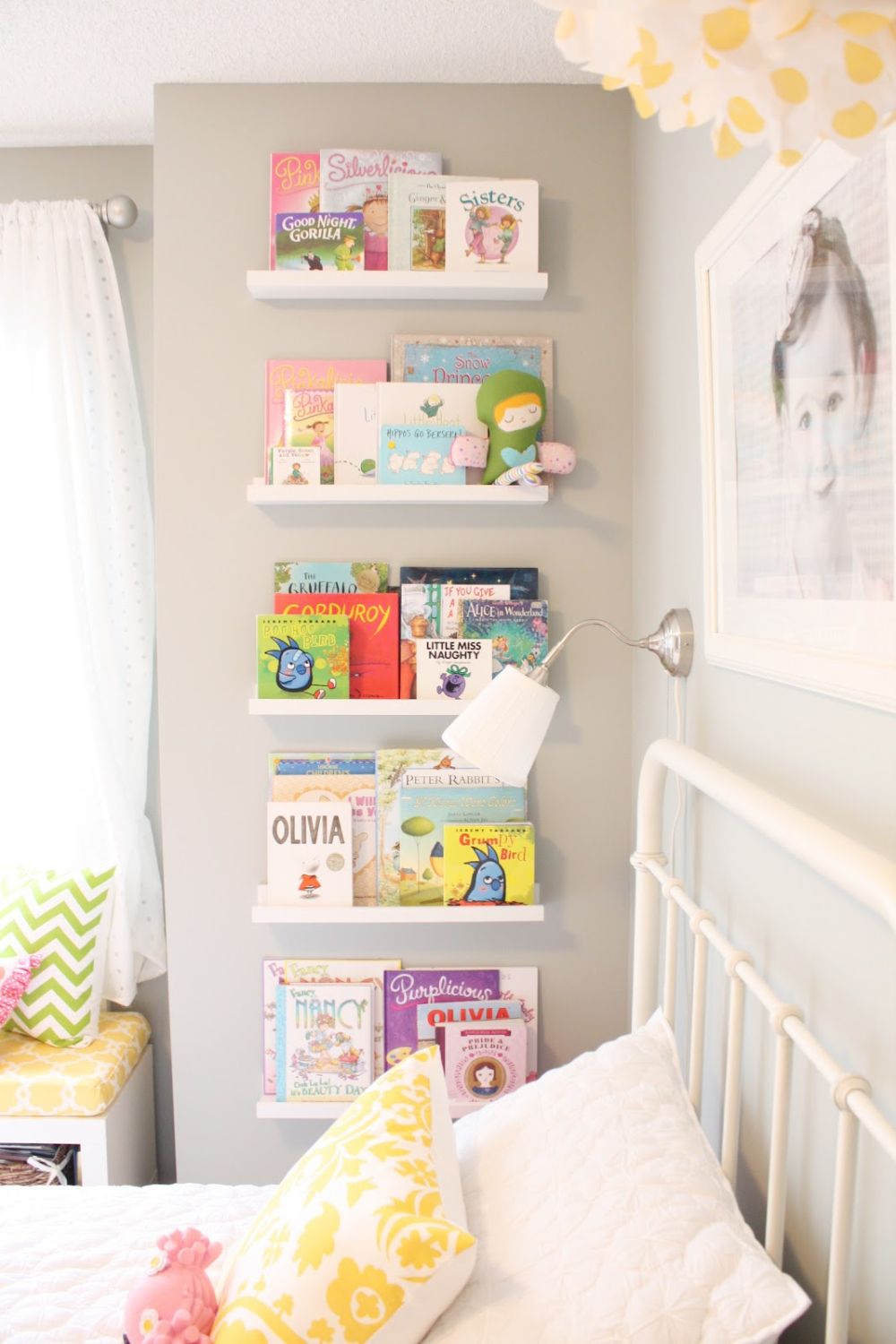 Every corner of this space from Daffodil Design is beautiful – and organized – just the way we like it. There are so many fun techniques to take a recreate in your own home. The floating shelves and the storage-filled window seat are just some of the ways to tidy up your little one's bedroom and help transition it to "big kid" style.
11. Herringbone Box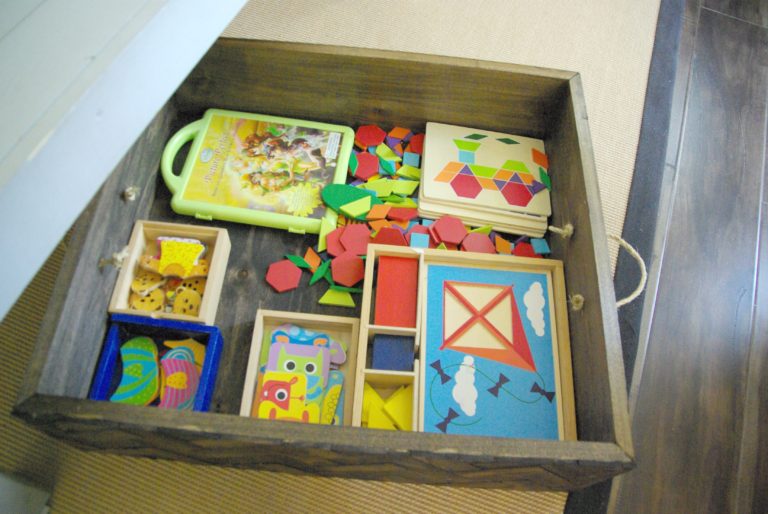 This DIY herringbone boss from Homedit will be able to slip and slide under various nooks and corners of the house. Under the couch, under the coffee table, or maybe even the entertainment center in the playroom, there are a lot of ways to utilize this box and help to declutter when playtime is ready to be put away.
12. Under-the-Crib Surprise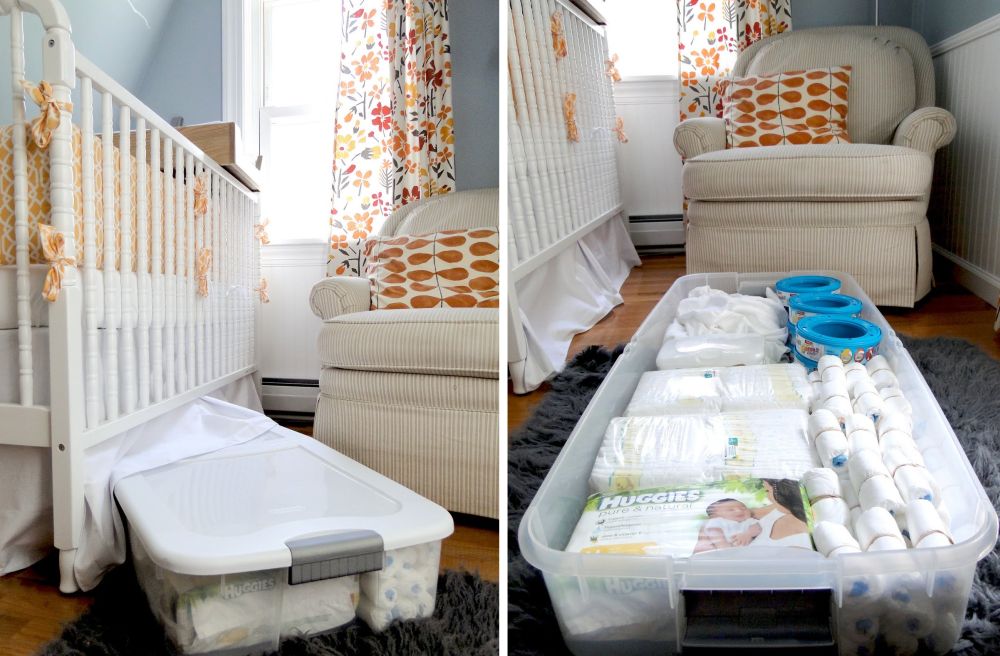 Sometimes the simplest of solutions are the best. A giant, plastic storage bin can easily be hidden underneath the crib with its necessities safe and easily available. A Lovely Lark gave us this genius little tip and it really is a great way to keep the extras nearby.
13. Headband & Bow Frame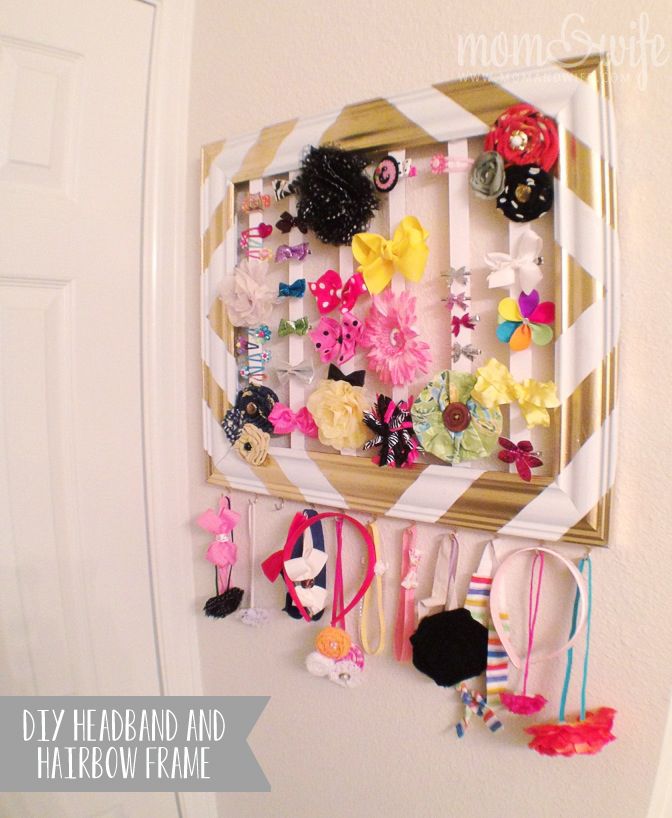 If you have a little gal – or prepping for one – we're sure you already have loads of hair accessories. And there are easy ways to organize (and display) her collection. Check out this frame at Mom & Wife. All you need is an older frame and some ribbon to get the project off the ground and started.
14. Spice Rack Shelves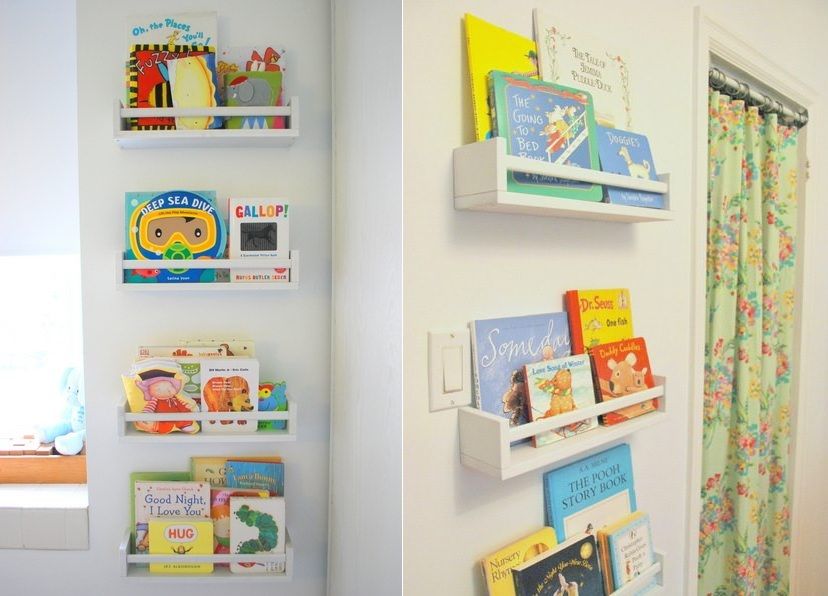 The Sweetest Digs features a DIY that has taken bloggers (and Pinteresters) by storm. Ikea spice racks can easily be used as bookshelves. Install them to the wall and then organize your favorites – it's really that simple.
15. Lego Table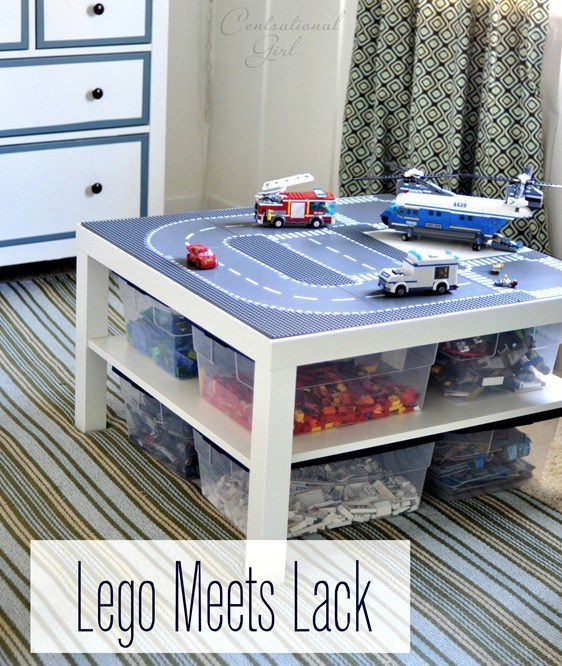 Centsational Style will guide you through the makings of an absolute necessity when it comes to a playroom. Every kid loves legos and that means you need to find a way to storage and organize the pieces. Grab some plastic bins to seperate and label – and then grab some foundation pieces to start making your own table to make construction a bit more fun.
16. Nerf Pegboard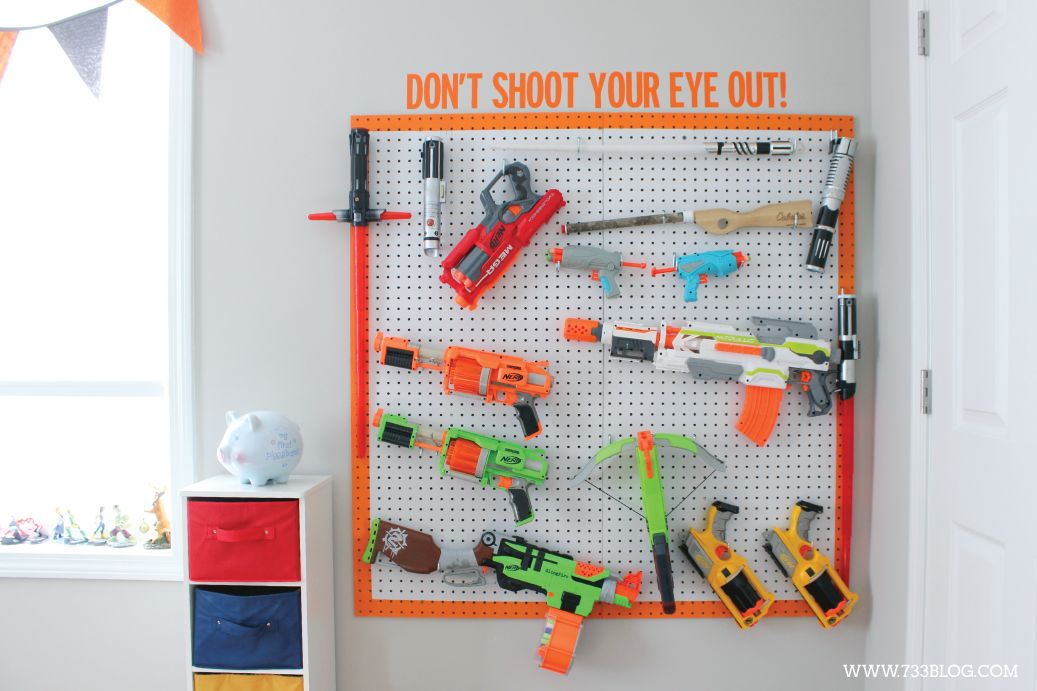 If your kiddos have a collection of Nerf toys, you may want to invest in this simple idea from Inspiration Made Simple. Just like your garage, the playroom could use a pegboard or two to do some heavy lifting in terms of organization. And what's great is none of the big toys will be lost in the hustle and bustle with this one.
17. Curtain Shelf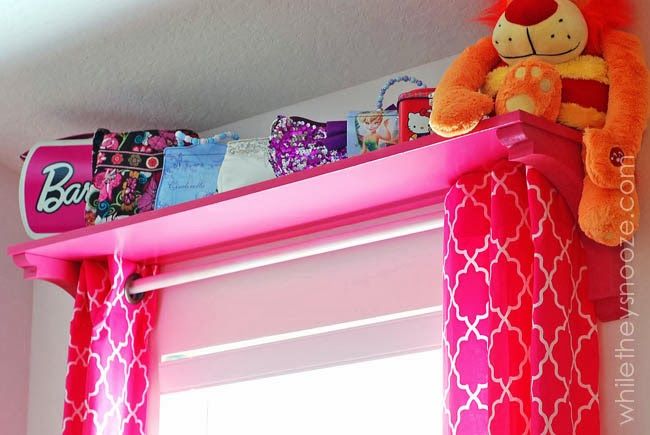 There really are hidden areas of the house that you haven't been utilizing. And this curtain shelf we found at While They Snooze is a perfect example of that. Really utilize all the space you've been given – especially in smaller areas – to get the job done.
18. Tsum Tsum Hotel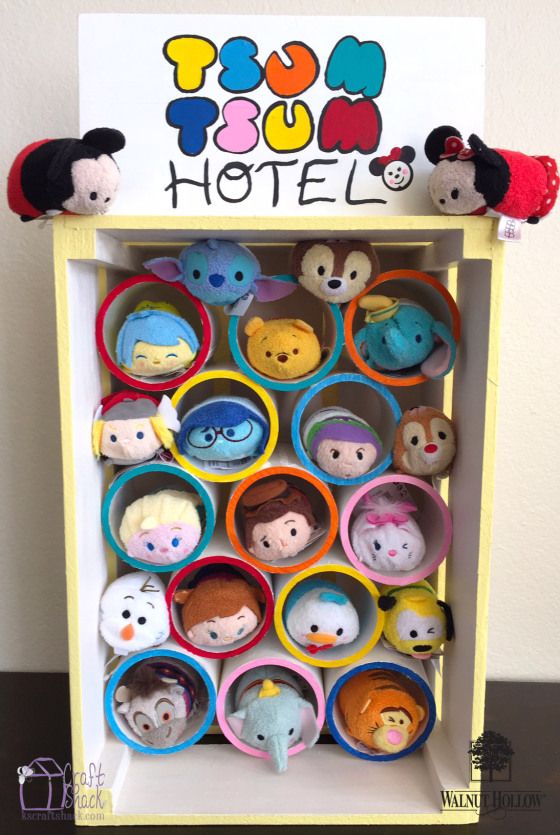 And then there's this Tsum Tsum hotel idea from Walnut Hollow. Not only does this make a great place to store their collection of mini Disney plushes, but it acts as a great play piece as well. You can go bigger or smaller with the design quite easily too.
19. Playroom Reveal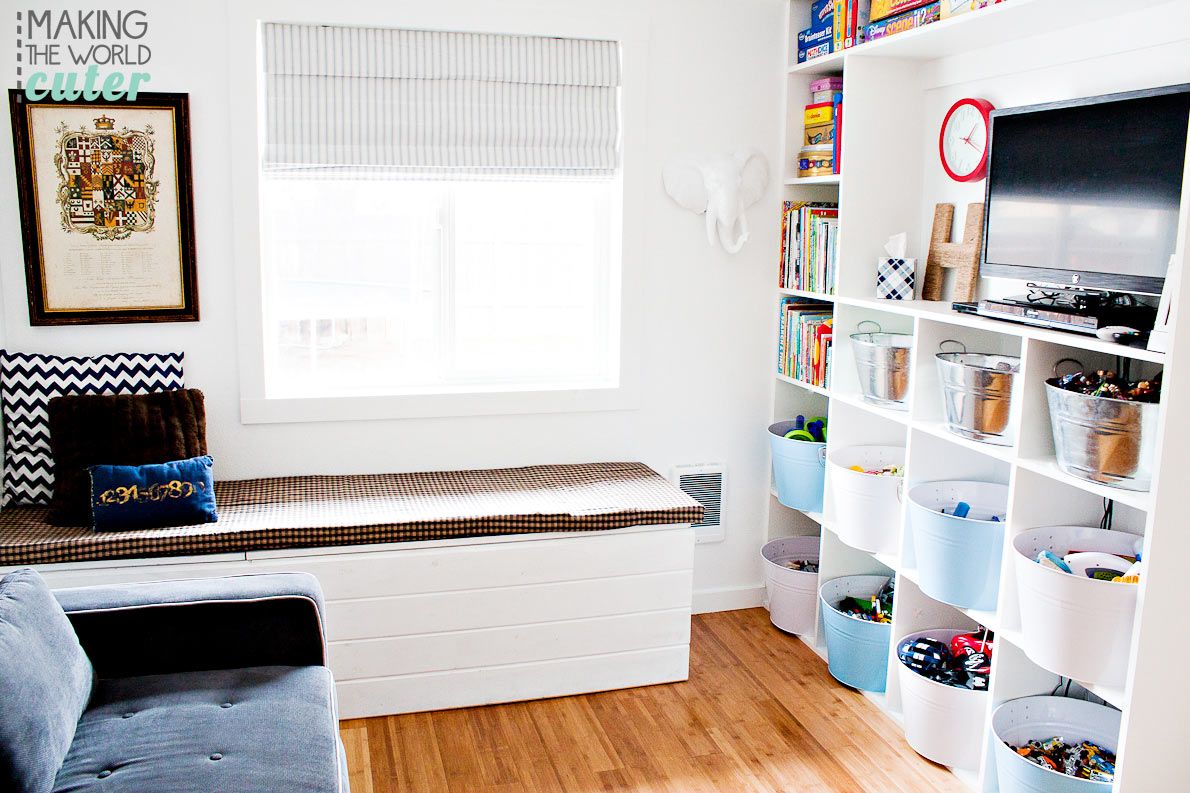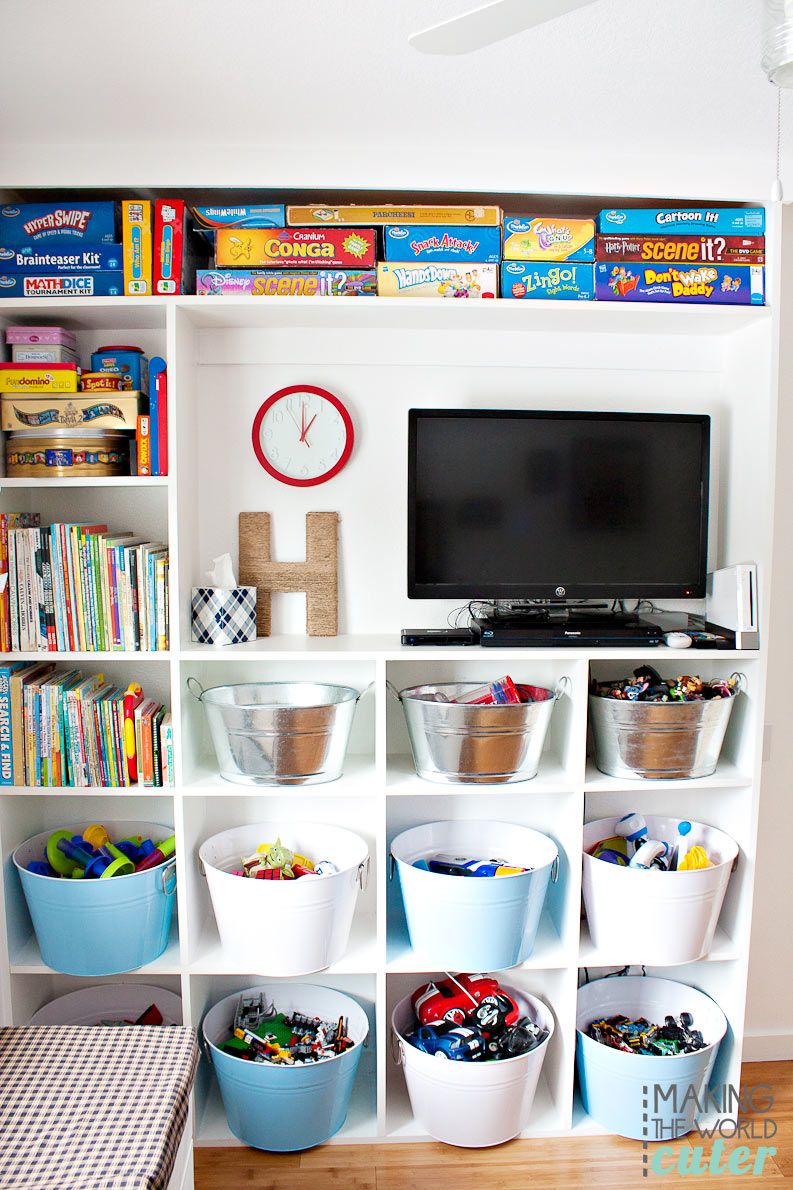 Making The World Cuter has another neat and tidy playroom that we're gathering inspiration from. We especially love the built-in shelving and cubby system that's topped off with metal bins. It creates a cohesive style but also one that's easy for the kids to help keep clean once playtime is over.
20. Stuffed Animal Swing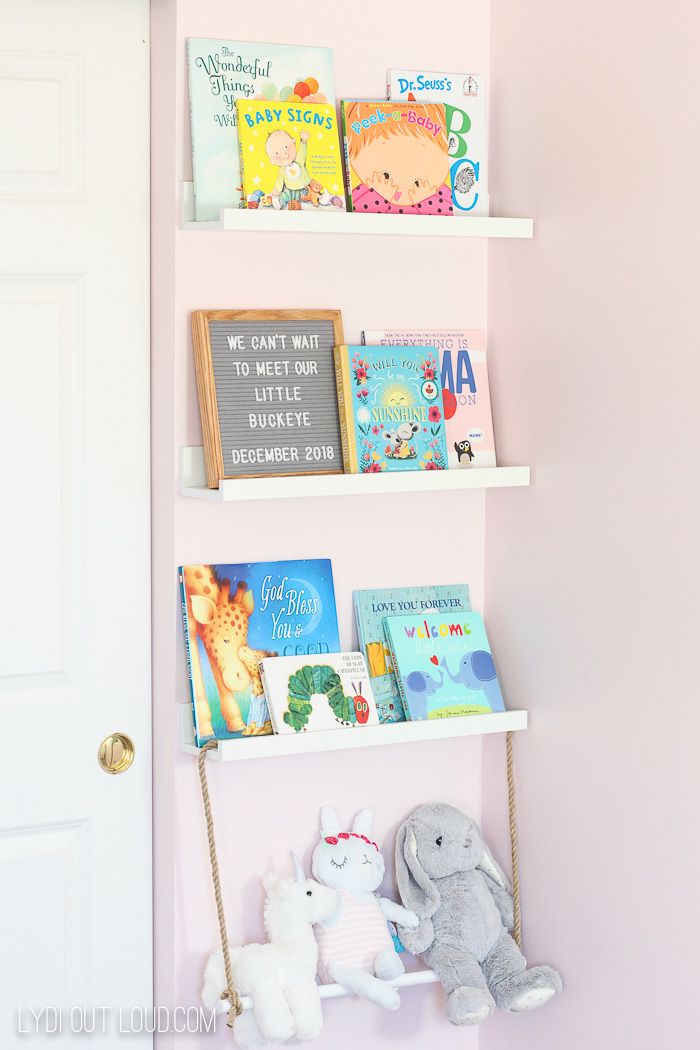 Check out this innovative idea for the stuffed animals of the house! Over at Lydi Out Loud, you'll get the 411 you need to create a swing for the favorite plushes to be displayed and housed on. All you really need is a dowel rod and some string to get started.
21. Book Table Bin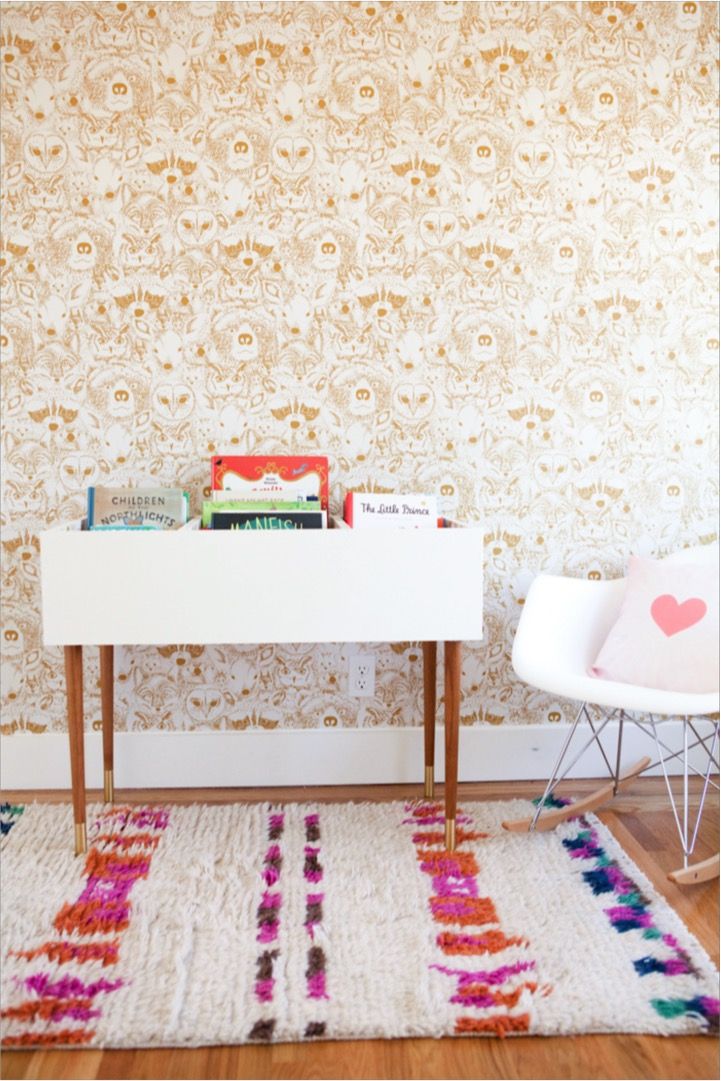 If you've got a lot of books in the house, it'll be imperative that you find a way to store them. And this book bin table featured at This Little Street is the stuff of modern-lovers dreams. For those that want a bigger project to bear, take a peek here.
22. Book Ledges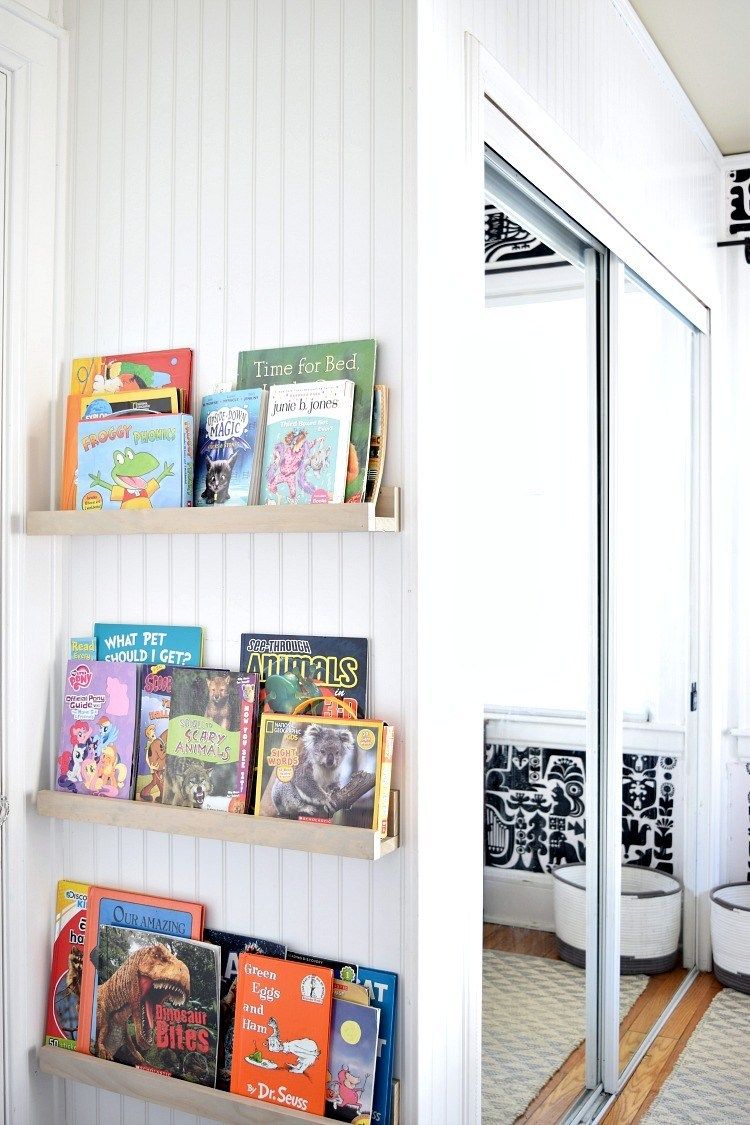 We've got more book ledges to look at if you're visiting Houseologie. These kinds of shelves are really great for those that want a minimal, cohesive style that goes along with the reast of the house, but really does its job it turns of organizing what's causing the clutter.
23. Basket Bin Installation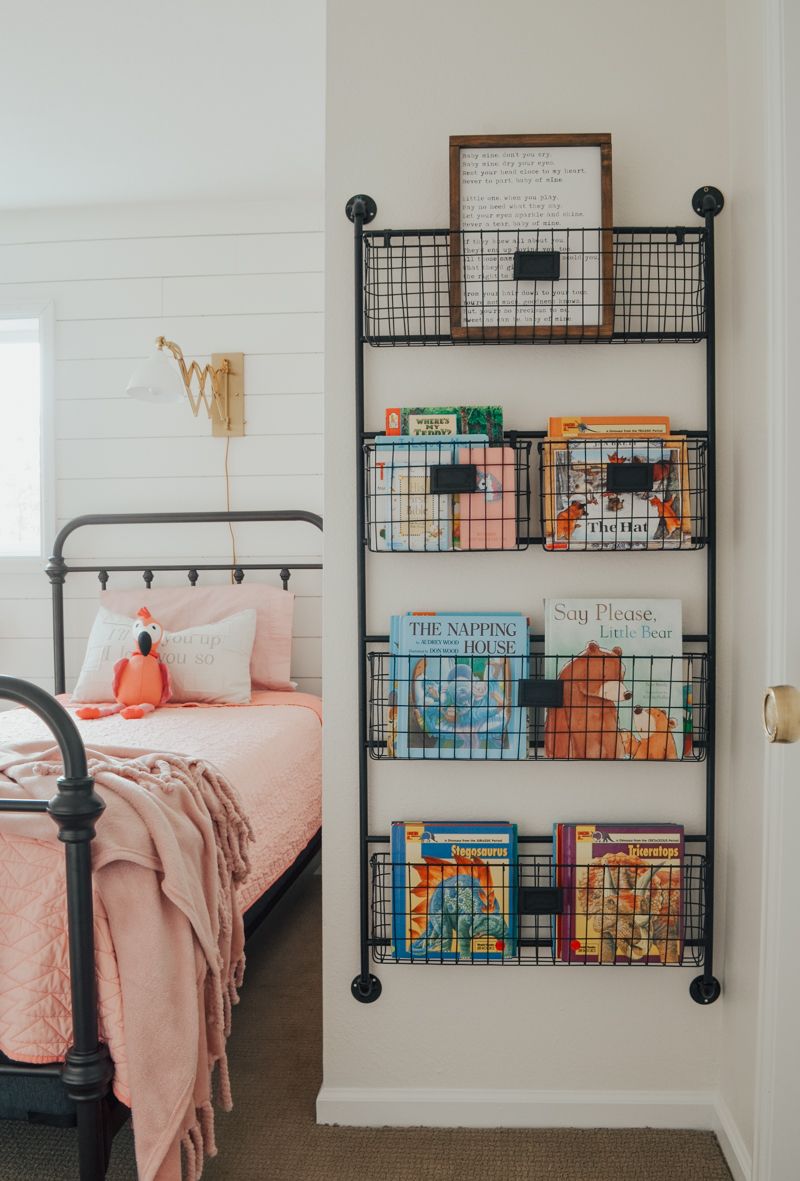 These basket bins are a really nice addition to a bedroom or playroom as well. They can organize nearly anything you need them to – from accessories to books. And you can design some on your own with industrial piping and metal baskets. Take a look at more instruction at Sarah Joy.
24. Farmhouse Bookshelf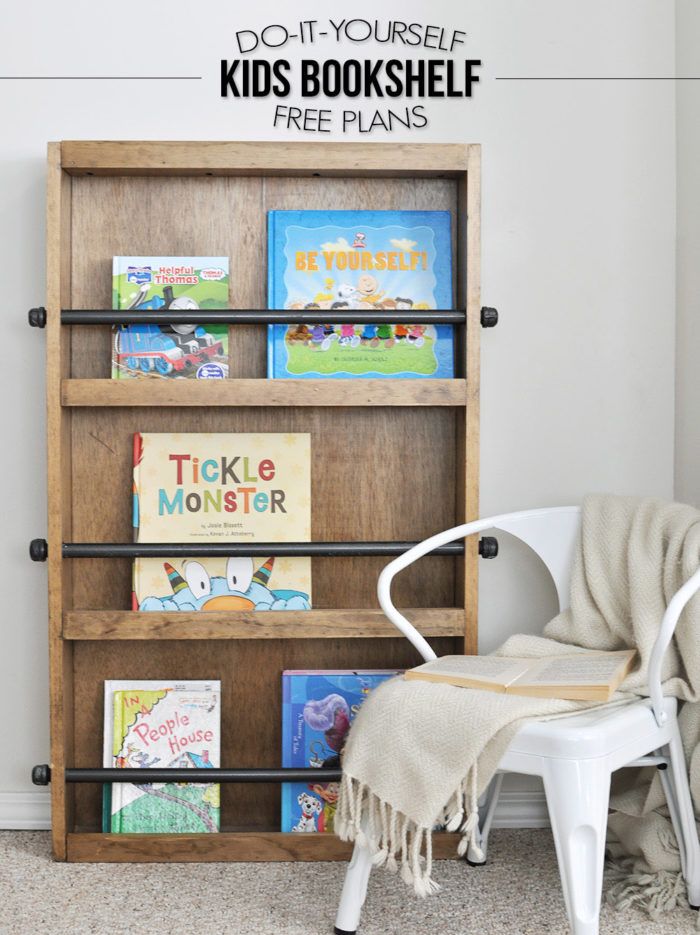 Cherished Bliss has another book organization idea to take a peek at. This industrial and farmhouse blended bookshelf is a real lifesaver in terms of storage but also in terms of style. It'll become a favorite part of the nursery, bedroom, or playroom quite easily. Grab the lumber and grab the metal rods to get started.
25. Recycled Toy Bin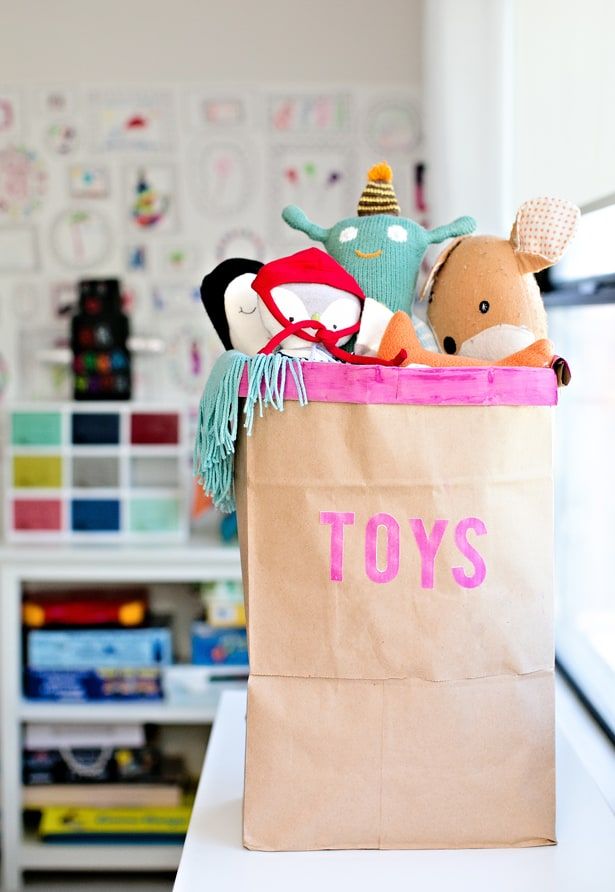 Yes, you can easily recycle some paper bags and turn them into sturdy bits of toy storage. Grab some inspiration behind the wonders of Hello Wonderful. But most importantly, grab some paint to personalize each of these buckets.
26. Art Crates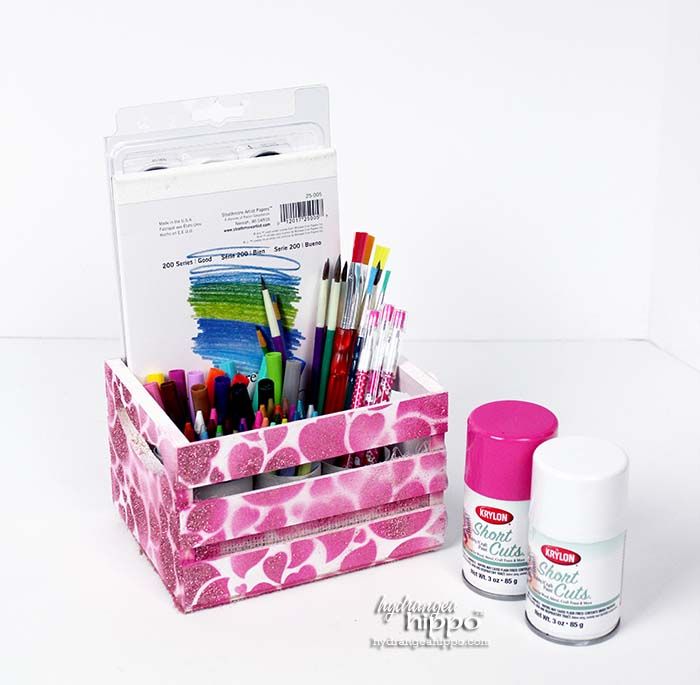 Creating mini art crates for the kiddos is a lifesaver as well – but it's also fun and your little ones can get involved in the process. Organize the art supplies into small crates and then take some paint or spray paint to personalize its finished look. We found this easy idea at Hydrangea Hippo.
27. Twine-Wrapped Boxes

All Parenting had some twine-wrapped baskets featured. If you're looking to add some organization to your nautical, farmhouse, or country-cottage inspired space, why not add some of these textural bits to the mix. Grab a cardboard box and just reinforce it with some twine. It's really that simple!
28. Fabric Baskets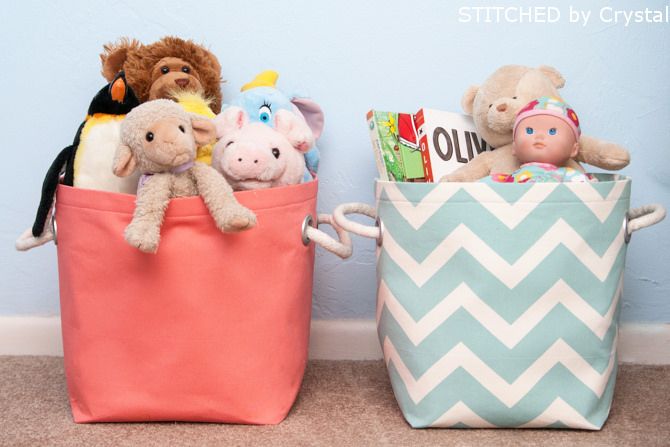 Make It and Love It will show you how to whip up some fabric bins. We love the personalization behind these as well and their softer quality for those that need something to fill the nooks and crannies with ease. Adding the rope handles are a nice touch as well – for easier mobility.
29. Storage Jars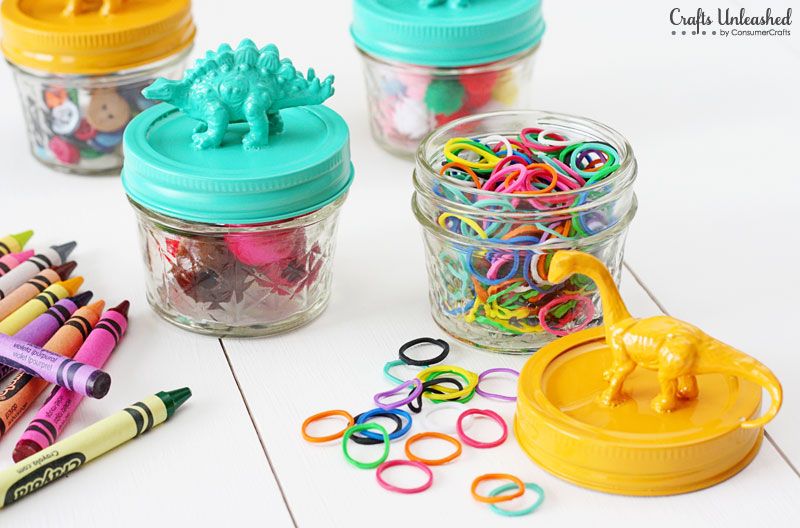 And if you grab some smaller jars and some paint – yes, and the plastic mini toys too – you can whip these up. Use them to organize craft supplies, bathroom necessities, or even hair accessories! Don't forget the glue gun either – you'll need that to add your special topper. Grab more details at Consumer Crafts.
30. Closet Window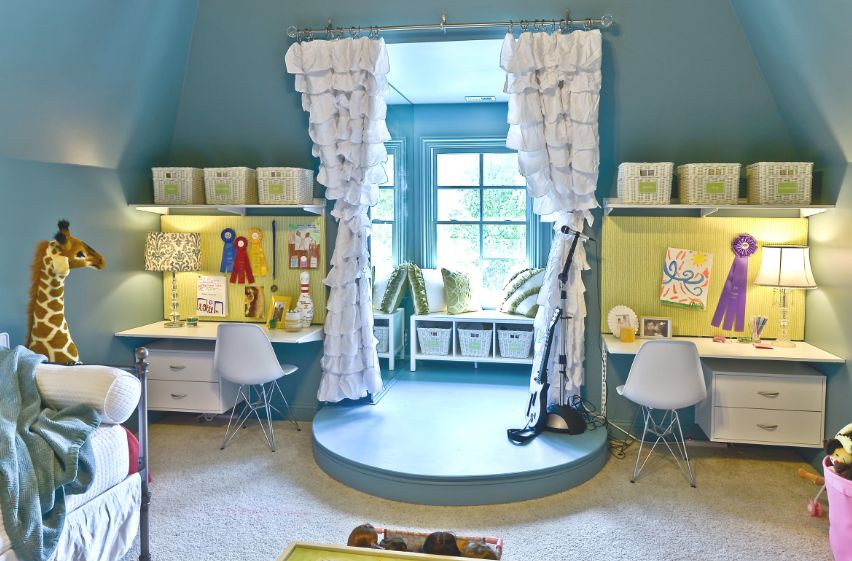 We found this teenage kids' room and immediately fell in love. This space is a great example of how to divide one bedroom into two – for siblings and the like. The window seat is a beautiful focus to the entire area and provides a nice escape for the sisters here.
31. Art Studio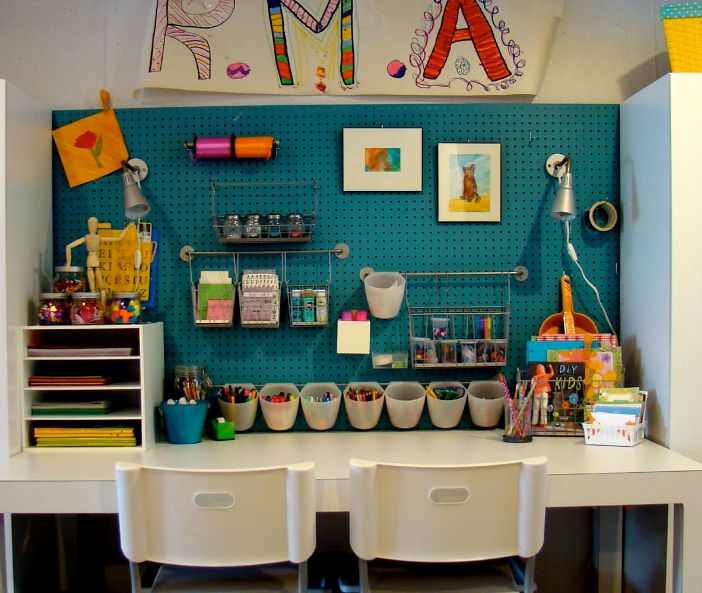 The vintage glitter house also gave us some inspiration for the kids' art studio and how to set one up. The playroom should definitely have a space devoted to arts and crafts. And it's necessary to keep it all organized. The pegboard installed can give you a solid foundation to begin the transformation.
32. Built-In Shelving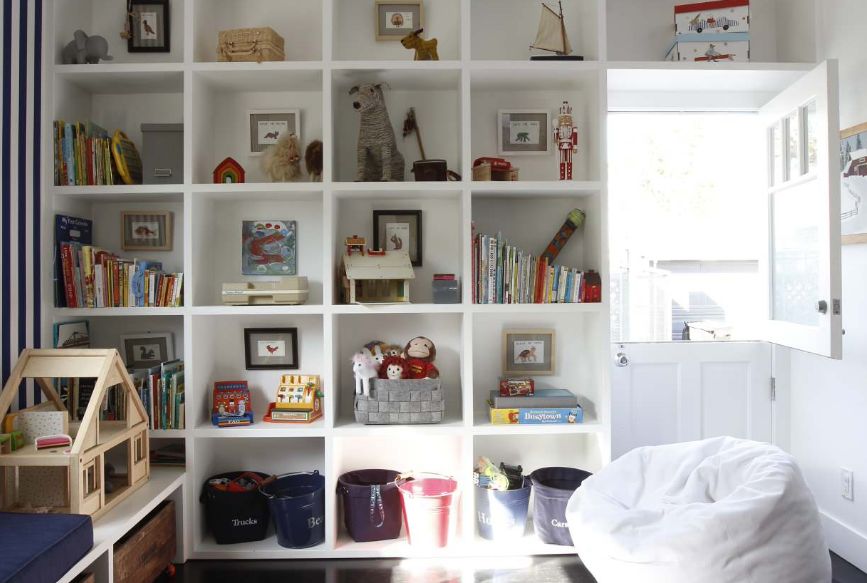 And finally, it's important that you learn how to utilize your build-in shelving – and it's nice to know how to install some as well. Using the cubbies or shelves are homes to bins, buckets, and the like is nice when you remember to label. Check out more like this over at Tessbethune.
The post 32 Easy-To-Do Kids Organizing Techniques appeared first on Home Decorating Trends – Homedit.