If you are an avid crafter, then a craft table or desk in your home is an absolute must. Of course, what makes you even prouder is the idea of creating this table all on our own! Yes, we are talking about the DIY craft table and how you can make one without too much of an effort r cost. No one would know your specific crafting needs better than 'you'. This makes the idea of making a workstation and a smart zone for all your crafting projects even more apt. From the simple and stylish designs that save space to tables that offer ample storage for all your supplies, this is a collection of the 20 best ideas and designs around –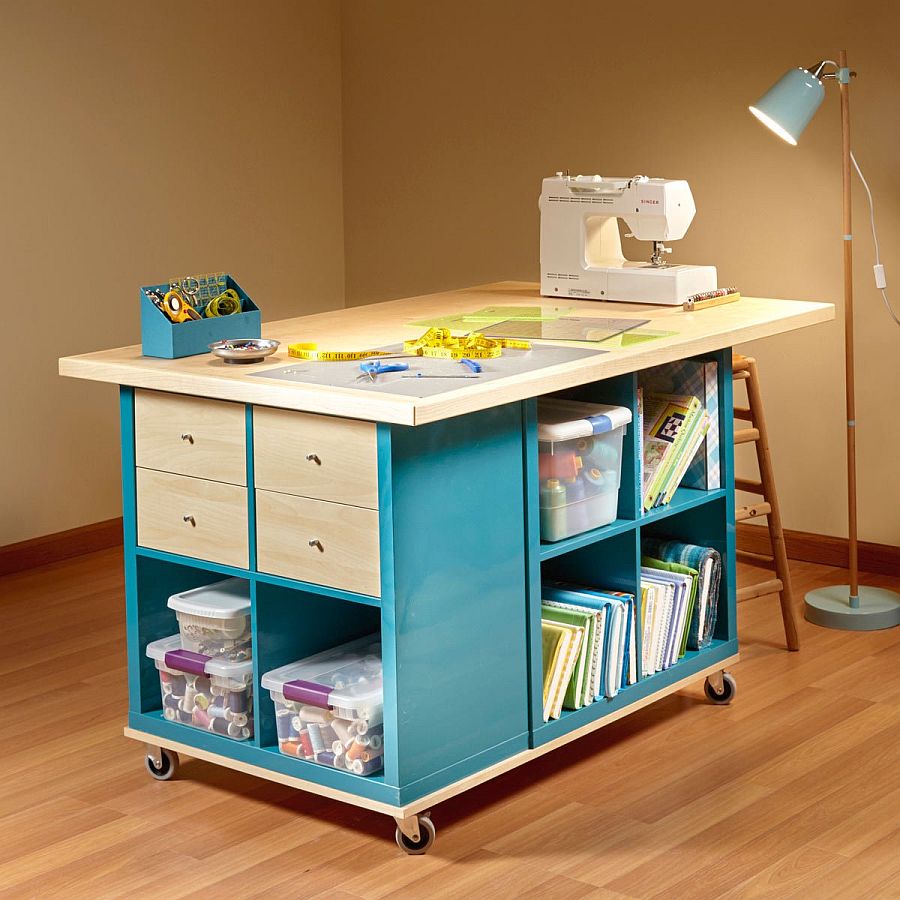 Space-Savvy and Small DIY Craft Tables
Not all of us are lucky enough to spare an entire room for our crafting needs. Sometimes we have to make do with a corner in the bedroom and on other occasions a niche in the hallway is the space for our creativity to take shape! This is where an idea like the space-saving folding DIY desk comes in mighty handy. This one is smart, modern and sleek just like the minimal DIY crafting desk below it with open shelves. Both the ideas are absolutely perfect for the modern home.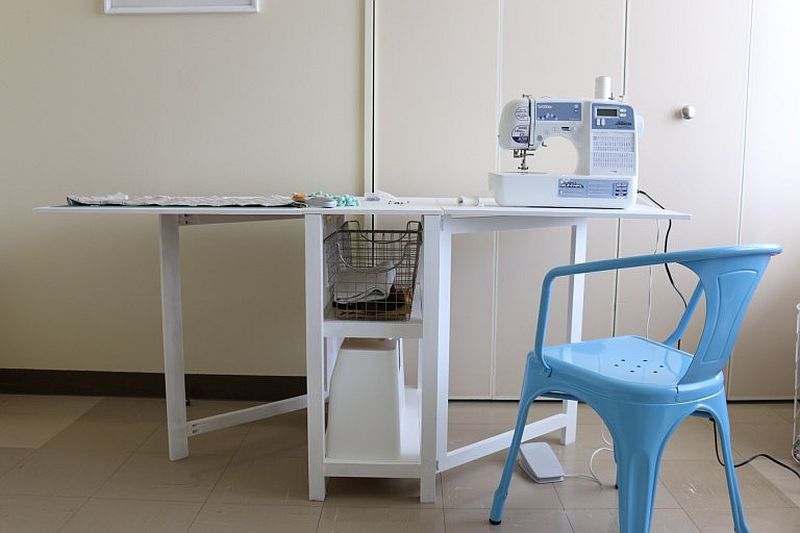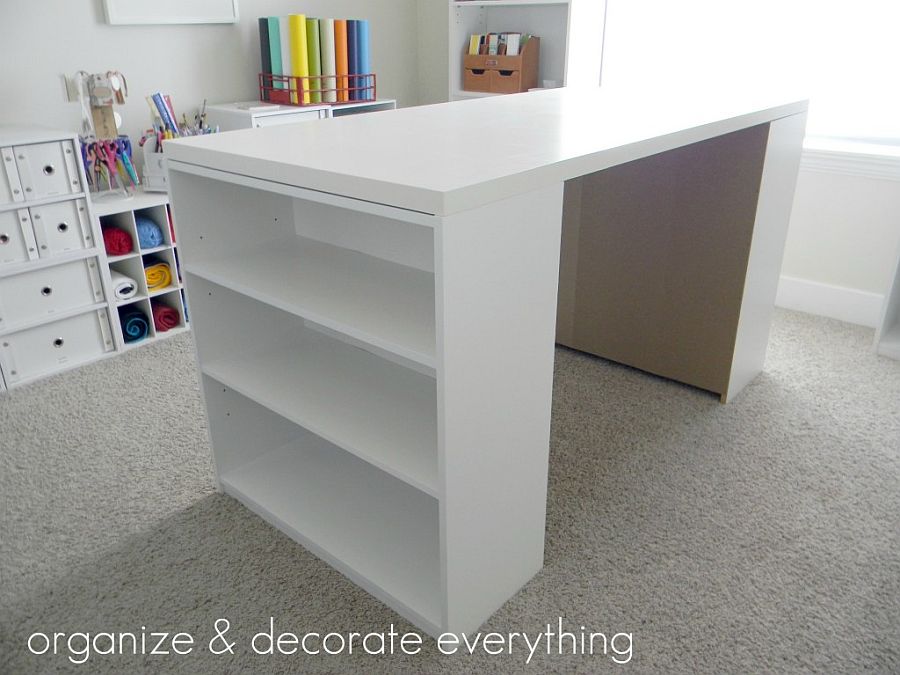 Believe it or not, the desk below just took an hour and a bit to craft! Sounds impossible? With proper tools and the right materials as shown in the DIY project, you can create this slim and smart table within no time at all. The best part here is that it can be used as everything from a crafting table and workstation to maybe even a small breakfast zone!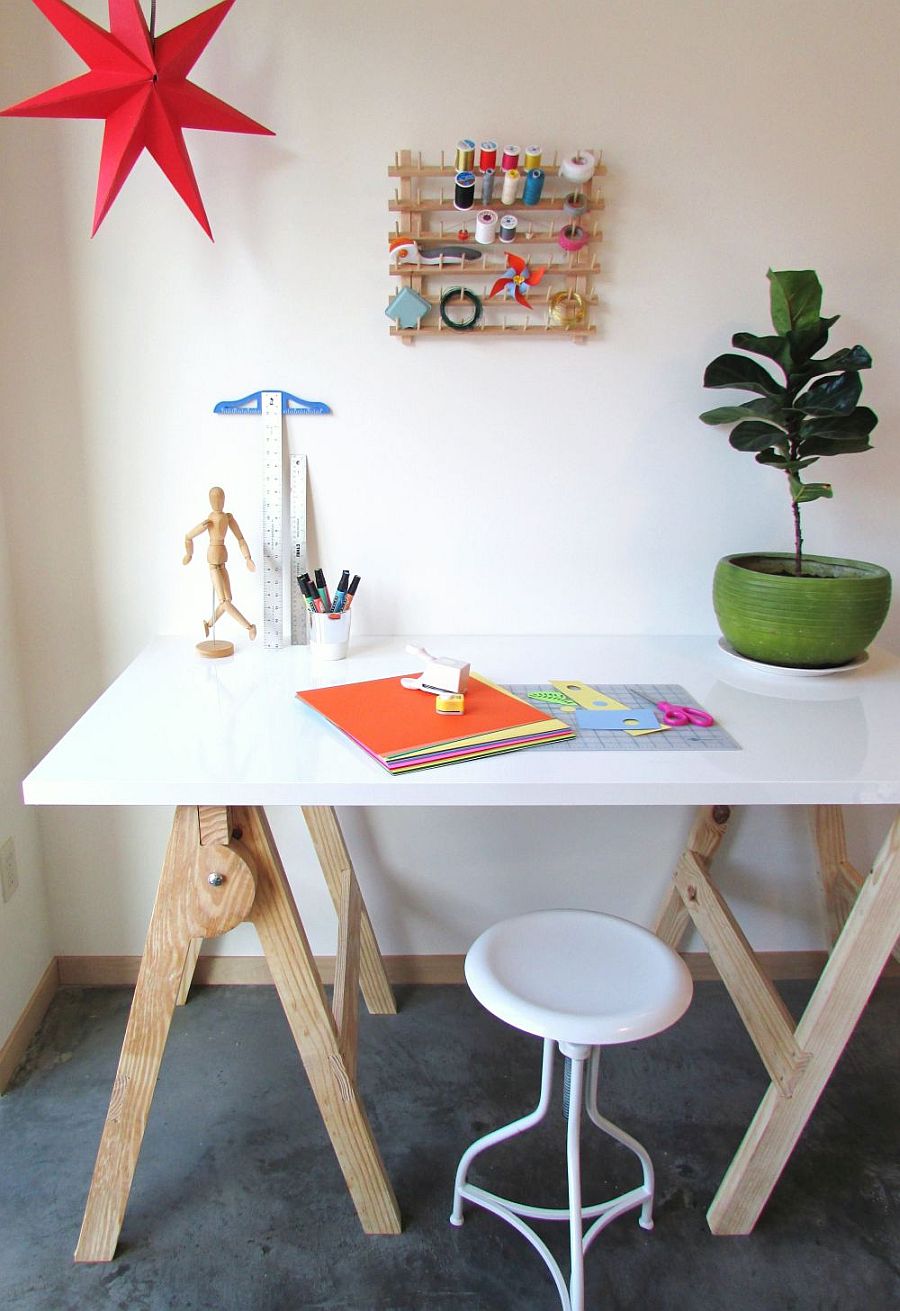 Who knew that a couple of filing cabinets and a giant plank of wood can be combined to create a craft table that offers plenty of work surface! This is a DIY project that pretty much anyone can try out and combining one of these desks with wall-mounted shelves offers even greater design flexibility.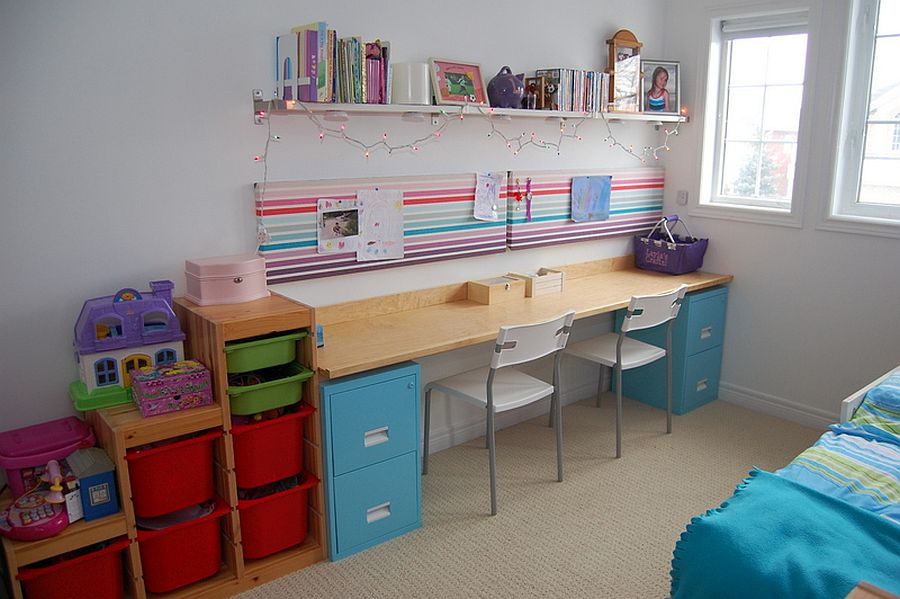 Speaking of slim wall-mounted shelves and making most of the available vertical room, few desks come in as handy as the design below. Here the table is pretty much limited. But an array of floating shelves more than make up for the lack of storage space within the table design. For a tiny crafting niche, this is definitely the best idea you can draw inspiration from. Of course, those looking for that 'something different' can replace the more mundane floating shelves with an all-purpose pegboard that is all functionality!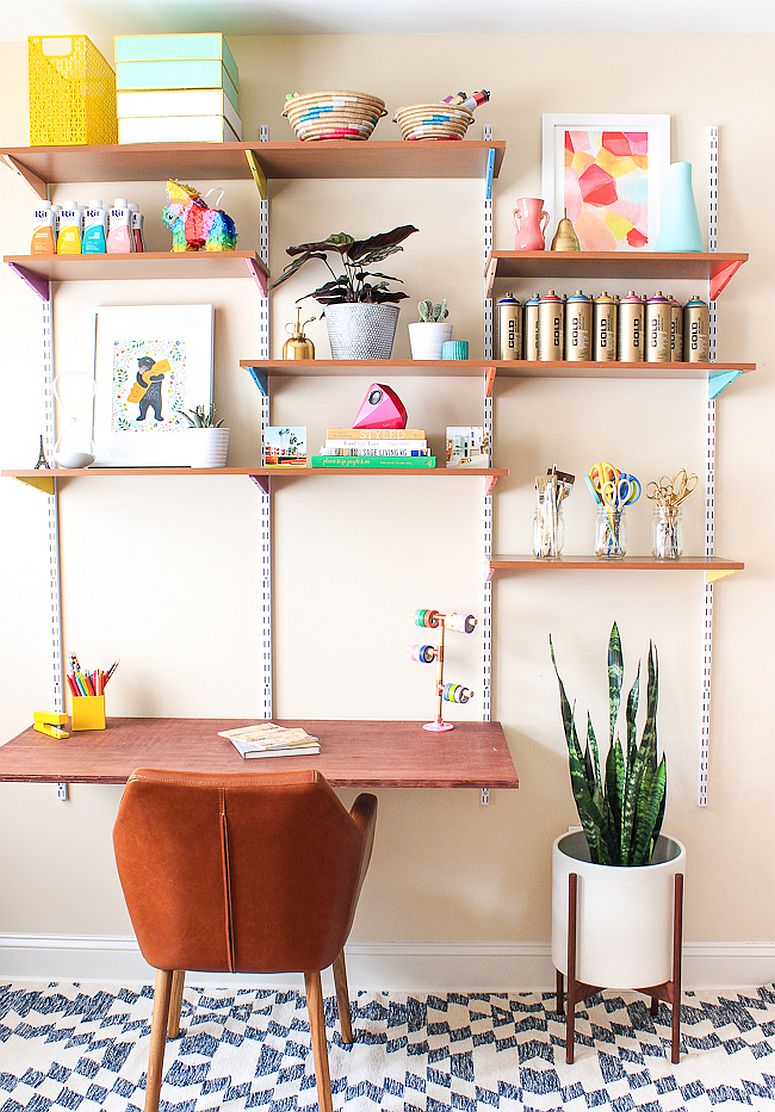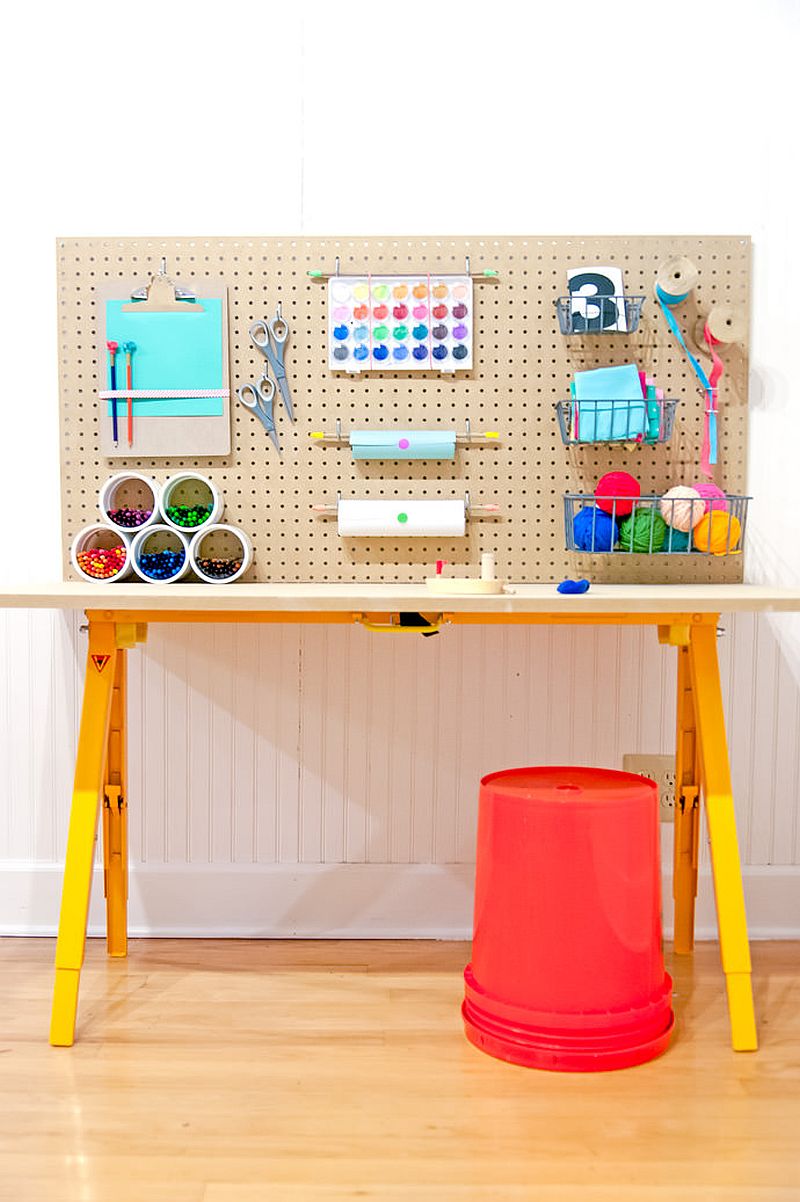 Finally, you have this cool corner DIY crafting desk from Martha Stewart in the space-saving section of craft table designs. Multiple drawers, open shelves and a design that blends into that 'awkward corner' of your home make this a picture-perfect creation.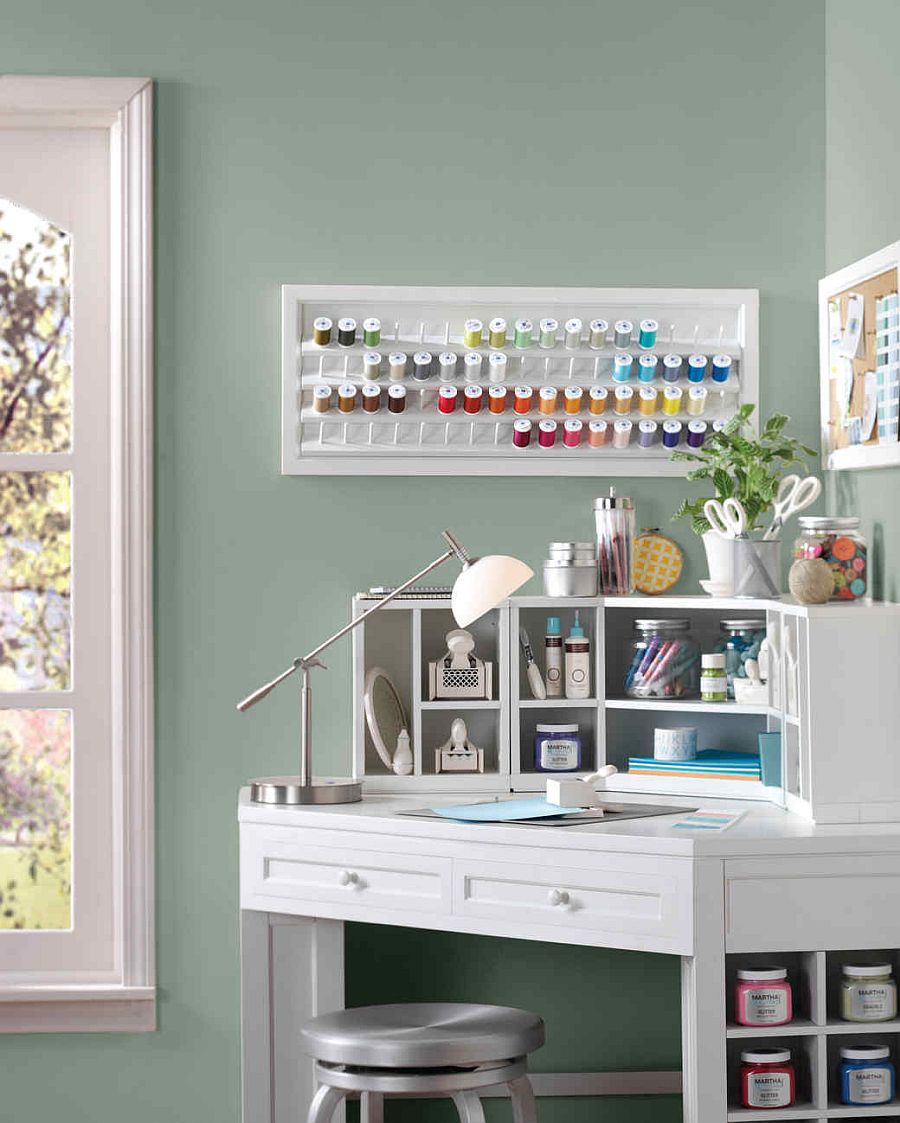 When Style Meets Substance!
We are not all about functionality all the time; even when talking about homemade craft tables! This is where we introduce a bit of a style statement with our gorgeous DIY tables and getting us started is this fabulous DIY pallet table from Funky Junk Interior. Reclaimed wood projects are currently a hot trend and this project combines our love for craft tables with eco-friendly intent and warmth of wood in a seamless fashion.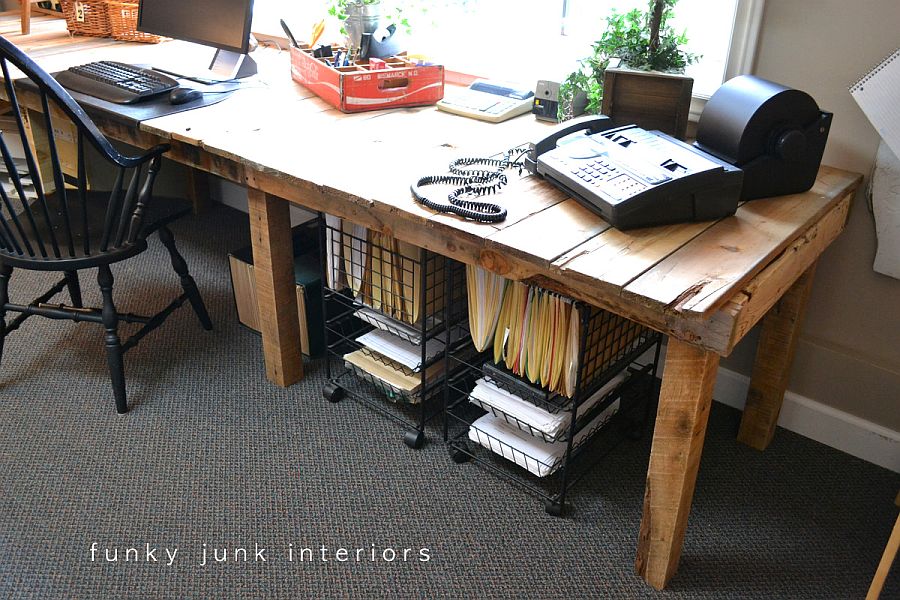 The table with trestle legs has a classic charm that is just irresistible and you can add a bit of this to your crafts section using the dashing little table below. A combination of metal and wood means that this table is perfect for industrial, modern and shabby chic style interiors. With a change in the choice of wood and its finish, you can even go down the farmhouse and rustic routes with ease.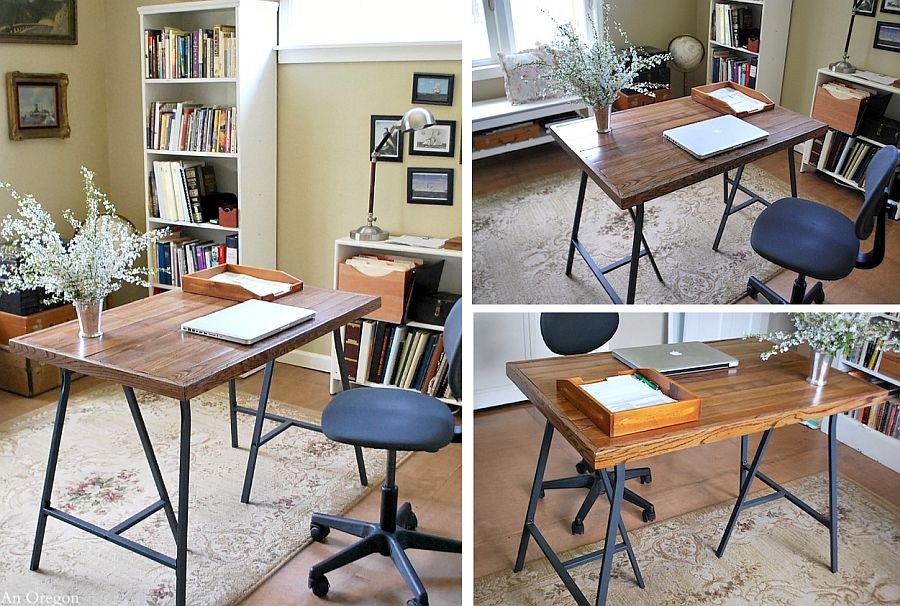 If you wish to travel down the industrial path even further, then the charming craft table on wheels below is the perfect option indeed. Woodsy and mobile, this table design comes with plenty of storage space and even a couple f wiry bins as well. The sawhorse craft desk on the other hand is far more stoic and yet has a design that feels simple to execute and is less demanding on your crafting skills.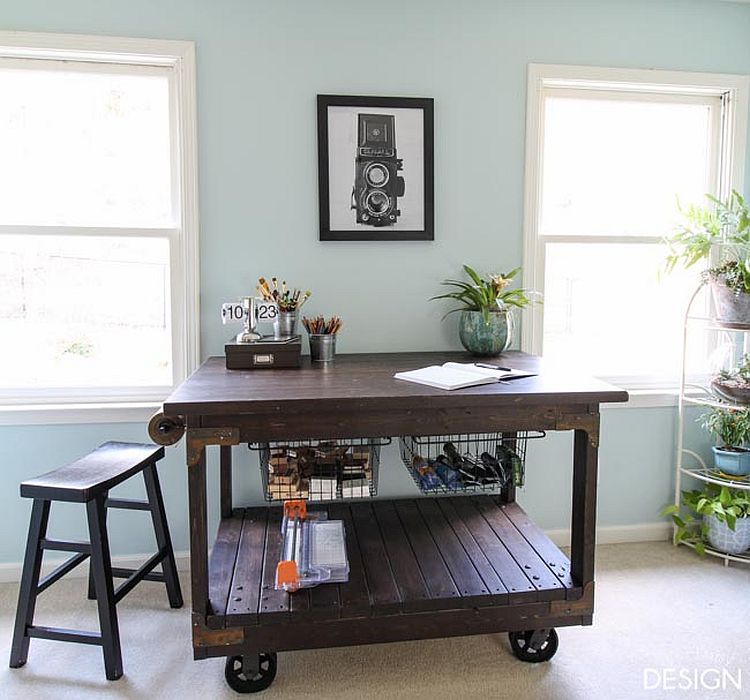 If building a craft desk on wheels is a priority for you, then the two designs below make a grand statement while offering just that. They are modern, flexible in form and bring with them a whole lot in terms of storage options. While the former is all about drawers that hide away mess, the latter just gives you ample room to place the many baskets and bins in the crafts zone.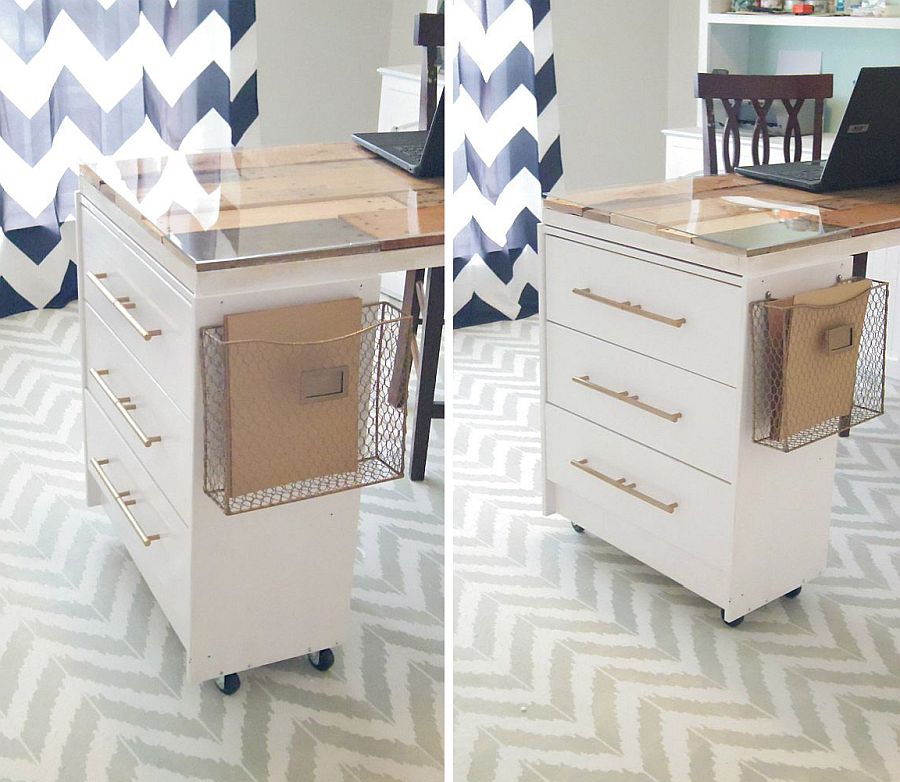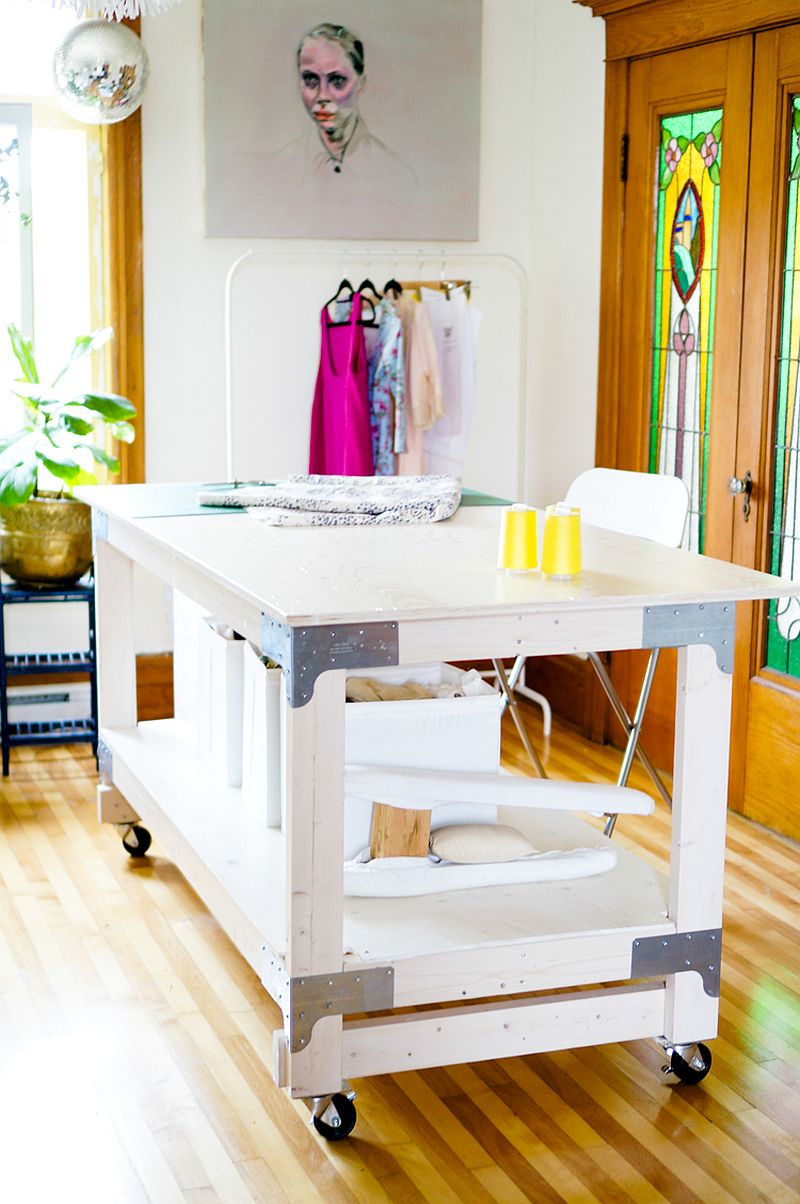 Benefits of Ample Storage
If there is one thing that we are absolutely certain about, then it is that most of our avid readers want a craft table that also brings storage options along with it. Exceptional DIY craft desks with multiple drawers and shelves like the coupe below do take considerable amount of time to make. But they are well worth all those weekend hours you spend perfecting the designs. The DIY craft desk design from infarrantly creative looks even more impressive thanks to the lovely use of color and multiple open shelves on all sides.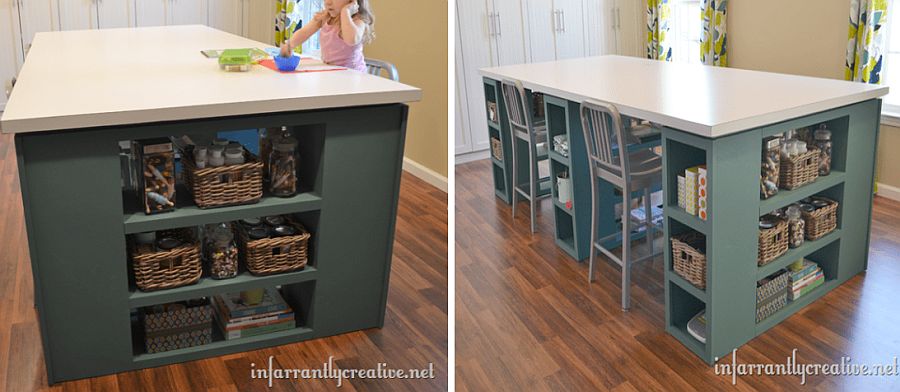 Craft desks with open shelves are not for everyone. They especially do not look great when you are not organized and leave things unattended as you switch between several different crafting ideas. A desk like the one below with closed drawers and multiple bins tucking away the supplies is much more apt for those who do not want to fuss too much about keeping things tidy all the time!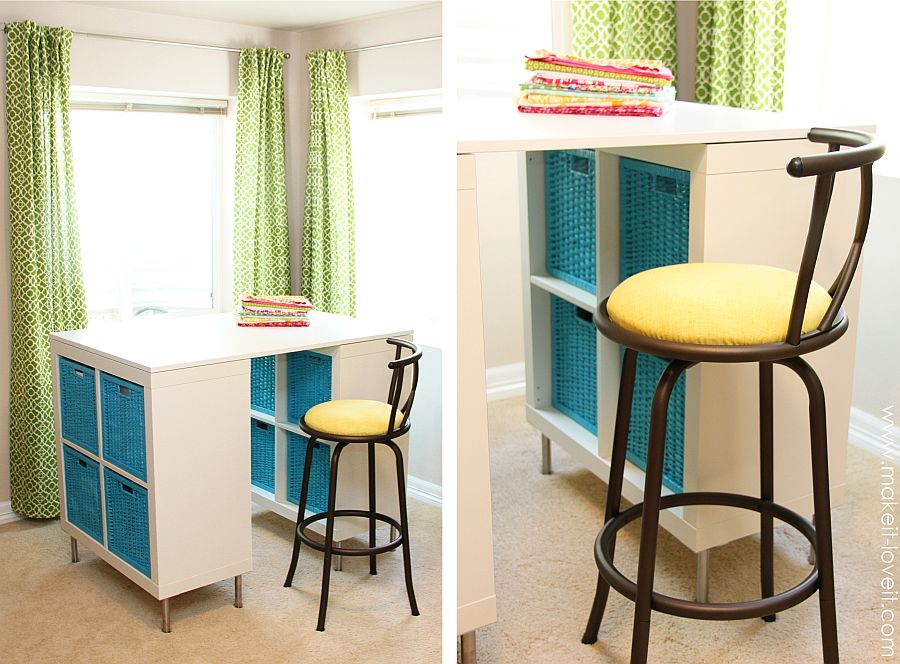 Getting the design plans for the desk below is all too easy and this one is just right for those who want a crafting station that will serve then well for years to come. Modern and elegant, this is an idea that we intend to try out ourselves as soon as possible.

If you are good at working with wood, then you would have no issue at all as you go about shaping the ergonomic craft desk showcased below. This one once again relies on a base that contains two different storage units and a simple wooden top. The last idea for the day feels as much like an exclusive kitchen island and breakfast zone as it does a crafts station. If you fancy the extra hours and effort that go into making one, then it is a design that is just right!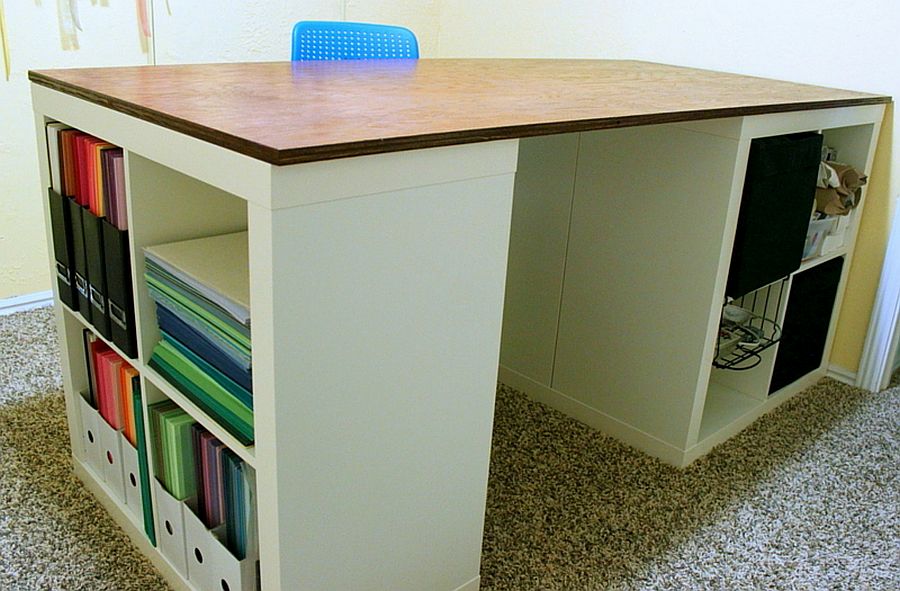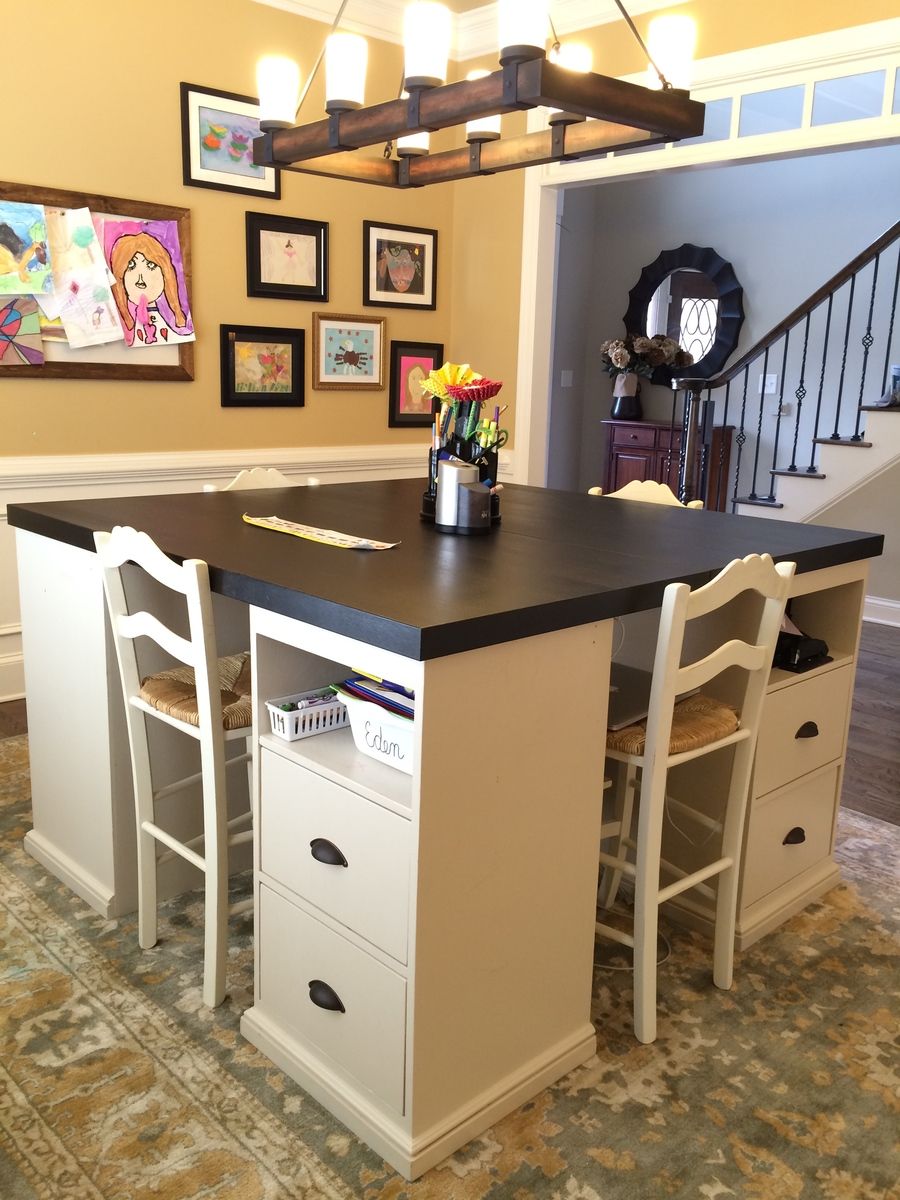 You're reading 20 DIY Craft Tables and Desks, originally posted on Decoist. If you enjoyed this post, be sure to follow Decoist on Twitter, Facebook and Pinterest.