In case you haven't heard, shiplap is the latest trend in interior design. We've already talked about this when we covered a few tips on how to add shiplap walls to a room and now we're back with even more great ideas. Before we get into details, let's quickly remember what shiplap actually means. Well, as it turns out, it's a kind of wooden board with grooves at the top and bottom which ensure a tight seal and allow the pieces to fit together snuggly. Such boards are often used when building sheds and barns and lately they've become quite popular in modern interior decor where they're used to create shiplap accent walls.
As it turns out, shiplap accent walls are exactly what we want to talk to you about today so let's start with this absolutely charming beach home designed by studio Geoff Chick & Associates. Shiplap is usually displayed horizontally but can also be installed vertically and you see here both options looking just great.
Shiplap can be used to spruce up a wall such as this one. What's particularly interesting in this case is the color which combined with the texture and the pattern turn this staircase wall into a beautiful focal point which suits this beach house in the most wonderful way. Check out thisoldhouse if you want to find out more about the house.
A shiplap accent wall can take many different forms and there are plenty of cool ways to customize the concept. An interesting idea comes from Bria Hammel Interiors. the studio which designed this charming shiplap fireplace surround.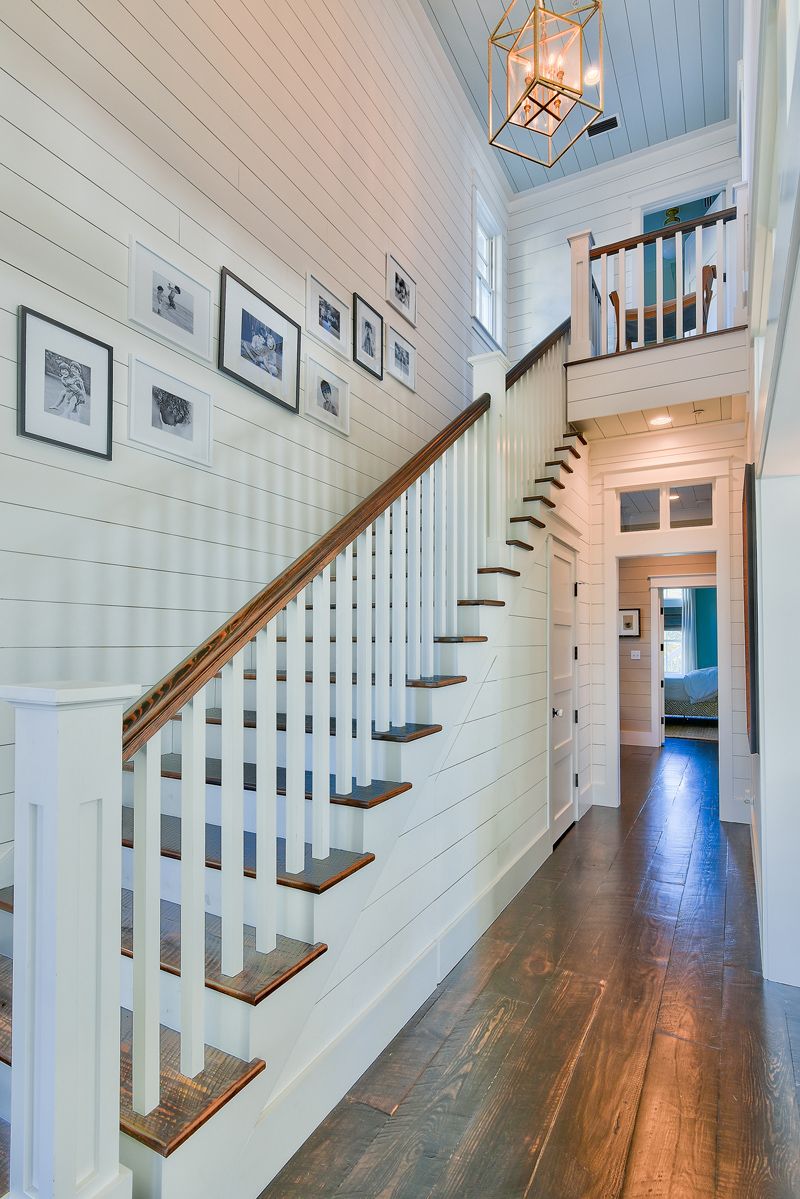 Shiplap gives walls a finished look and is a great option is you want to bring a farmhouse vibe into your home. You can make the most of this look by extending it throughout the house. You could install shiplap on all the walls although that could be a bit too much so you could limit yourself to just the transition areas. Check out this design by Urban Grace Interiors if you need inspiration.
Even if all the walls in a room are covered in shiplap one of them can still stand out and become an accent wall. One option is to paint it using a color that contrasts with the rest of the walls. This bedroom can be a good source of inspiration in this case.
In the bedroom you can create an awesome shiplap accent wall behind the bed. This one decorated by Dawson Design Group has a built-in nook and light sconces but the design possibilities are infinite. You can even pick a cool color because, as you can see, the shiplap ensures a warm and cozy look.
Shiplap is not just for farmhouse-inspired decors. This is in fact a very versatile design feature which can look awesome in any type of space or decor. Check out this beach-style living room by Mawr Design  for instance. It features a gorgeous shiplap accent wall that truly brings the space together in a wonderful way.
As you know by now, there are many ways to customize and interpret this whole shiplap accent wall trend. For example, instead of painting the boards white or some other color you can stain the wood and allow it to have a more natural appearance. This way you can create an accent wall that gives the space a lovely warm and welcoming look.
You can also shiplap to extend a focal point and to create a more cohesive interior design. In this rustic mountain retreat designed by LivingStone the bunk beds blend into the shiplap wall while at the same time contrasting with it.
The shiplap accent wall created by AMW Design Studio is super charming and we love everything about it. From what it seems, the boards have the look of reclaimed wood and this gives the decor a lot of character.
Shiplap can also be a nice alternative to wallpaper. It's simpler and some would also say it's also more practical and easier to install. It adds texture to the space and it makes the installation of decorations super easy. Check out this minimalist decor created by Chelsea Lauren Interiors as an example.
DIY shiplap projects
The best place for a shiplap accent wall is probably the bedroom simply because shiplap walls add a warm and cozy touch to the space around them and that's what bedrooms are all about. You can redo all the walls in the room if you want to and there's a great tutorial on drivenbydecor that can help you along. Just look how much better the walls look now!
You don't need much to do a shiplap wall. If you want to also save a bit of money in the process you should use plywood sheets which you can cut with a saw. You can also use a nail gun to attach them all to the wall and once they're in place the customization process can begin. Use paint to add the finishing touches and to really make your new wall stand out and look amazing. Check out this video tutorial from Jenna Sue if you want more details.
Every once in a while a change of color is needed for the walls of a room in order to change the ambiance but it can also be nice to add a bit of texture to the new design as well. A CIY shiplap accent wall is an easy way to do so. As mentioned before, you can use plywood to reduce the cost of the project and apart from that you only need nails and spacers to install the planks onto the wall. Once a coat of paint is added, the whole look changes. Check out hoosierhomemade if you want to find out more about this.
This lovely shiplap wall was made using 1/4'' underlayment in 4×8' sheets. In order to cut these to size you'll need a circular saw but you can make the project a lot easier and more convenient by having the sheets cut at the store. Once you have them, sand them down a bit and get on with the project. We found this detailed tutorial on maisondepax about installing shiplap at home that we think you're going to find quite informative.
The cost of creating a shiplap accent wall varies based on several factors, such as the size and shape of the wall, the materials involved, the tools available as well as any distinct design details that you want to include. If you're keeping things simple then this should be very inexpensive, so much so that it would a shame not to at least give it a try. Check out this beautiful wall made for less than $30. You can find out more about it on makingjoyandprettythings.
When installing a shiplap wall you can either start from the top or the bottom. If you start from the bottom you're going to have to modify the board at the very top so it fits and sits flush with the ceiling. First of all, prep all the materials and the wall itself. Then start to nail the board onto the wall starting from the edge. You might need to align two or more boards depending how long the wall is. You'll need a spacer in between the boards. When all the boards are in place, paint the wall. That's all! You can find more info on farmhouseonboone if needed.
Shiplap walls are really great especially if you want to add a farmhouse-inspired vibe to a space or to make feel cozy without cluttering it. Of course, a shiplap accent wall can also fit quite nicely in a more setting. A beautiful example is this living room featured on shegaveitago. Check out the tutorial to see how its décor changed and how this wall design was made from scratch.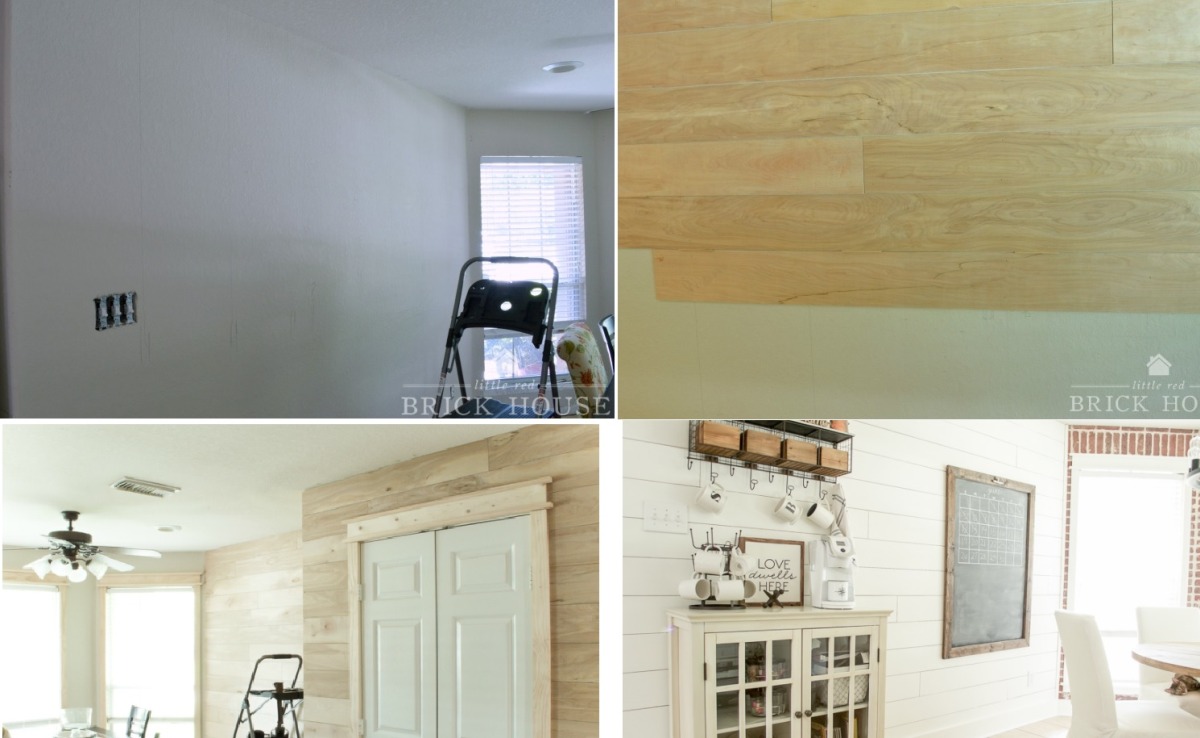 As you might have seen, installing shiplap on walls is easy and straight-forward. This however can get a bit more complicated if you're dealing with corners and if you want the planks to cover more than just a single wall. It might be the case that you need to add baseboards and trims to your walls. To make the corners look nice and smooth you can use wood filler once the boards are in place. Check out sarahdaisyco for more useful tips.
Another interesting idea is to only cover up part of the wall with boards. It would be more of a shiplap wall treatment that anything else. You can do this for a hallway for example as a way to add a bit more texture to it but to still be able to keep the upper part of the walls nice and simple. The installation process in this case is very similar to what we mentioned so far and you can find a tutorial for it on creeklinehouse.
When you're planning your new DIY shiplap wall project, make sure to take into consideration any important elements such as windows or doors that could alter your measurements. You need to take this into account when you're cutting all the boards and planning the layout. Also, if you're only covering up the bottom section of the wall, you'll need to add a trim at the top. You can find all the information needed on ashadeofteal.
The post How To Make The Most Of a Shiplap Accent Wall appeared first on Home Decorating Trends – Homedit.