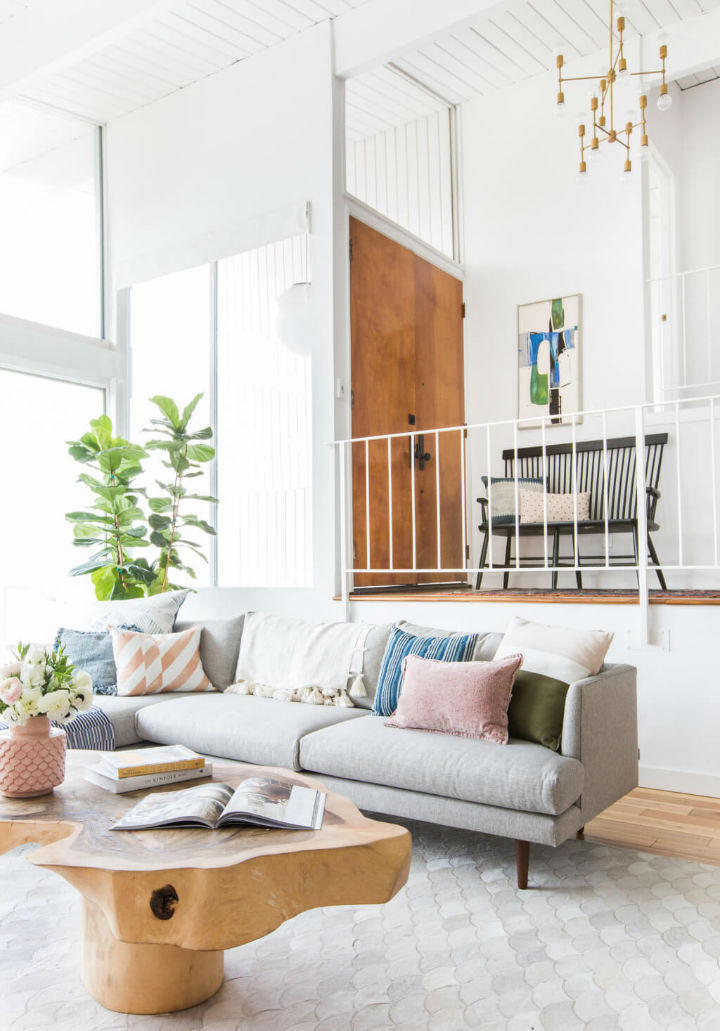 It's incredible how Emily Henderson pulled off a gorgeous interior style during their family's move. Her previous home's living room is beautiful by nature, with so much light and a great outdoor view from the full length windows all day long. A few tweaks to the old design made it look fresher and prettier!
A lighter sectional sofa that took place of the dark leather strapping simplified the entire living area, complementing the bright airness of the space. Slim arms eliminate the bulk and maximizes seating allocation. It's lined with throws that's a mix of what Emily owned, including that of vintage fabric she made herself. 
Neutral bench covers that dressed up the built in seating along the fireplace were freshened up with indigo. The color popped out nicely and looks so lovely once touched by the sun! The array of pillows arrive in combinations of coral stripes, navy fringe, blue strip, gray and cream.
Decorative wall hangings add more style and texture to the living room, featuring a combination of striped bell with beads, moon phase bell and painted eye bell. The blimp painting makes for a classic backdrop, framed in white and hung beside the stone fireplace.
The coffee table is charming, made out of thick wood and exquisitely crafted with a rustic appeal. It looks elegant atop the delicately patterned rug, right across the fireplace. It's surrounded by plenty of comfortable seating- the couch, the leather pouf and a wood accent chair. A white lampshade is stood on top of a modern side table. The lighting is placed right beside the leather armchair by the window, which gives you the perfect place to sit down with a good book.
The huge potted tree with sap-dropping leaves that ruin flooring and rugs have been disregarded. What's the use of greens if it's become sick, only to produce the same unhealthy feeling? A fig tree planted in a more attractive pot now sits in the same spot, smaller yet gives off a much healthier vibe.
Despite all the changes, Emily wanted to keep the living room's personality intact. She retained the patterns and shades of all the textiles representing her own taste, and incorporated a gray, white, and wood brown color palette with teals and blues. Small vases endow a soft touch of pink to the entire theme. Overall, the elements of the living room create an inviting and cozy space that everyone wants out of the place they call home!