The rustic decor is characterized by the use of natural materials and finishes and by a very warm and inviting vibe. It's a style that suits a variety of different spaces but especially the areas where social interactions take place. A rustic living room can be a wonderfully cozy space and there are a lot of ways in which you can make such a design happen. The common elements of a rustic decor include fireplaces, wooden floors, exposed beams, earthy colors and robust furniture pieces. To all this you can add an array of other custom details which can make the living room feel even cozier.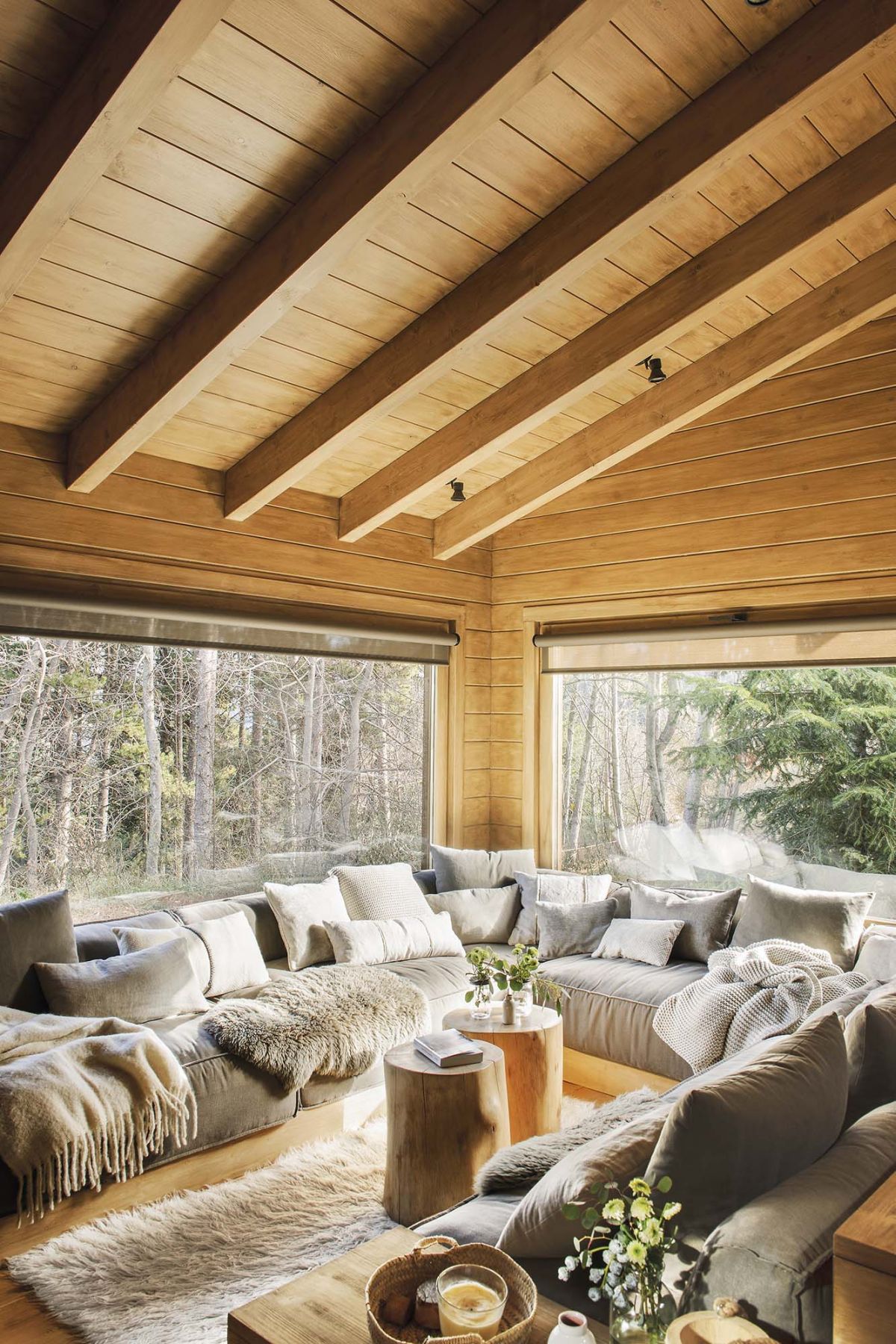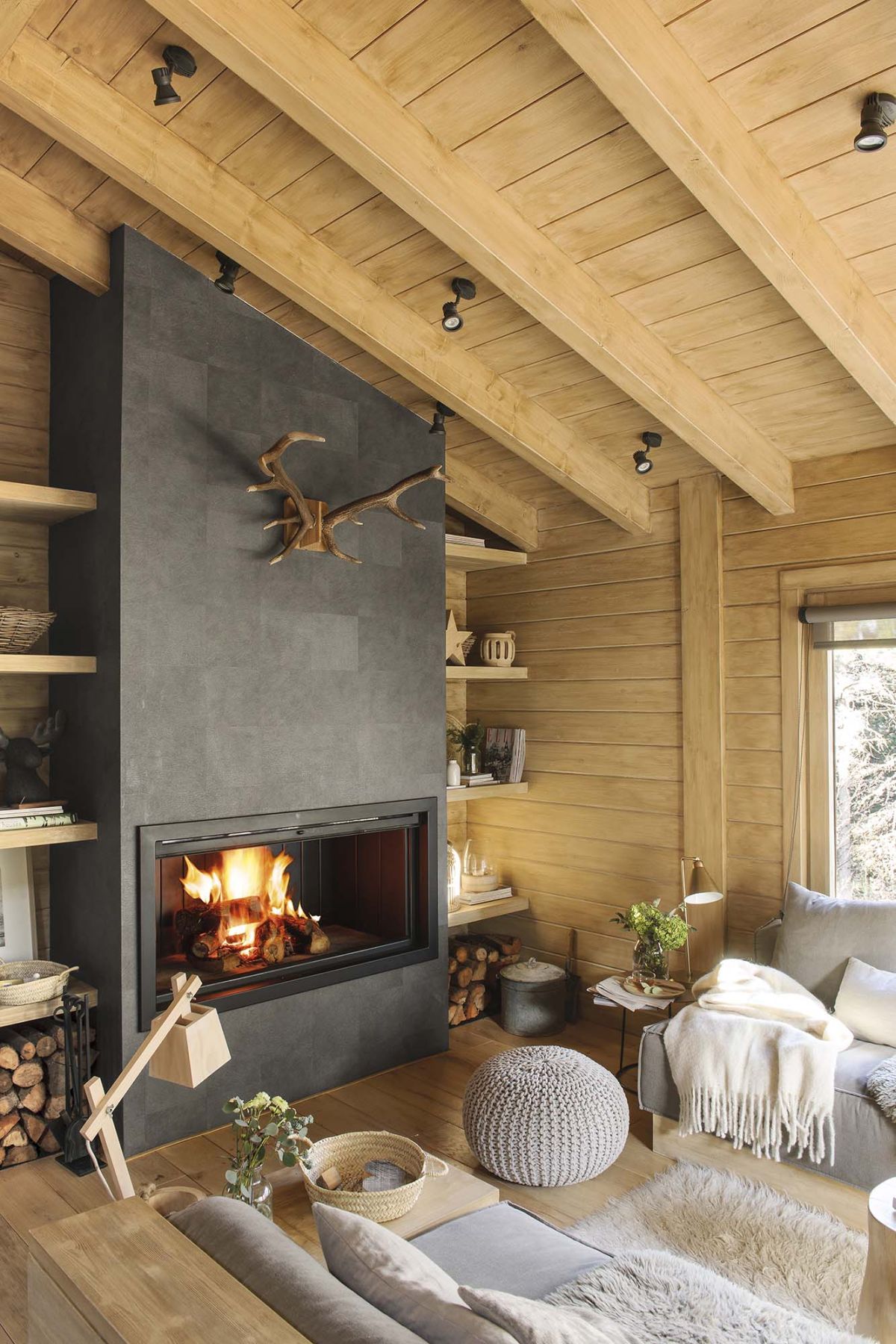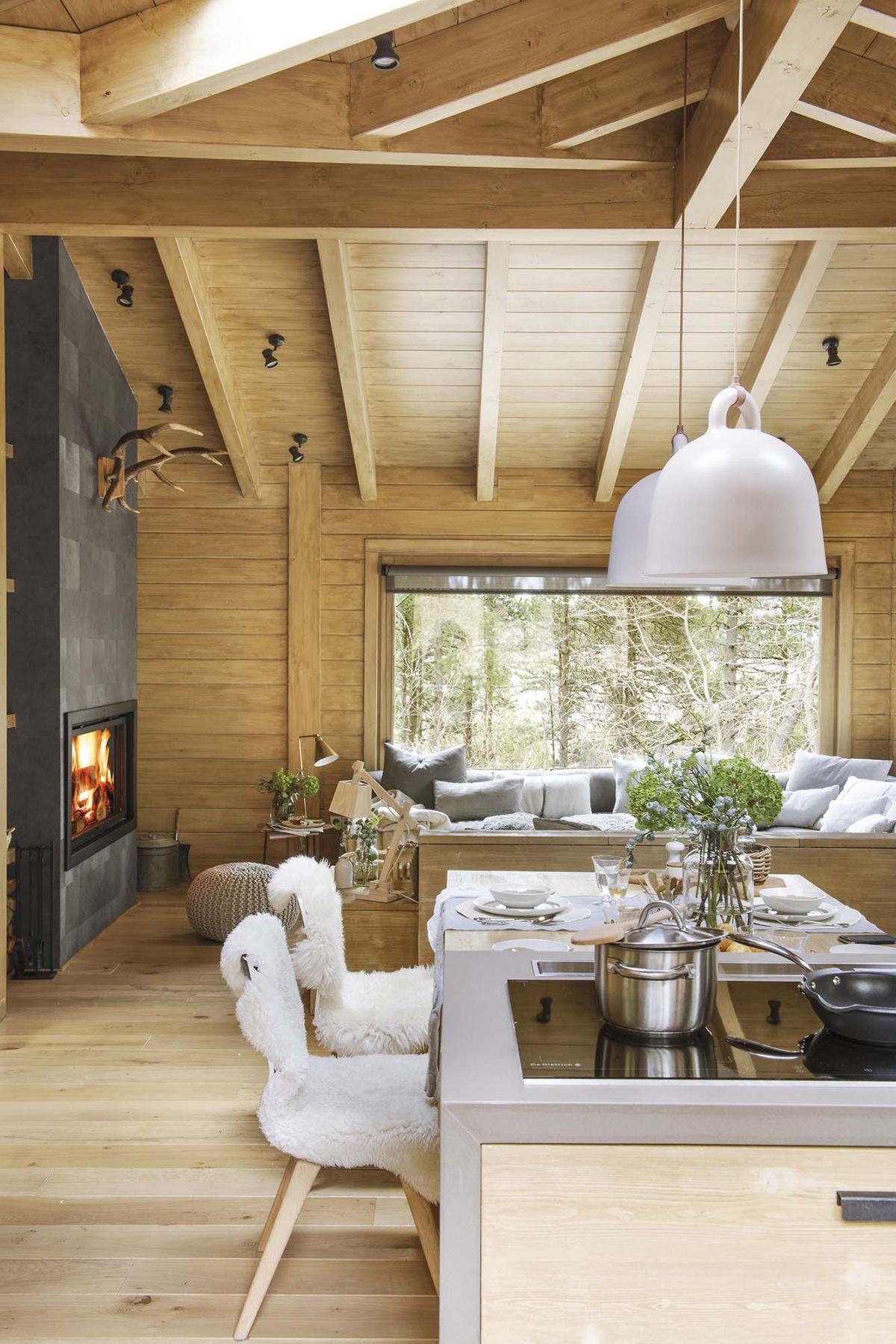 This is a rustic cabin designed by Lara Vallés from Space Stage. It's situated in the middle of a forest in Spain and it has all the signs of a super cozy retreat. It took several years to renovate this place and the designer wanted it to look and feel as charming as a log cabin. The wood-paneled walls, ceilings and floors play a key role in making this rustic living room seem so inviting and comfortable to be in regardless of the season.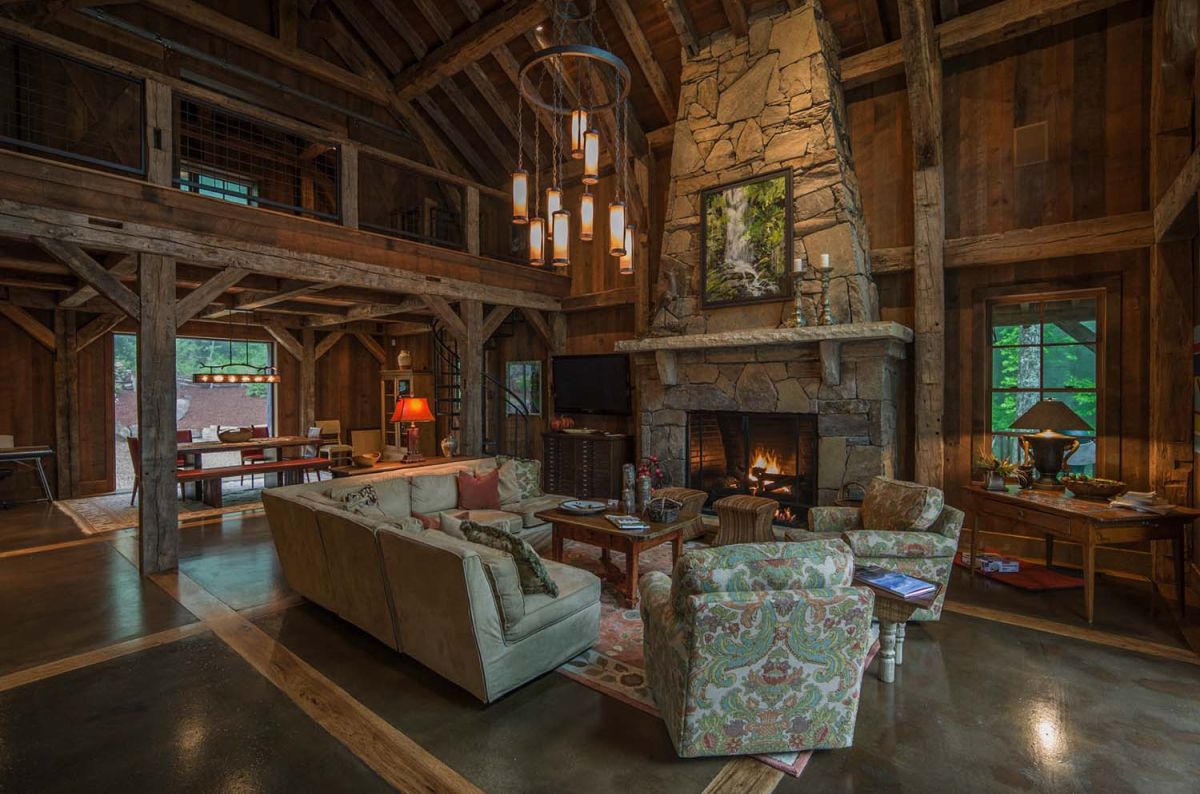 Located in Highlands, in North Carolina, this timber frame house has a surprisingly tall ceiling which allows the stone fireplace to take center stage and to become the focal point of this rustic living room. The house was designed by RMT Architects. The living room has an open space layout which incorporates the dining area and a cozy seating nook as well. The interior design puts an emphasis on natural materials such as wood and stone and on warm and soft lighting.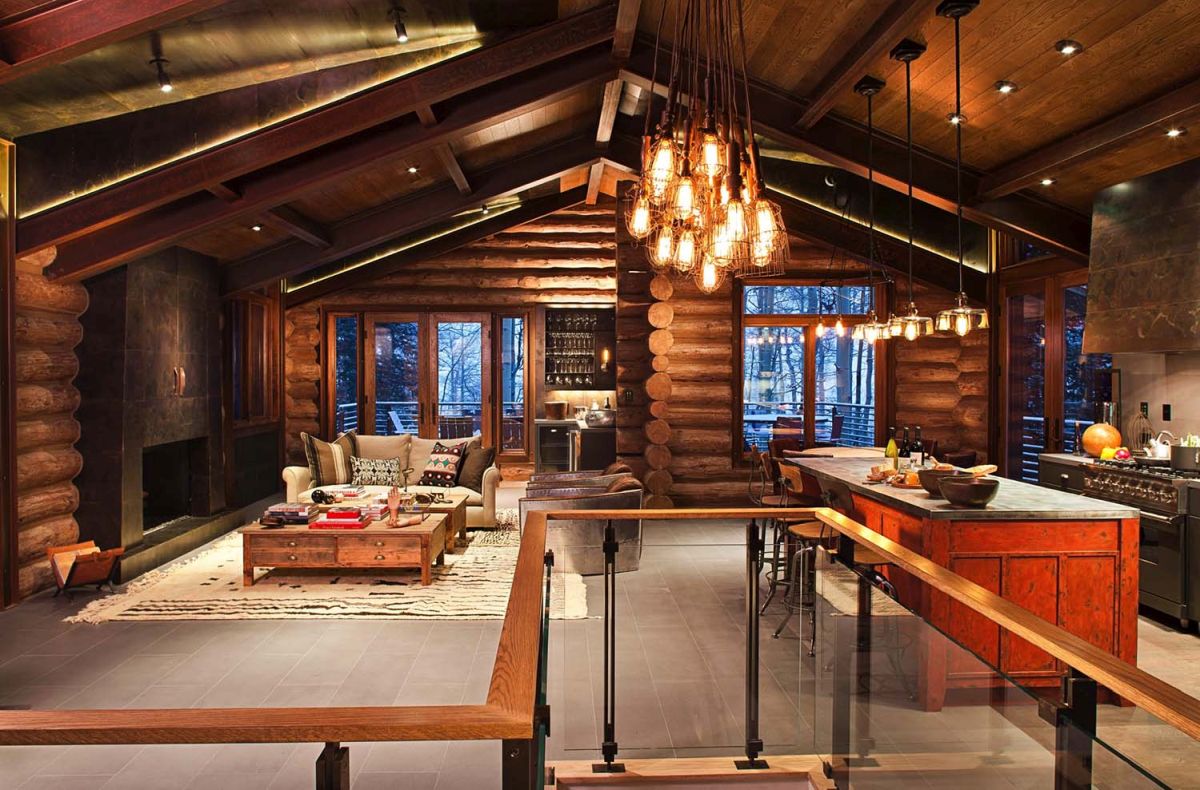 One of the coolest things about a log cabin is that it has a rough character but it balances that out with a super warm and welcoming interior. The one designed by TruLinea Architects in collaboration with Studio Frank is a perfect example. The cabin is located in Telluride, Colorado and although it's definitely a rustic cabin, it has a timeless appeal. Its interior design combines wood and steel with a variety of other materials and the result is very inspiring.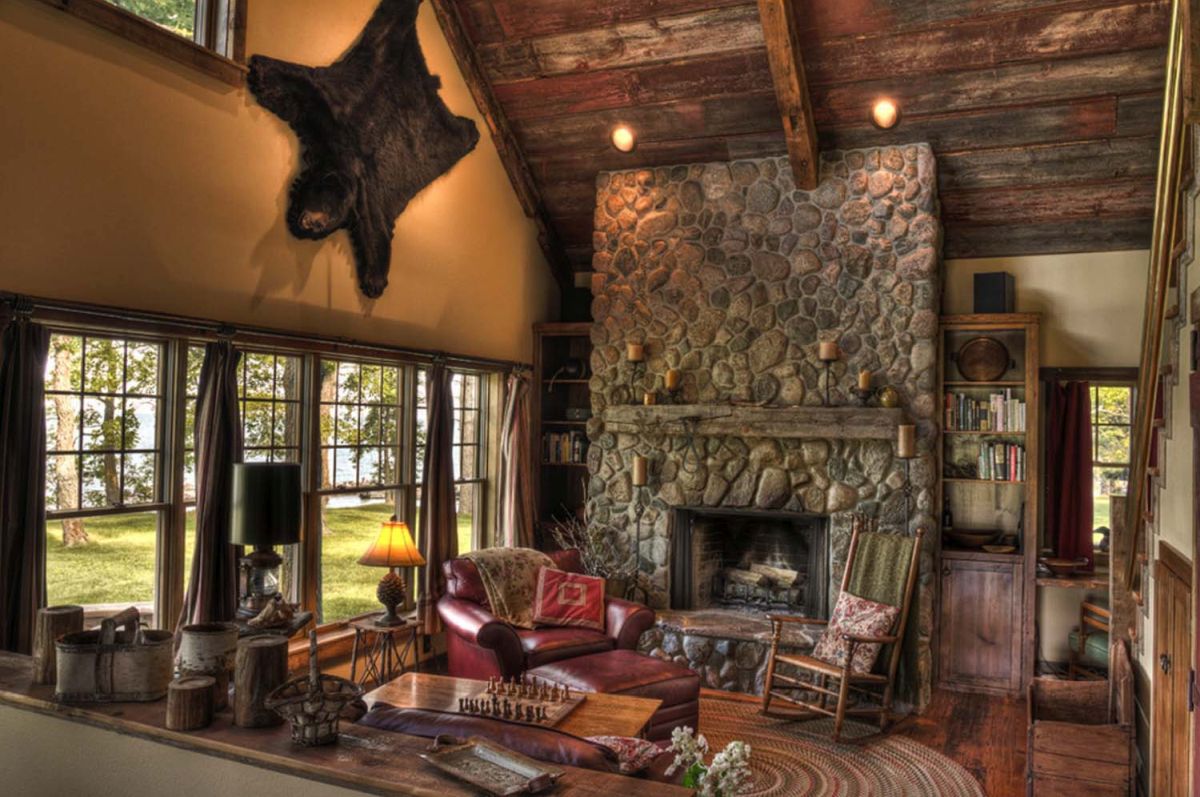 Another unique thing that makes rustic homes so awesome is the fact that this style allows even a newly-built structure to look like it's been there for ages. A great example in this sense is this lakeside cabin designed and built by Lands End Development in Northern Minnesota. It was intentionally made to look timeworn. You can see that in the living room there are obvious signs suggesting reclaimed wood was used in the process. That, combined with this massive stone fireplace and the brown leather furniture gives the space a super charming look.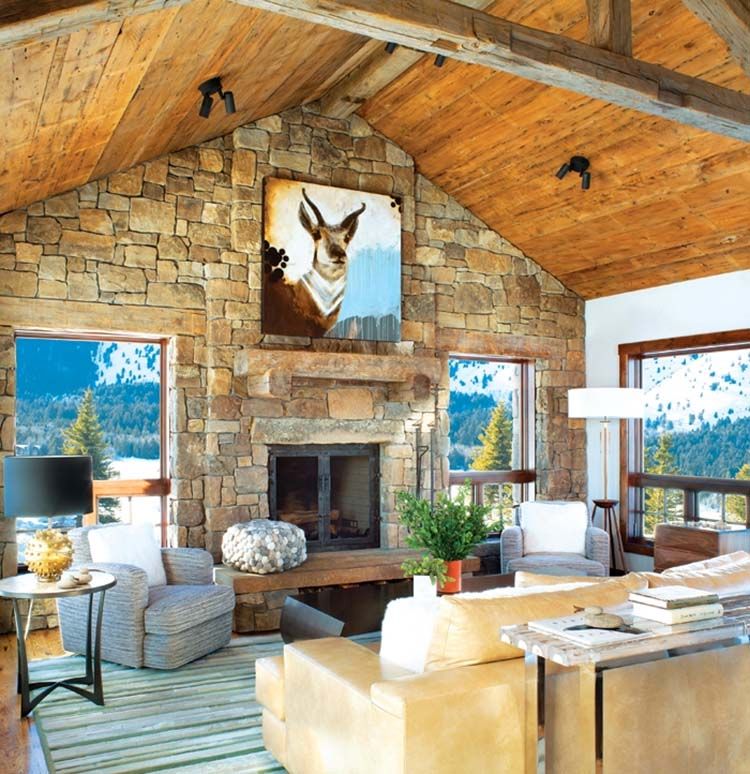 Of course, it's not all just about the materials used. Apart from that, the key to creating a successful rustic living room decor is creating a cozy ambiance and it's possible to do that while at the same time bringing color into the space or giving it a fresh and playful vibe. Check out this lovely retreat designed by JLF & Associates in collaboration with Grace Home Design. It's located in Wyoming and it has some pretty awesome views. The living room decor includes a combination of rustic and contemporary elements which together create a very pleasant ambiance.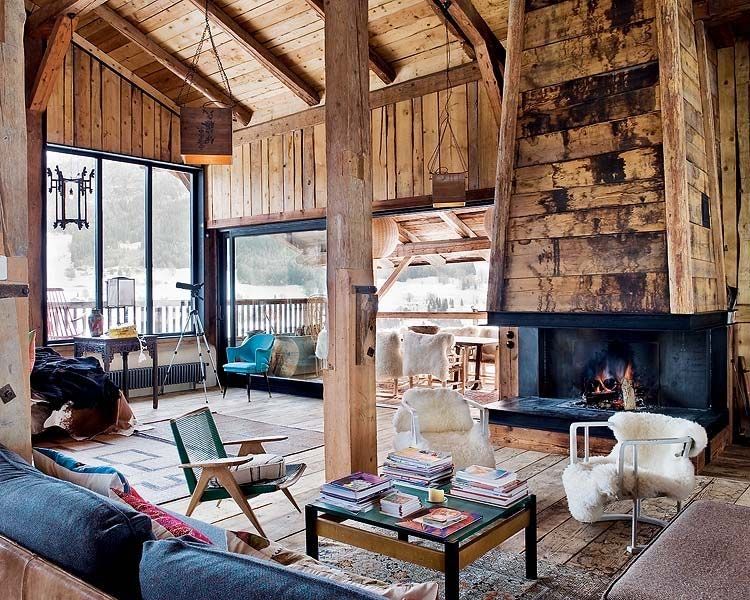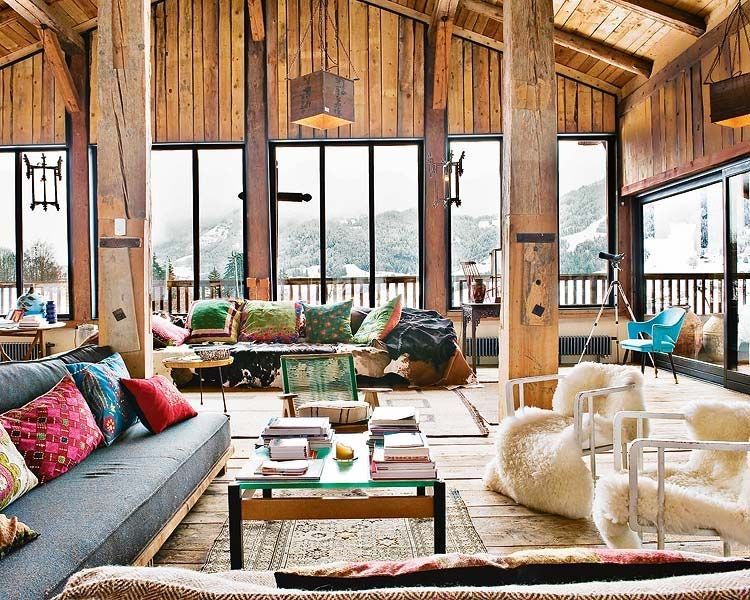 Somewhere in the French Alps there's a lovely little cabin with big windows that let in the gorgeous views, a tall ceiling and a very cozy living room with comfortable sofas and armchairs arranged around a fireplace. The cabin is clad almost entirely in wood. The owners commissioned Lionel Jadot to decorate the place and to help them preserve the charm of the 1870s cabin while also giving it a modern feel. The whole structure was reinvented.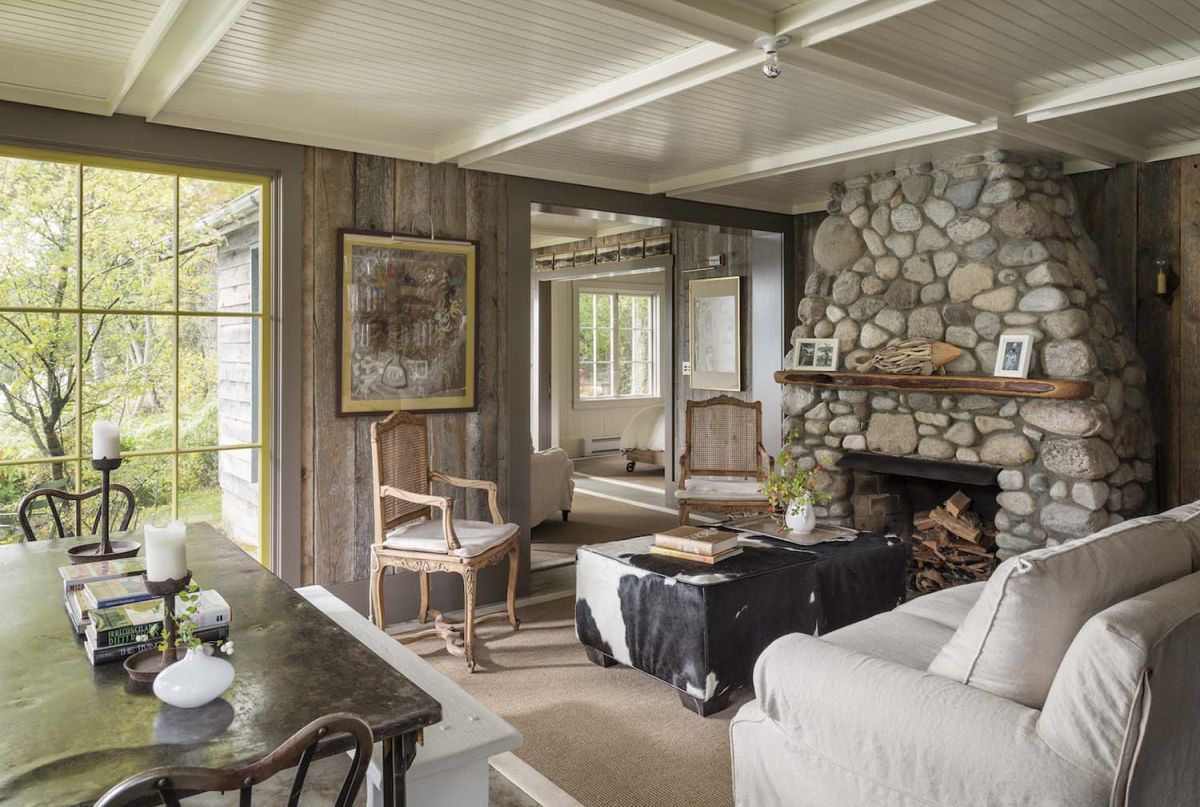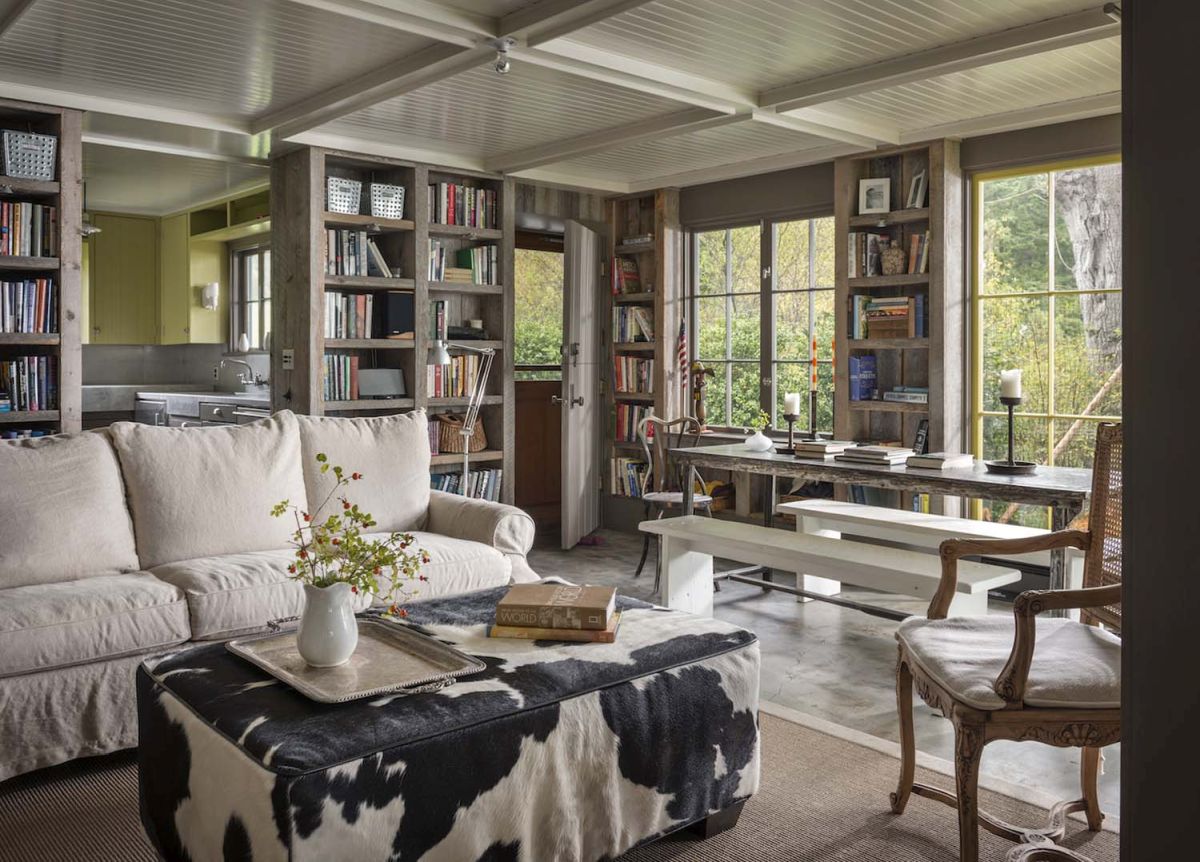 This 1920's beach cabin has a stone fireplace, wood on the walls and comfy furniture everywhere but that's not all. One of the things that makes its rustic living room look so charming and cozy is the fact that there are bookshelves pretty much everywhere. They frame the windows and the doors and they really change the ambiance. The cabin was renovated by Rocky Rochon Design and architect Stephen Sullivan and is located on Orcas Island in Washington.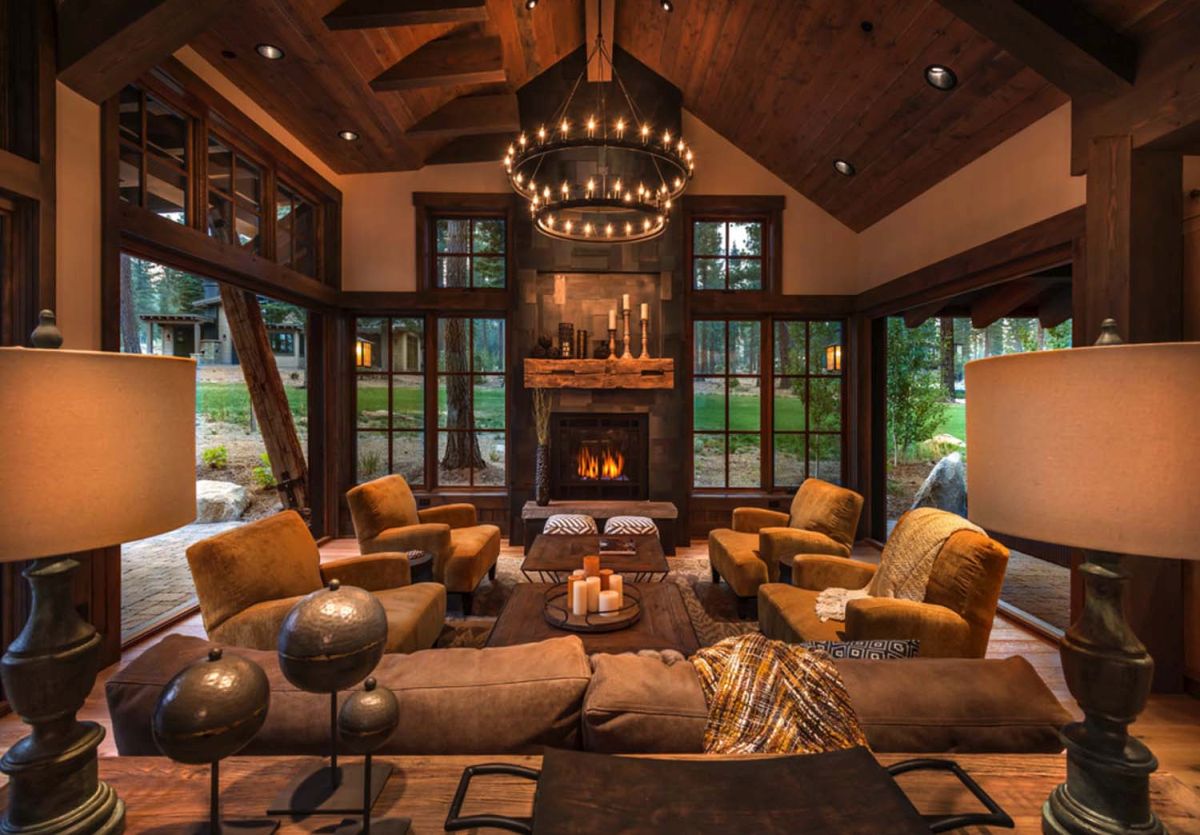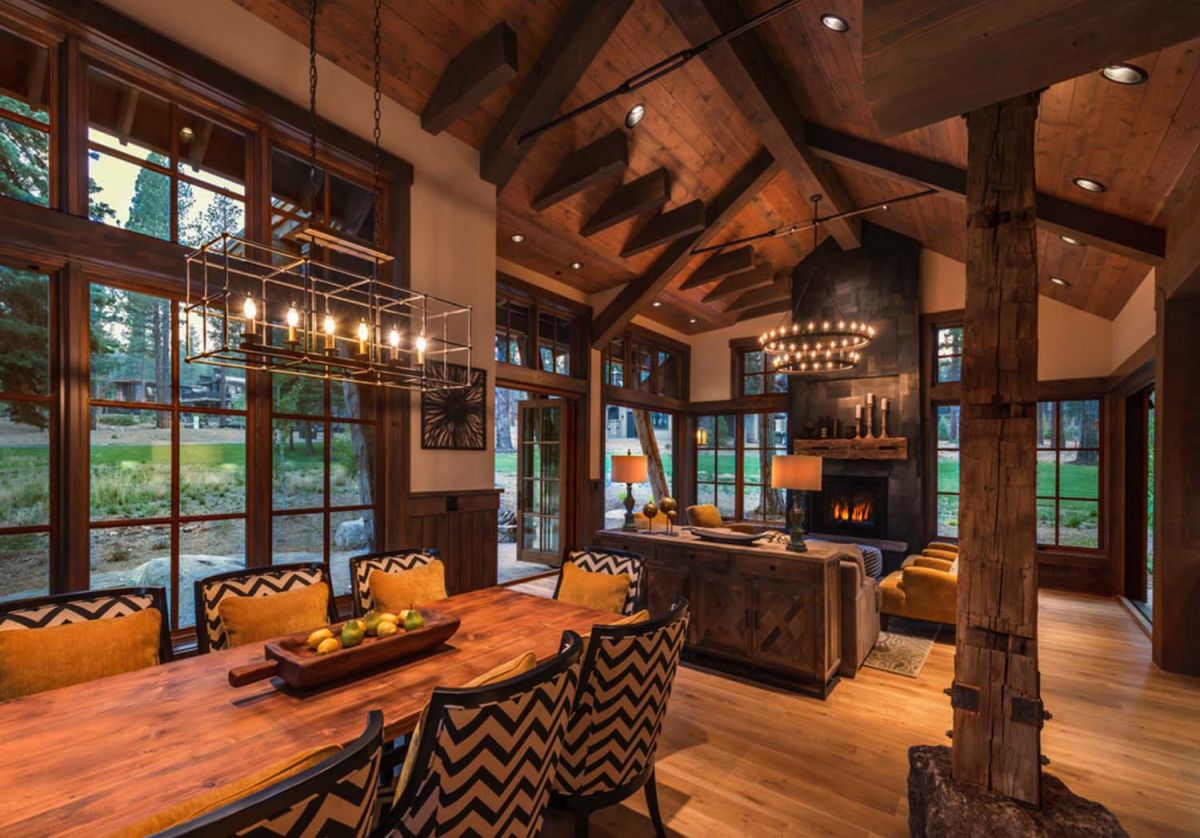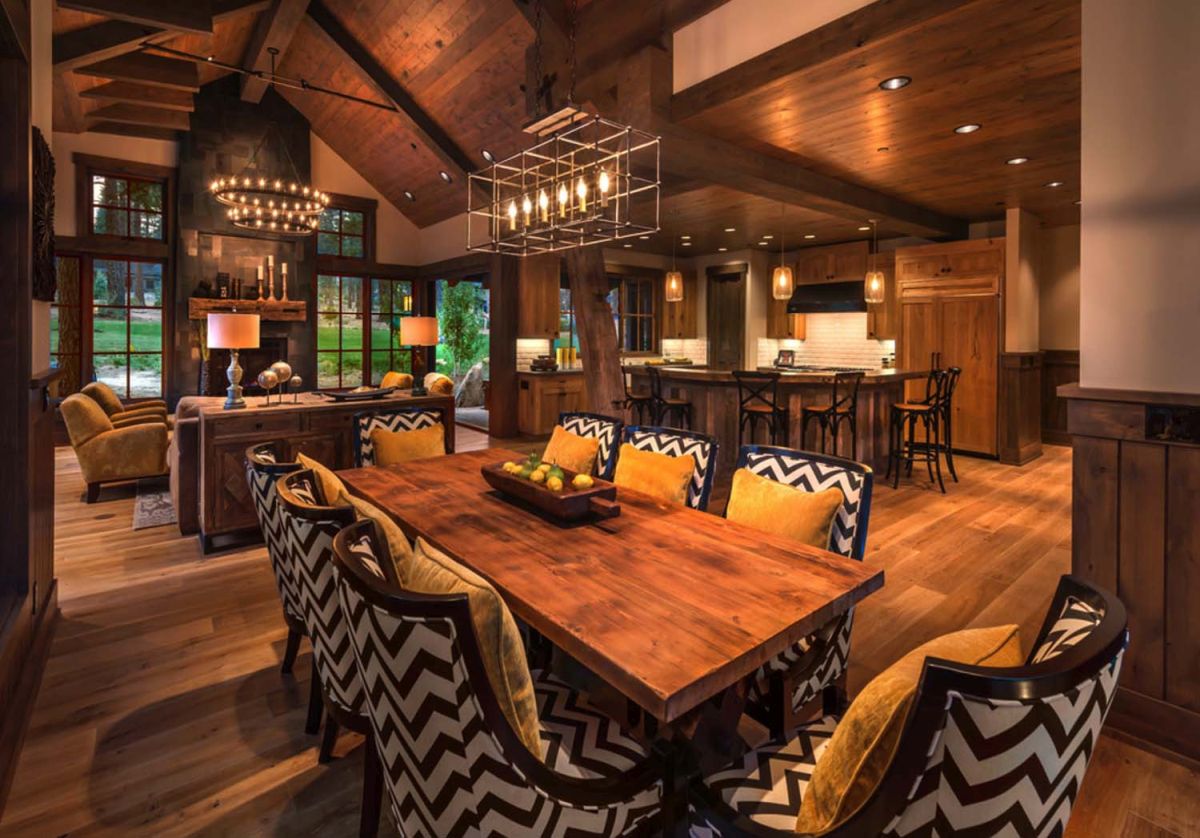 A lot of cabins seem a bit closed off and have small windows which give a super cozy look. You can still have that sort of feeling even in a cabin that opens up to its surroundings and welcomes the outdoors into its rustic living room, like this mountain-style retreat designed by architect Dennis E. Zirbel does in Truckee, California. This lovely two-story cabin is clad in reclaimed wood and that gives it a very charming look, allowing it to easily blend in with the surroundings. At the same time, the gorgeous interior design makes it stand out.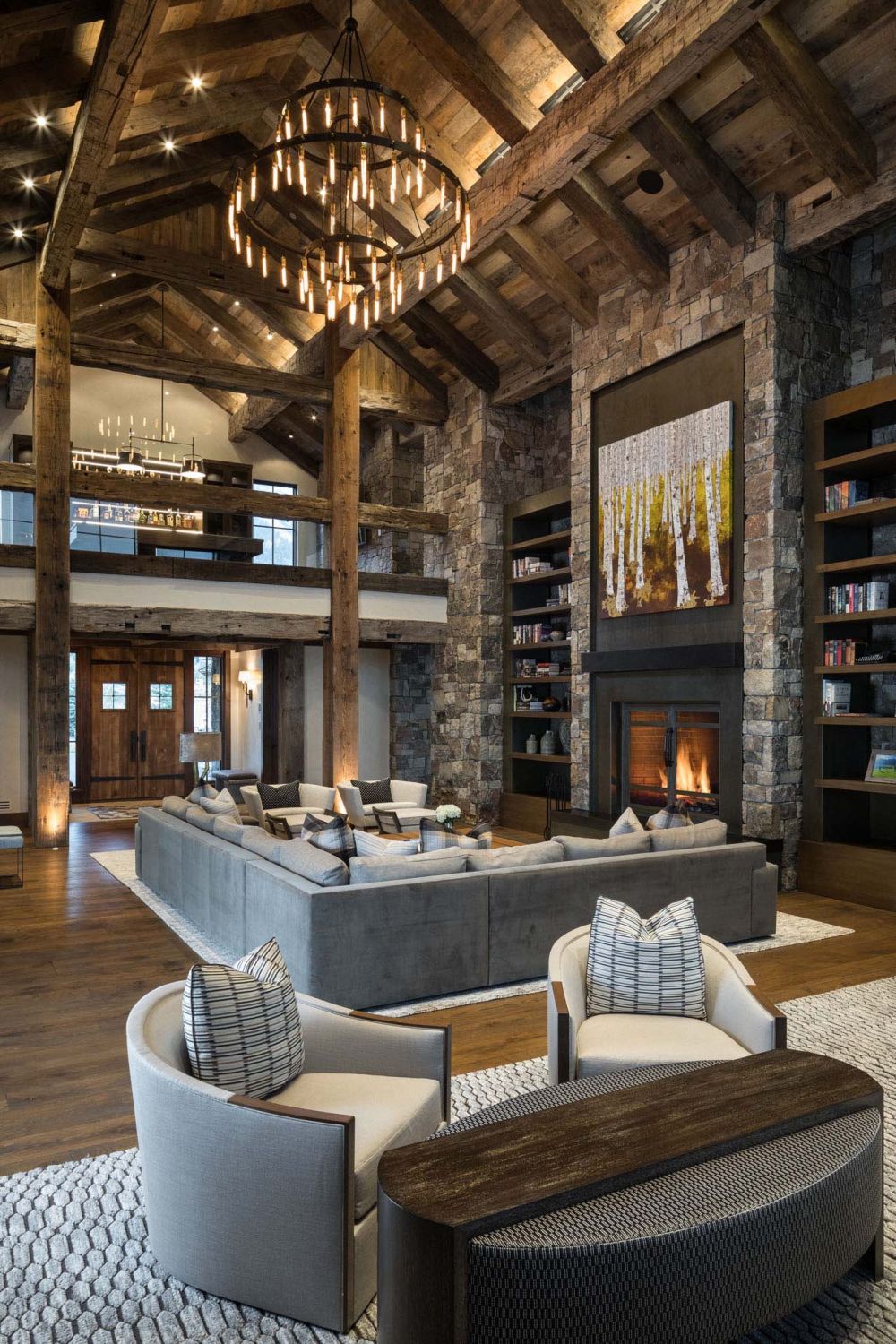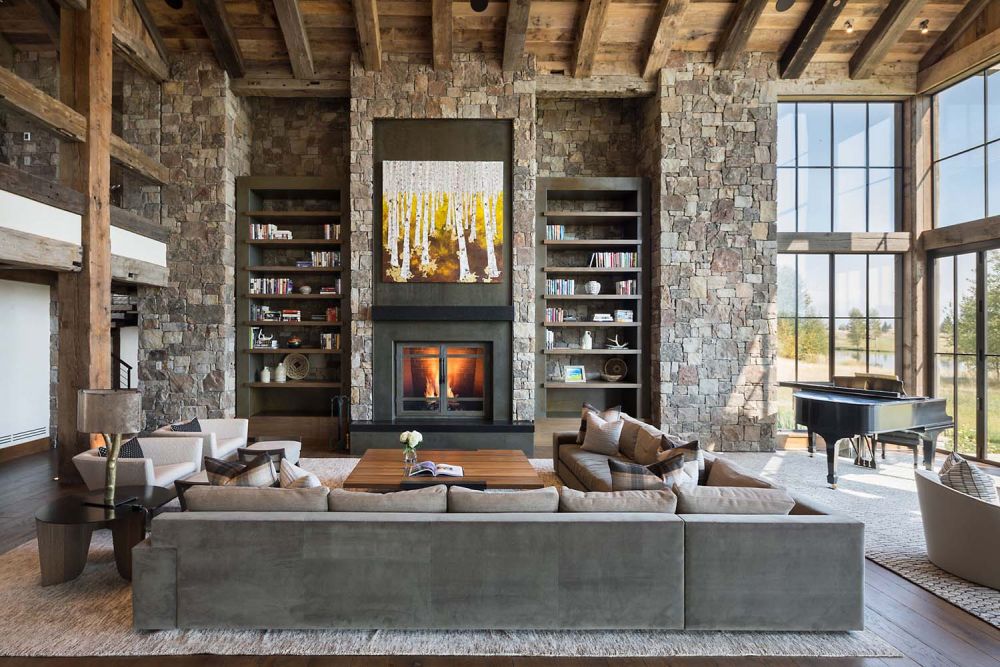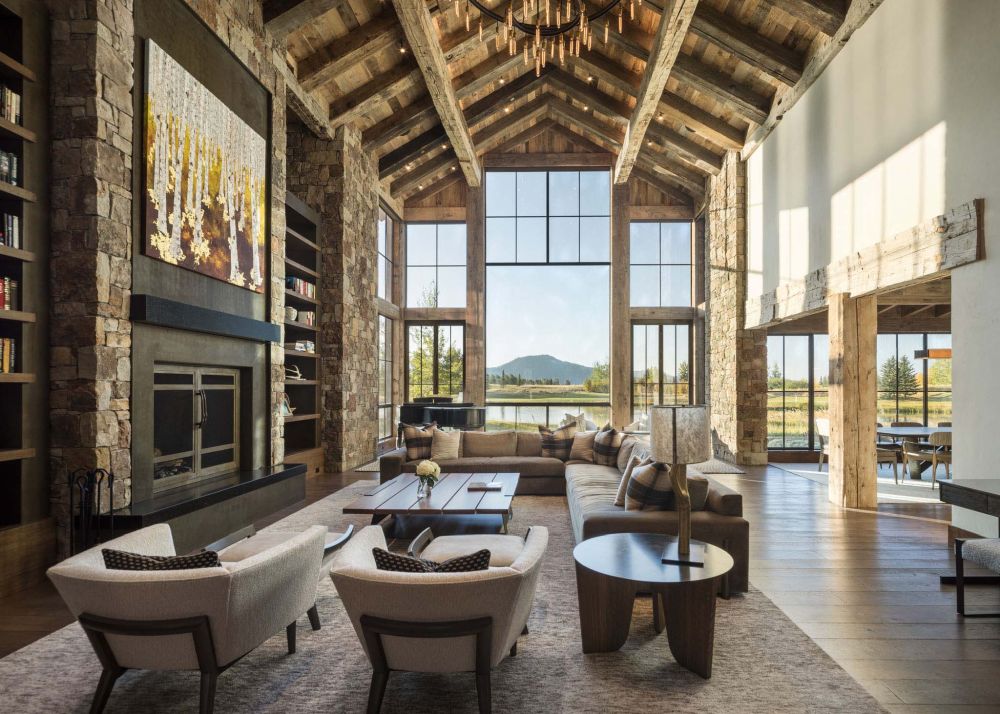 A high ceiling can really make a difference and this is not really a matter of style. This is a feature that can make any space look impressive. Take this rustic double-height living room in a mountain retreat designed by Berlin Architects in collaboration with Lisa Kanning Interior Design. Although the high ceiling and full-height windows open up the space and bring the views along with lots of natural light inside, all the wood, stone and the earthy colors used throughout maintaining a very welcoming and comfortable ambiance.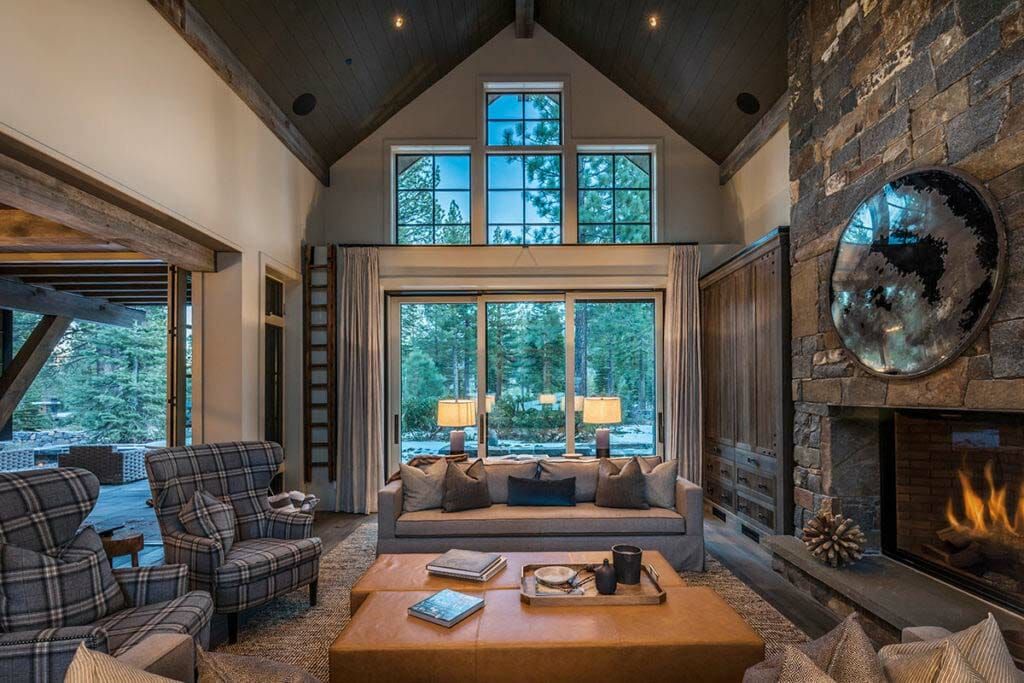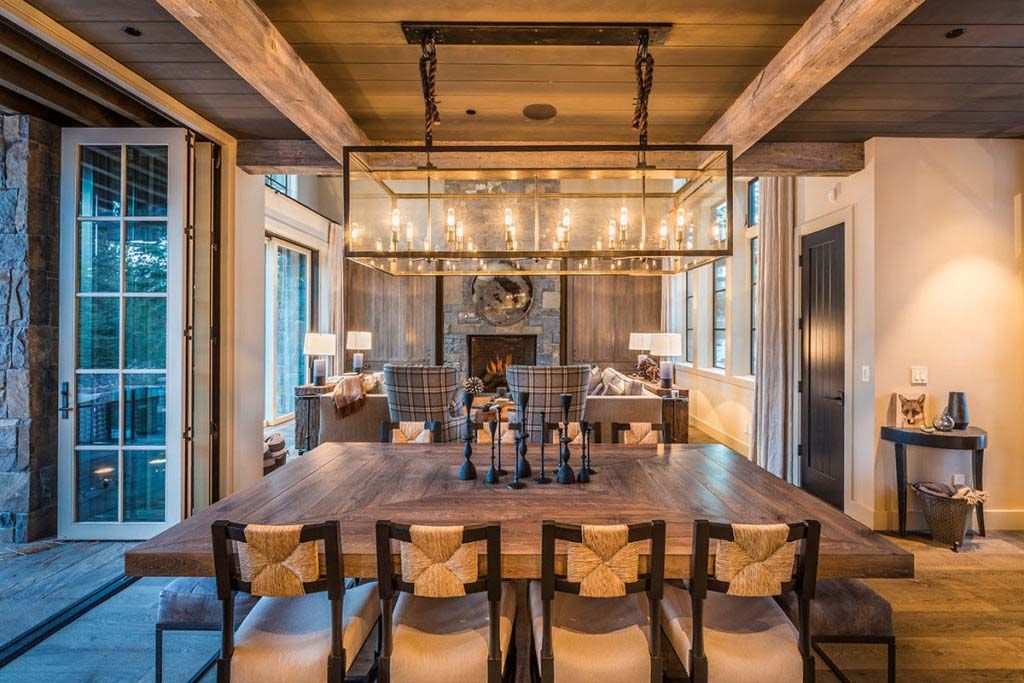 Located in the private Martis Camp community in Truckee, California, this modern mountain cabin definitely has a lot of rustic charm in it, particularly noticeable in this gorgeous living room which features a large stone fireplace, a pitched roof, old-school upholstered armchairs and a soft area rug that ties it all together. The cabin was designed by Kelly & Stone Architects and has four bedrooms, a large chef's kitchen and large windows that bring in lots of sunlight while at the same time exposing the living room to the panoramic views. Large glass doors also ensure a seamless transition between the indoor and the outdoor spaces.
The post Rustic Living Room Decor Ideas Inspired By Cozy Mountain Cabins appeared first on Home Decorating Trends – Homedit.