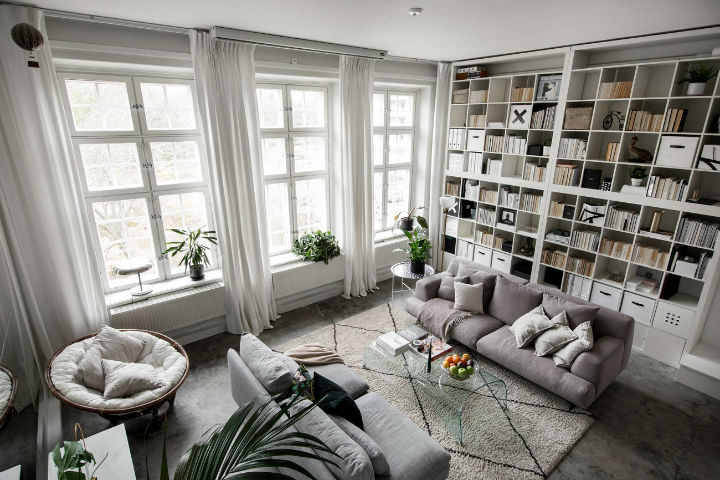 Lofts have a notorious reputation for being small and cramped. So, naturally, designers wanted to change this. Nowhere else does it scream design innovation than in this apartment and the star of the show is a mirrored wall.
It's a well-known secret that mirrors are a great solution for small spaces. They trick the eye into thinking there is more space than there actually is. However, there are many other factors that determine whether they will work within a space or they won't. In this particular apartment, the color scheme, chosen materials, big windows, and contrasting floors come together flawlessly to integrate a mirrored wall into a small loft.
To begin with, the wall to wall windows are great sources of light, the most important commodity in small spaces. With plenty of natural light, space opens up. Perpendicular to the windows is the mirrored wall which picks the light up and bounces it right back towards the rest of the room, amplifying the illumination. What helps further to create an illusion of space in a small loft like this is the choice of the color scheme. A monochromatic white and grey allow a seamless flow of detail and space from the living area to the kitchen. The light gray walls and dark grey cement floors provide a backdrop for grey couches and a Scandinavian style off white area rug all anchored by a delicate glass table that doesn't overwhelm the room.
Into the kitchen, white cabinetry and stainless steel appliances pick up the color scheme. The cleverly placed mirror backsplash also picks up the mirror wall detailing, allowing the space to have a cohesive flow and reduce the feeling of separateness. It is this flow that makes the living space seem larger than it is. Coupled with excellently placed storage areas, all items are tucked away, leaving the stage for the loft to boast of its luxurious and warm details.