Indoor plants add color to our homes and workspaces, they filter the air and some bloom into a beautifully scented flower. Everyone has their own strategy for bringing nature into their homes but whatever that strategy is it most likely involves indoor plant stands which are just as important as the plants themselves. Below you can find our own selection of contemporary DIY plant stand designs which we hope will inspire you to add more greenery to your own home.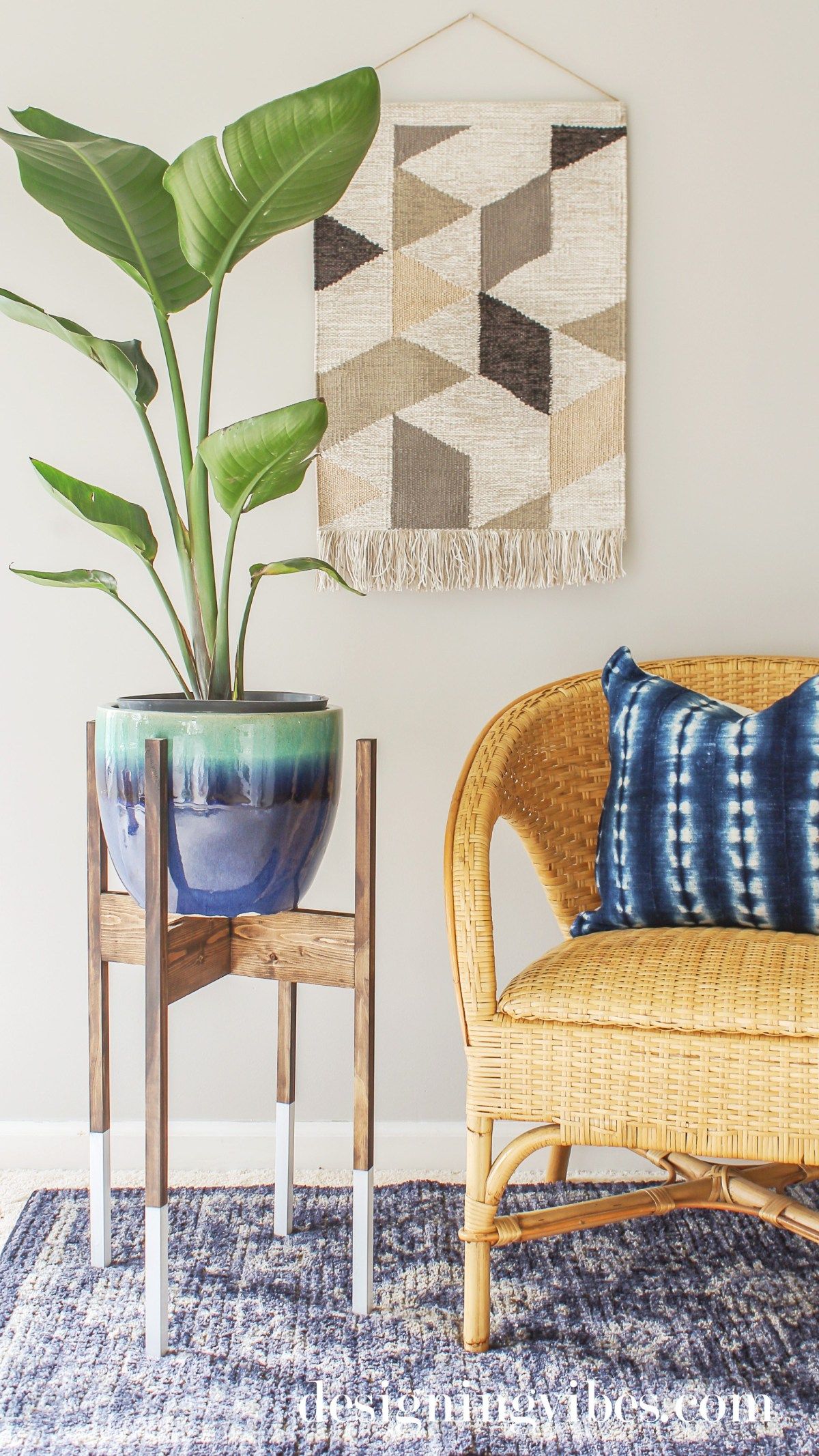 The stand lets you lift the potted plant off the ground to make it more visible and to align it nicely with your furniture and interior decor. At the same time, a simple stand such as the one featured on designingvibes will also put the actual pot on display. Check out the project to find out how to build something like this.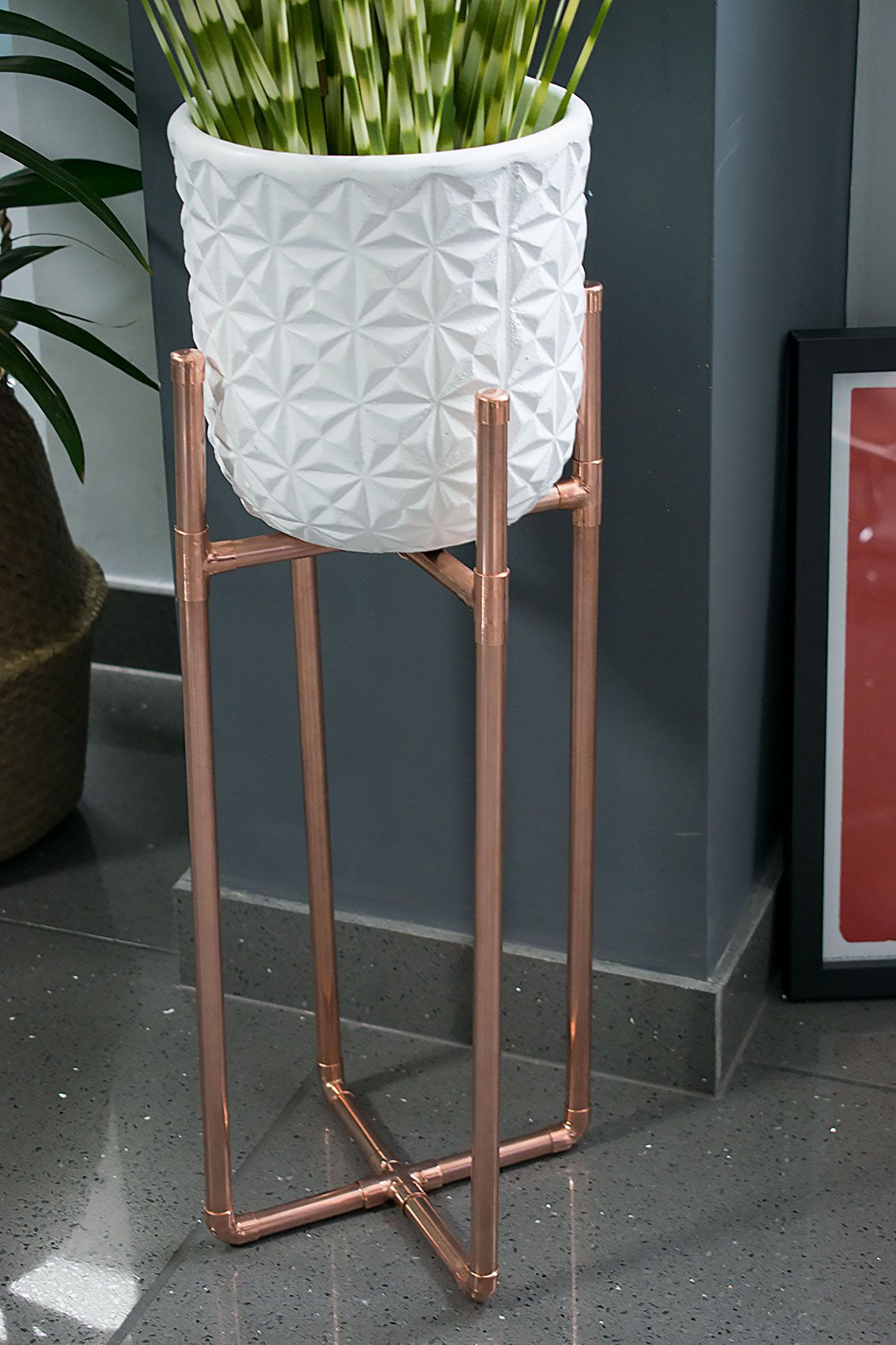 When it comes to indoor plant stands, especially the DIY kind, a nice idea you can try is using copper pipes and fittings to build something with a nice industrial vibe which also looks modern and stylish at the same time. There's a nice project tutorial on caradise which shows you how to accomplish that.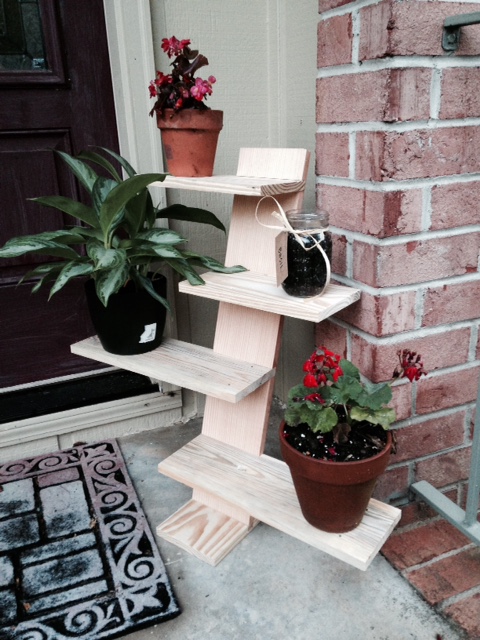 Once you start enjoying having indoor plants it's difficult to stop at just one. After all, collecting items is super fun and there are so many beautiful types of plants to choose from. With that in mind, we'd like to show you how to build a wooden plant stand which can hold several pots. It's easy to build and you can event adjust the design so the stand can accommodate more plants or pots of different sizes. Check out instructables for details.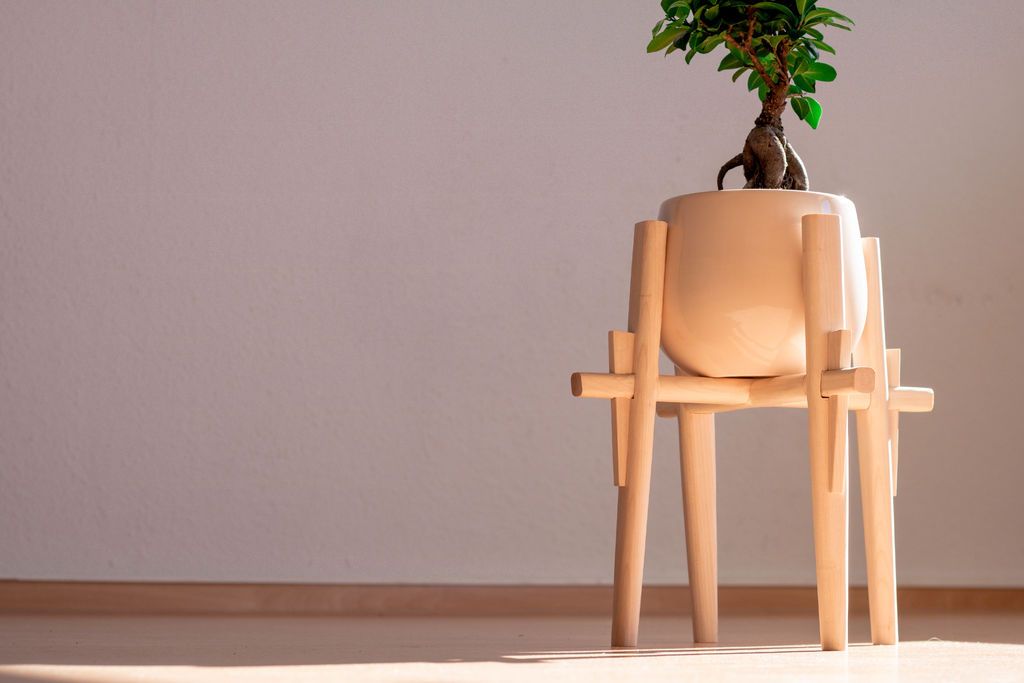 When you're building a stand for one of your indoor plants you should take into consideration the pot. Its design and style can influence your project so for example if you build a stand for a minimalist, rounded pot with smooth edges the stand itself could feature the same design characteristics. This way the stand and the planter will be n perfect harmony. Check out instructables for more details and inspiration.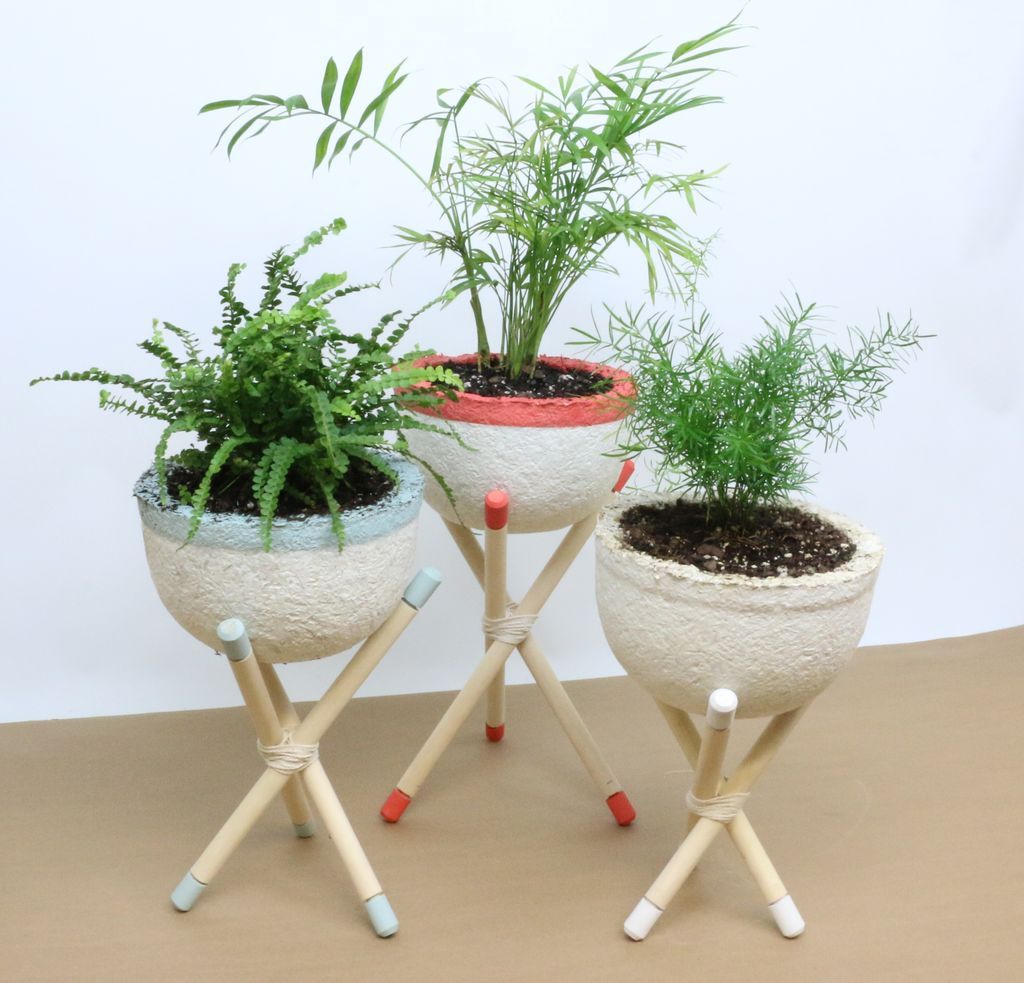 It's not just the stand that you can build by yourself from scratch but also the pots. You can make them out of various different materials. A nice example can be this combination of GIY plant pots and wooden dowel stands featured on instructables. Check out the full tutorial to find out more about this cute and surprisingly simple project.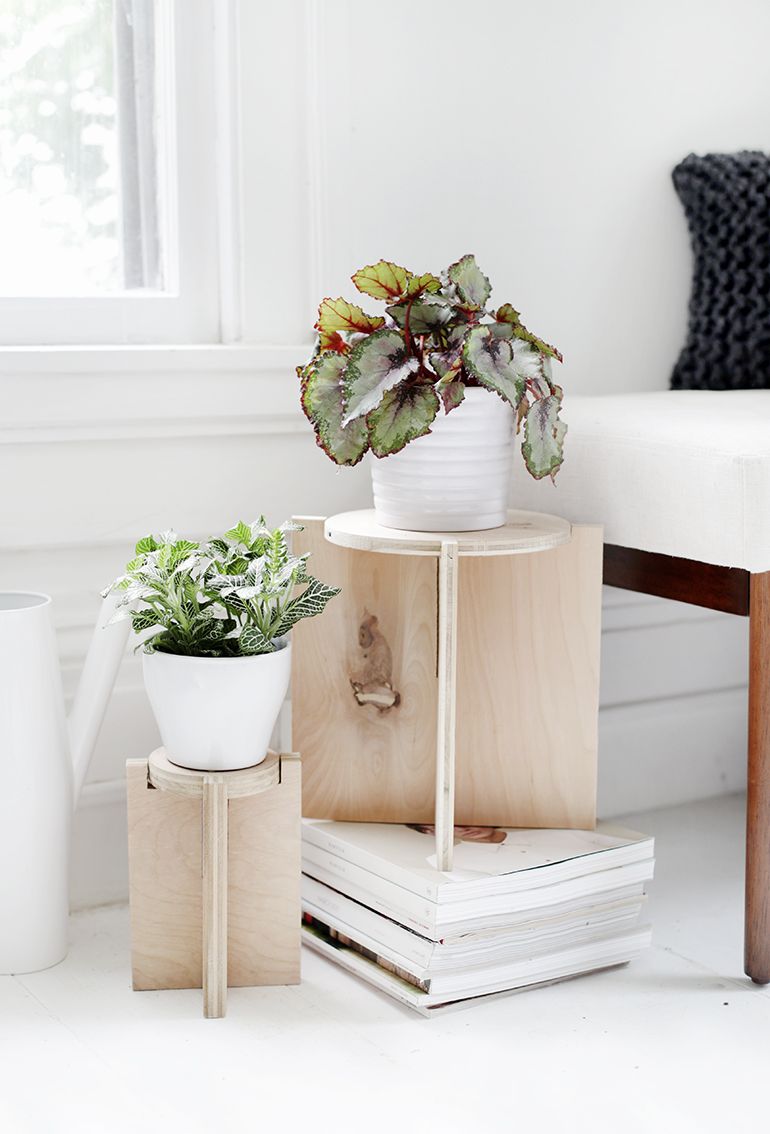 Another very simple DIY plant stand idea is featured on themerrythought. These stands are suitable for small to medium-sized pot and are made of plywood. They have a round top and they can be customized in a variety of different ways. For example, you can paint each stand in a different color or even combine several colors or use tape to create a geometric pattern.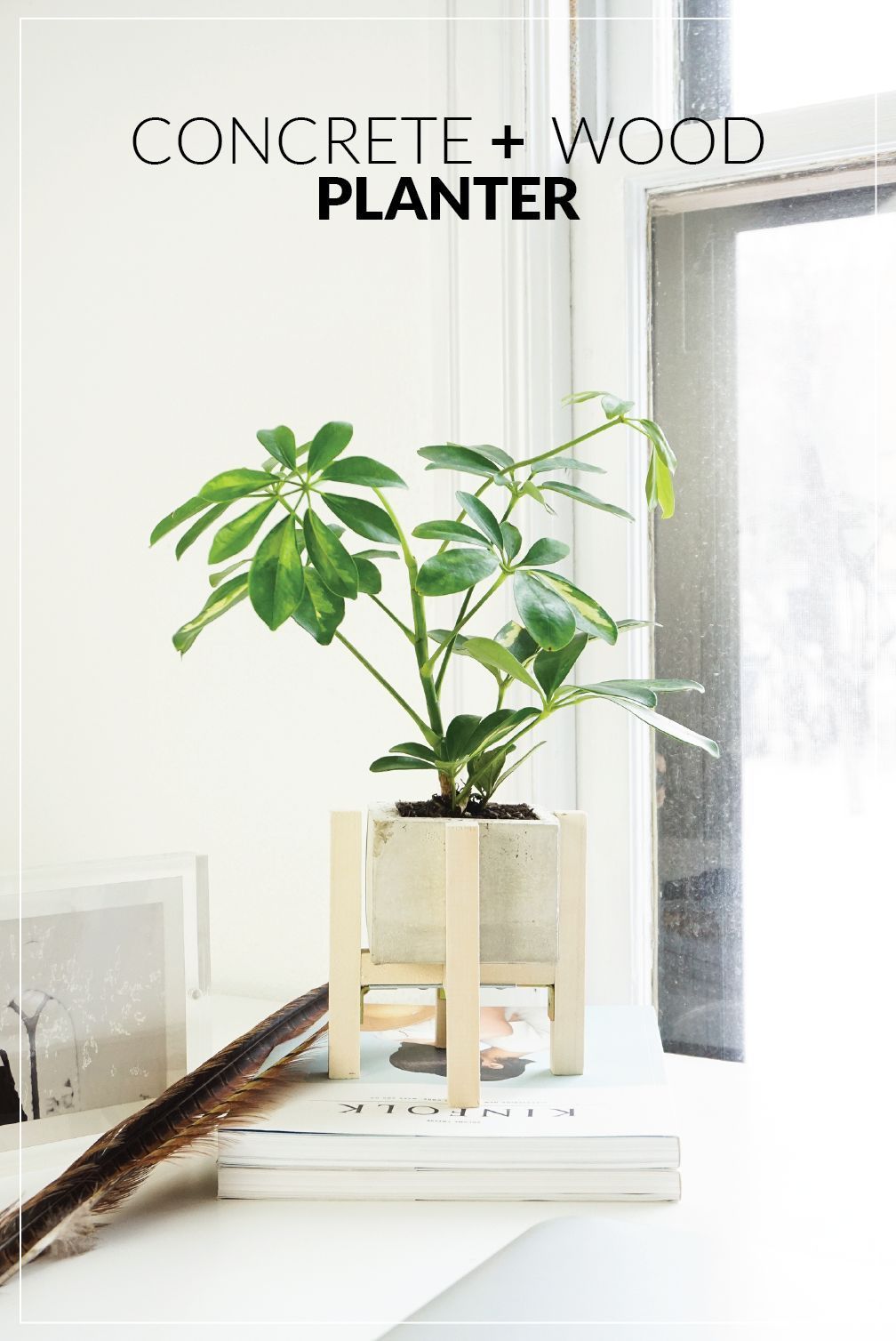 Next is a concrete planter and wooden stand combo. If you'd like to craft something similar, this is what you're going to need: some quick drying concrete, 2 paper juice cartons of different sizes (or some other containers you can use for the mold), a mixing bowl, scissors, duct tape, sandpaper, a square wood dowel, a saw, a drill and a few addition fittings.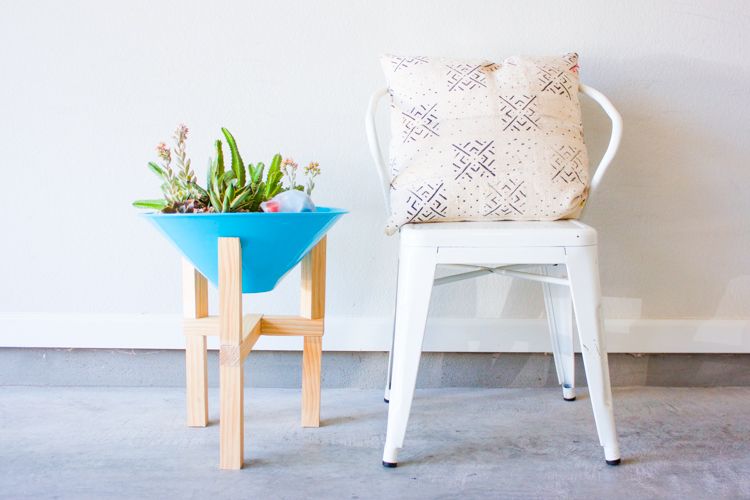 Of course, if all you need is the actual plant stand, you can build that separately. In fact, there's a tutorial on livefreecreative which describes in detail how putting together a stand similar to the one we just mentioned a few moments ago. As always, there's plenty of room for creativity here so don't hesitate to customize your plant stand.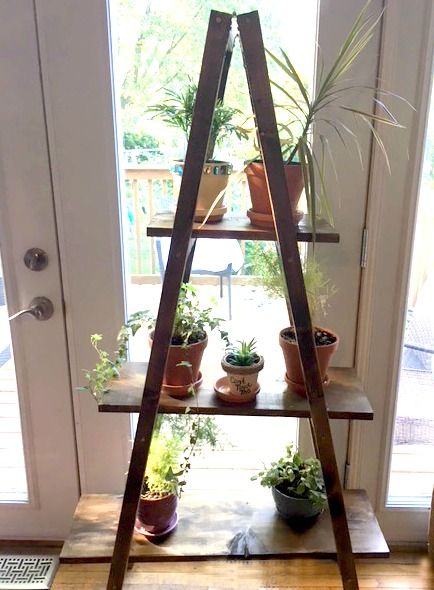 We mentioned before that with so many beautiful indoor plants to choose from it's hard to stop at just one so here's a plant stand design which is meant to hold a collection of plants as opposed to a single individual one. It's a ladder-style stand with a nice farmhouse-style vibe. You can find out more about it on mybrightideasblog.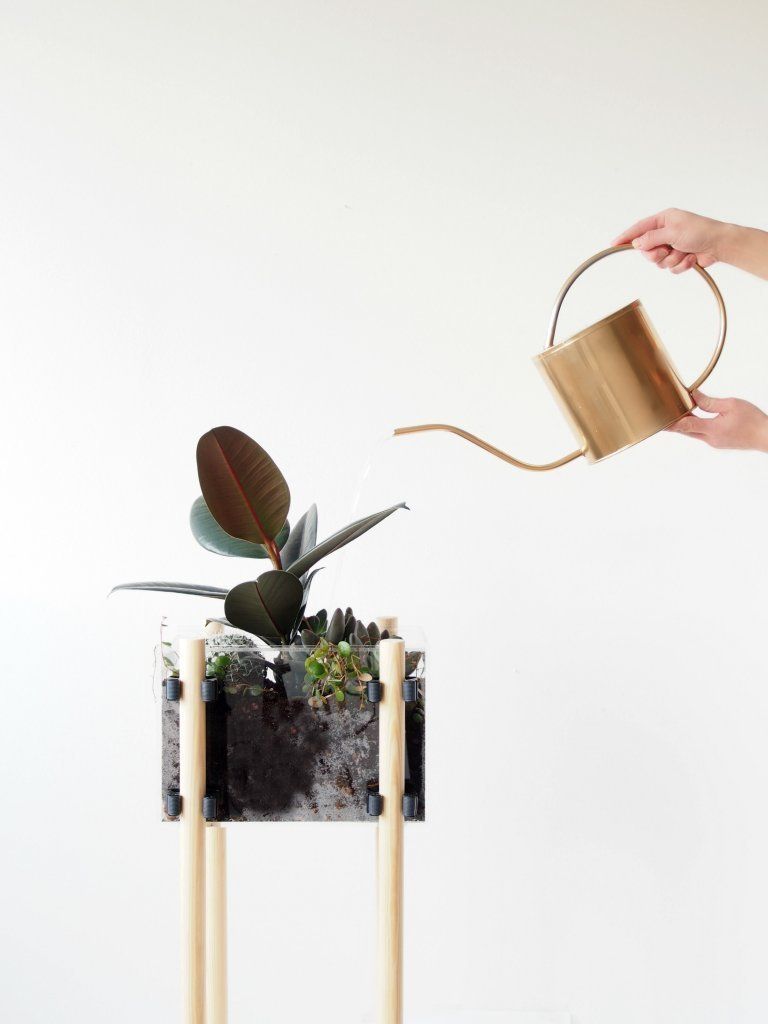 Another easy strategy for building an indoor plant stand is described on monsterscircus. It's a raised plant stand designed to complement a glass terrarium-like planter. Of course, this is only meant to offer you inspiration so be creative and look for ways to adapt the project to suit your own style and design ideas.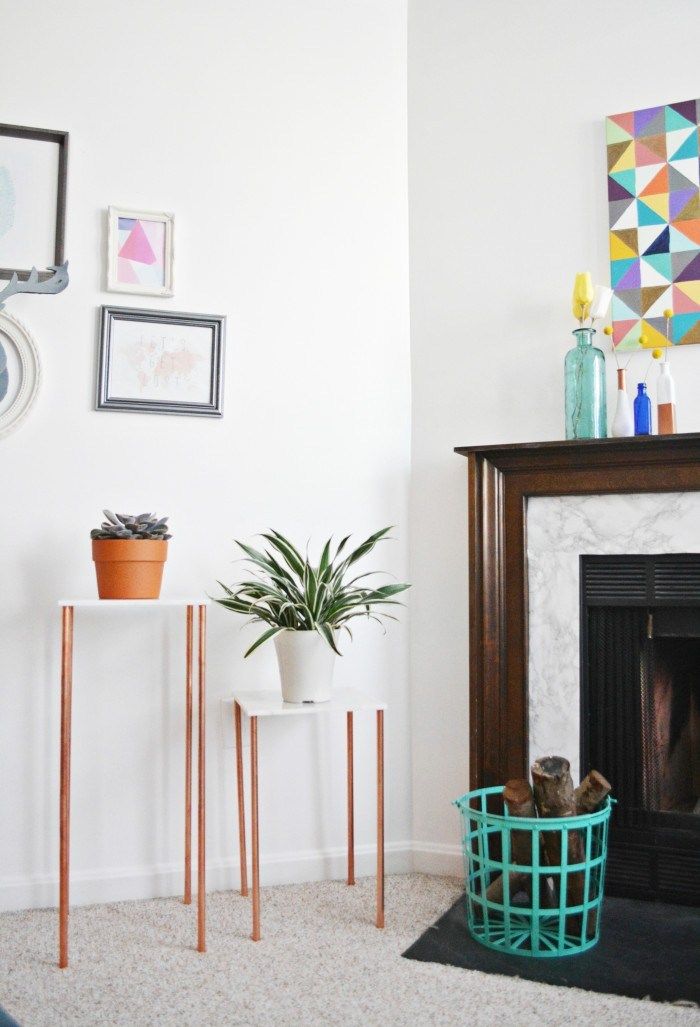 Marble and copper pipes also make a very chic and elegant combo. To find out how to put them together in the design of an indoor plant stand you can check out the tutorial featured on ajoyfulriot. As you can see, the top is a marble tile and the legs are copper pipes secured to the tile with glue and with the help of pressure tees.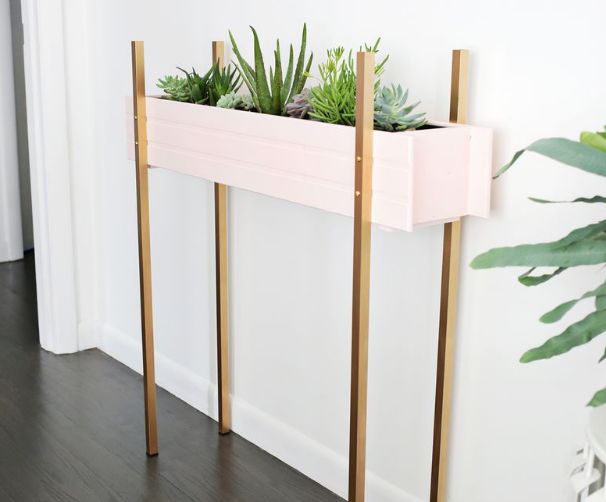 Instead of a regular planter perhaps you'd prefer a window box instead. You could make a sort of console-like planter stand which would actually look wonderful on spaces like the entryway, a hallway or placed against an empty wall in the living room or the bedroom. This is a design featured on abeautifulmess for which you're going to need the following: a window box, window box insert, 4 square aluminum tubes, gold paint, acrylic paint for the planter, a drill, screws, clamps and felt pads.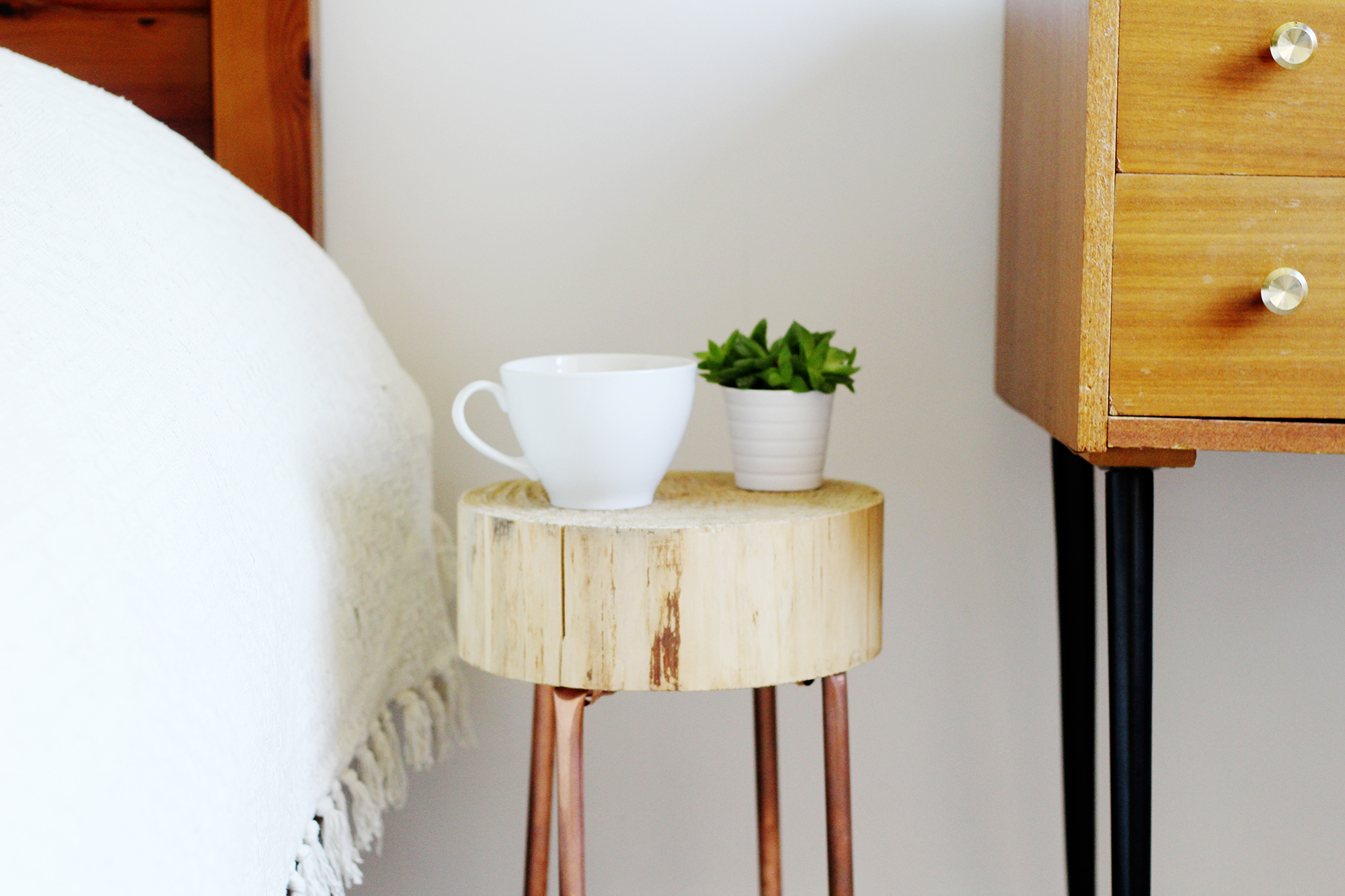 This plant stand is in fact a small side table which makes it a really cool project thanks to its versatility and the fact that it's multifunctional. Building this side table is very simple. You only need a wood slice for the top, copper pipe pieces for the legs and screws to secure the pieces together. You can find out the rest of the details in the fallfordiy tutorial.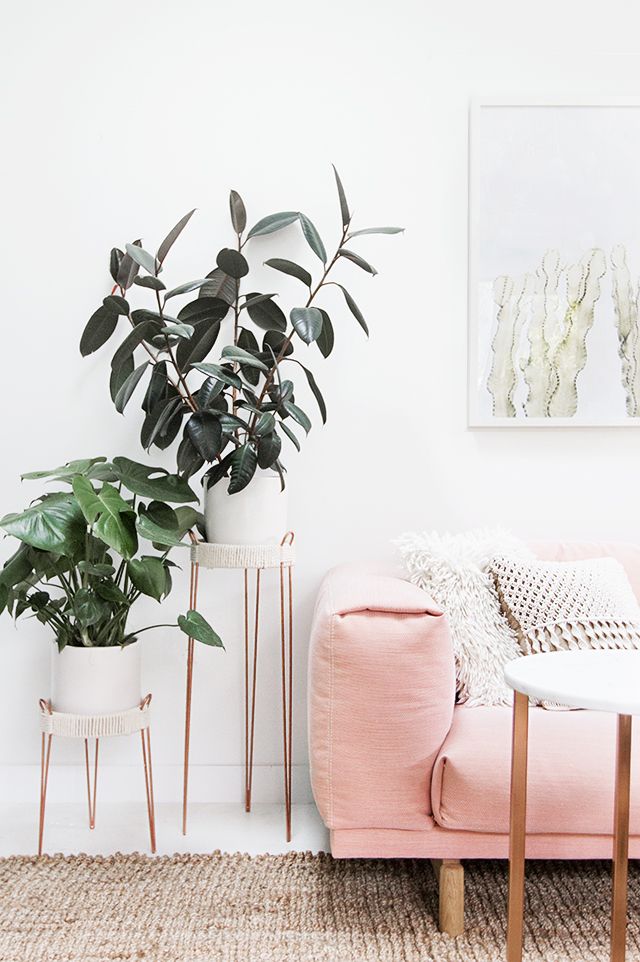 A fun little project can also involve taking a very simple and basic plant stand and give it a makeover or improving its design in some way. A good source of inspiration can be the project featured on sarahshermansamuel. The original plant stand had hairpin legs which looked nice but needed a bit of extra spark so some spray paint and rope were used to make that happen.
Designer plant stand ideas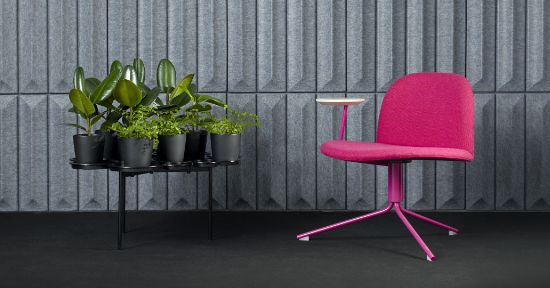 Building your own plant stand can be fun and rewarding but may not always be the best option. An alternative to consider is choosing a designer plant stand. The Green Pads is a planter designed by Luca Nichetto with a design inspired by the architecture of the 1950s. It's a sort of accent table with a top made of several flowerpot saucers of different sizes placed next to each other.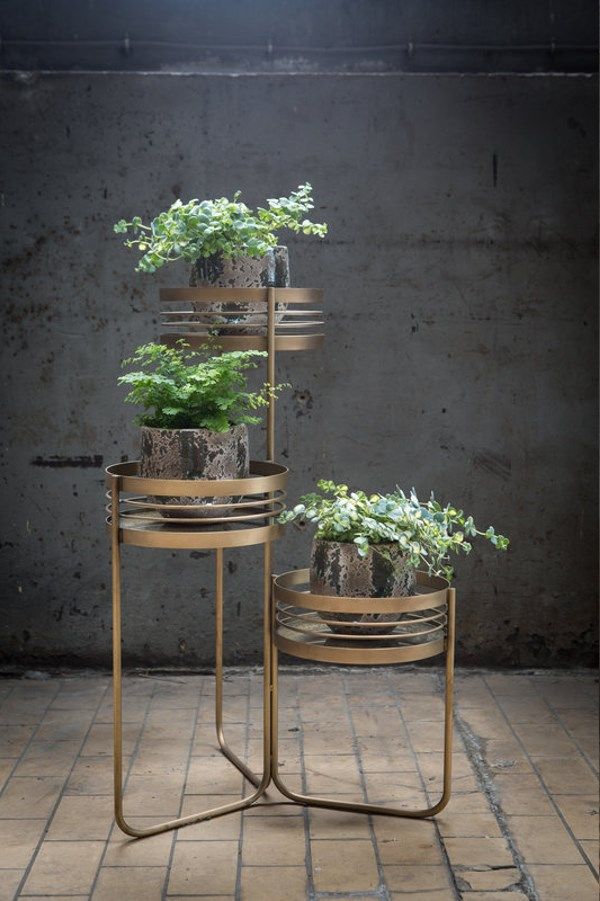 The Phyllis Planter invites you to put your beautiful indoor plant on a pedestal. It's small and space-efficient but and its design is simple while at the same time being interesting-looking. Mix and match several planters and stands in a cluster and display this as a standalone decoration.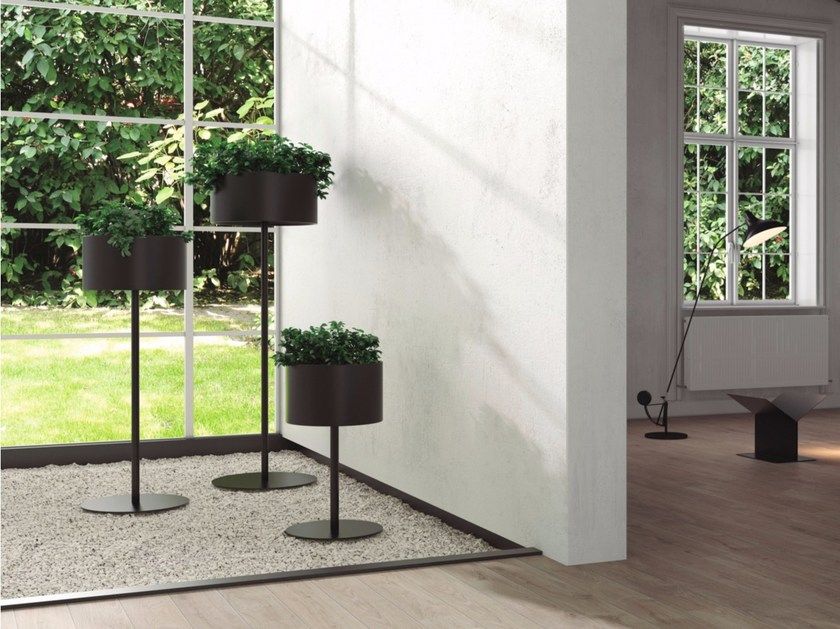 The Green Cloud series includes a set of hanging planters with designs reminiscent of pendant lamps. The collection also includes a series of pedestal planters with different heights. You have a choice between two colors: black and white.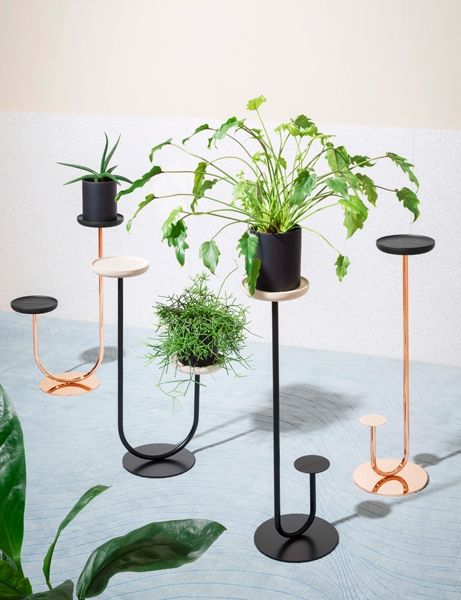 This is the Cigales plant stand, a gracious and sculptural-looking piece. It can hold two plant pots on two tray-like round platform which differ in size but also in height, depending on which version of this plant stand you actually choose. There's also a simplified, wall-mounted version of this stand. Check out all the models, finishes and color combination to find the one that's best for you and your plants.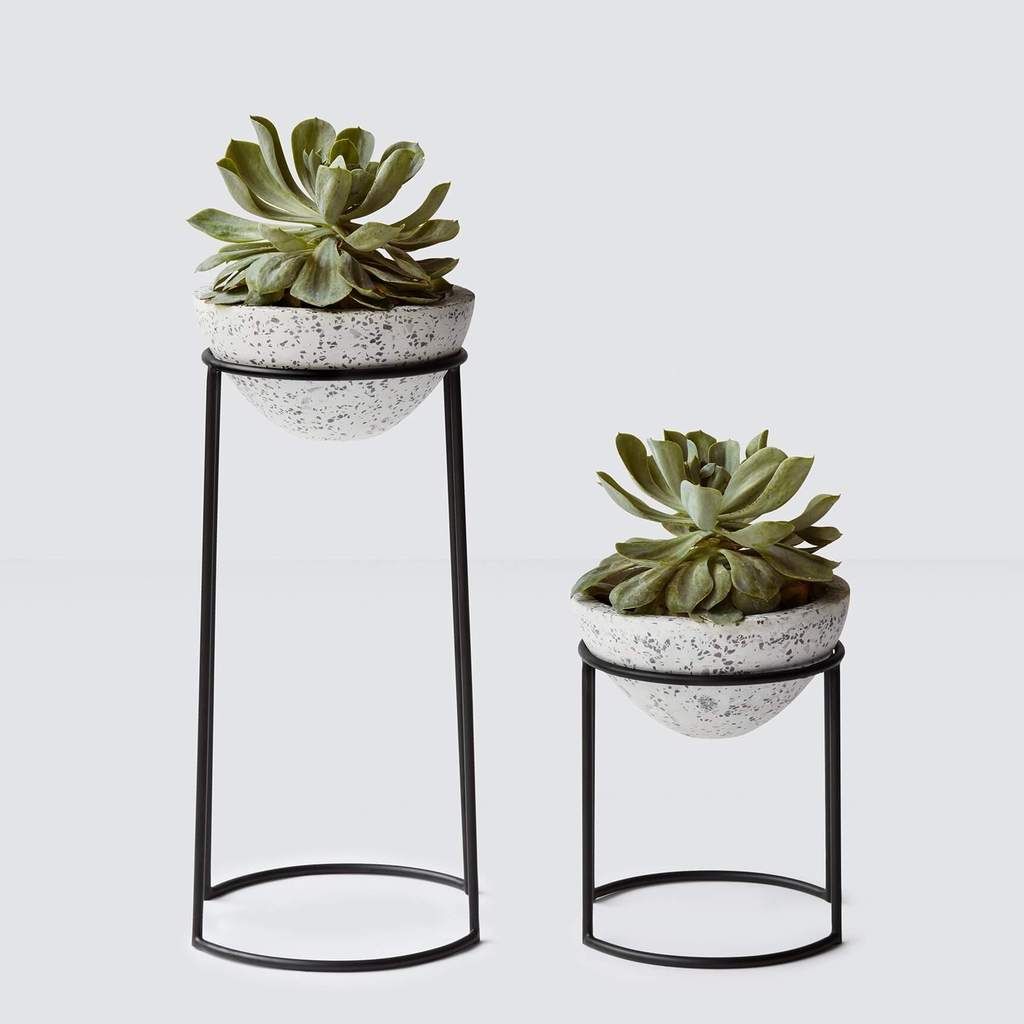 The Santa Cruz Terrazzo Planters have a clean and minimalist aesthetic. Their simple and graphical design give them a sophisticated, somewhat artistic appearance. The planters are handcrafted from a combination of granite, marble and quartz. We love the combination of straight lines and curves. They give the stand an organic look but it also keeps it looking minimalist and contemporary.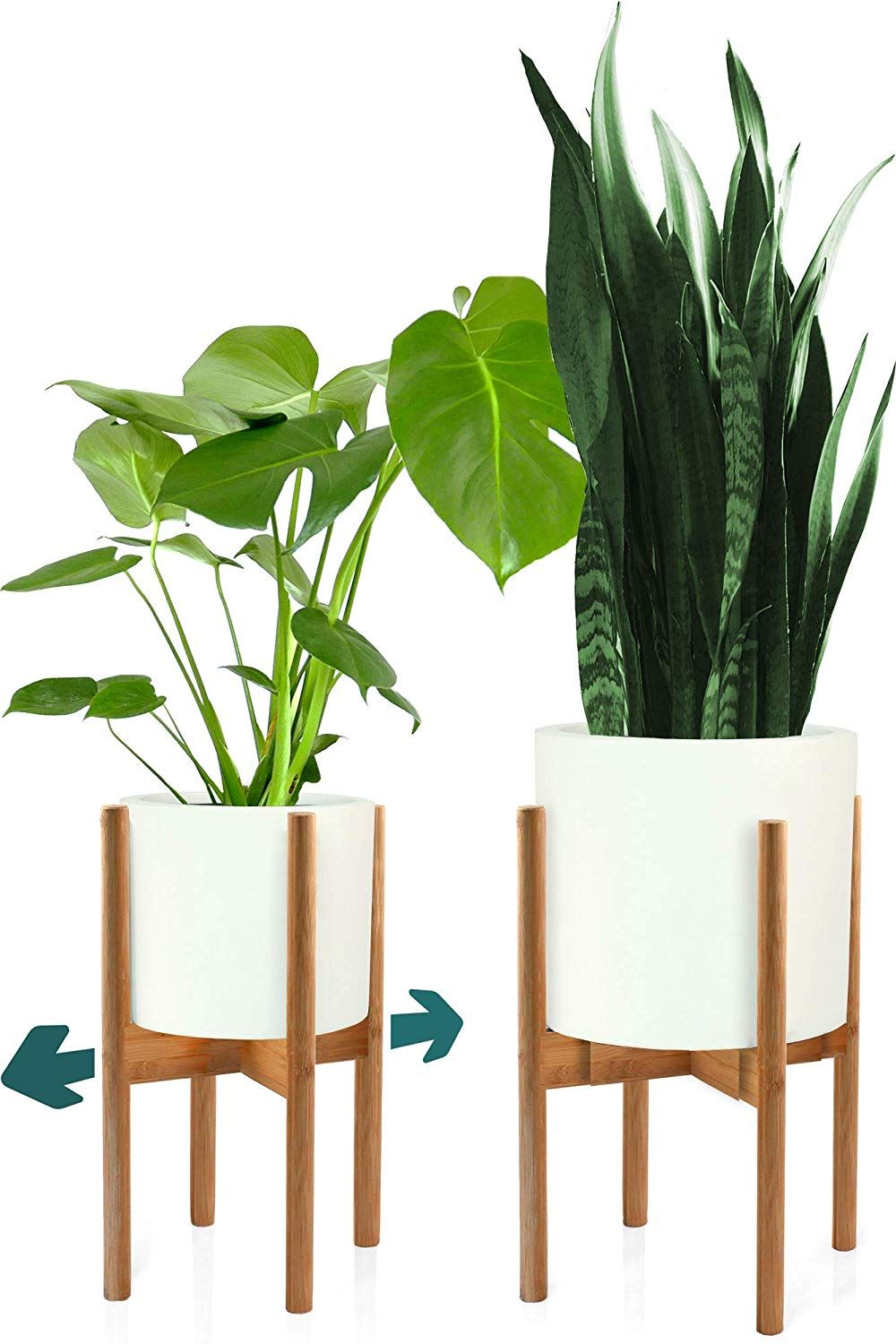 The Fox & Fern stand is quite special and that's because its width is actually adjustable. That means it can accommodate different types of plants of different sizes and even shapes. It can adjust its width from 8" to 12" and it's crafted from sustainably-grown bamboo. It doesn't come with a pot which in this case is actually entirely ok given all the different possibilities.
This quirky stand has multiple platforms for several individual pots as well as a central bottom shelf which can itself hold one or more plant pots. The design is simple and symmetrical and you can use this plant stand on balconies, decks, patios and of course in all indoor areas as well. You can find more details about this product on Amazon.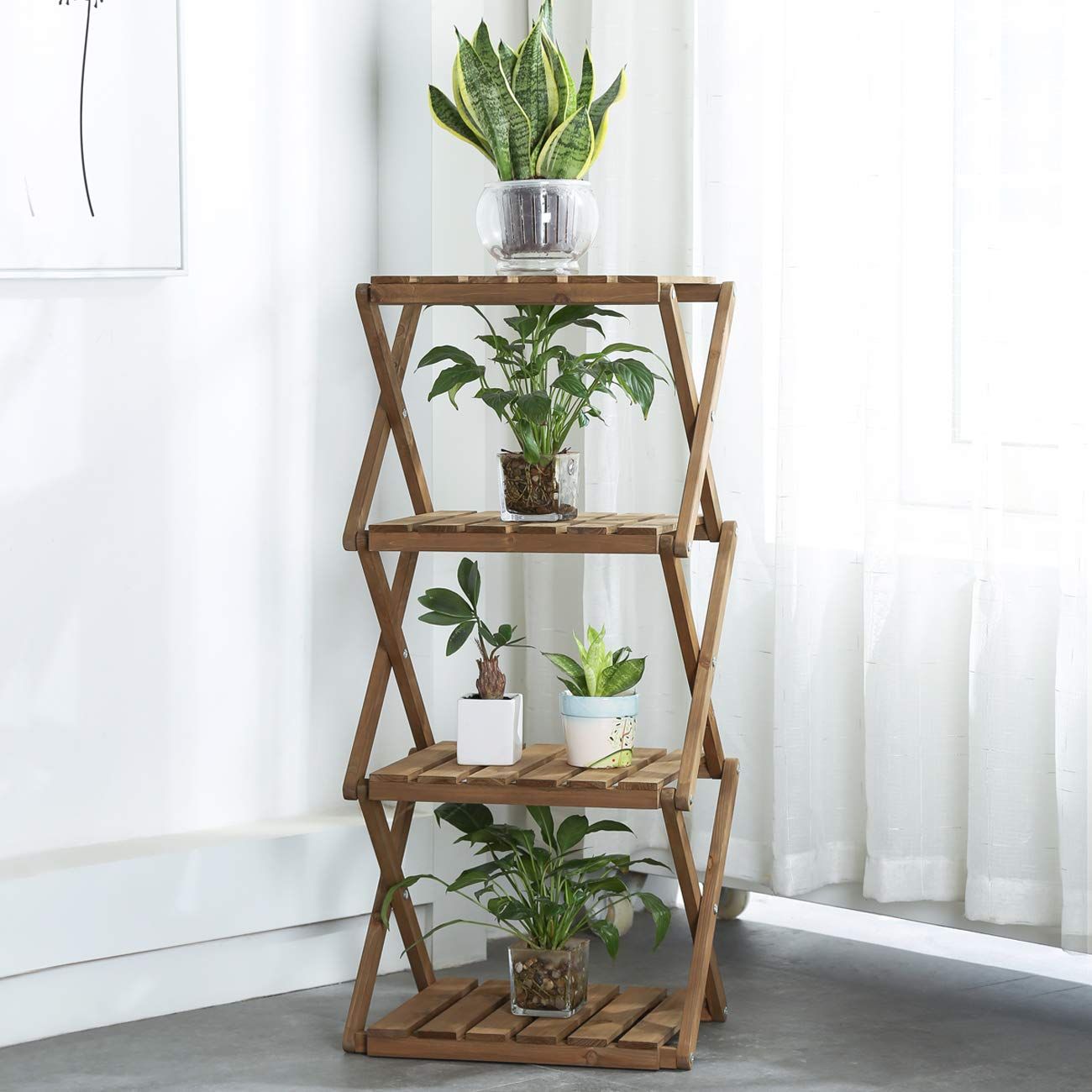 Many plant stands offer all sorts of unique advantages. For example, the Sunnyglade stand is a four-tier rack which is foldable and that's a nice little detail which can be very useful if you're growing seasonal plants and you don't really need the stand all year long or if you simply find yourself rearranging things in your home often. Either way, we think this design is not only very practical and versatile but also very nice-looking.
The post A Selection Of Stylish Indoor Plant Stands You Can Buy Or Craft appeared first on Home Decorating Trends – Homedit.