A lot of kitchens these days have either an island or a bar and that's something which transcends style since there are a lot of fantastic designs to choose from and also a lot of interesting ways in which you can make your own kitchen look special with the help of custom furniture and accessories.
The kitchen island and kitchen bar are very similar to each other with one major difference: an island is a standalone countertop area while a bar is attached to either an existing countertop or to a wall. That being said, a kitchen island with seating is not the same thing as a bar, even if it may seem like it. Check out some of our favorite island and home bar ideas below and identify the differences between them by yourself.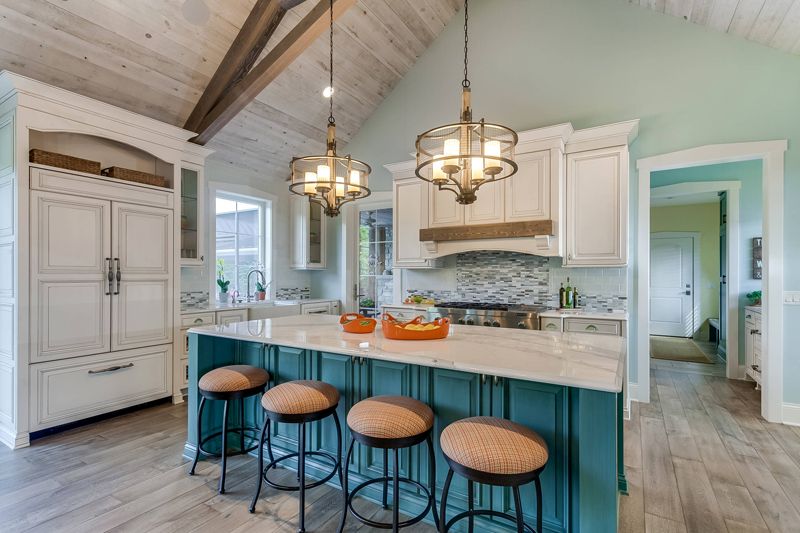 A lot of times a kitchen island would serve as a separator between the kitchen area and the dining area or the living room. The same can also be said about a kitchen bar, although the circumstances, in that case, tend to be a bit different. This beautiful kitchen was a project by CVI Design.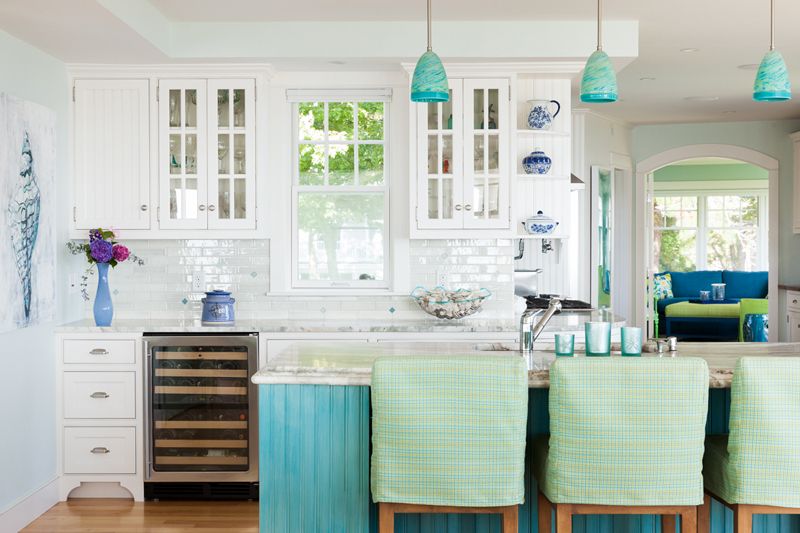 As we already mentioned, both a kitchen island and a bar can feature seating and sometimes a kitchen island can even function as a bar even if technically it doesn't fulfill the design conditions. This kitchen designed by Lisa Teague Studios is a nice example of how versatile these concepts really are.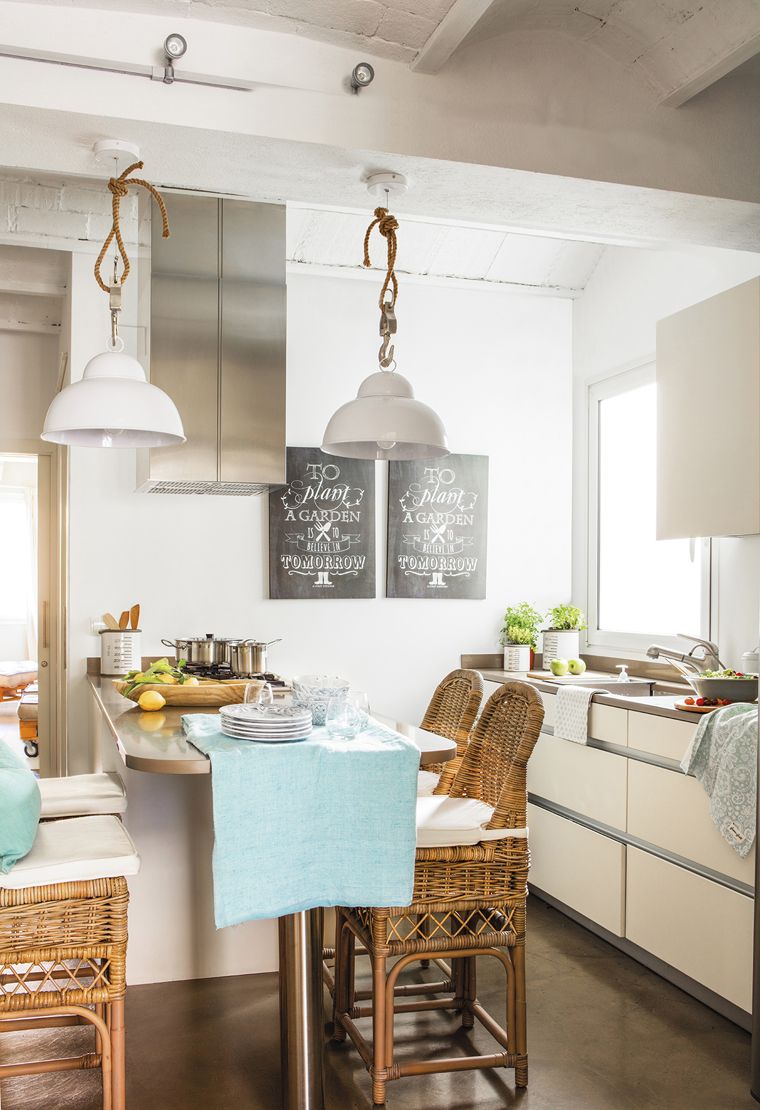 You might be wondering when exactly it's better to have a kitchen bar as opposed to an island. Usually, a bar suits kitchens which are long rather than square or small kitchens where a regular island wouldn't fit. Of course, alternatives also exist, like this small bar-like table in this kitchen designed by Asun Antó of Coton et Bois.
Both an island and a kitchen bar have the role of adding storage and functionality to the space and providing extra counter space for various activities. That's why often the terms are used interchangeably or why certain designs tend to be hybrids with featured borrowed from both types. This is a kitchen designed by Joann Kandrac and Kelly Kole of Kandrac & Kole Interior Design.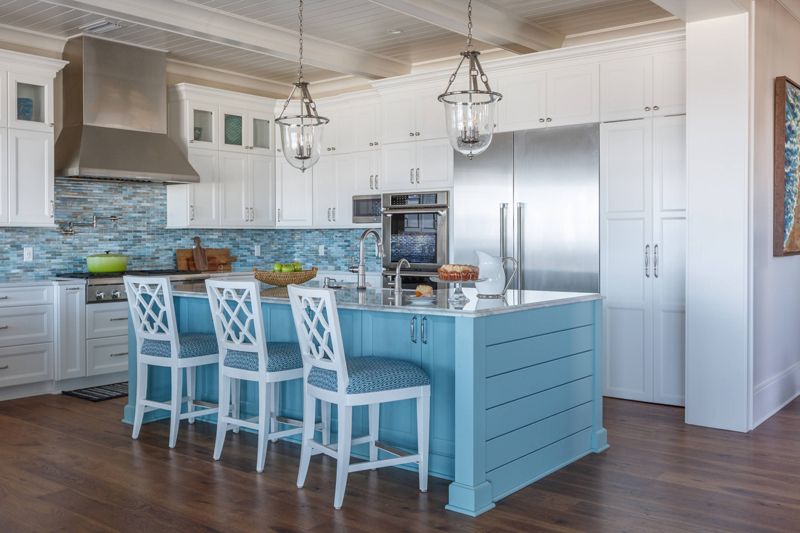 Whether you opt for a kitchen island or for a bar, the idea is more or less the same: additional counter and storage space, the option to add seating and the opportunity to have a physical separator between the cooking area and the rest of the space which often includes the dining room and living area. In this example, the project was completed by The Design Studio.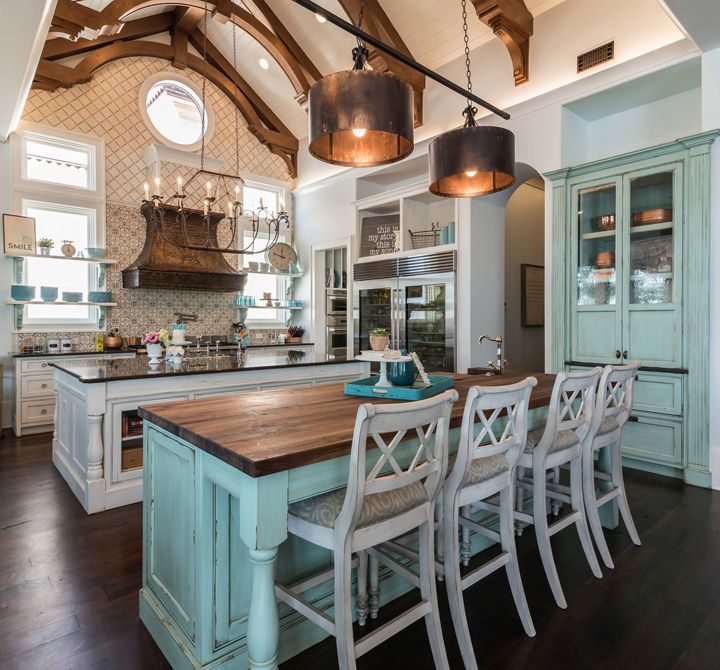 Given that the kitchen island and the bar are so similar to one another but at the same time they show clear differences in terms of design and structure, is there a point in having both? Obviously, it all depends on the context. It has to do with how much space is available, the way in which it's used and also the users' needs and preferences. Check out this complex kitchen by Weber Design Group as an example.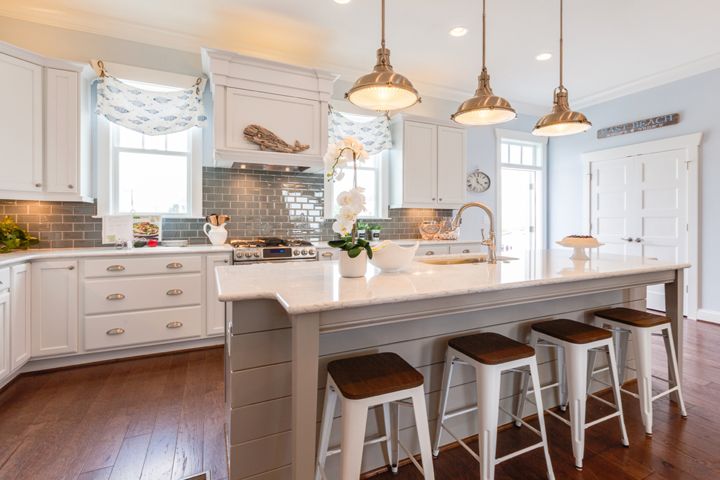 This beautiful coastal kitchen has a large and elegant island which functions a lot like a home bar. There's bar stool seating on one side and a built-in sink and plenty of useful storage on the other. Three hanging pendant lamps complete the setup. This is a project by Stephen Alexander Homes.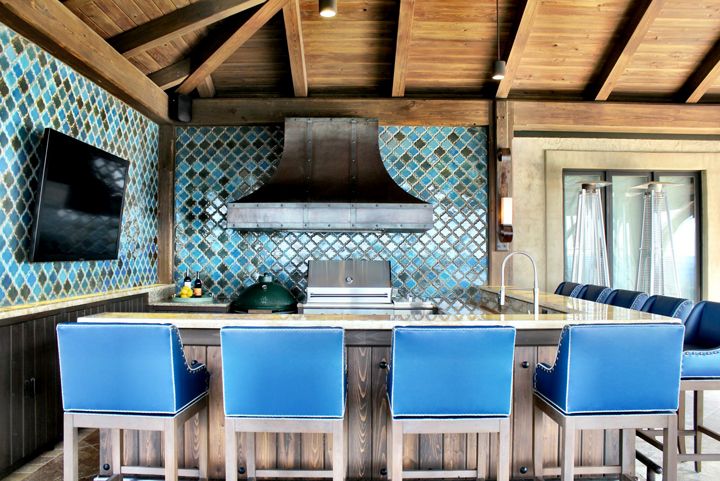 A bar can neatly round up a kitchen and give it a complete and organized look even when part of a large open floor plan. A good example is this incredible kitchen designed by Mary McWilliams of Mary Mac & Company. The bar frames the kitchen and comes in the continuation of the countertop, creating a sense of privacy.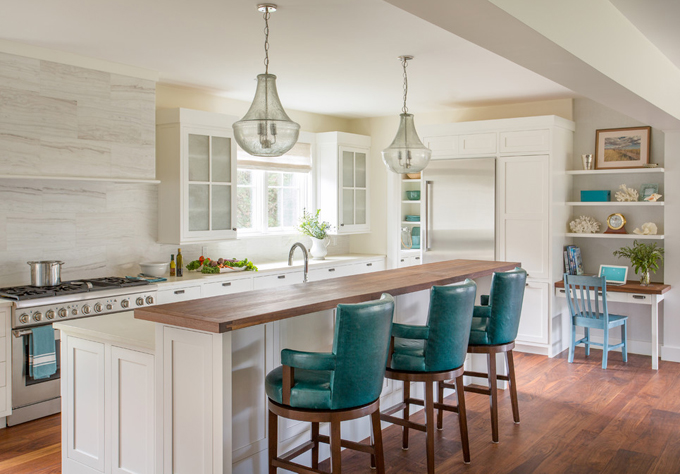 We mentioned before that hybrid designs which bring together the best of kitchen islands and home bars are possible and even desirable in some cases. For example, studio Martha's Vineyard Interior Design created this lovely setup where there's a freestanding island with two different countertop heights. One side acts as a regular kitchen island while the other is a great bar.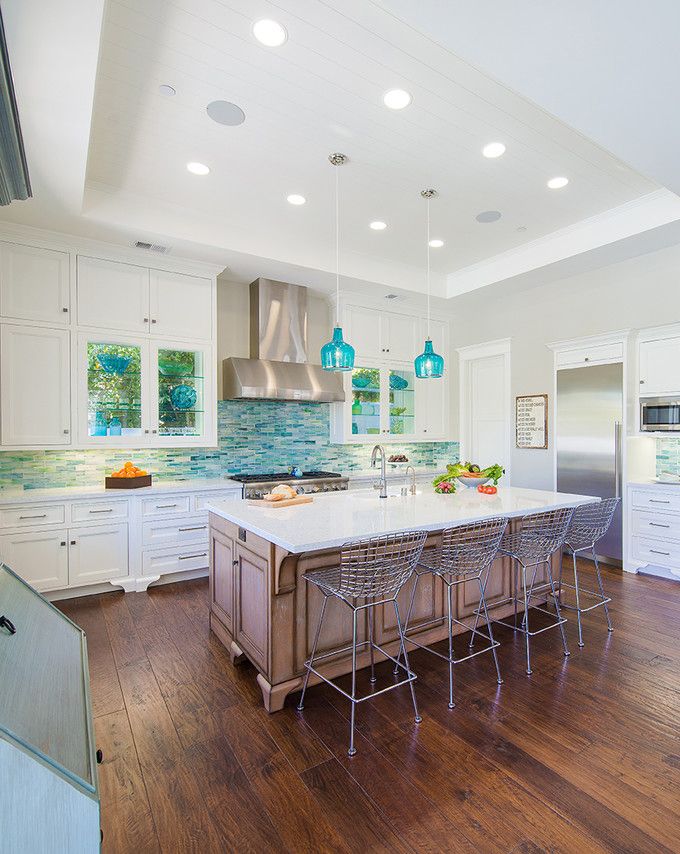 Here you can see a very welcoming kitchen with this large island at the center that has bar stools on one side and a perfectly practical prep area on the other. There's a built-in sink which frees up more counter space along the main wall and a wide island countertop which gives a sense of completion. This is the creation of studio Jennifer Allison Design.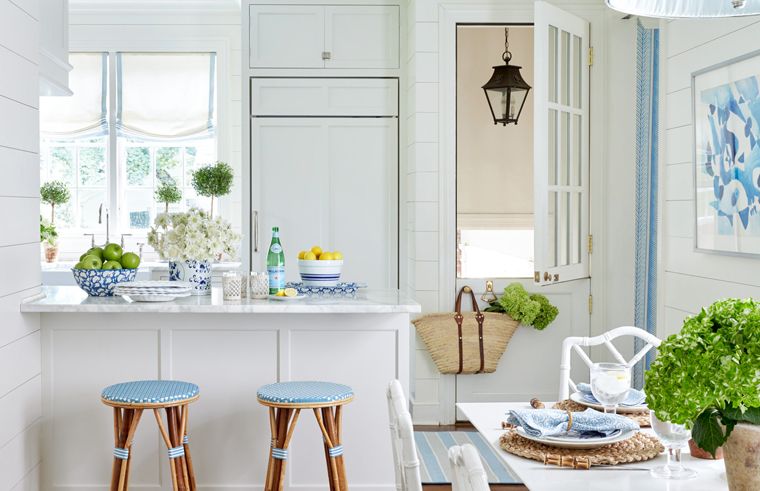 Interior designer Sarah Bartholomew shows here that you don't need a very large kitchen in order to be able to add a home bar. In fact, kitchen bars are most common in rather small spaces which tend to be long and relatively narrow.
Studio Tracery Interiors gave this massive kitchen not one but two islands. The idea was to spread the kitchen along an entire wall and to frame it with two matching islands with seating. Each island can be used in a variety of different ways and for a variety of purposes.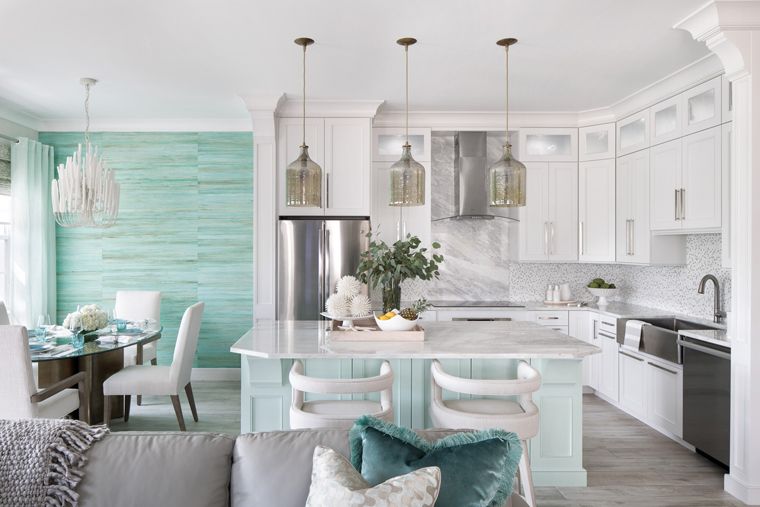 As you've seen, it's possible to mix and match the features of a kitchen island and a bar and even to have more than one island/ bar if the space allows it. But what about smaller kitchens? A lot of times a kitchen might seem too small for an island but often it's a matter of perspective. We love this design by Blue Ladder Studio. It shows how versatile this whole idea is.
In this kitchen Studio Steidley has combined rustic and modern design elements to create a very pleasant and harmonious composition. The island has a white countertop which matches the rest of the workspace as well as the furniture, with a wooden surface visible on the other side. The stools fit nicely under the counter and don't have backrests which helps to ensure a fluid and open decor throughout this entire open space.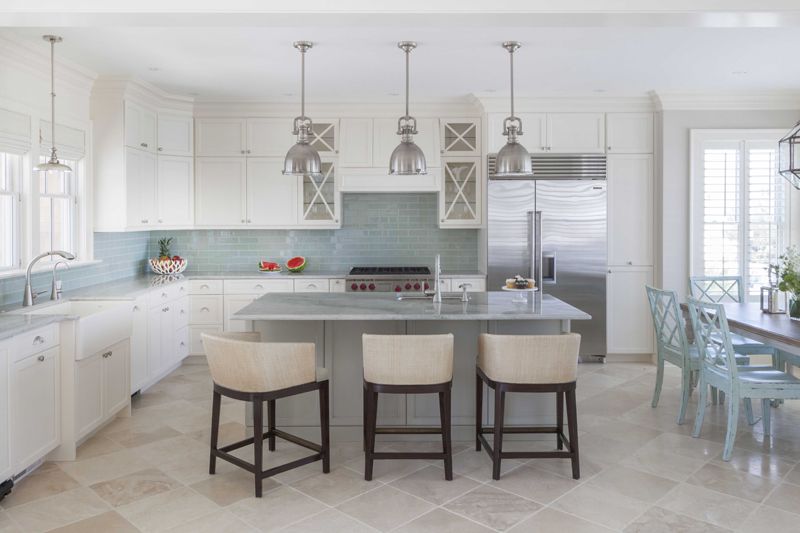 Choosing stools that fit underneath the kitchen island counter or under the bar is a nice idea, especially if the kitchen opens onto the dining room or the living area and you want to create a strong connection between these spaces. Take inspiration from this interior completed by Jenny Madden Design.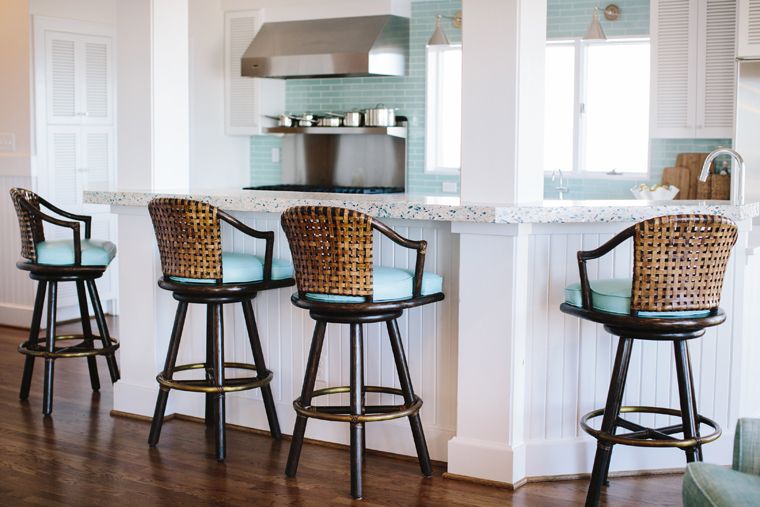 Usually, a kitchen island or a bar would feature seating only on one side but that's not necessarily a rule you must follow, as very well exemplified in this beach house designed by Lindsey Cheek of Gathered. The countertop cantilevered a small bit on all sides, allowing bar stools to be spread across.
The post Kitchen Island And Home Bar Ideas Inspired By Gorgeous Projects appeared first on Home Decorating Trends – Homedit.