Ah… jewelry, so precious and beautiful and yet so annoying when it comes to organizing and storing it. Necklaces are particularly quirky in this sense but there's really no reason to focus on the negatives when it's so easy to overcome the challenge. To prove it we've put together a list of necklace holder ideas that we think you're going to find inspiration in. Pick your favorite one and turn it into a DIY project.
This is a jewelry organizer that you can make using a frame, some 23-gauge galvanized steel hardware cloth, a dowel and a few hooks. You can organize your bracelets on the dowel, your earings on the cloth and the necklaces can hang at the bottom. If you don't have a frame making one is pretty easy if you follow the instructions on livelaughrowe.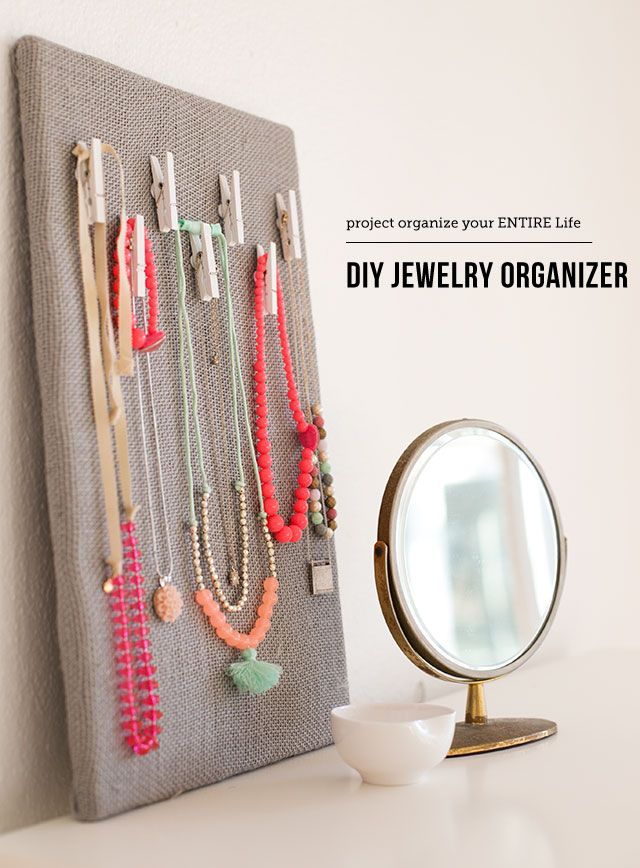 A small necklace organizer like the one featured on modernparentsmessykids should be just right for a small jewelry collection. If you like it, make your own version by repurposing a small bulletin board, some mini clothespins, burlap fabric and pushpins. Of course, a larger board would result in a larger organizer so feel free to adjust the size based on your needs.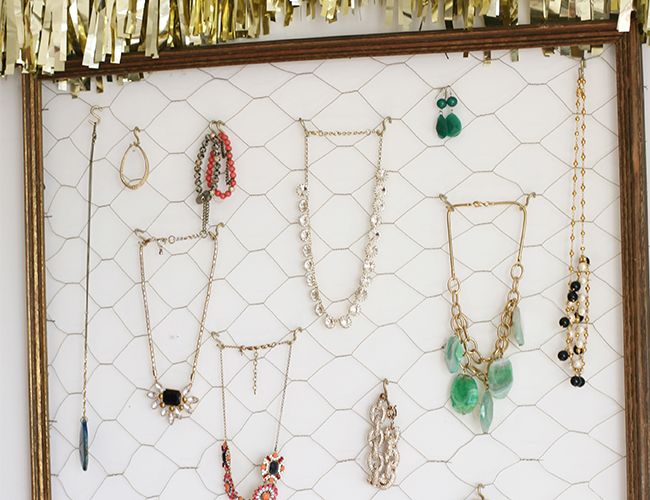 The necklace organizer featured on inspiredbythis was made among other things out of chicken wire. If you think this is the design for you, give it a try. Find a frame with a suitable size and shape, spray paint it gold to give it a classy touch and staple some chicken wire to the frame. You should find all the supplies needed for the project at your local hardware store.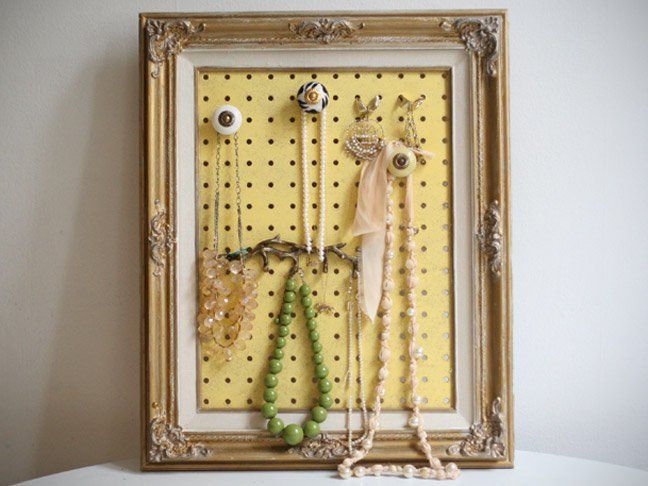 Choosing a beautiful frame is an important part of the whole DIY necklace organizer project, especially if it's anything like the one shared on momtastic. An antique frame would look pretty cool although a simple modern design would be a sleek option as well. Apart from the frame, this project also requires a few more supplies like a peg board, some glue, ribbon, small hooks or knobs and spray paint.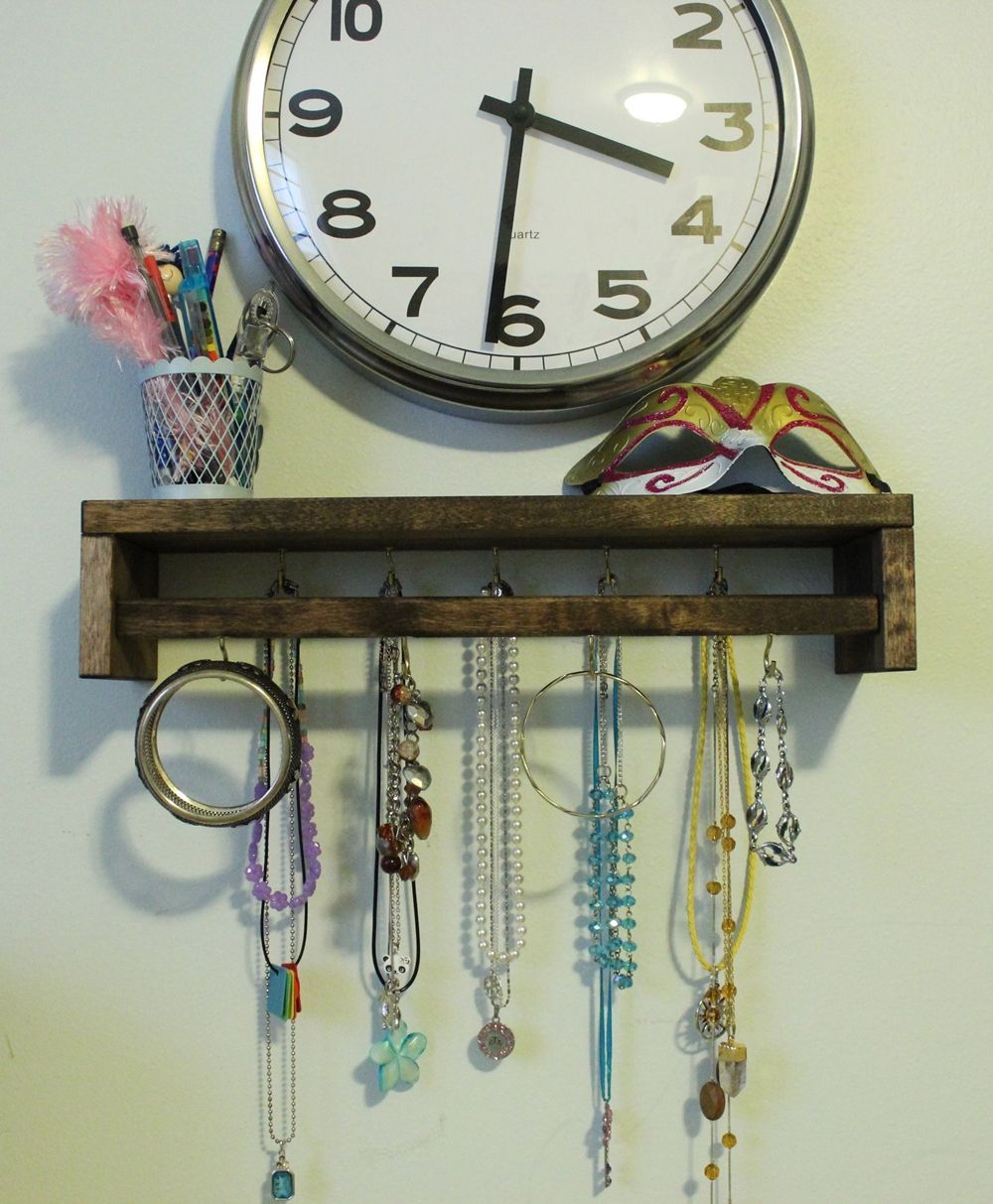 A lot of DIY projects rely on repurposed items, this one included. This is a spice rack turned into a necklace holder. Little hooks hold each piece of jewelry and the top of the rack acts as a small shelf which can hold a few other items as well. You can paint the rack if you want it to match the room's decor.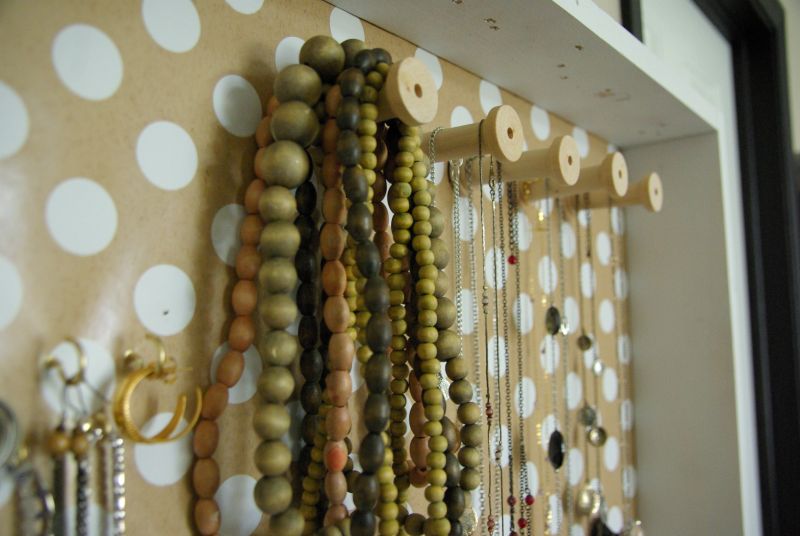 There's a ton of ways in which you can customize your jewelry holder if you want to give it more character. For example, you could use wrapping paper. Choose a pattern or a color that you like and have fun with it. This is one of the reasons why we really like this particular DIY jewelry holder. Apart from the looks, it's also very practical, with hooks and knobs for necklaces and bracelets and with small boxes at the bottom for the rings, earrings and other small things.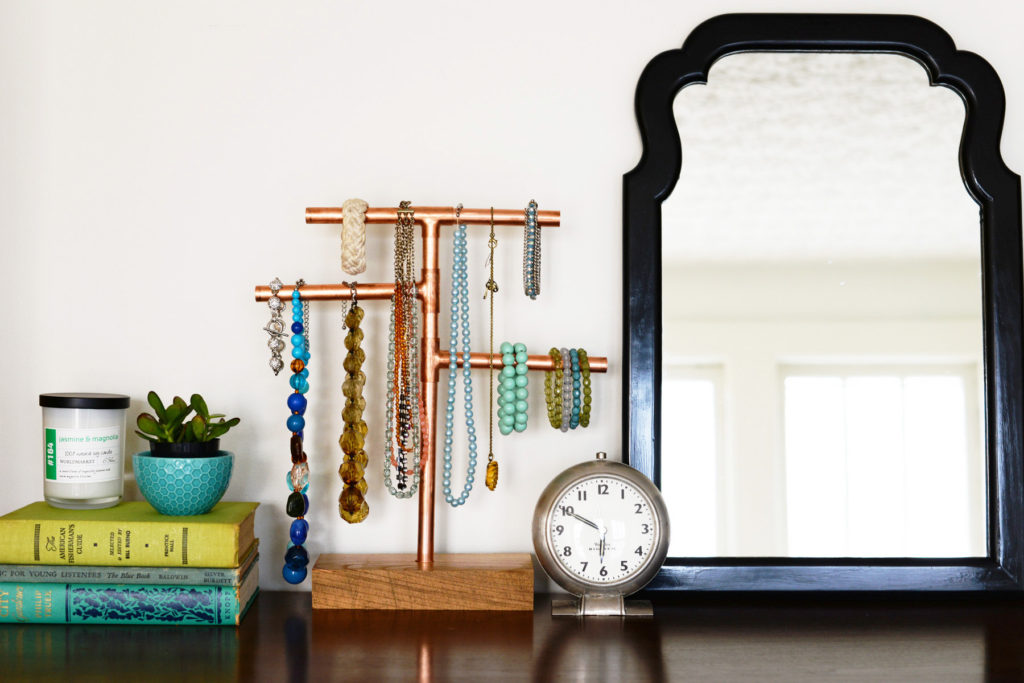 While framed necklace holders can be quite practical, they're not the only suitable option, as proven by this cool-looking copper pipe jewelry stand. It has an industrial look without being too rugged and the wooden block that acts as a base keeps it sturdy and complements the pipes really well. You can give your own necklace holder more branches if you want it, make it taller, wider or change the structure entirely.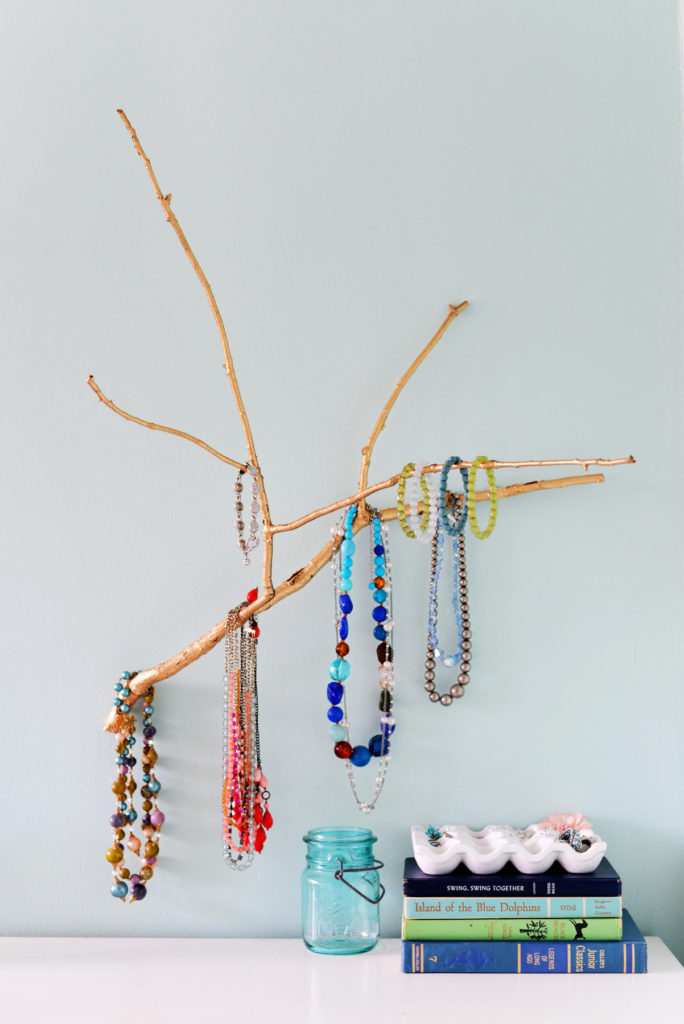 If you like the idea of a branch-shaped design, how about an actual branch jewelry holder? First and foremost, you need to find a branch that you like. You'll also need some sandpaper, spray paint, a drill and screws if you want to turn it into a cool-looking necklace holder. Spray-painting the branch is a cute option but you can also leave it all natural and only clean it up a little bit. This way you'd preserve its original beauty.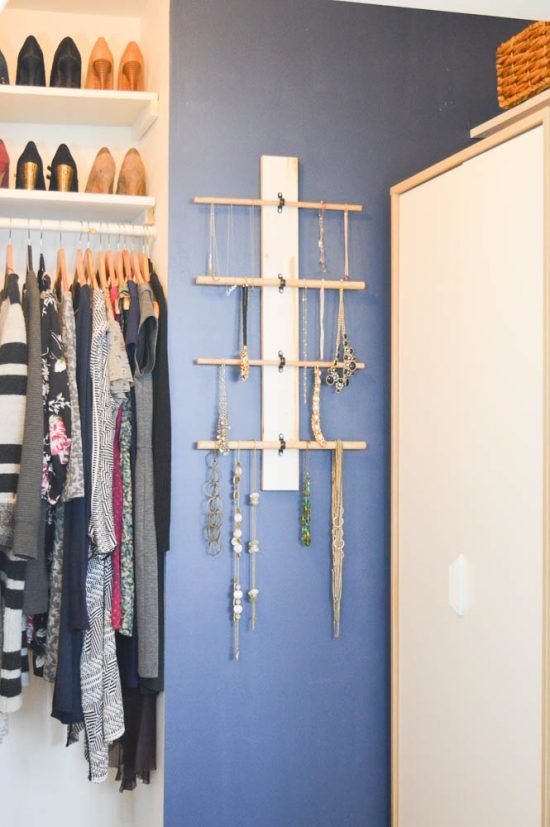 This organizer is great for hanging necklaces. It's made using wooden dowels and you can install it either on a wall or on the back of your closet door. If needed, you can add more dowels to accommodate your necklace collection. You can also use this to organize your bracelets. Apart from the dowels, the project also requires pipe ties, a piece of wood, screws, wood glue and strong tape for hanging. Check out the instructions for this on diypassion.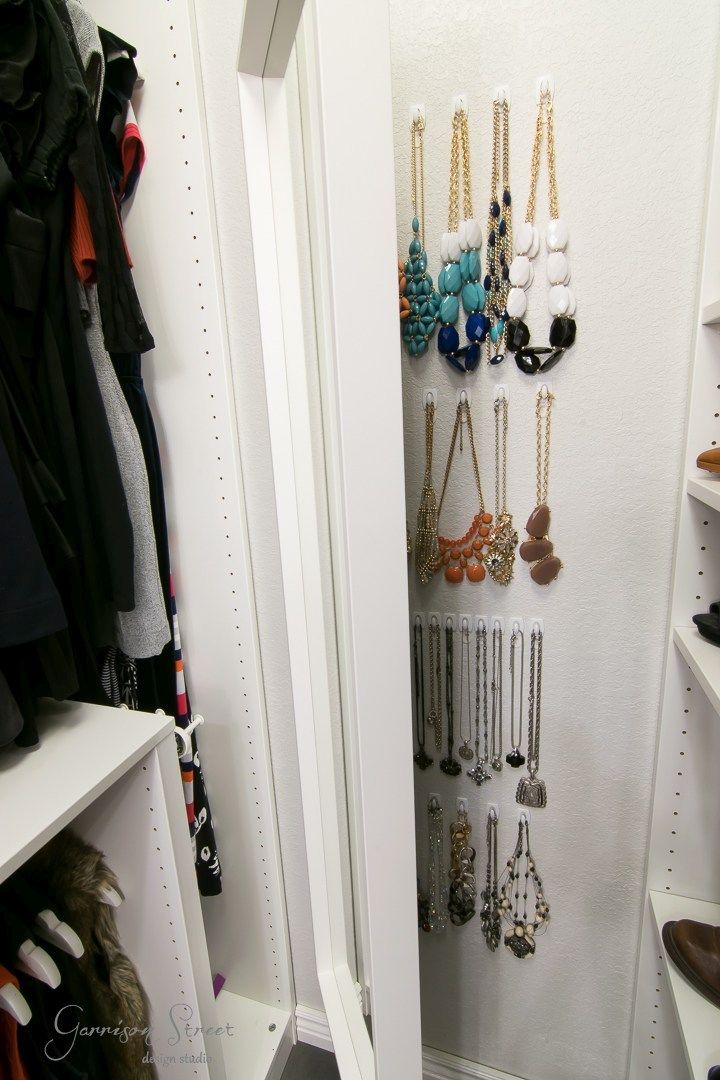 If you want to keep all your necklaces nice and organized but you'd rather not put them on display, we just found a wonderfully clever idea on garrinssonstreetdesignstudio which you might like. This is a mirror attached to the with hinges and when you open it like a door, there's an array of hooks on the wall behind it as well on the back side of the mirror itself. The hooks are attached individually and you can arrange them however you want.