One of those situations that could be fun, but also a major hassle, is shopping for a mattress. With so many brands on the market with each one boasting to be better than the last, the process of searching and finding a mattress that you like and is within your price range can seem like the unfathomable task.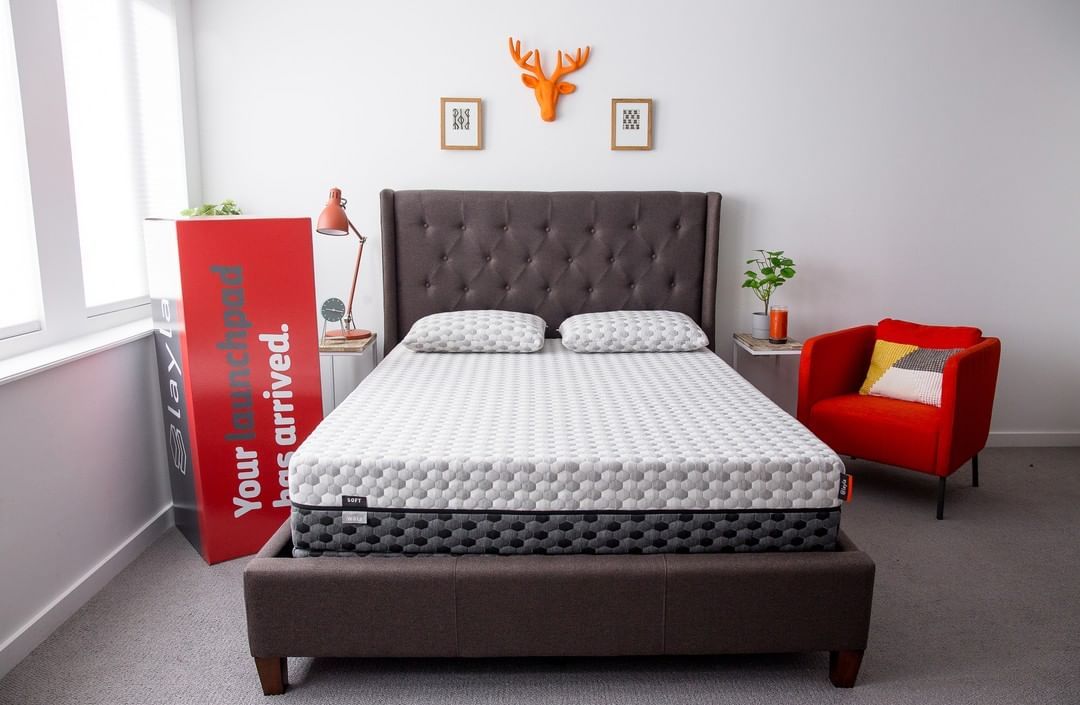 While, yes, there are so many incredible mattresses out there, there's one brand of mattress that is verified to keep you satisfied night after night. The Layla mattress is a one-of-the-kind, highly rated mattress that comes with so many benefits, you'll be amazed that this mattress doesn't cost more than what it does.
120-night trial
Layla Mattress
Layla mattresses are best for sleeping on your back, as the copper infusion will work its magic best that way.
View Deal
The Beginning
The Layla mattress has been around for years, with a founder who actually worked in a furniture store before deciding he wanted to offer people a more affordable, more comfortable way to sleep. After seeing how expensive mediocre mattresses were, the Layla brand was born with the ambition to change the perception of mattresses, offering two different sides of comfort with each mattress.
At Layla, they believe that it's not just a mattress you're using, but a place to rest, regenerate and rejuvenate your body. Deep, comfortable sleep is key to Layla when it comes to being able to take on every day and live a more rested, present lifestyle. It's a company that values its customers over the bottom line and takes stock in its customer service to better serve each and every person.
The Details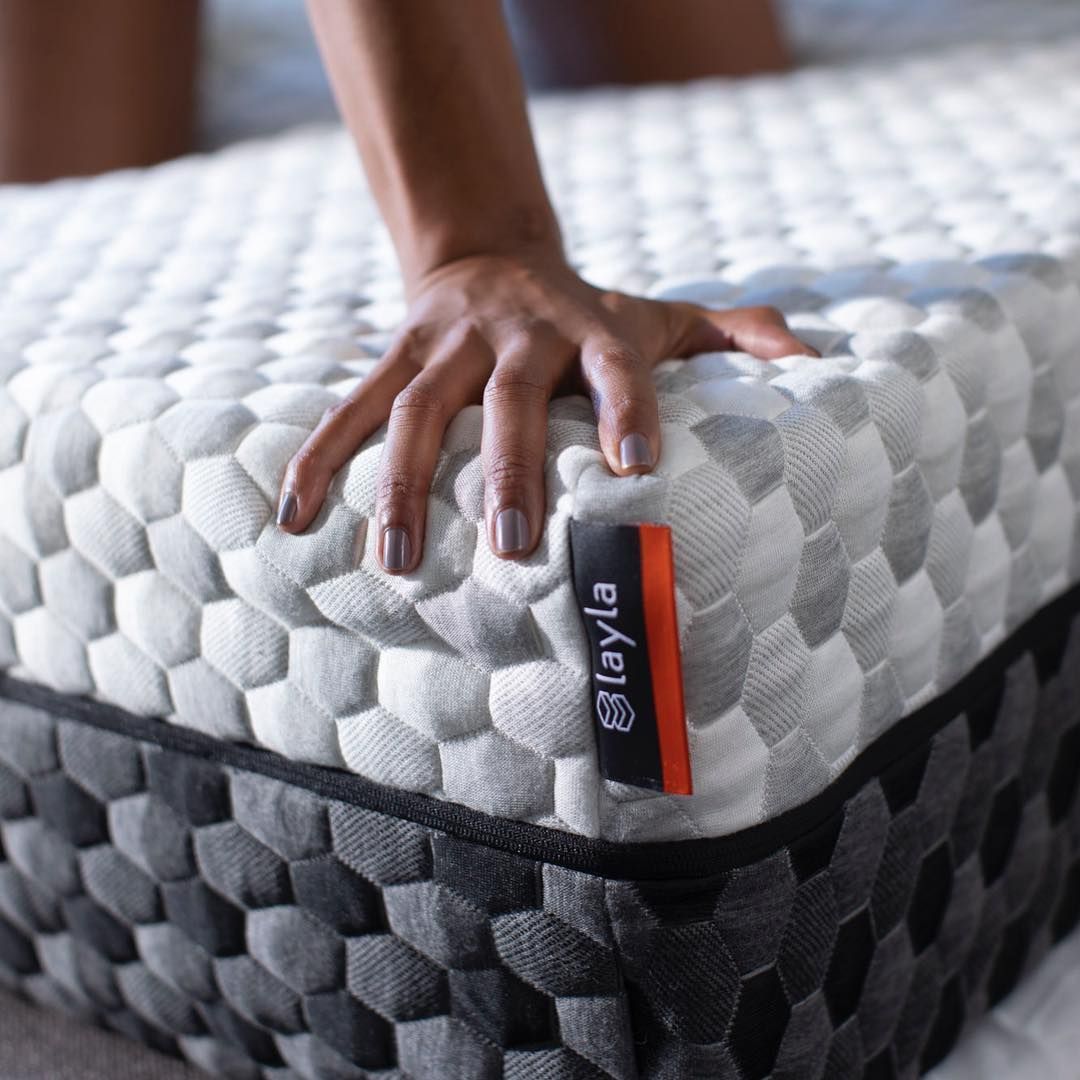 Layla mattresses ship across the United States and Canada, so there's no need to worry about location and whether or not you'll qualify for one of these mattresses. Simply input your shipping information, and voila! A brand-new mattress ready to help you sleep is on the way. Once your Layla mattress order is processed, (which can be anywhere from two to three days) your Layla mattress should arrive within five days.
Once your Layla order is processed, it is pressed and rolled and fit into minimalistic packaging for it to arrive at your door. Each mattress is rolled in order to conserve space and save on packaging, another important aspect to the Layla company.
Your Layla mattress just needs a few minutes after unboxing to regain its full shape. Once it's completely grown into its shape, you can start sleeping on it right away. If that new mattress smell bothers you, you can let it air out for about a day in a well-ventilated room and it will off-gas naturally on its own.
Layla mattresses have little, almost unnoticeable off-gassing, which is a huge benefit especially if you have a particularly sensitive nose. Off-gassing happens when a mattress has been shipped in plastic packaging or when the mattress is constructed within a factory that has other plastics. The fabrics of the mattress can absorb other smells, making the off-gassing process sometimes a longer process in some mattresses. With Layla, there is little off-gassing, so you can basically start sleeping on your Layla mattress as soon as you'd like.
Initial Impressions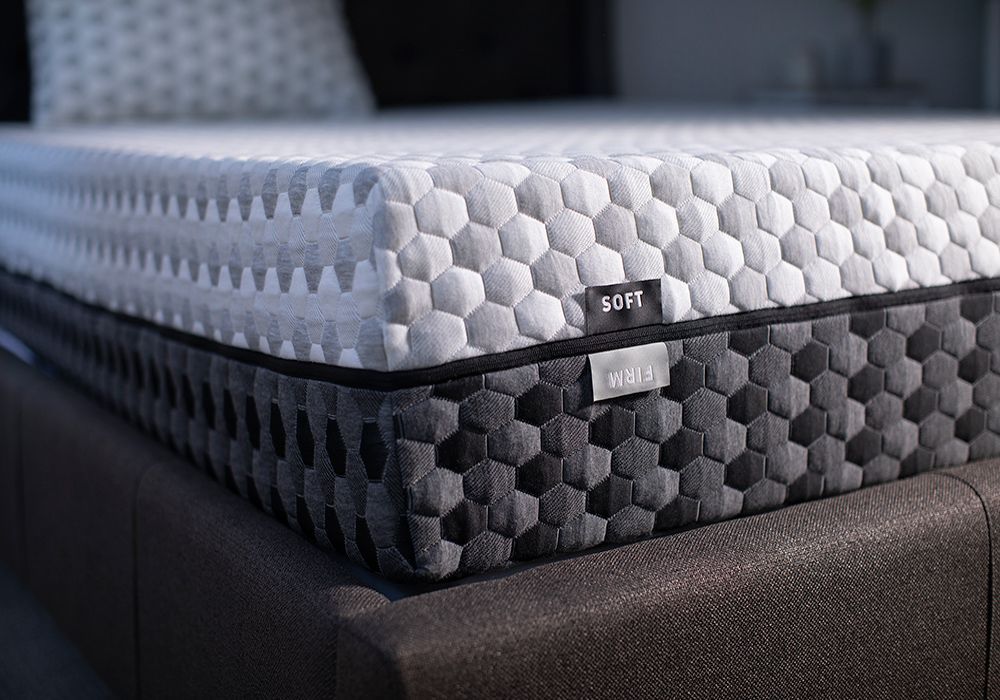 What's super interesting about the Layla mattress is that it has two sides: a firmer mattress side and a softer mattress side. The Layla has a pocketed design that is protected by a plush cover that easily slips onto the mattress. The mattress itself is infused with copper wiring, that is essential for moving hot body heat through and out of the mattress. This is an ideal feature for hot sleepers or for people who wake up with night sweats in the middle of the night. The plush cover doesn't hinder the copper wiring system, but it does make the mattress softer to sleep on and light enough to feel all that great support underneath.

The Layla mattress also has great edge support, which is an important factor if you need your side of the bed to sit on before getting up. Nobody likes that slipping off the bed feeling, and with Layla mattresses, you will only feel supported all throughout the night and in the morning, too.
Construction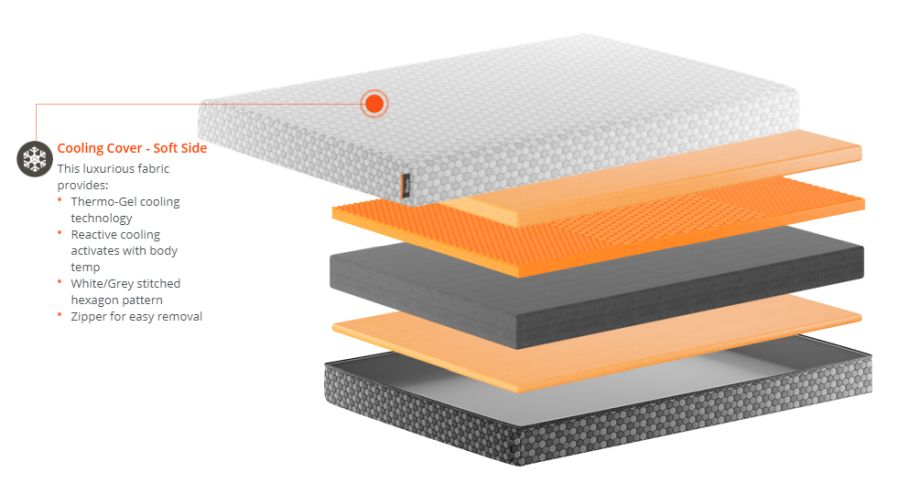 The Layla mattress is constructed with a cooling cover on the soft side, meant to help keep you cool all throughout the night. The thermo-gel cooling design reacts with body heat and easily expels the heat out of the tops of the mattress. It has a zipper, too, so it's easy to remove and wash.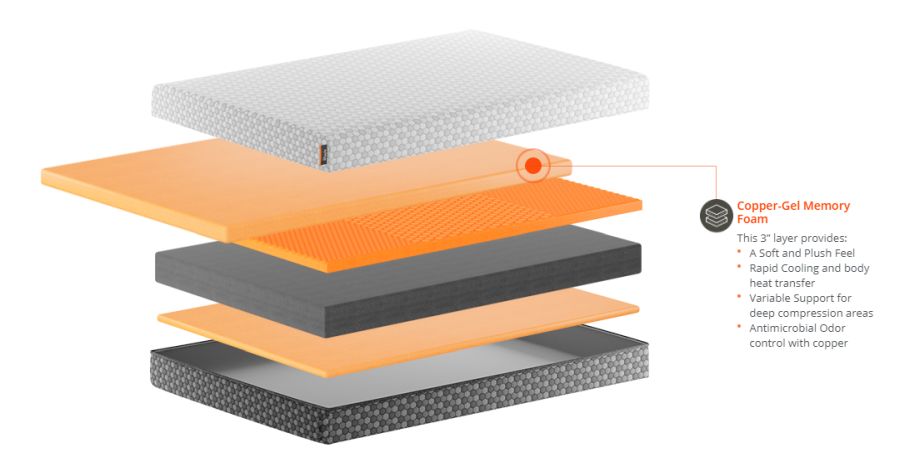 The second layer is a copper-infused gel memory foam that provides a soft, plush feel and rapidly cools the body down quickly. It also contains variable support for deep compression areas. The copper infusion also helps with keeping the mattress odor-free and free from contaminants that can linger a mattress over time.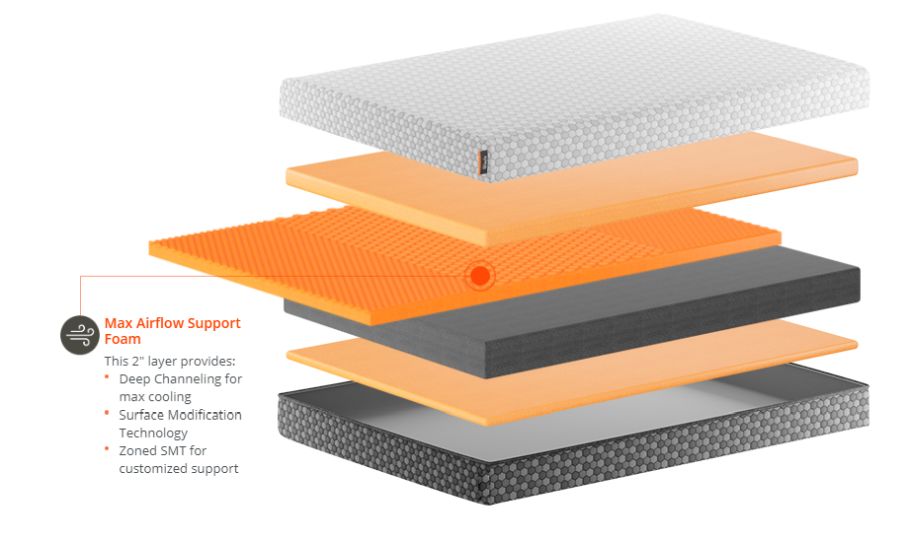 The next layer is a max airflow support foam for that deep channeling cooling system. This keeps the mattress cool from the inside out. It also contains surface modification support and plenty of support to keep the mattress firm and durable.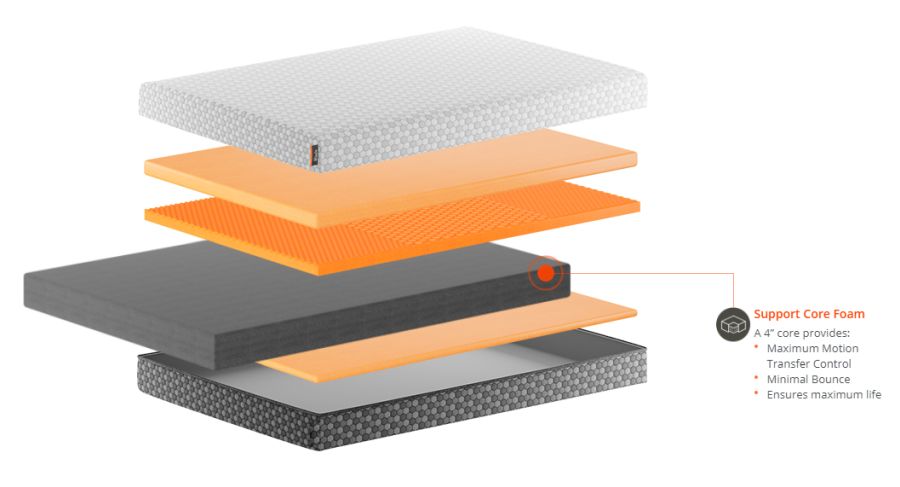 The next layer is comprised of a four-inch support core foam provides maximum motion support control. This layer comes in handy if you sleep with a partner that is restless or moves around a lot in the night. You won't feel a thing with this amazing support layer. It contains minimal bounce for a smoother sleep.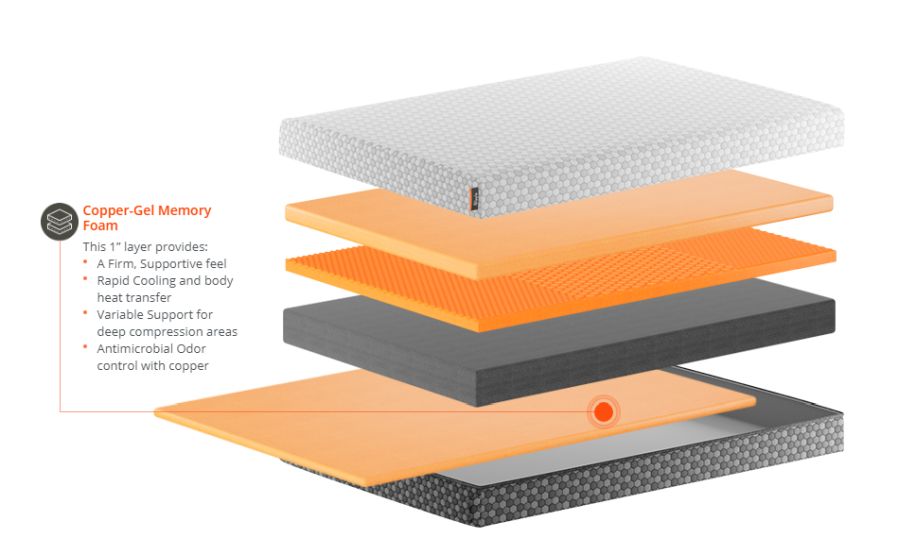 The next layer is a copper gel memory foam that provides firm support while moving heat out of the mattress. It's great to have so much copper infusion within this mattress because it so easily moves body heat out of the mattress providing a more comfortable sleep throughout the entire night. The copper also helps with odor, so added bonuses here too.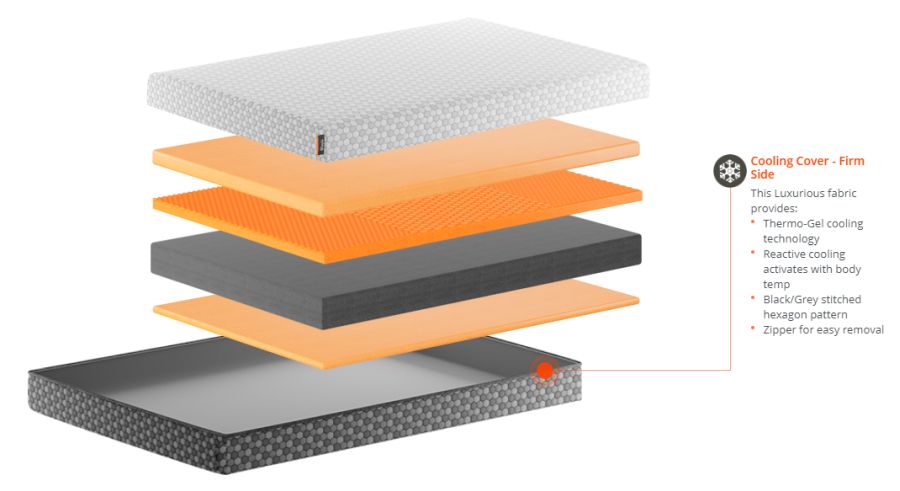 The cooling cover on the firm side of the mattress has more of that great thermo-gel cooling technology that reacts to body heat and easily transfers the body heat out of the mattress. You can flip the mattress to access the firm and softer sides, but they each have this great cover ready to help move out heat and provide a plusher feel when lying on it.
Features and Benefits

What is truly amazing about the Layla mattress is that it has two sides for firmness or softness. It's one of the only mattresses of its kind that can bring so much comfort and versatility into one single mattress. Your simple flip the mattress to the other side of the side you are using is too hard or too soft.
This mattress has that amazing cooper cooling system throughout the mattress, so you don't have to worry about this mattress heating up too much or becoming hot during the night. You typically find a lot of warmth in mattresses with memory foam, however, the copper infusion core and covers help move out the heat. The copper is also known to have healing properties for ailments such as arthritis because it helps move the blood flow in the body. This is particularly helpful for people who have difficulty sleeping due to pain in the night from achy bones or joints. As if it couldn't get any better, that copper cooling system also prevents odors from seeping into the mattress. It keeps the mattress cool, fresh and odor-free.
It's this copper infusion throughout the mattress that really sets the Layla mattress apart from other mattresses. That, and that nifty double-sided mattress feature that can allow you to access both a firm and softer mattress, in one.
The Layla mattress comes with some extra add on options, including toppers, foundations, sheets, pillows, and weighted blankets. Layla pretty much has you covered when it comes to accessorizing your new mattress, so feel free to browse their other great products and decide which ones would be the best for you. All the products come with that Layla guarantee, so if you ever don't like anything, you can send it back for a full refund.
Layla Mattress: Size and Pricing Information
The Layla mattress comes in every size you can think of, everything from twin to California king. There are perfectly sized pillows for each of these mattresses, as well, so, for example, an extra-large pillow would do best with a California king. The twin mattress obviously can't handle the large pillow, so there are standard pillows for the twin, full- and queen-sized mattresses, as well. The sheet sets available on the Layla website are also scaled for each mattress size, so no need to have to search around for the ideal fit.
| Size | Dimensions | Weight | Price |
| --- | --- | --- | --- |
| Twin | 38″ x 75″ x 10″ | 50 lbs | $499 |
| Twin XL | 38″ x 80″ x 10″ | 55 lbs | $599 |
| Full | 54″ x 75″ x 10″ | 70 lbs | $799 |
| Queen | 60″ x 80″ x 10″ | 80 bs | $899 |
| King | 76″ x 80″ x 10″ | 90 lbs | $999 |
| Cal King | 72″ x 84″ x 10″ | 90 lbs | $999 |
The Layla mattress is a mattress that best sleeps a hot sleeper and someone who suffers from joint pain. This is an ideal mattress for back sleepers, stomach sleepers or even side sleepers. Any position you like is good enough when it comes to the Layla mattress and its copper-infused, cooling mattress.
120-night trial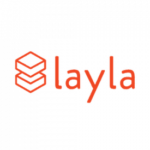 Layla Mattress
Layla mattresses are best for sleeping on your back, as the copper infusion will work its magic best that way.
View Deal
Considering all that the Layla mattress provides, the cost of the mattresses could shock you. The Layla mattress will run you anywhere from $450 to $1,000 depending on the size of mattress you want. You also have to take into consideration any add on that the company provides and which of these you'd like to try out to accentuate your sleeping experience. The twin mattress starts at around $450 while the California King mattress is closer to $1,000, just to give you a rough estimate of costs.
Heat Transfer
As described before, the Layla comes with so much copper infusion, that it'd be nearly impossible to wake up sweating in this bed. It's the perfect combination of cooling comfort that is in, not just one, but a few layers throughout the mattress. Both a core layer in the mattress and the two cooling top layers of the mattress are infused with that cooling copper, so you're sure to be able to find a cool, comfortable sleep, no matter how hot you get.

It's a truly versatile attribute to this mattress that helps distinguish Layla over other brands. Anyone who mentions copper infusion in regard to a mattress knows right off the bat that you're referring to a Layla mattress.
Durability
The Layla mattress is highly durable due to layers of memory foam. Memory foam has a lot of sink ability, but the Layla mattress has plenty of core foundation layers that will provide strong base support. Memory foam is also associated with running hot, but thanks to that copper infusion system, you don't have to worry about that aspect.
There is some sink ability in the Layla mattress, but your body won't feel like it's sinking throughout the night because the Layla also cradles all your pressure points. There is strong durability involved that makes the Layla mattress feel as if you're sleeping in a cloud, without actually sinking into a cloud.
Maintenance, Protection, Care and Warranty
Maintaining your Layla mattress is a breeze. The top cooling layer is a removable layer with a zipper that can be zipped off and tossed into a standard washing machine. The top layer is also machine dryable, making this a super easy part of the mattress to clean. The rest of the mattress can be spot cleaned and disinfected. Any material safe cleanser can be applied to the surface of the mattress and simply air dry it.
Caring for your mattress is also a breeze, as that top layer also acts as a nifty protecting layer to prevent your mattress from getting any spills or stains seeping into the plush layers.
The warranty on the Layla mattress is a lifetime warranty and comes with a 120-night sleep trial. If you aren't completely satisfied with the mattress within those 120 days, just send back for a full warranty. If anything happens to your mattress such as cracking, tearing or ripping, the lifetime warranty covers a full refund or replacements depending on the conditions.
Reviews and Feedback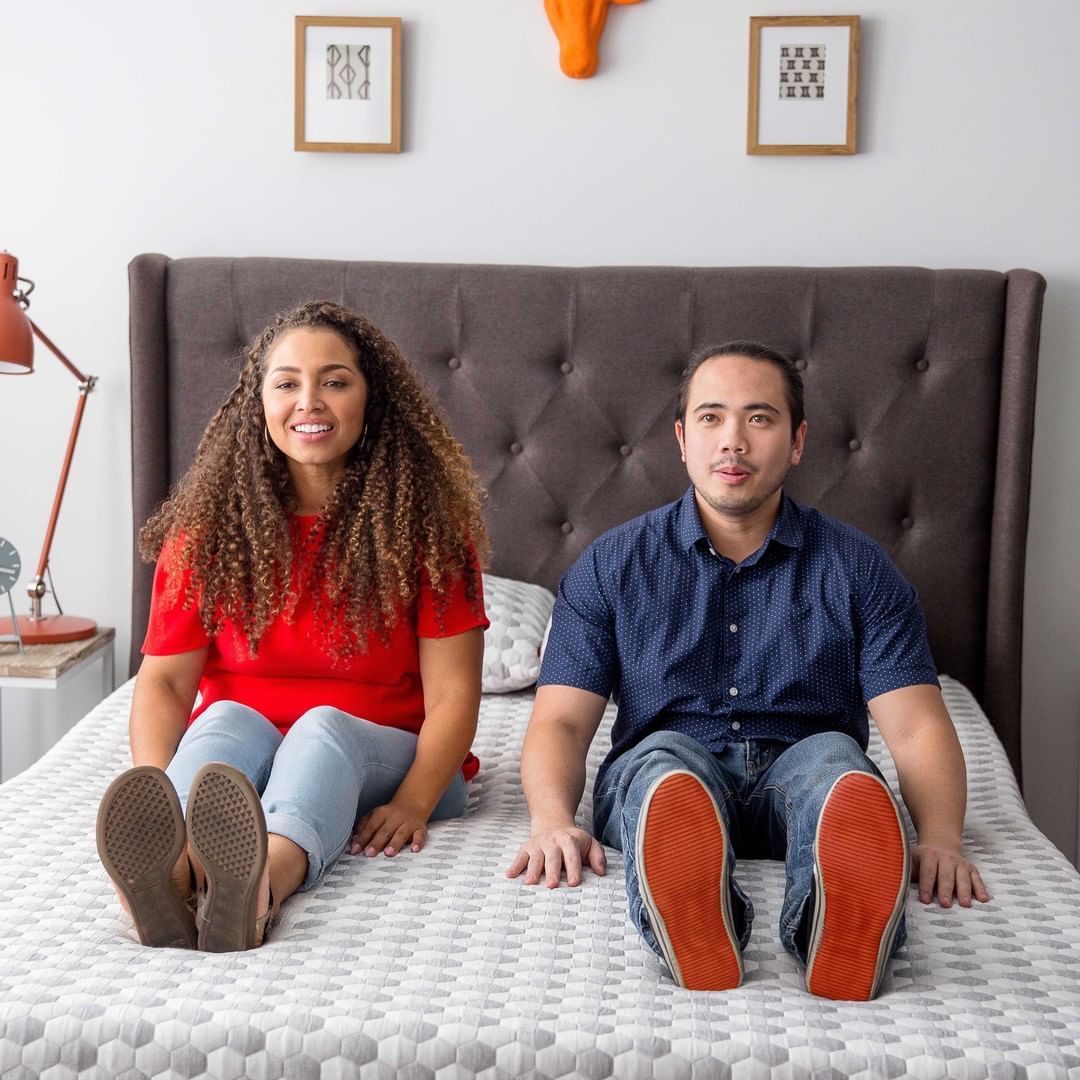 Judging by reviews from customers, most are satisfied with the mattress and attribute the mattress to aiding in back and joint support. While many people enjoy the double-sided feature, some have found that the soft side is too soft or not soft enough, and the firm side is too firm or not firm enough. This just coincides with your personal preference.

The overall reviews, however, have been very positive and customers seem to be happy with their mattresses right from the start. IF there is an issue with the mattress, customer service is available and is quick to help with any issues throughout the ordering and sleep trial process.
Who Would We Recommend the Layla For?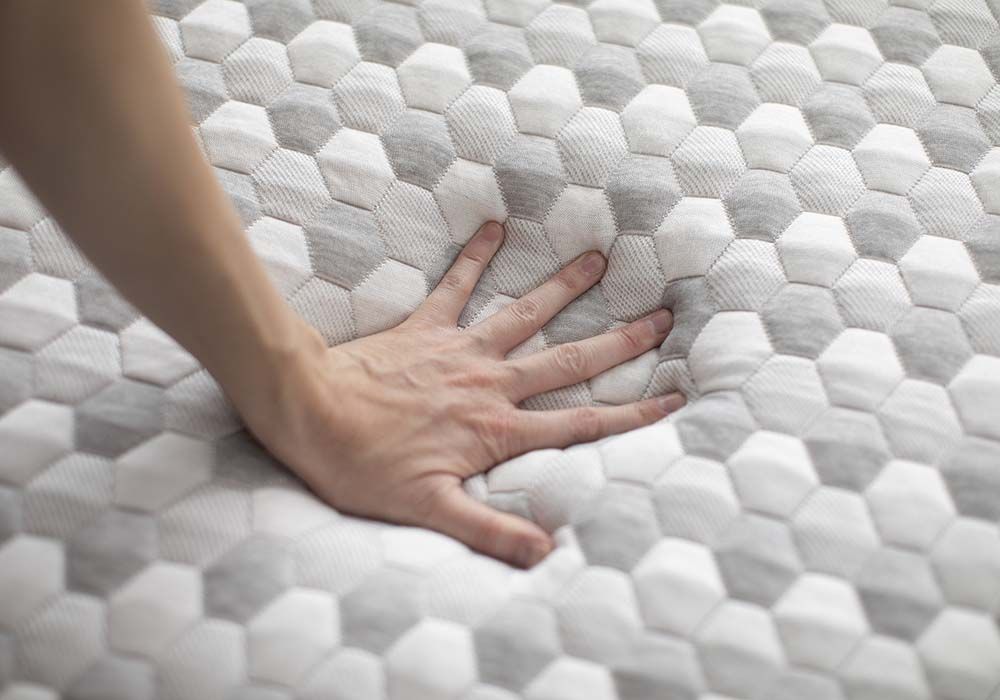 The Layla mattress would be best suited for someone who suffers from any sort of joint issues and for anyone who needs a cooling mattress. The copper infusion system really helps pull out all that body heat trapped within the memory foam.
Anyone who is a hot sleeper would also find this mattress to be beneficial since waking up in the middle of the night from being sweaty is definitely not fun. For a cooling sleep, try out the Layla and see if you can feel the difference for yourself.
Our Final Verdict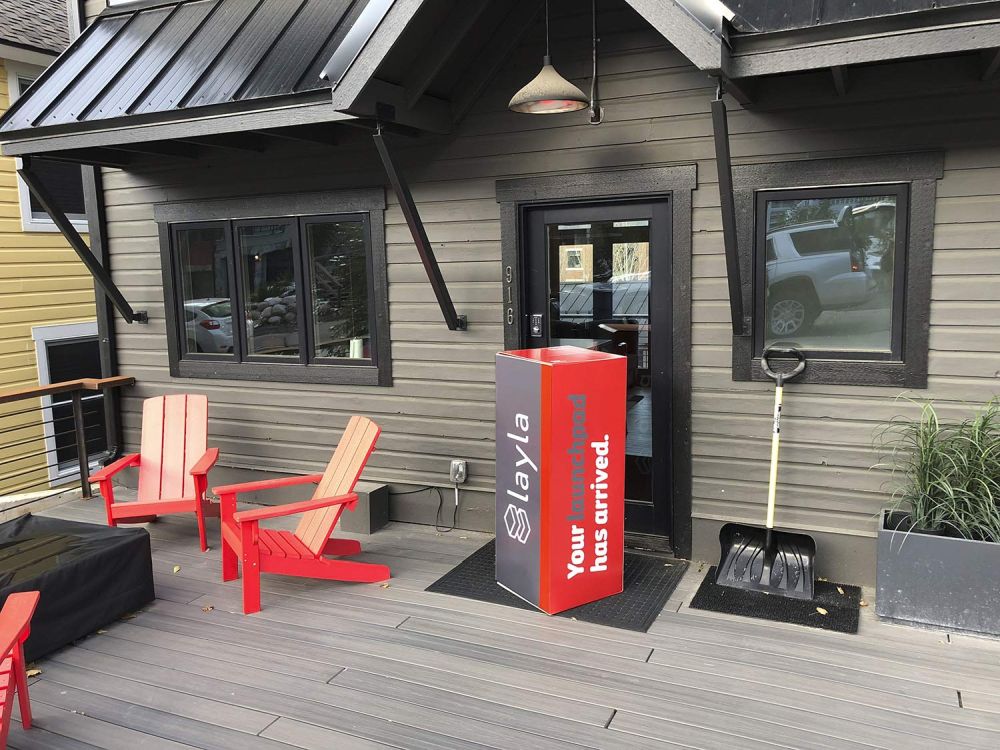 Overall, the Layla mattress is worth every penny. There are so many beneficial layers within the construction of this mattress that it seems impossible for someone not to find something they like about it. From memory foam to a strong, sturdy base, and added features like copper infusion, this mattress is a pretty modern concept that has become a mainstream seller for plenty of reasons.
It's also not every day that you find a mattress that has two sides to choose from. Having some unexplained back pain? Try flipping over your mattress and go for the firmer side and see if that helps your aching back. It's so versatile, and yes, it may be a bit pricey for someone looking for a more traditional mattress, but you do get a lot for your money.
120-night trial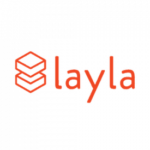 Layla Mattress
Layla mattresses are best for sleeping on your back, as the copper infusion will work its magic best that way.
View Deal
The copper infusion sewn throughout the mattress is interest piquing enough to go ahead and give it a try. Hot sleepers will find this added bonus a luxury once they finally get a restful night's sleep free of feeling hot and uncomfortable in the night.
FAQs:
Is a mattress cover needed?
The Layla comes with a removable mattress cover, so you don't need to purchase one separately.
How does the returns process work?
The Layla comes with a 120-night sleep trial, and if you aren't happy with your mattress after that time, you can return for a full refund.
Where can these mattresses be shipped?
Layla mattresses can ship all throughout the United States and Canada
Is the loft adjustable?
The mattress is double-sided, one side for firm and one side for soft.
What type of sleeper is this mattress best suited for?
Any hot sleeper or sleeper who deals with joint pain.
The post A Layla Mattress Review: The Benefits of Copper Infusion appeared first on Home Decorating Trends – Homedit.