We only realize just how many different types of mirrors there are when we're actually faced with the challenge of choosing one. It's when we start to discover all the different types and styles and all the features that a simple bathroom mirror can have. A few things to consider before making a decision are the size of the mirror, the shape, whether you want a frame or not and whether built-in storage should be an option. To that we would definitely add the LED option.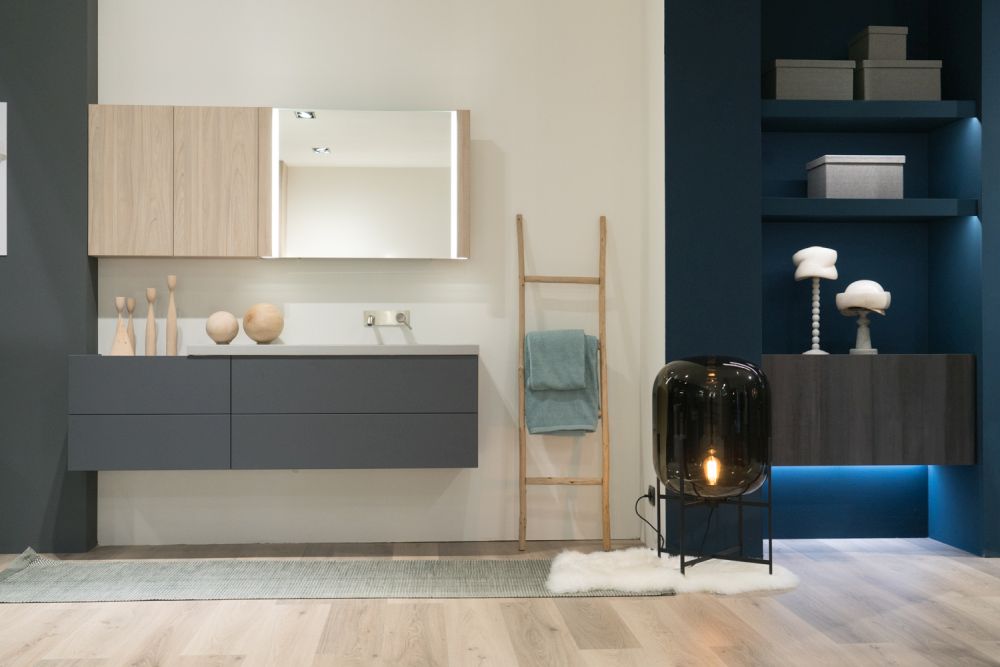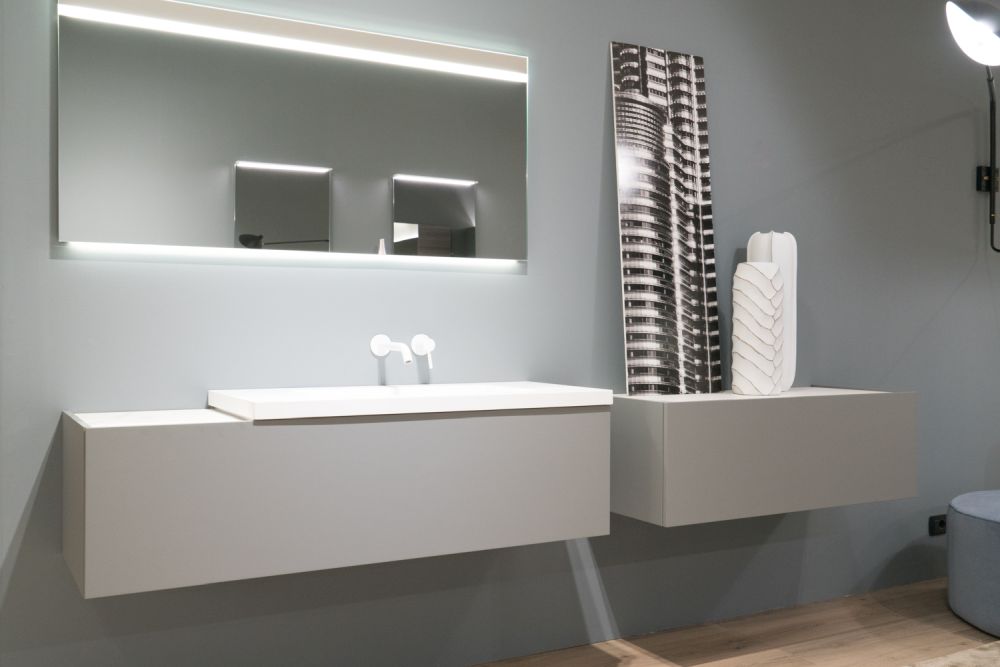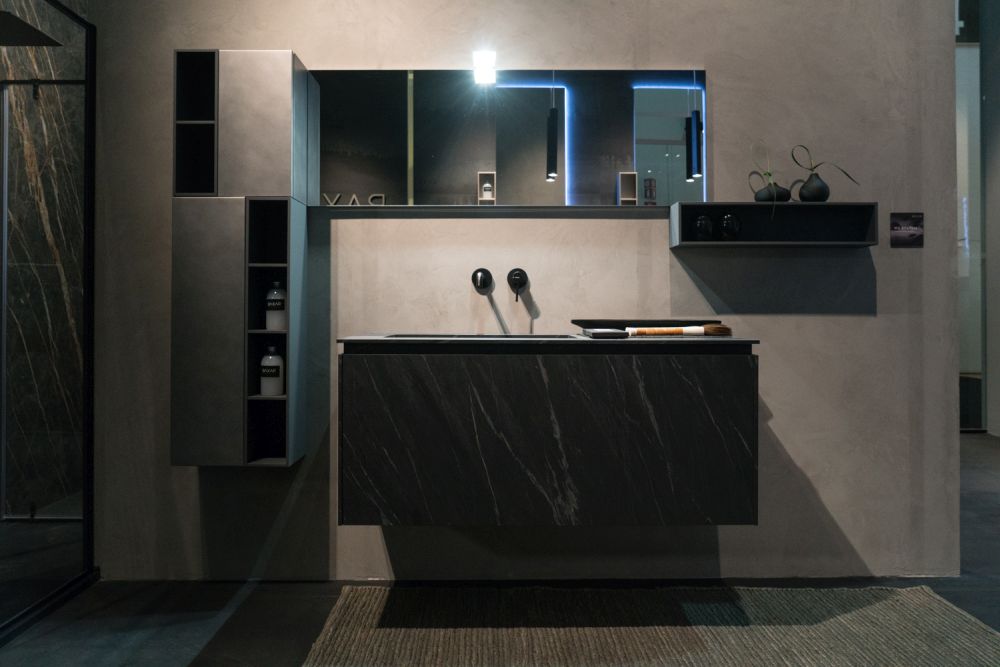 Bathroom mirrors with built-in LED lighting have a clean and futuristic appearance which makes them ideal for modern and contemporary interiors. They're also very practical because the lighting is usually uniformly distributed around them. Also, in some cases there's no need for sconces or other types of task lighting which means the decor can remain clean and simple and there's one less thing to worry about.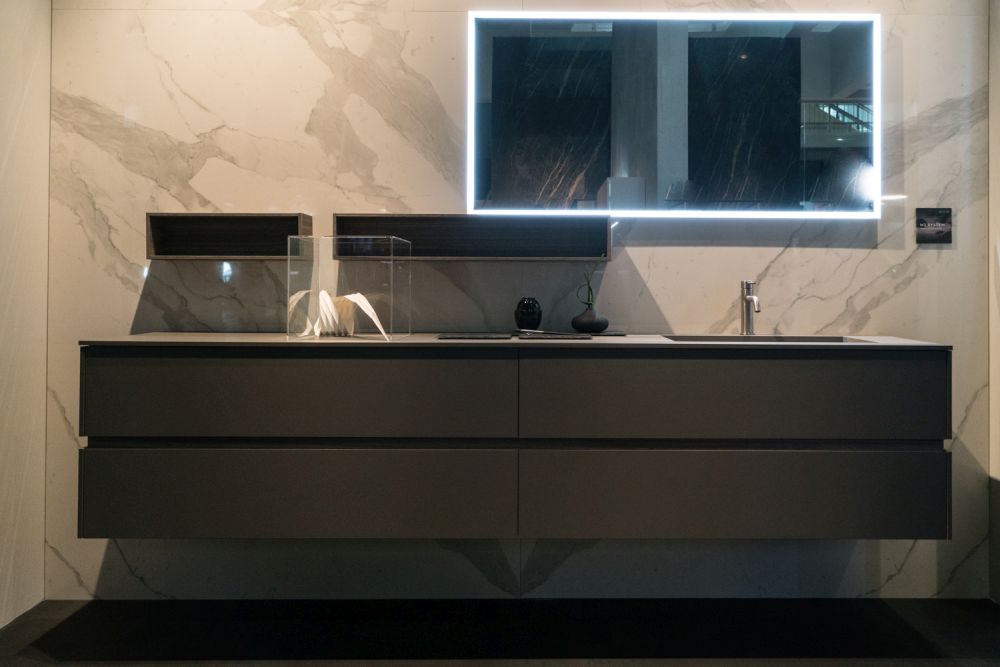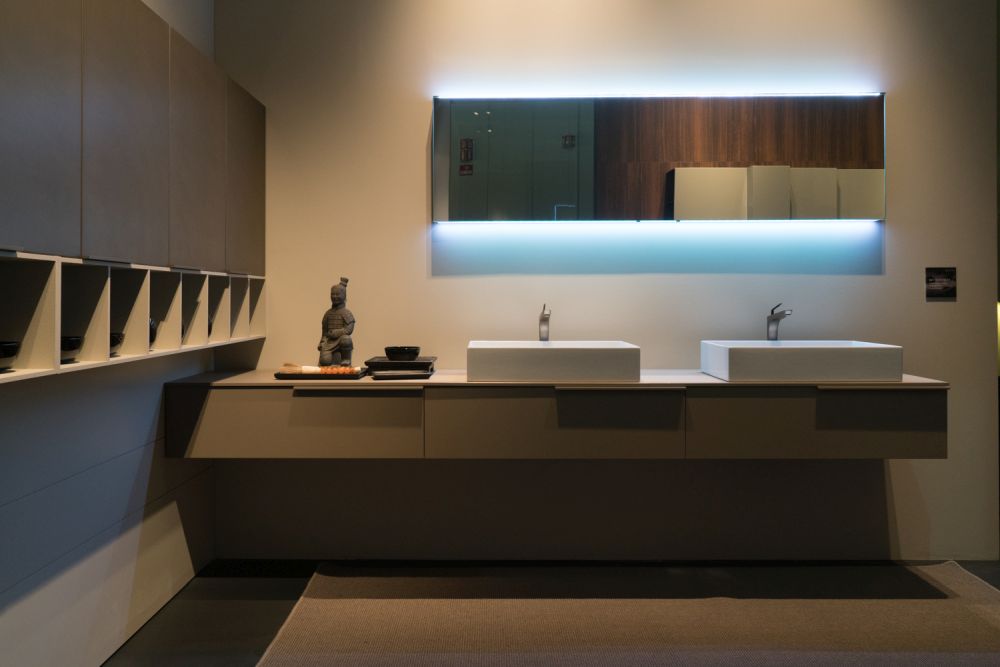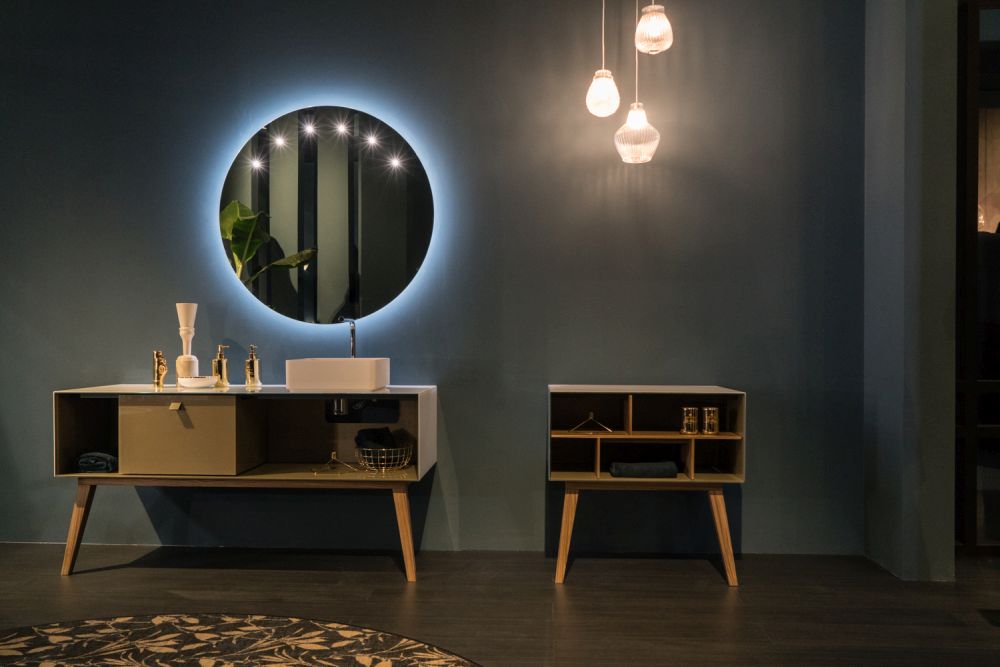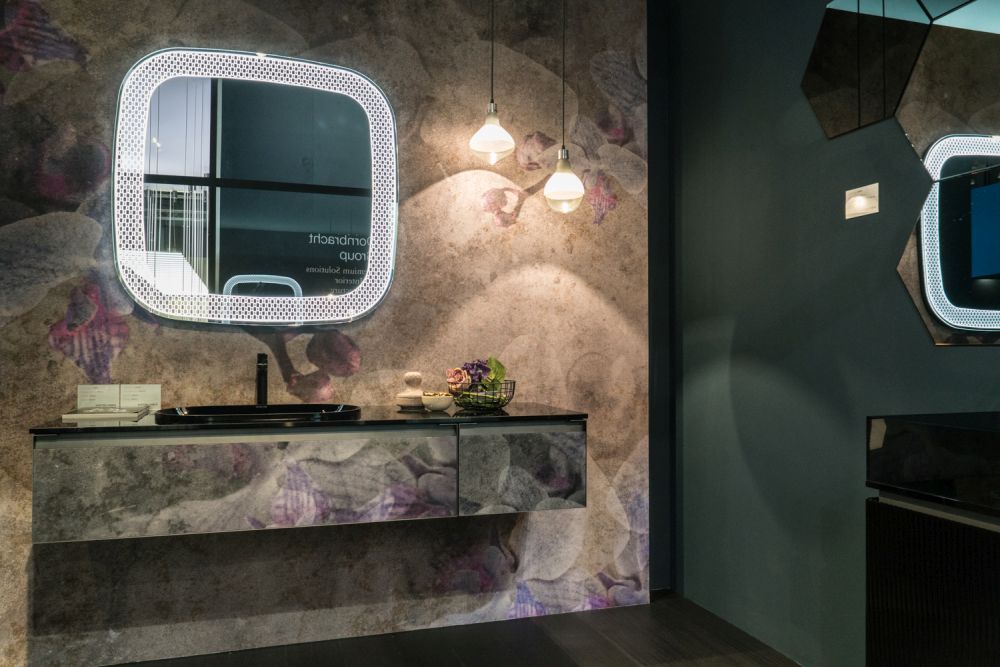 LED illuminated mirrors such as this one are very practical when you're putting on makeup. They give you that extra bit of light that you need to be precise without being uncomfortable to the eyes. The design is simple and stylish and the mirror itself is very sturdy and durable. You can control it via touch controls.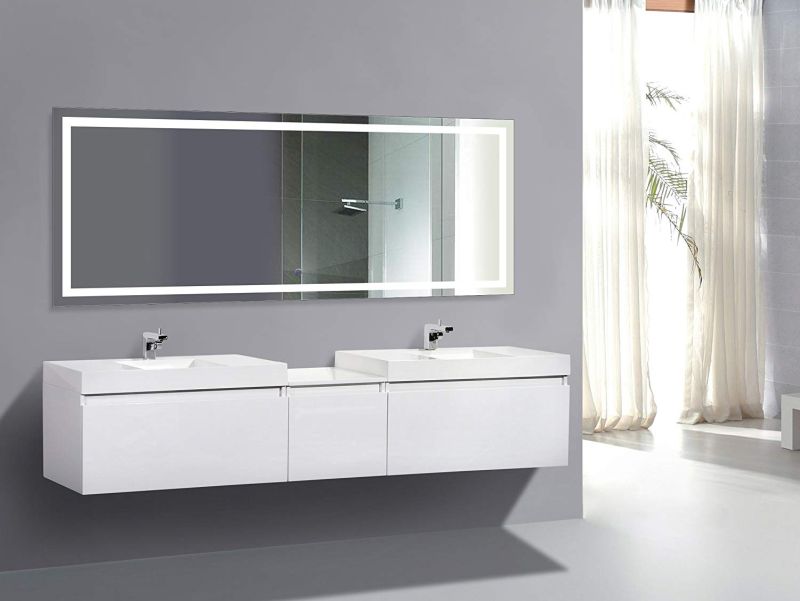 The Krugg LED bathroom mirror features top grade silver backed glass which offers great clarity without any imperfections. It features built-in LED bands which form a sort of frame around it. The light is evenly distributed which means no shadows, perfect for makeup.
Vertical or Horizontal Installation
Lighted Vanity Mirror Includes Dimmer & Defogger
The defogger keeps the mirror clear and unaffected by condensation at all times.
View Deal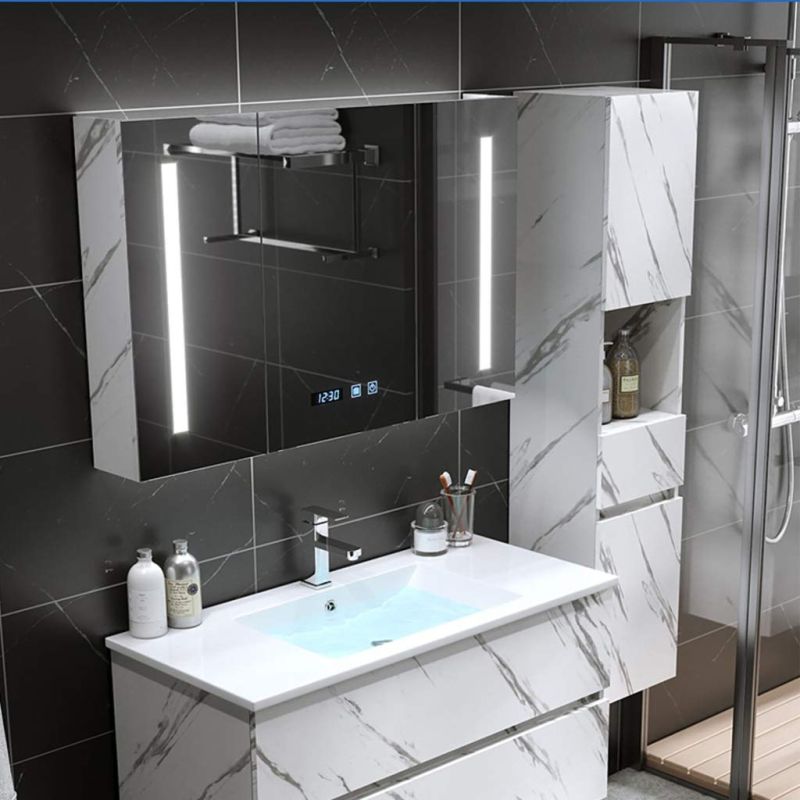 Simple and versatile, this large bathroom mirror has a clean and modern design with just a hint of retro flair. It has the advantage of being both elegant and practical. You can turn the lights on and off with a single touch thanks to the built-in touch sensor switch. The defogging function ensures a perfect surface even when it's steamy in the bathroom.
Energy-saving
doost LED Mirror Wall-Mounted Anti-Fog Level
Turn the light on and off with a single push of a button.
View Deal
The LED lights on a bathroom mirror can also be purely decorative. It's usually the backlit mirrors that fall into this category. The light is soft and pleasant but not enough to eliminate the need for an extra sconce or a pendant lamp. Round mirrors with LED accent lighting look especially stylish, adding softness and glamour to the bathroom.
modern design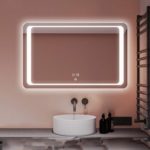 Hollywood Style Wall Mounted Bathroom Mirror Large
The LED mirror is wall-mounted, designed to liberate your hands, It can be installed in the bathroom or bedroom to make your makeup more convenient.
View Deal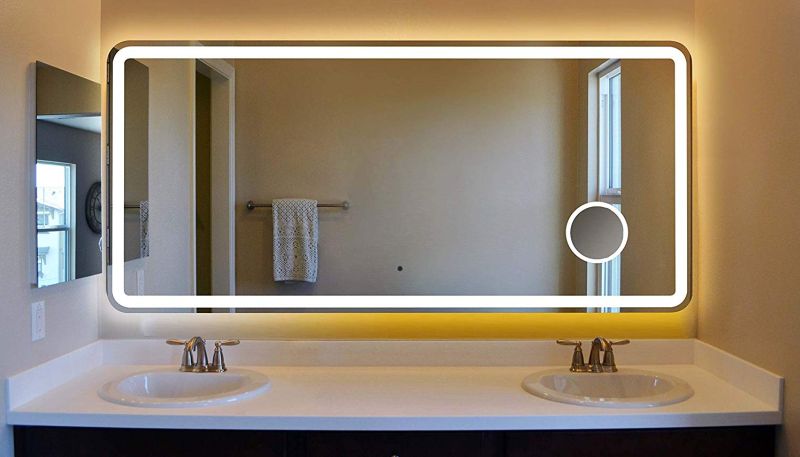 This bathroom mirror is rectangular but has rounded corners which give it a soft and delicate appearance suitable for a variety of styles and decors. It has a durable aluminum frame and an overall design that's simple, elegant and versatile. An interesting extra feature is the built-in LED cosmetic mirror which is great for makeup.
Electra Rounded Arc Corner Rectangle LED Wall Mount Mirror
View Deal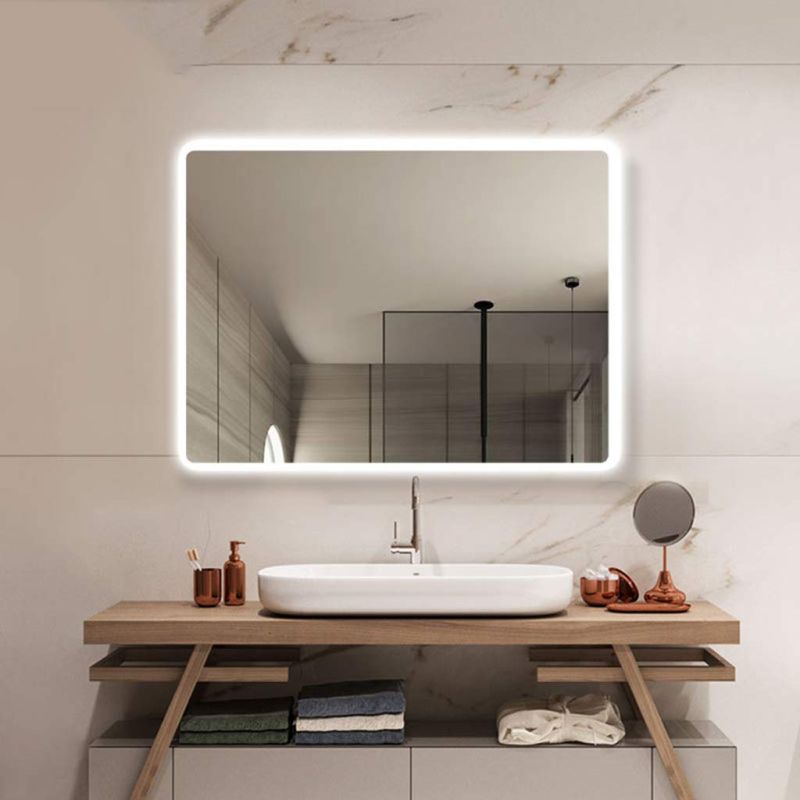 The Lh$yu LED bathroom mirror illuminates your face and body evenly without casting any unaesthetic shadows. It's waterproof, featuring IP67 rating and it features a smart defogging system that makes it perfect for the typical bathroom environment. It also has a touch sensor which lets you turn the light on and off easily plus you can also dim the lights to create a more pleasant ambiance. 
Touch sensor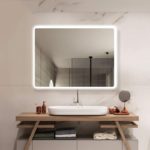 Rectangular Wall Mounted Mirror with Touch Sensor
A square illuminated area illuminates your entire face and body.
View Deal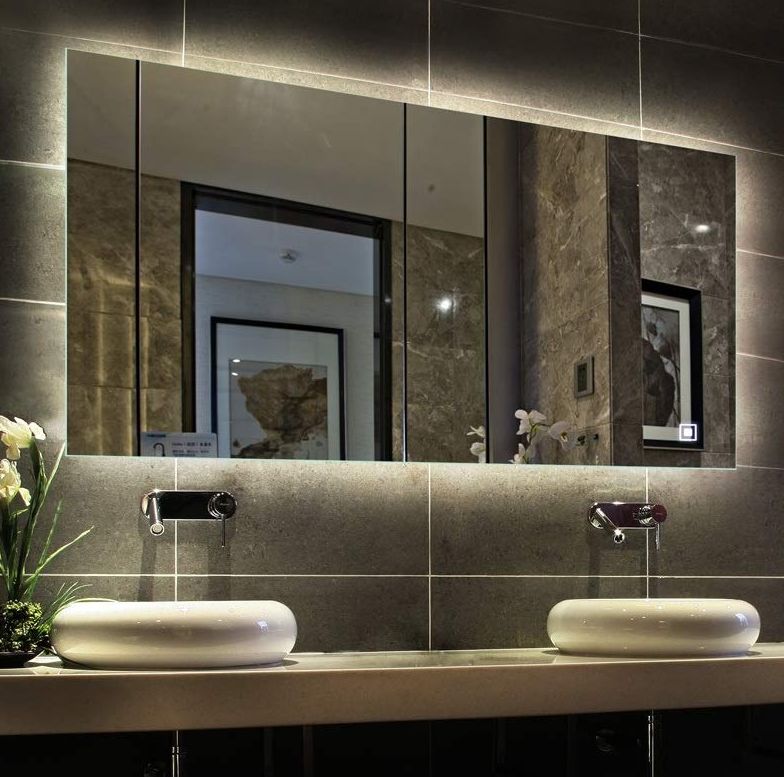 This large mirror is great for bathrooms with large vanities or with two sinks instead of a single one. It has built-in LED lights at the top and the bottom and it comes with a variety of cool extra features. It has a touch panel and bluetooth connectivity for audio. You can display the time and temperature onto the mirror surface and use the bluetooth audio connectivity to make calls. It also features built-in defogging technology.
smart design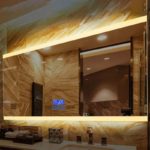 Bathroom Mirror With Smart Bluetooth Sound
Four touch with Bluetooth models with time display + temperature display + defogging function + LED lighting + Bluetooth audio + Bluetooth call (long press SET to adjust the time '+ -')
View Deal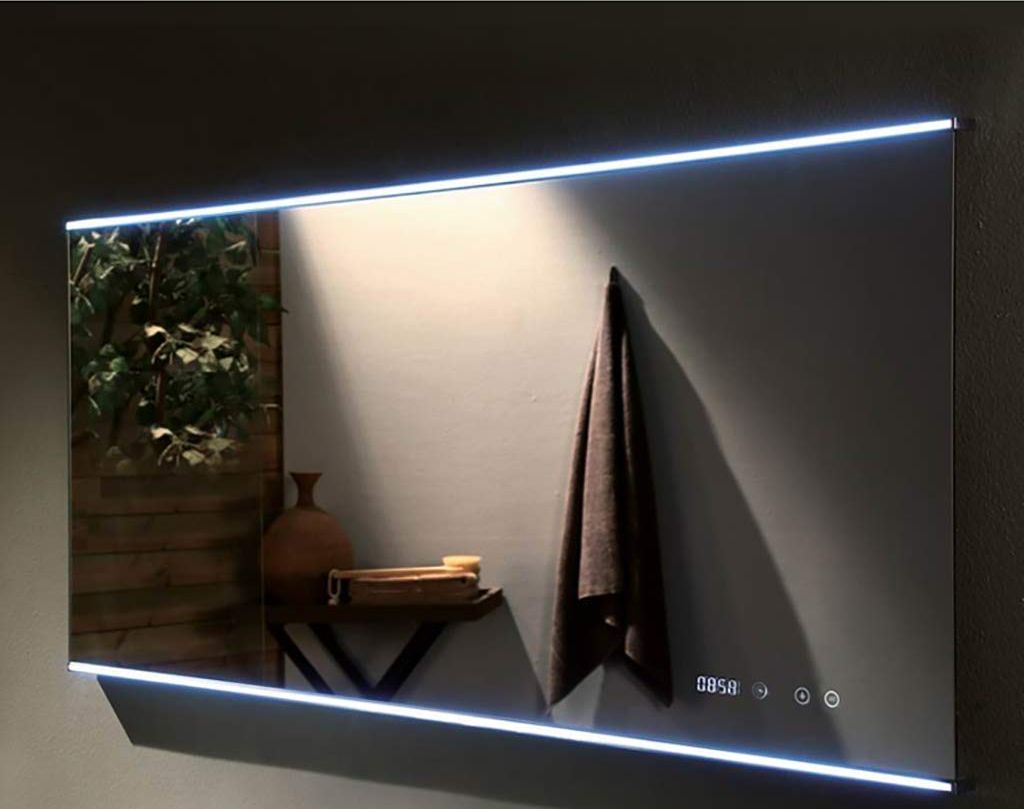 The Oeanindw mirror offers a clear, high-definition image in a very sleek and elegant form. It has a glazed finish and it's waterproof and antioxidant and you can mount it on the wall either vertically or horizontally. The mirror has LED bands at the top and the bottom and a variety of other cool features. There's an anti-fogging function and smart bluetooth connection with surround stereo so you can listen to music or take calls. The smart electronic display shows the time and the temperature.
Anti-fogging function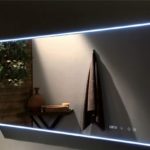 Large LED Mirrors Wall Mounted Lighted
Anti-fogging function means no need to constantly treat your mirrors with fog free spray, or rinse them multiple times per shower.
View Deal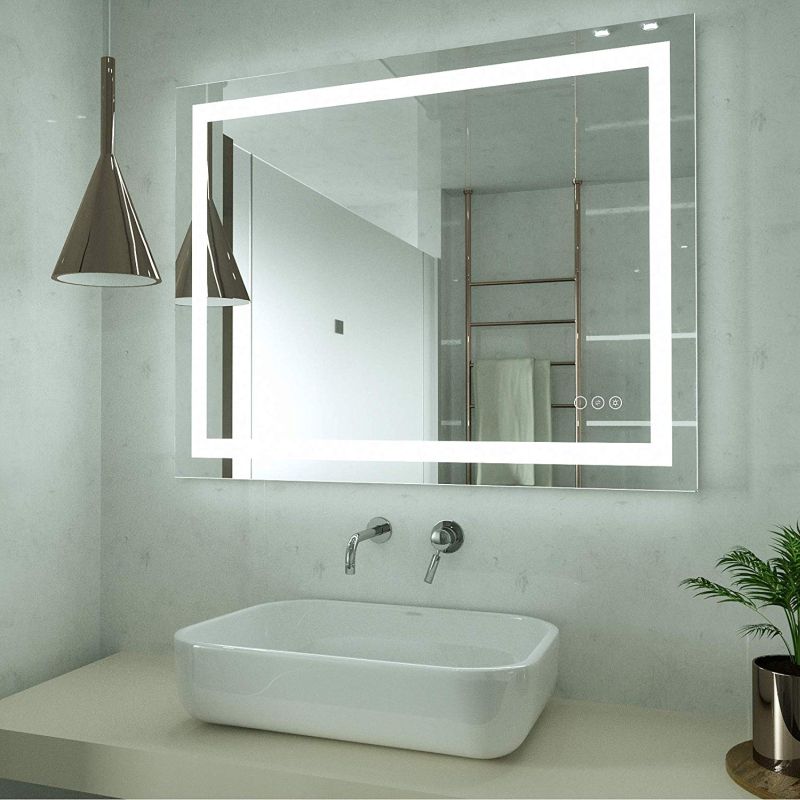 This LED bathroom mirror measures 32" x 40" and can be mounted both vertically and horizontally, depending on your preference. It's eco-friendly and easy to install and you can control the light using a wall switch. The mirror has a memory touch sensor which lets you control the light brightness and color temperature. It also has a built-in anti-fog function. The LED backlight can be adjusted on three levels of brightness with a maximum of 6680 lumens.
Comfortable visual lighting,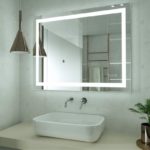 Bathroom Wall Mounted Mirror with High Lumen
Wall switch can directly control the light ON/OFF as this mirror equipped with a memory touch sensor
View Deal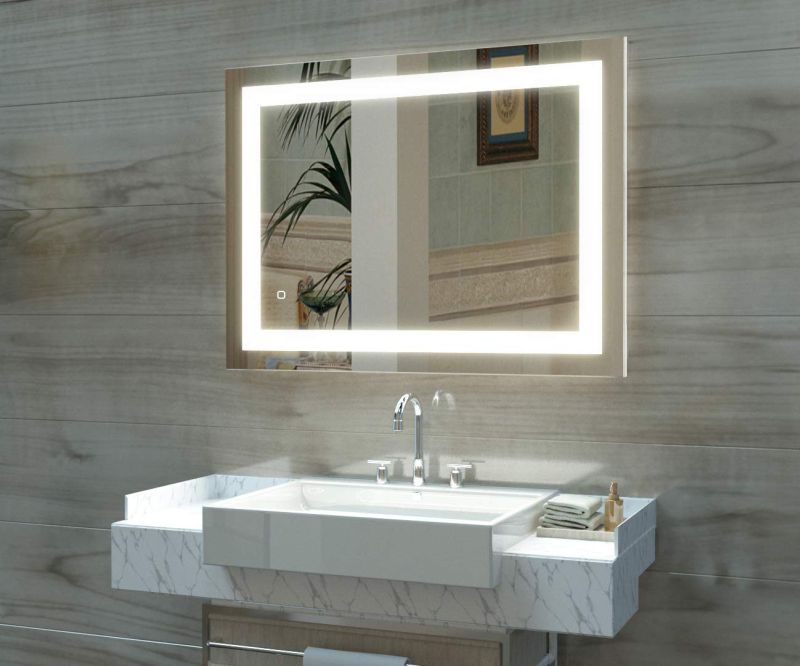 This is a mirror very similar to the one mentioned above. It measures 36" x 28", it's eco-friendly and comes with built-in LED lighting that does up to a maximum of 6540 lumens. There's no flicker, no UV and you can turn the light on and off using a wall switch. You can also control the brightness via a touch sensor. It can get bright enough to make task lighting unnecessary and even to eliminate the need for a ceiling fixture.
super slim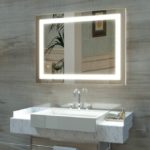 Bathroom Wall Mounted Mirror with 5500K High Lumen
ANTI-FOG function help to keep always clear reflection image
View Deal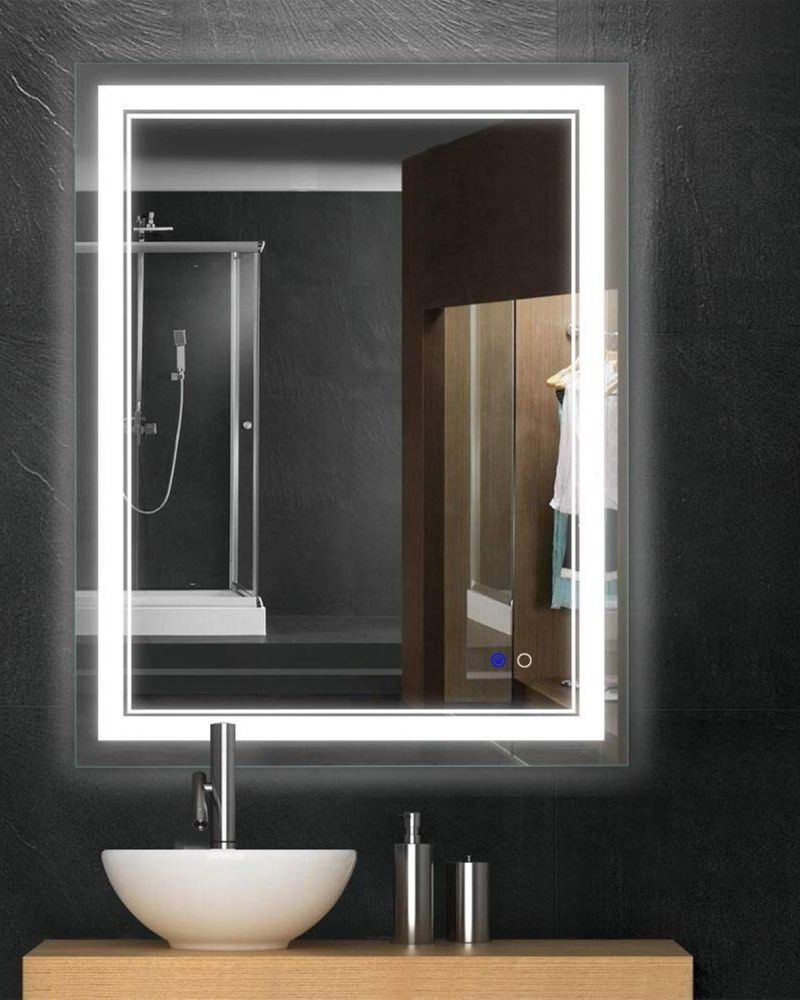 The Keonjinn mirror impresses with a simple and versatile design. It uses separate switches for the light and the anti-fog function so they can be operated individually, a detail which also helps to make the mirror more energy-efficient. The brightness of the built-in LED light can be adjusted via a touch button. Just touch for 3 seconds to switch from normal to the brightest intensity. The mirror is built to last, with the LED lights offering  50,000 hour lifetime. 
1 year warranty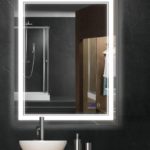 Anti-Fog Wall Mounted Makeup Mirror with LED Light Over
The mirror power switch and anti-fog switch are separate control
View Deal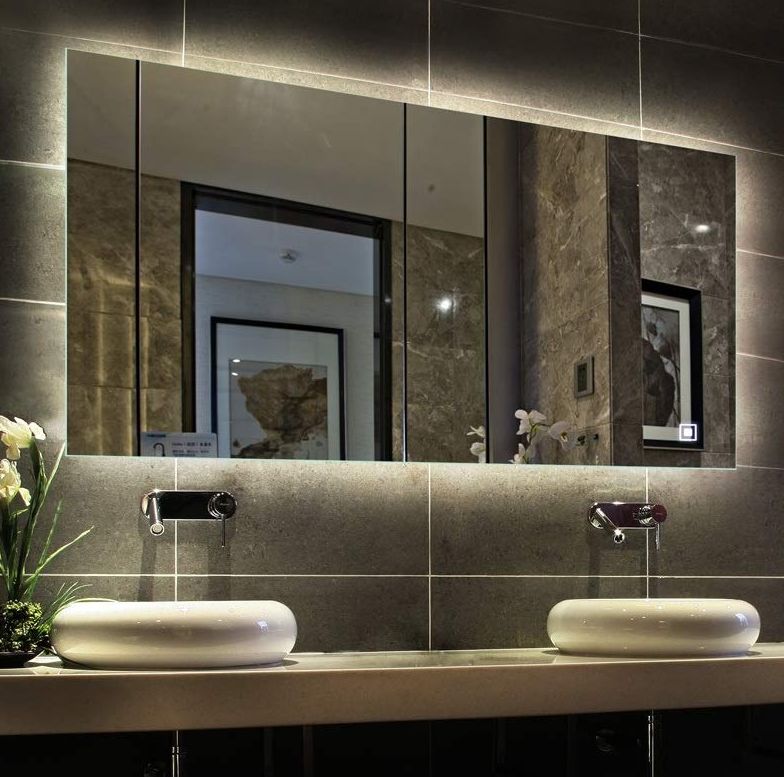 The Hans&Alice LED bathroom mirror has a frameless and very sleek and modern design. It's IP44 rated and it includes energy-efficient white lights which can be adjusted with touch controls. It's designed to last approximately 50,000 hours, featuring 6000K color temperature and 110V/60Hz/24W power. It's lightweight, fog-free and has flat polished edges. 
20mm aluminum frame
Rectangular Wall Mounted Mirror
IP44 rated LED light source, tested and approved for bathroom use
View Deal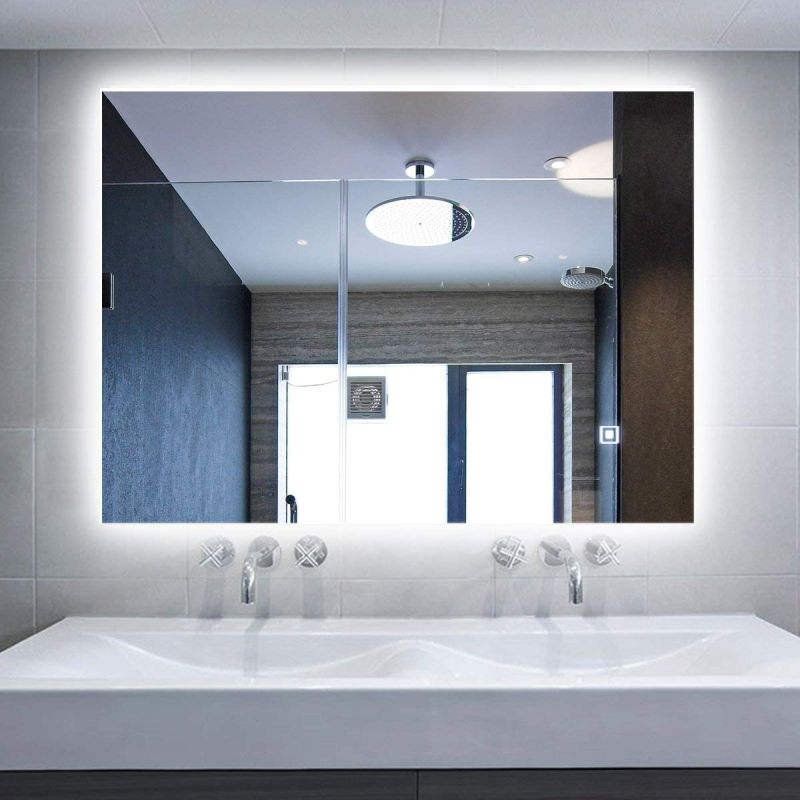 The Alice mirror is also very sleek and stylish. It includes the anti-fog function which is automatically enabled when the LED light is turned on. The LED backlighting is dimmable and can be adjusted as desired. The brightness can range between 0 and 1600-1800 lumens. The button flashes when the light reaches the brightest or darkest. You can turn the light on and off via touch control but the mirror can also be connected to a switch.
approved for IP44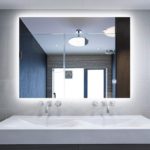 Bathroom LED Backlit Mirror
Dimmable Light – touch the button for 3 seconds
View Deal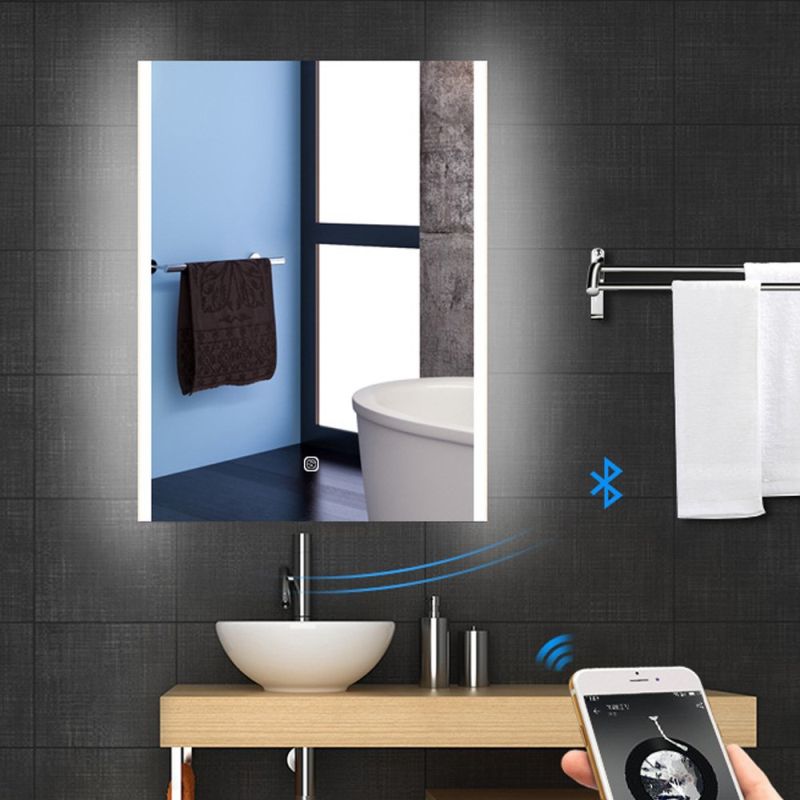 In addition to featuring built-in LED lights evenly displayed on the sides, this bathroom mirror also impresses through a series of other cool features. For example, the mirror has bluetooth connectivity. You can connect via your smartphone and play music with 360 degree surround sound. The mirror also has a very clean and minimalist look. It's 1.37" thick and there are no visible screws or switches. you can turn the light on and off via a touch button.
1.37 inchs thickness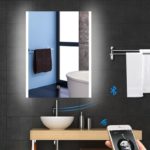 Backlit LED Wall Mounted Rectangular
This mirror is equipped with bluetooth box for function of player.
View Deal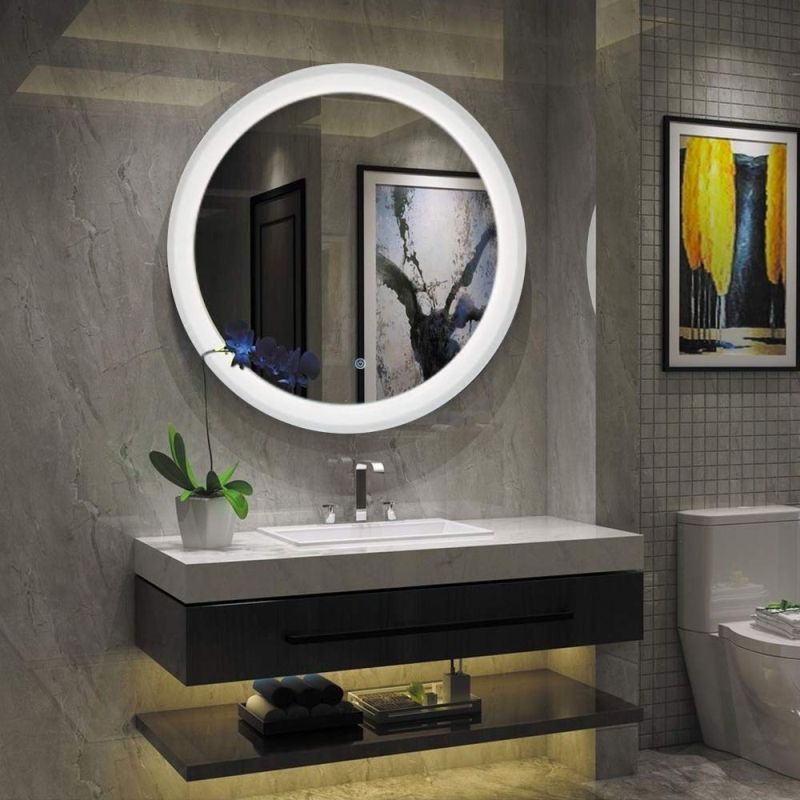 If round is your prefered shape for the bathroom mirror, there are plenty of options that you might enjoy. The Grail mirror, for example, measures 26" in diameter and has a modern and elegant design. It's surrounded by an LED strip which acts as a frame and ensures a comfortable viewing experience. There's also an anti-fog function and a touch sensor. All the wires and the heating pad are hidden behind the mirror.
corrosion protection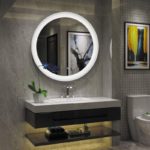 Round Wall Mount Mirror for Bathroom
Safety design to control the LED light and Heating Fog with a slight touch.
View Deal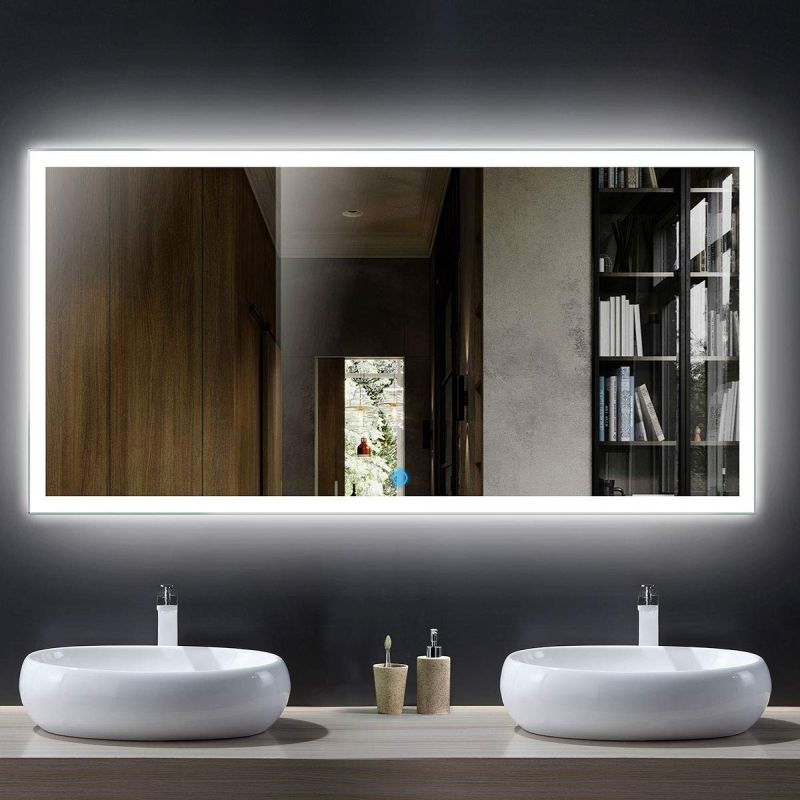 Simple and stylish, this bathroom mirror maintains a very clean and minimalist look with no visible screws of switches. It's framed by LED bands and the light can be turned on and off via a touch button. The light is evenly distributed so no shadows are cast, making this a perfect makeup mirror. The frameless design makes it ideal for modern and contemporary bathroom.
frameless design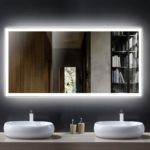 Decorative Bathroom Silvered Mirror
Simple and stylish style with no visible screws or switches. With the super-sensitive Touch Button you can turn on/off the light.
View Deal
The post The Best Bathroom Mirrors With Built-in LED Lights appeared first on Home Decorating Trends – Homedit.