The front door says a lot about your home even if you don't realize it. By being aware of that you can use it in your favor. A farmhouse-style front door, for example, can make your house look more inviting and welcoming, more like the cozy home that it really is. If you like the idea, check out below some of our favorite design ideas involving vintage, rustic and farmhouse front doors.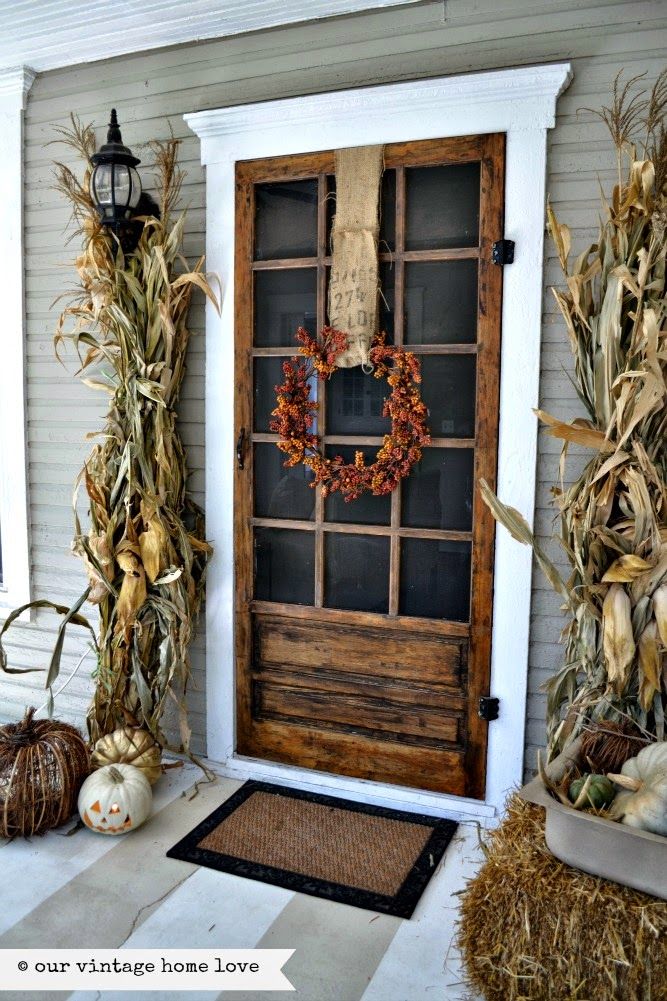 A lot of old-school front doors can give you that charming farmhouse-inspired look especially with a little bit of help from decorations such as hanging wreaths or seasonal ornaments placed around the front door area. If you're planning something autumnal, check out ourvintagehomelove for inspiration.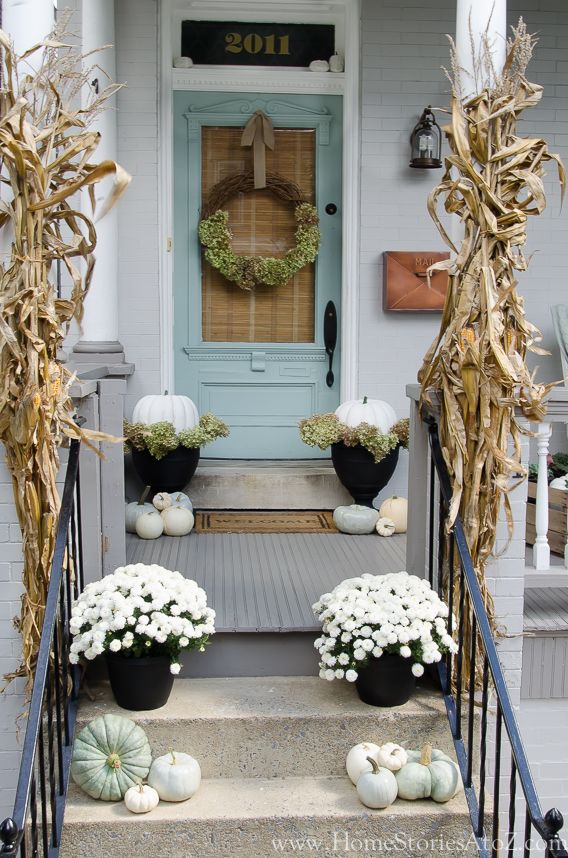 That distinctive light turquoise nuance is perfect for any vintage front door and there's a great way in which you can emphasize it. The idea involves pumpkins and gives you a perfect opportunity to plan something special for this year's front porch fall decor. Find more inspiration on homestoriesatoz.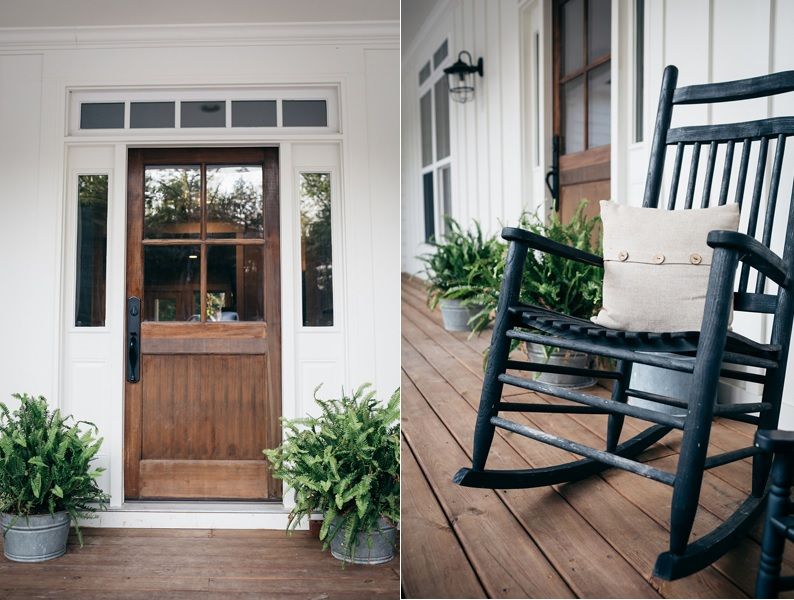 Simplicity is something the best solution. Stick with the basics and keep your farmhouse front door and entryway porch looking clean and charming without overwhelming it with lots of furniture or decorations. Take a cue from this lovely design featured on southernweddings.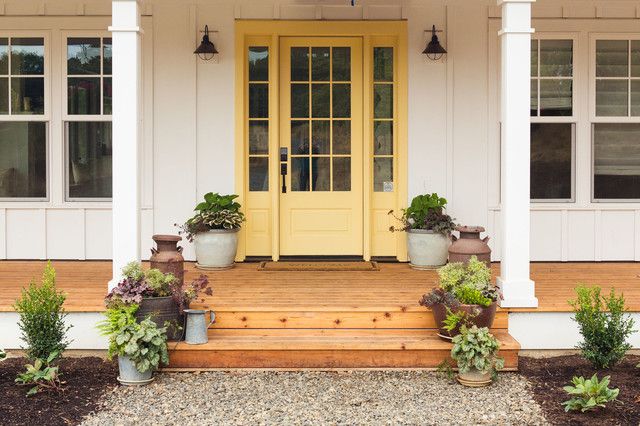 Painting the front door a certain color can also give it a more distinguished look and can ultimately increase your home's curb appeal too. We really like this yellow nuance and the way it complements the wooden deck and covered porch.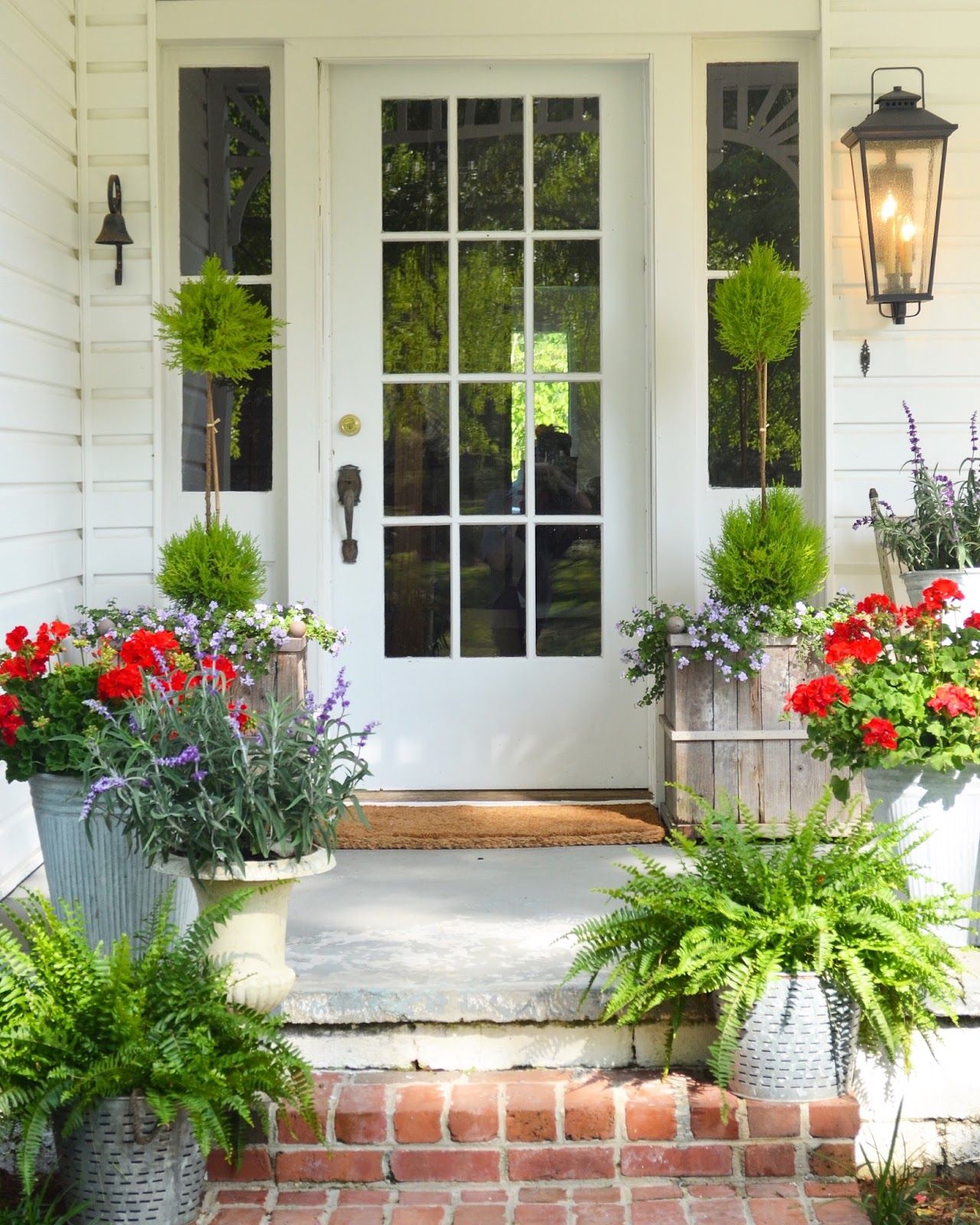 This type of wood and glass front door is pretty typical to a lot of rustic and farmhouse homes and you can highlight this style through the little details such as the a vintage-looking door handle, a wall-mounted sconce installed by the door or some cute planters displayed in the vicinity. You can find more inspiration on littlewhitehouseblog.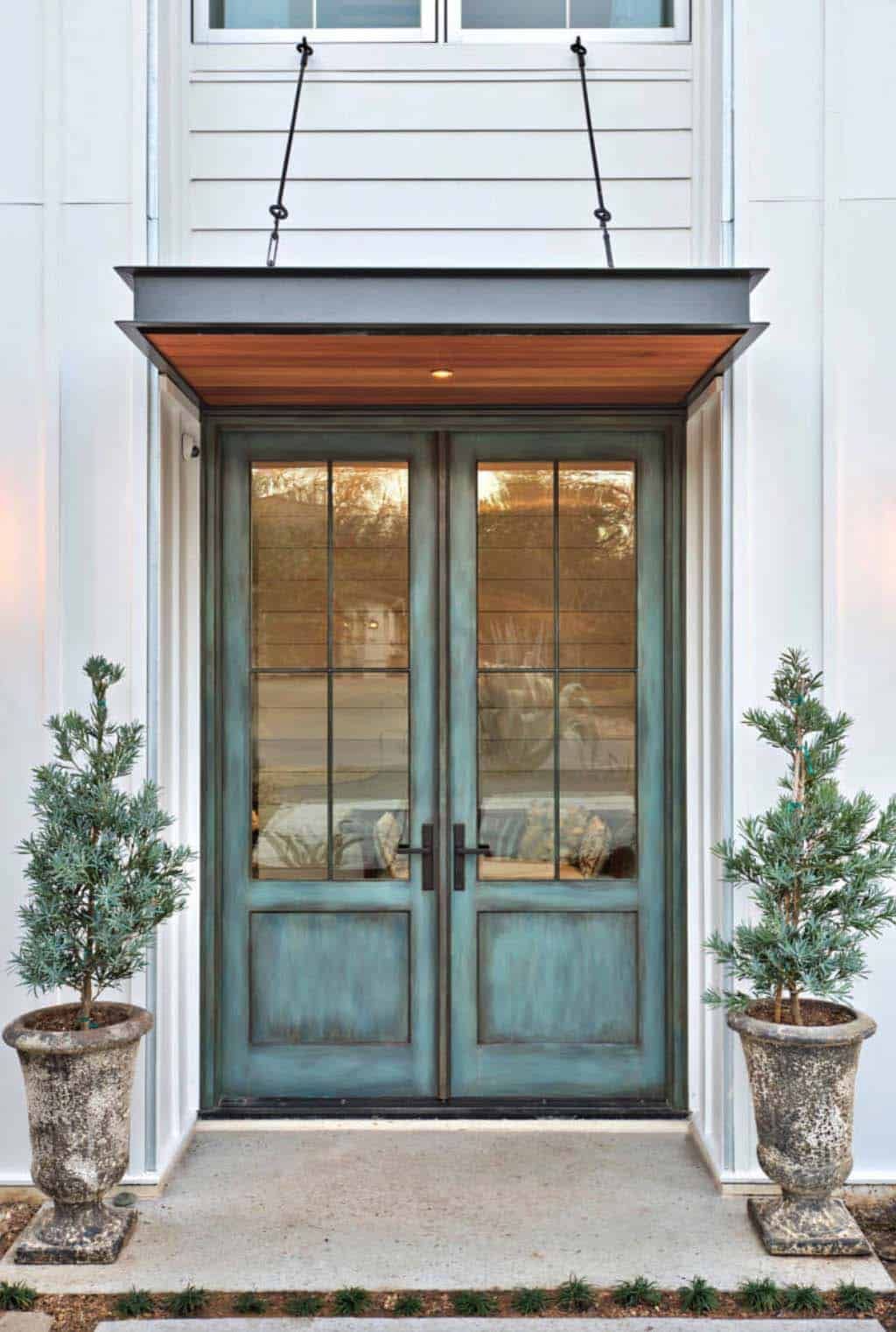 Designed by studio Tim Brown Architecture, this farmhouse-style home welcomes everyone inside with this beautiful-looking double front door. Two vintage planters frame the entrance and complement the door perfectly.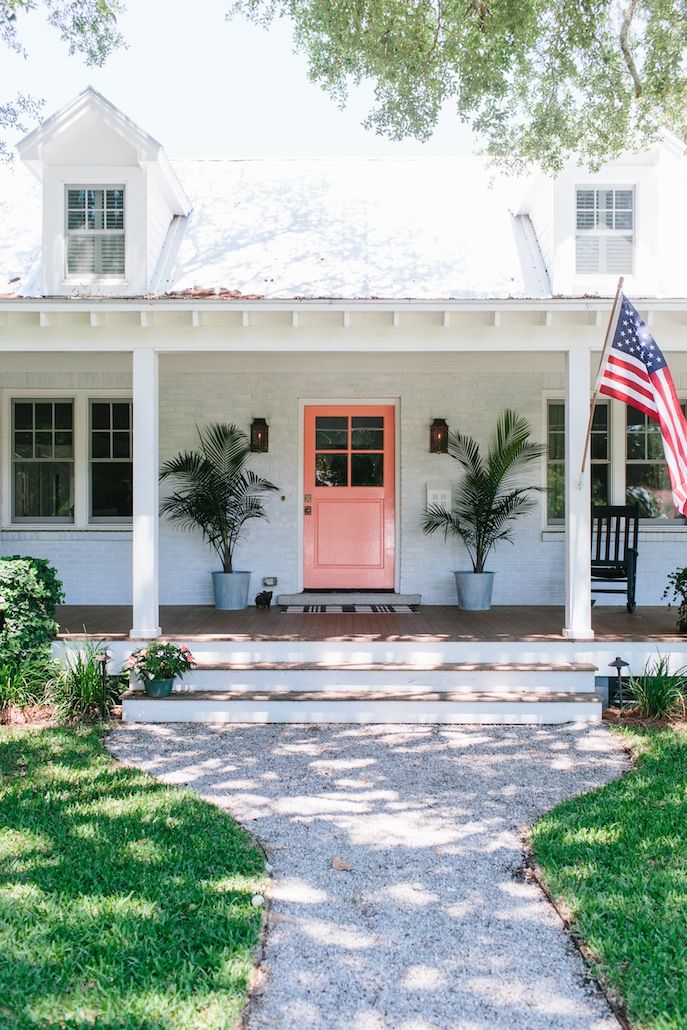 Paint the front in your favorite color and it will put a smile on your face every time you come home plus it will also look nice from a distance. even if the color you choose doesn't necessarily reflect the style of the door that doesn't mean it won't look good. Turn this into your next DIY project and be sure to check out looklingerlove for more details.
It definitely helps if the door itself has an interesting design or stand out in a certain way but that's not all it takes to make your front porch or entryway look amazing. A stylish entryway rug can be a nice little touch and you can add layers or play with different textures and colors for added charm. Check out studio-mcgee for more inspiration.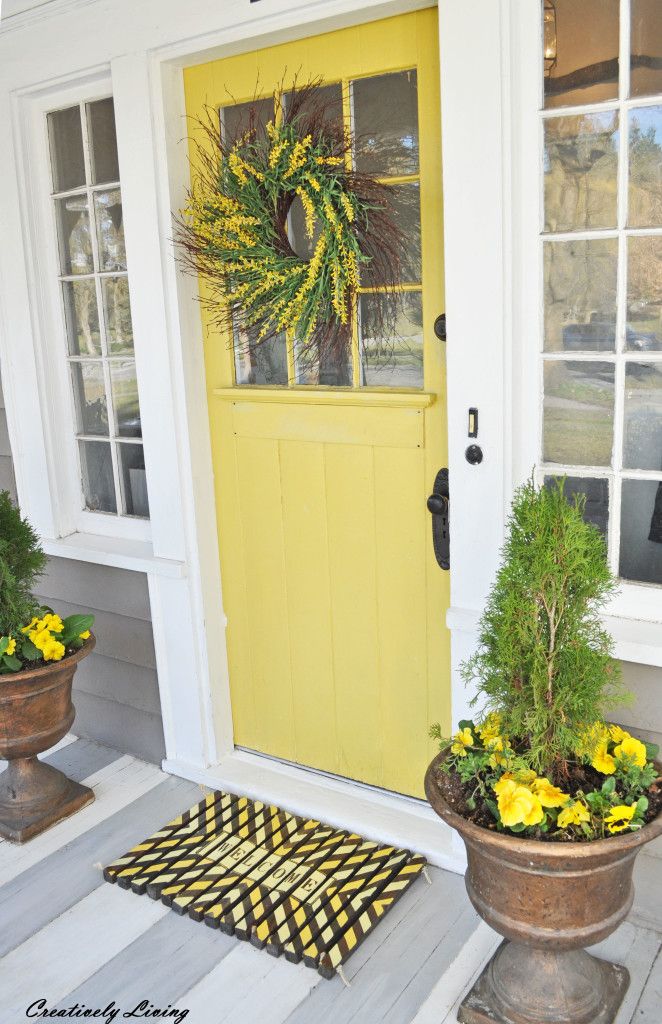 It could look nice if you were to reiterate the color of your front door into the accessories and decorations displayed around it such as the welcome mat, the planters, sconces or a cute wreath which you can hang on the door. If you like this lovely doormat you can find out all about it on creativelylivingblog.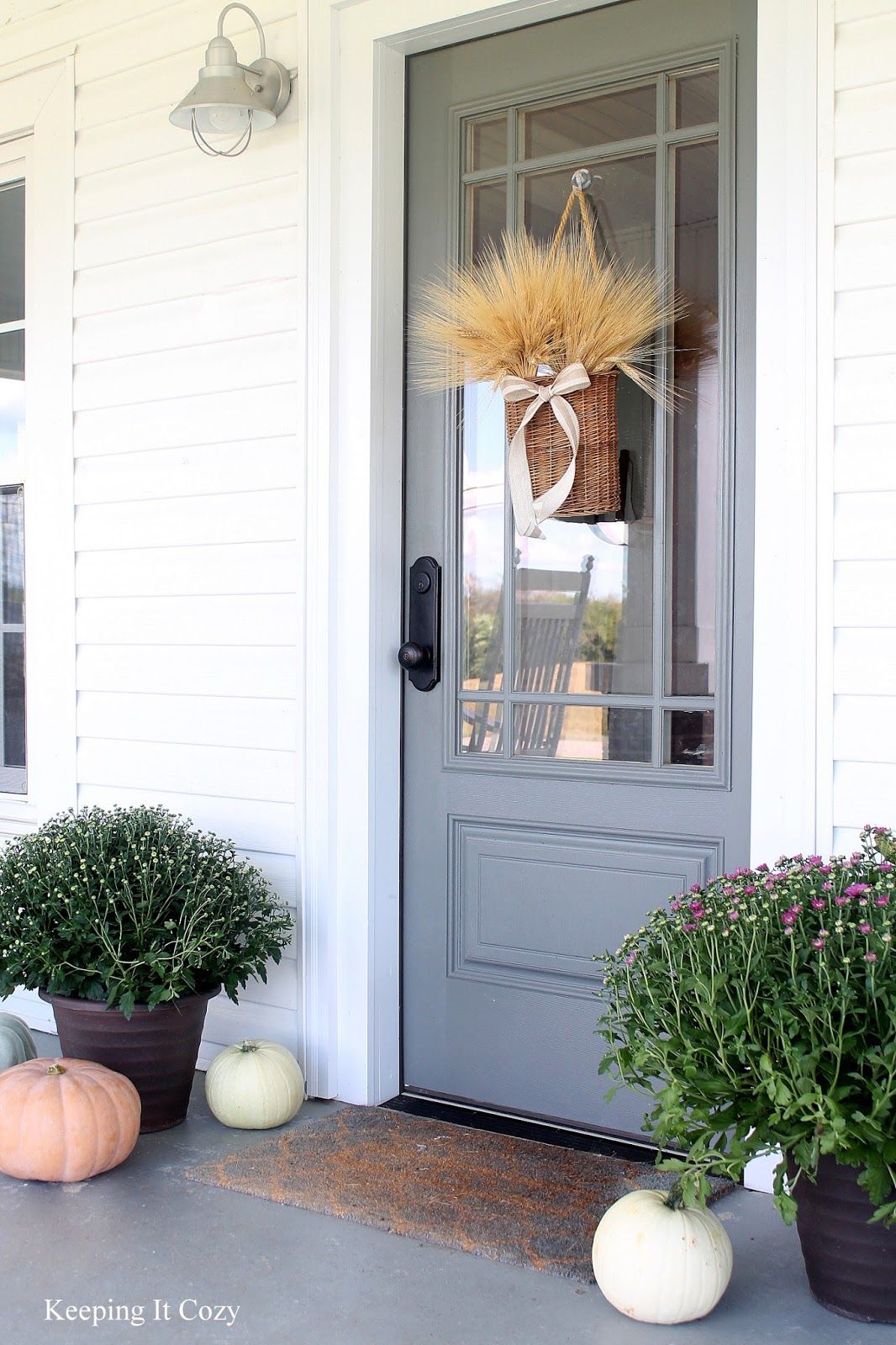 Making your front door and the space around it look nice is so you wouldn't even believe it and farmhouse doors are excellent in this sense because they already set a charming and inviting appearance. Complement the door with a few well-placed details and you have a recipe for success. We found this beautiful setup on keepingitcozy.
Dutch door have their own unique way of looking charming and amazing. This one right here was painted in a light shade of pink which instantly brightens up the front porch along with the white walls and white deck. The inspiration comes from onekingslane.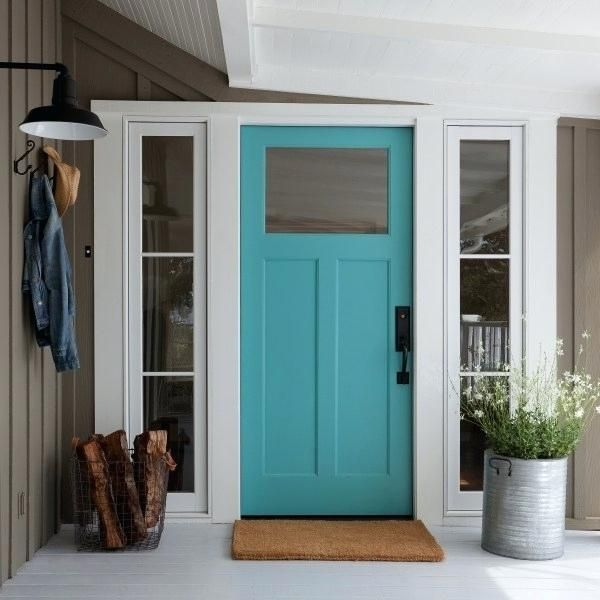 Minimalism can also be a strategy. you can maintain a simple look and give your front door and the space around it that lovely farmhouse vibe without slipping into a look that's too modern. In this case, it's the planter that really brings this whole design together in a surprisingly harmonious manner.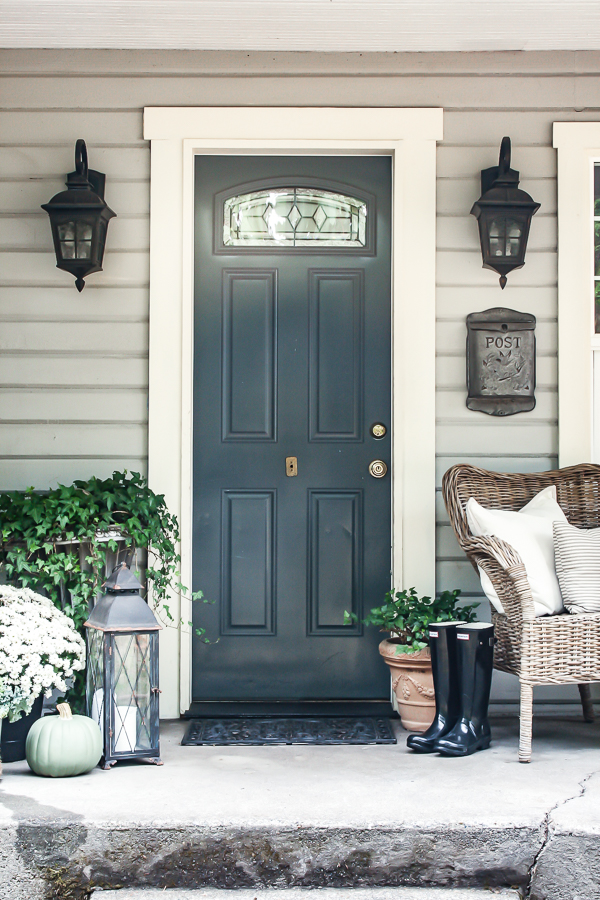 This door features a beautiful dark blue nuance with just a little hint of green and the contrasting white frame around it brights out the color marvelously. The collection of vintage and rustic decorations have their own role in completing this gorgeous setup. There's not much color here but that doesn't stop the decor from looking amazing. Find out more about it on sheholdsdearly.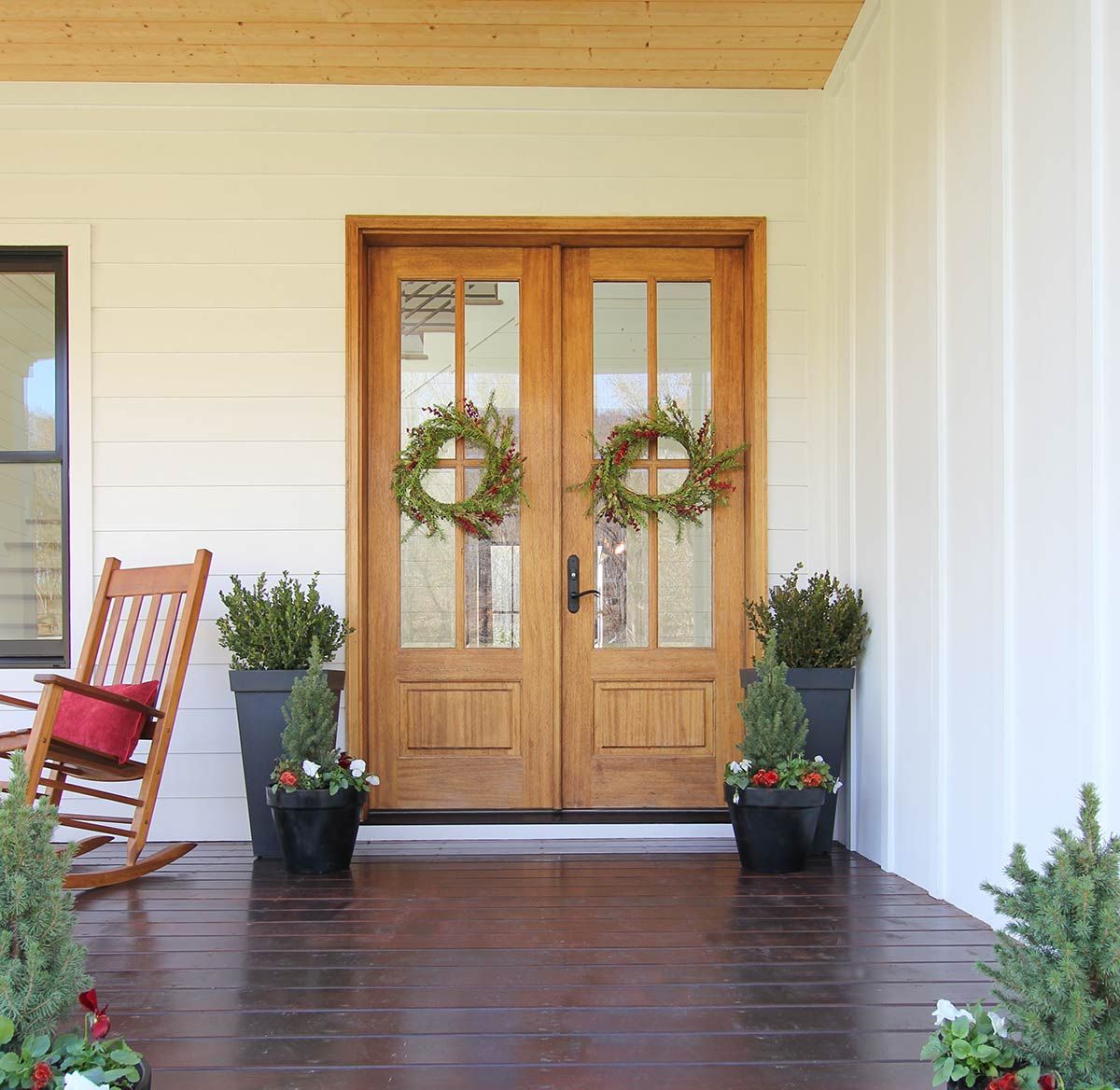 Double doors create asymmetry and that's definitely something you can take advantage of when setting up your front door, entrance and space around it. Mix in a little bit of modern minimalism but don't let it overpower the farmhouse character of those beautiful front doors. This design from plankandpillow can be your source of inspiration.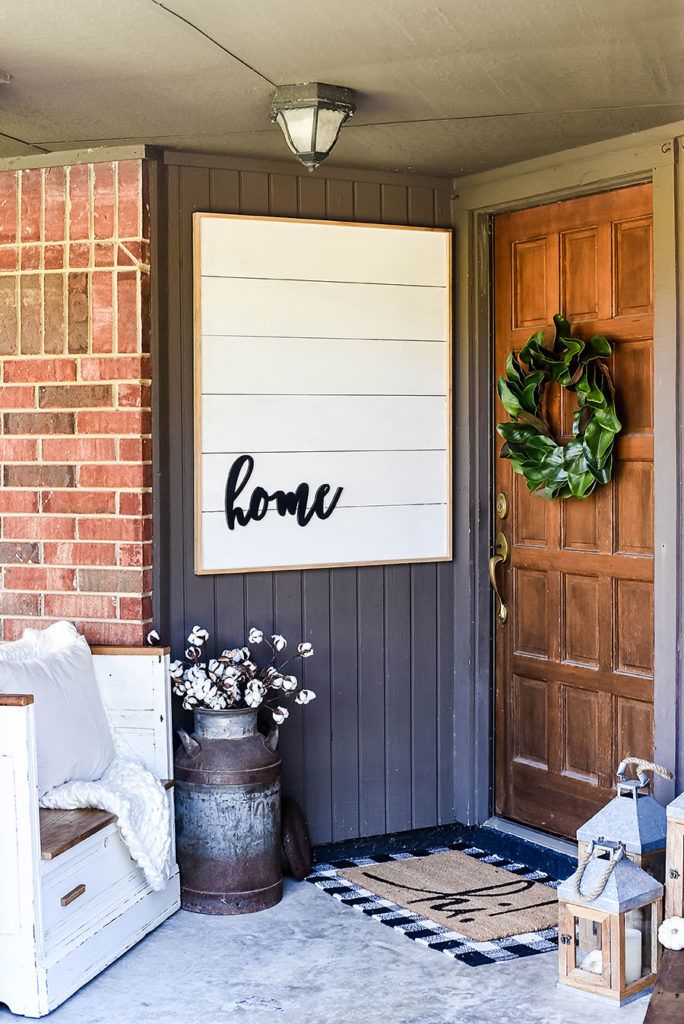 Add a cute shiplap sign to your front porch to emphasize its charming farmhouse-style look. This project from ourhandcraftedlife also suggests adding a few other elements to the mix for a more harmonious composition. Keep in mind that different materials, finishes and textures can have different effects on the decor and the ambiance that it creates.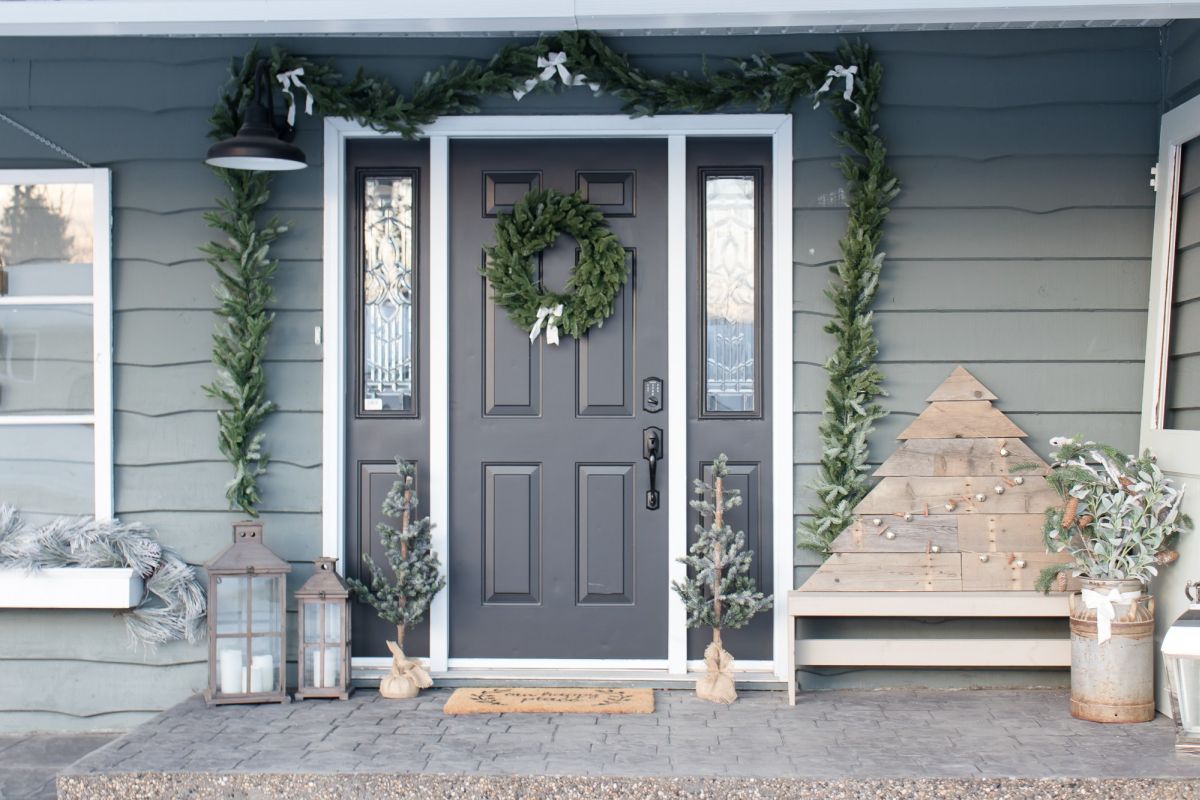 When winter comes along you can decorate your farmhouse front door with fir tree garlands and wreaths and chic signs made of reclaimed wood. Keep the color scheme simple to avoid creating a decor that feels busy rather than charming. We really like the vibe this grey front door creates plus the green nuance on the walls is pretty great too. You can find more tips on makingitinthemountains.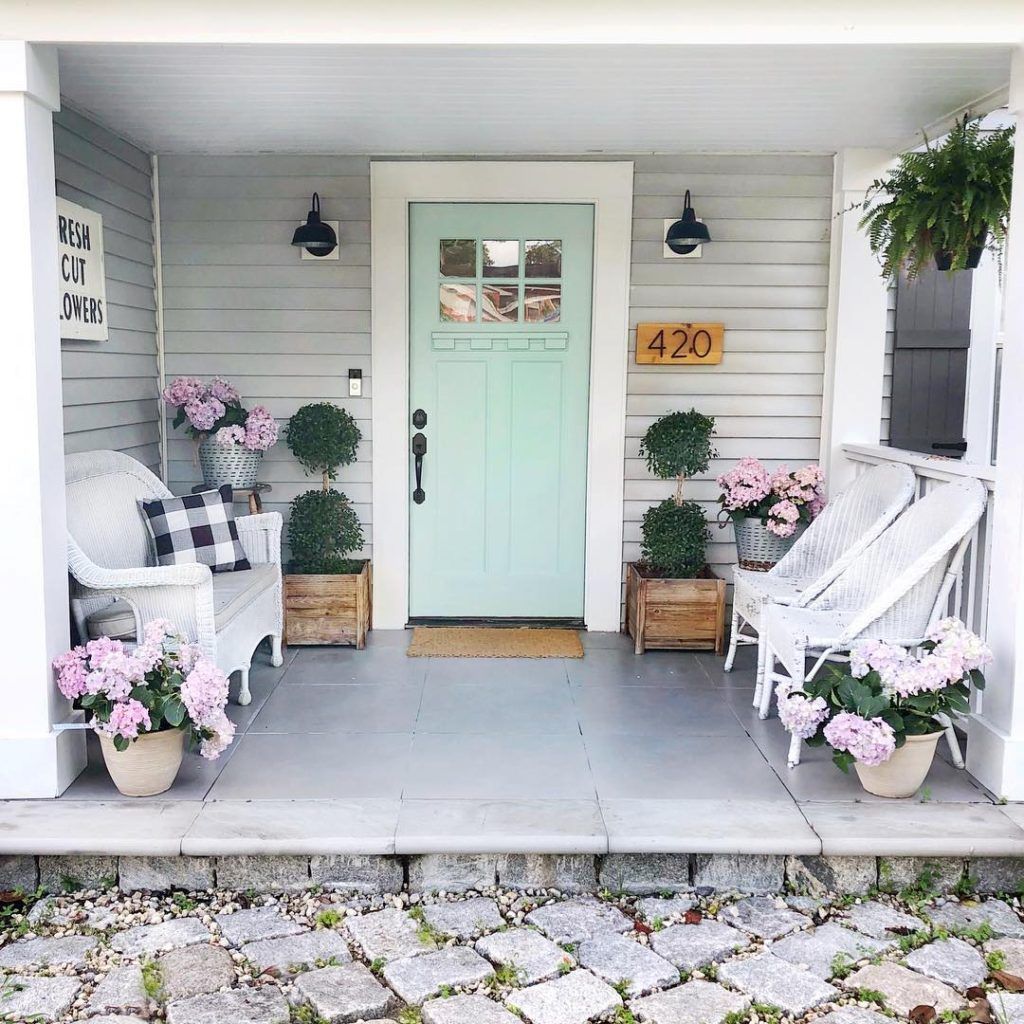 Even if your front door or porch decor changes with the seasons, some elements remain the same and these are the key to create an extra welcoming and cozy farmhouse decor out here. We're talking about the door itself, the light fixtures, house number, signs and other such elements. You can change the vibe a bit with the occasional planter or wreath every once in a while. You can find more ideas on roomsforrentblog.
The post Farmhouse Front Door Decors That Turn Houses Into Homes appeared first on Home Decorating Trends – Homedit.