After an action-packed summer, fall seems to come at just the right time to slow down the pace a little bit. To relax. To enjoy the crisp air and cool evenings. It's a perfect season to throw a few parties, what with the fall holidays and all. It's also a lovely time to simply gather together a few close friends and family and enjoy that time together. So whether your party schedule this fall involves high-energy holidays or low-key hangouts, you're going to find some great fall party décor ideas that will help everyone enjoy themselves most.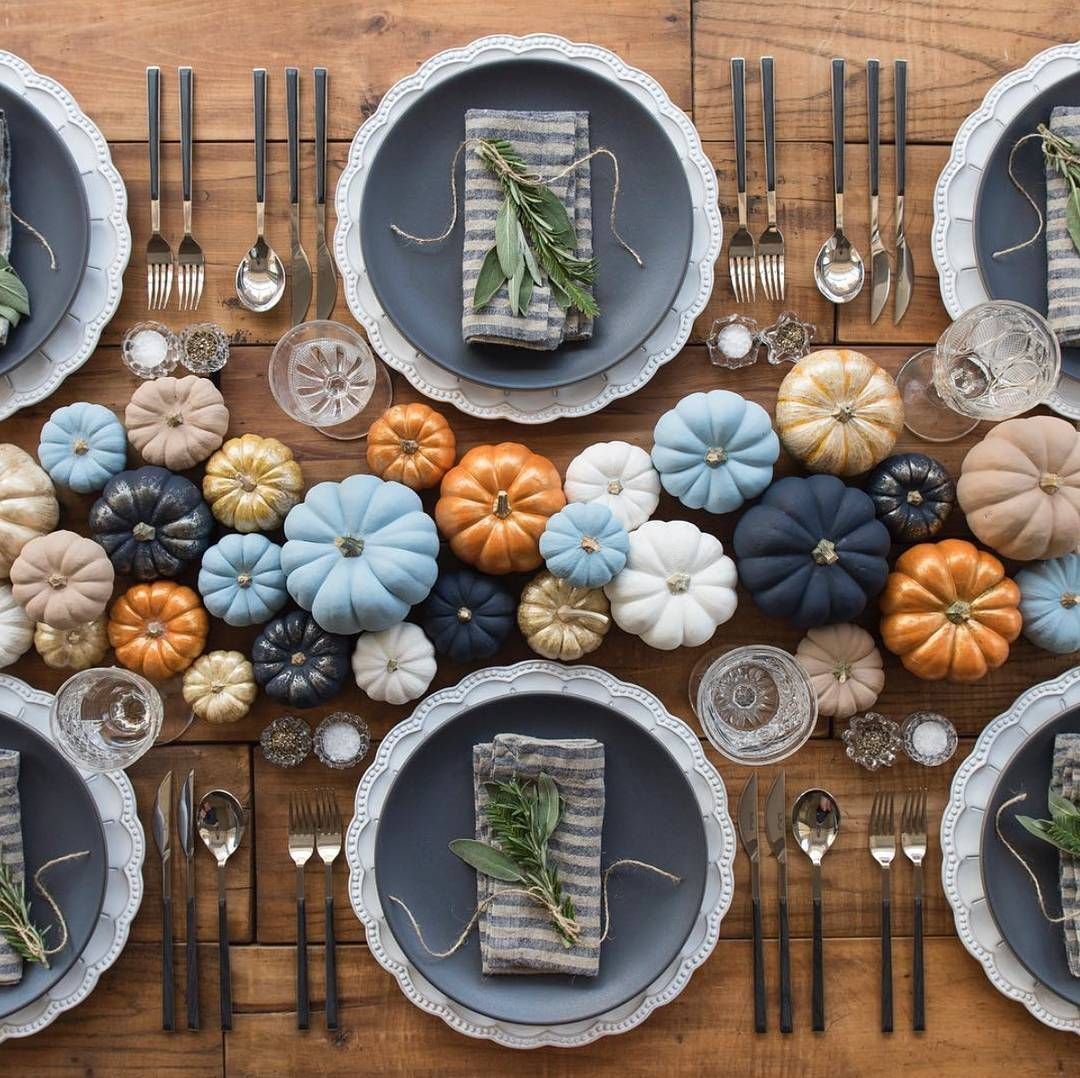 General Fall Party – Decorate with Colorfully Autumnal Foliage, Mums, and Pumpkins.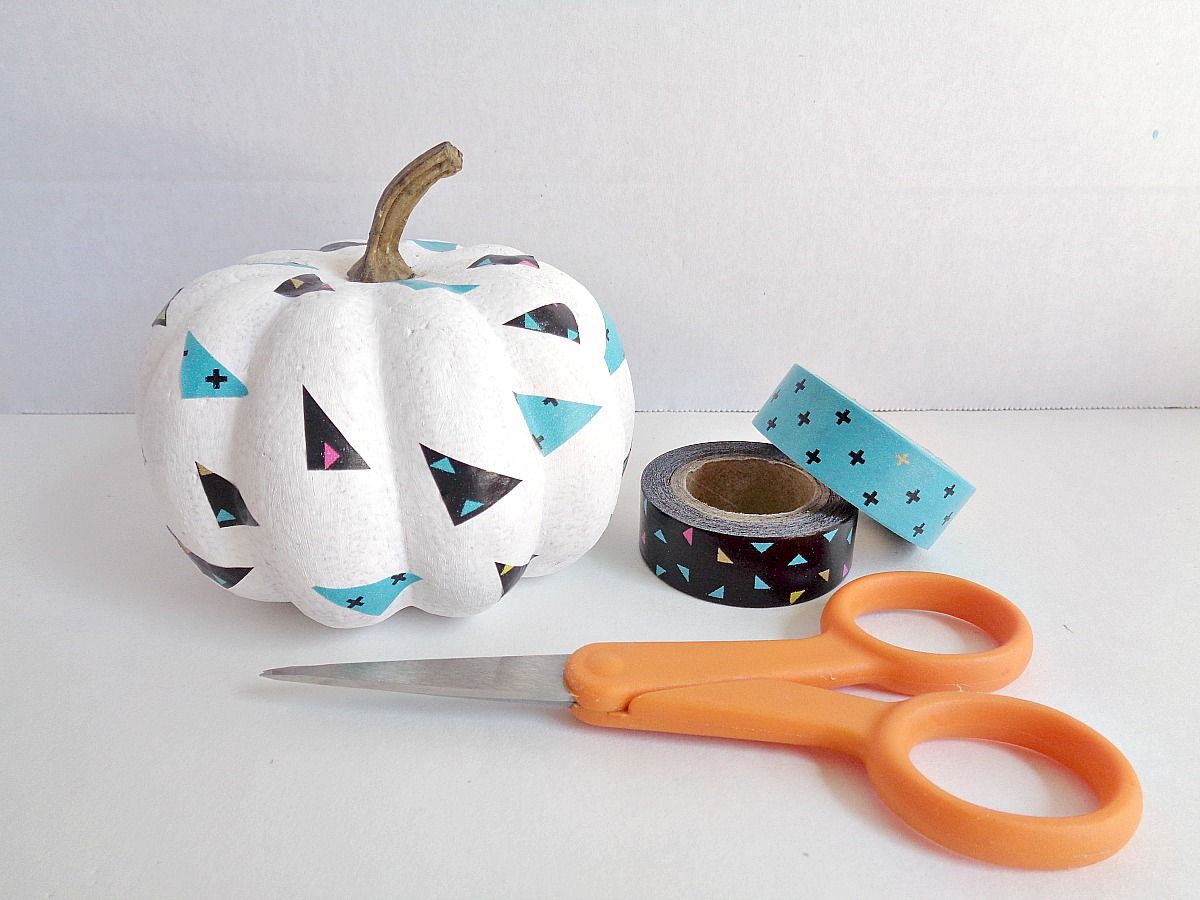 It really doesn't get easier than this, really, because these colors and decorative pieces surround us at this time of year! Grab a few pumpkins from the farmer's market or your local craft store to put in a basket, pick up a few potted mums at the grocery, and toss a few colorful leaves you've gathered from your backyard onto the horizontal surfaces. It gives all the cozy fall vibes and is a very low-effort way to decorate for a fall party.
Outdoor Fall Party – Capitalize on Fall Sprigs. They're available everywhere, really.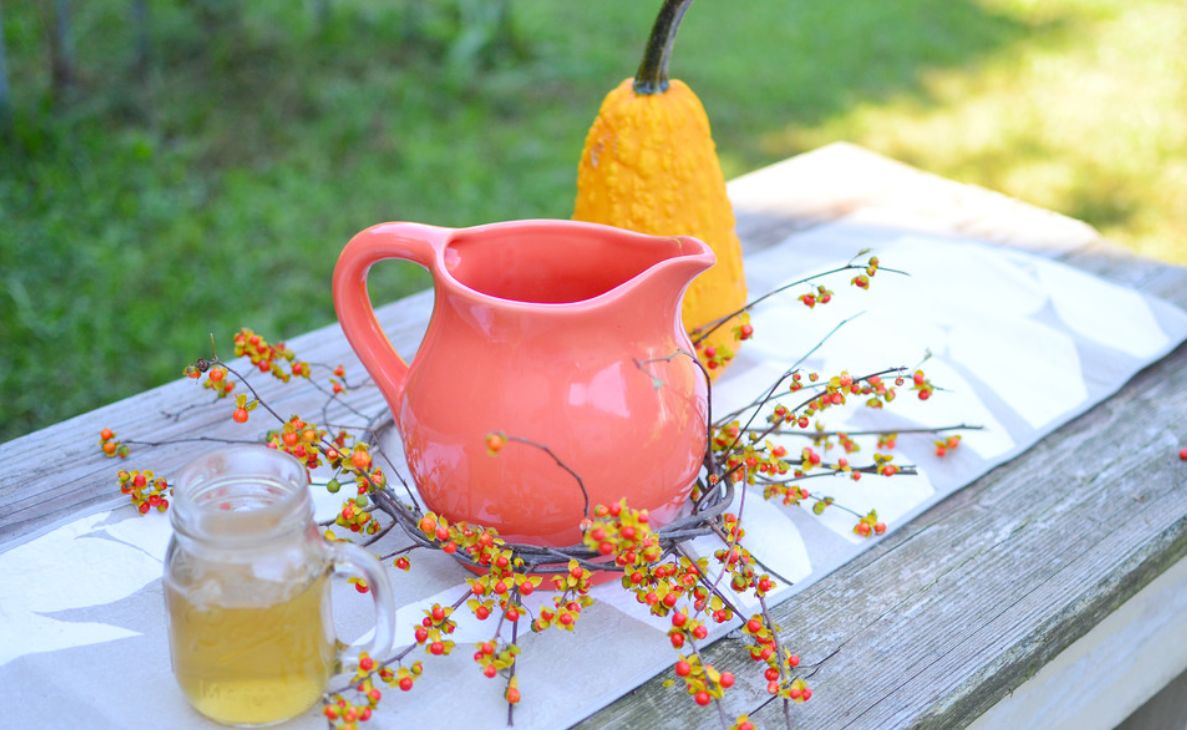 Those fall-themed sprigs of this and that in orange, yellow, red, and brown, bright and vibrant or soft and muted. Stick them in a twig wreath, lay them flat in a line, or put them in a vase if you want some height. There are so many ways to use sprigs generously in your fall party décor, inside or out. They make even the simplest of table settings look incredibly (and instantaneously) festive.
Nature-Loving Fall Party – Indian Corn-Wrapped Candle.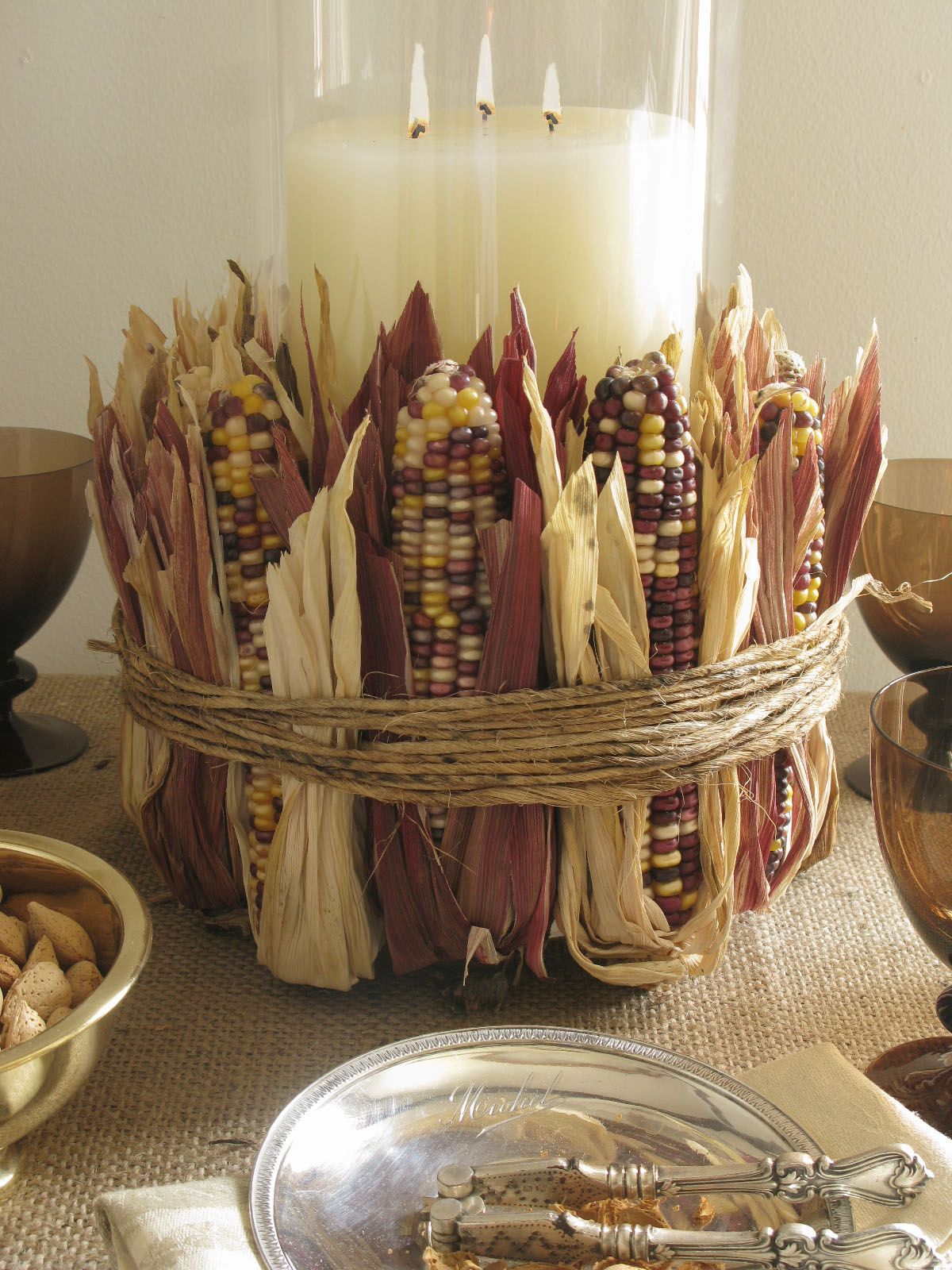 This is one of the simplest candle-decorating ideas, yet it's also beautifully striking and seasonally thematic. The colors and texture of Indian corn, tied with twine or any other natural-looking string around a thick candle, adds an instant rustic look to your fall party décor. Aim for collecting ears of Indian corn that are all about the same size to enhance the look and reduce fire risk.
Intimate Fall Party – Candles and Pumpkins and Mood Light, Oh My!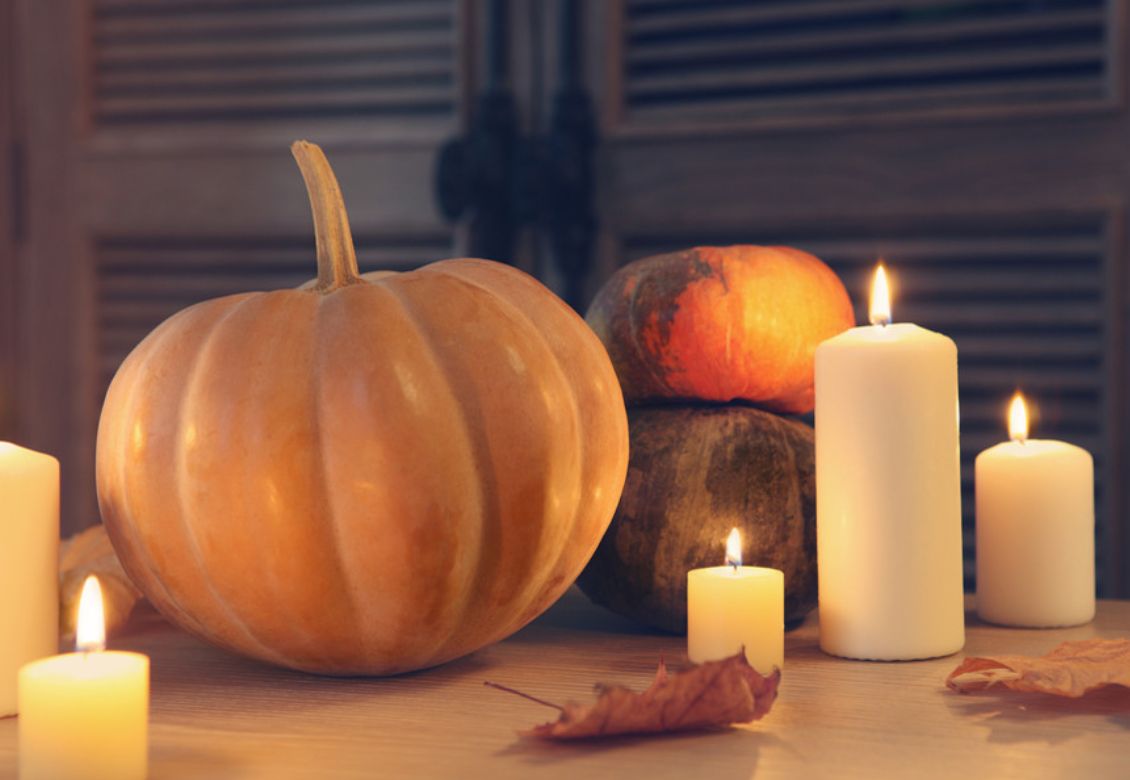 Lest we ever fall into the trap of thinking that "more is more," this fall party décor idea turns that on its head. Simple, authentic, and cozy, this centerpiece comprised solely of pumpkins and candles is bound to enhance the quality of any fall party lucky enough to showcase it.
Backyard Fall Party – The Magic of a Fire Pit.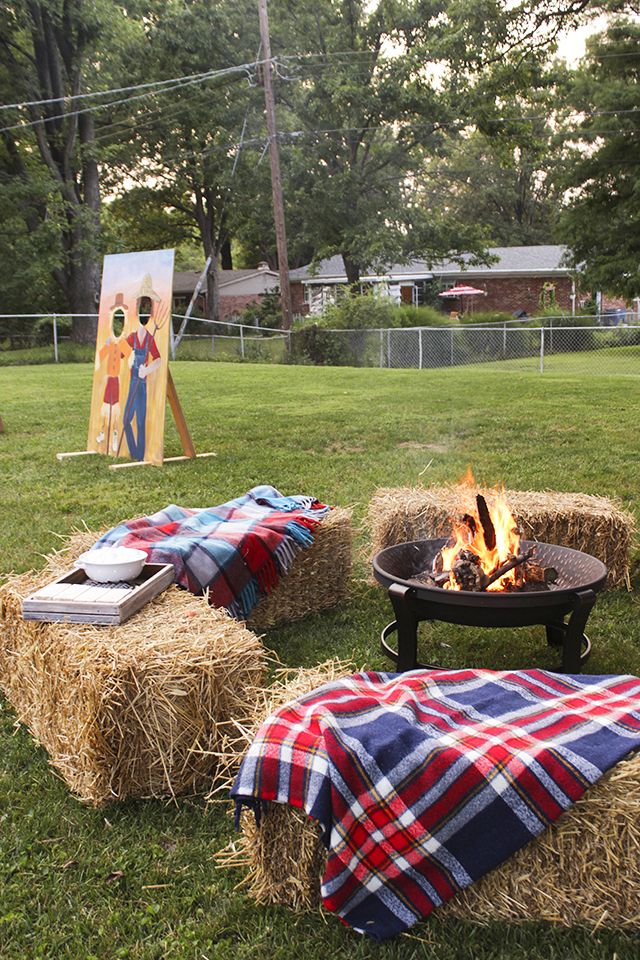 There's something ultimately special about hay bales in the fall. Their smell, their scratchiness, their complete and unapologetic organic existence. If you have access and space, consider copying this fire pit surround – a bunch of hay bales and flannel plaid throw blankets to encourage people to come over, get comfy, and stay awhile. We love the uniquely relaxed and comfort-centric quality of an outdoor fire pit gathering in the fall season.
Hometown Fall Party – Easy Flannel DIY Pumpkins.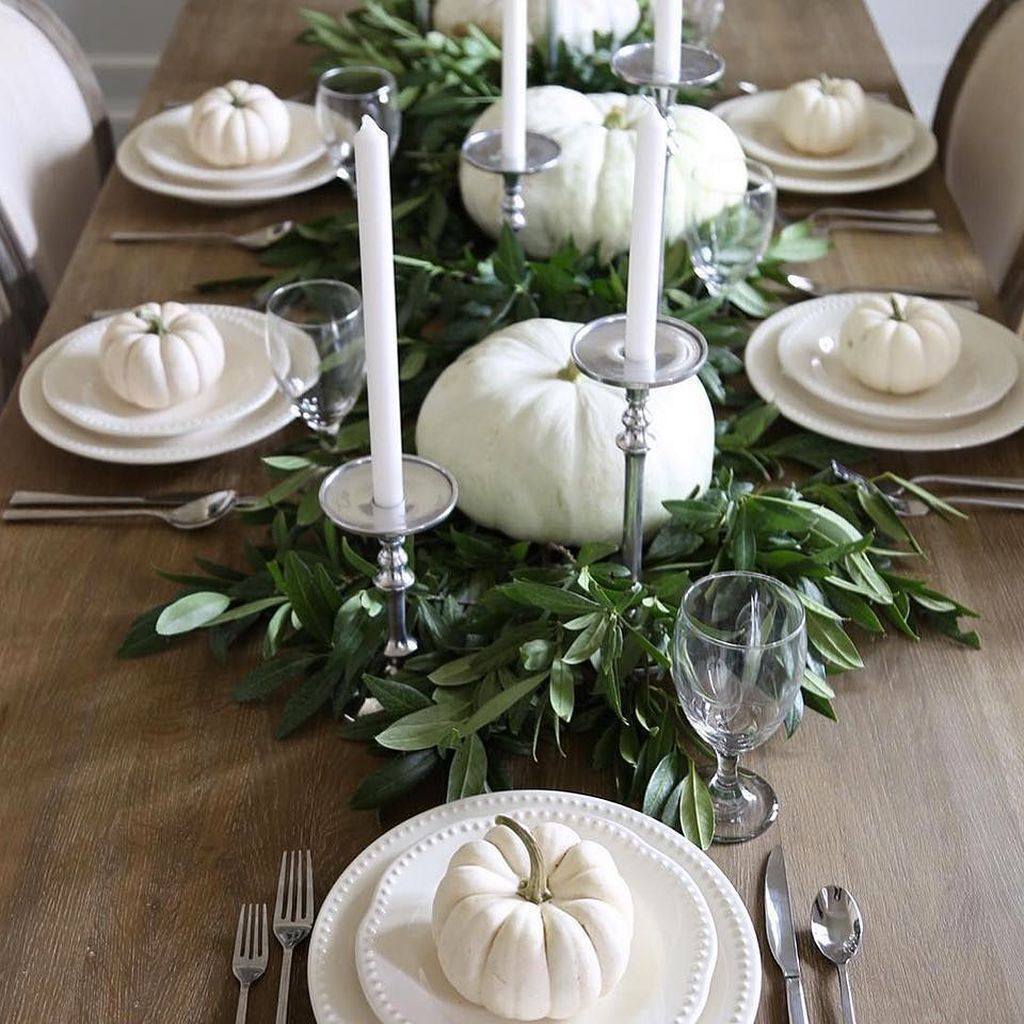 Made easily out of plaid flannel fabric and toilet paper rolls, these adorable and easily customizable pumpkins are a fantastic fall party décor idea. Not only for the decorations for the party itself, you could also use the craft as a fall party activity.
Outdoor Fall Party – Create an Easily Transportable Outdoor Beverage Garden.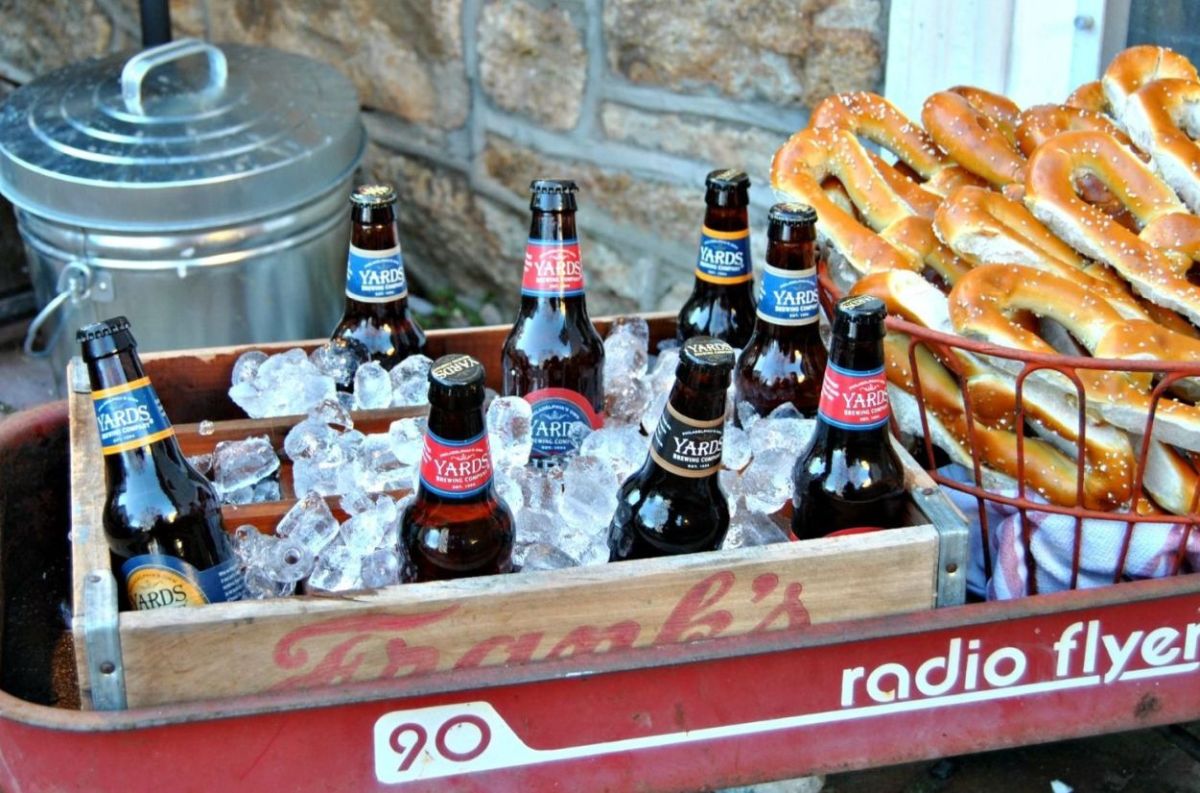 For anyone capitalizing on the beautiful fall weather and hosting an outdoor fall party, consider putting your old Radio Flyer wagon to good use. This charmingly vintage getup, with beverages easily accessible on ice and a basket of homemade pretzels for the taking, requires the minimal amount of decorating without skimping on appeal.
Indoor Dinner Fall Party – If weather or other circumstances require that you move the party inside, no problem.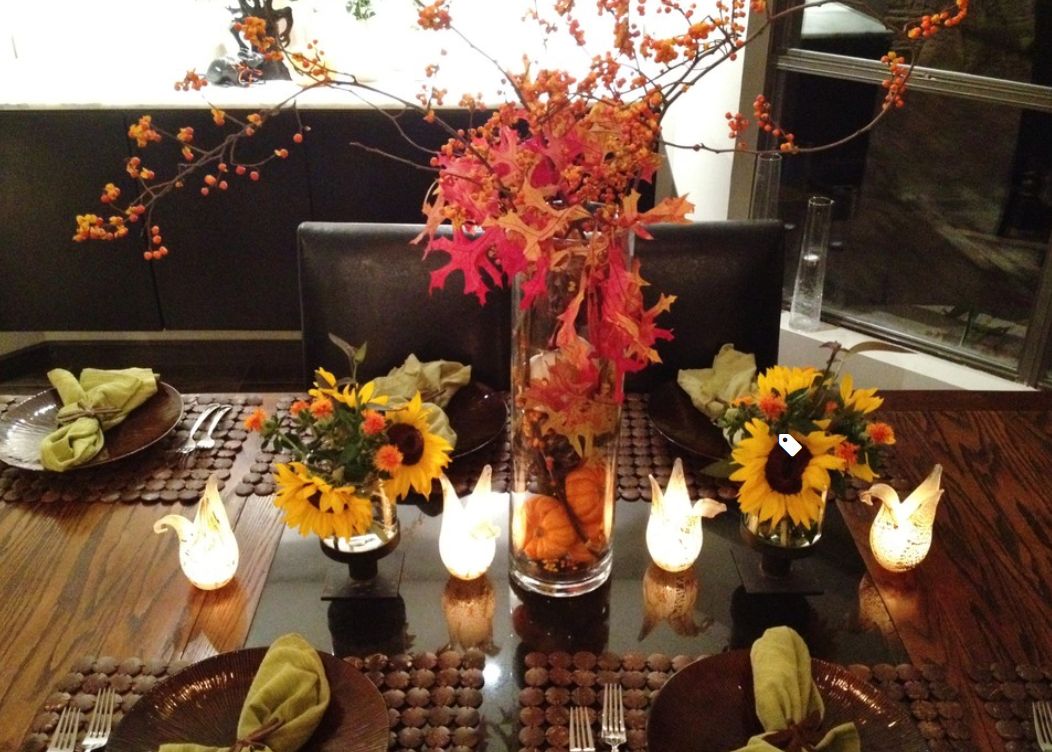 A simple fall-colored centerpiece on the table, whether you're dining or not, will bring instant autumnal festivity. We like the idea of a clear, wide vase filled with tiny pumpkins and shooting branches or sprigs out the top for maximum fall décor visual appeal. And don't forget the sunflowers! This is a perfect time to incorporate those cheerful beauties.
Fall Dinner Party – White Everything with Greenery.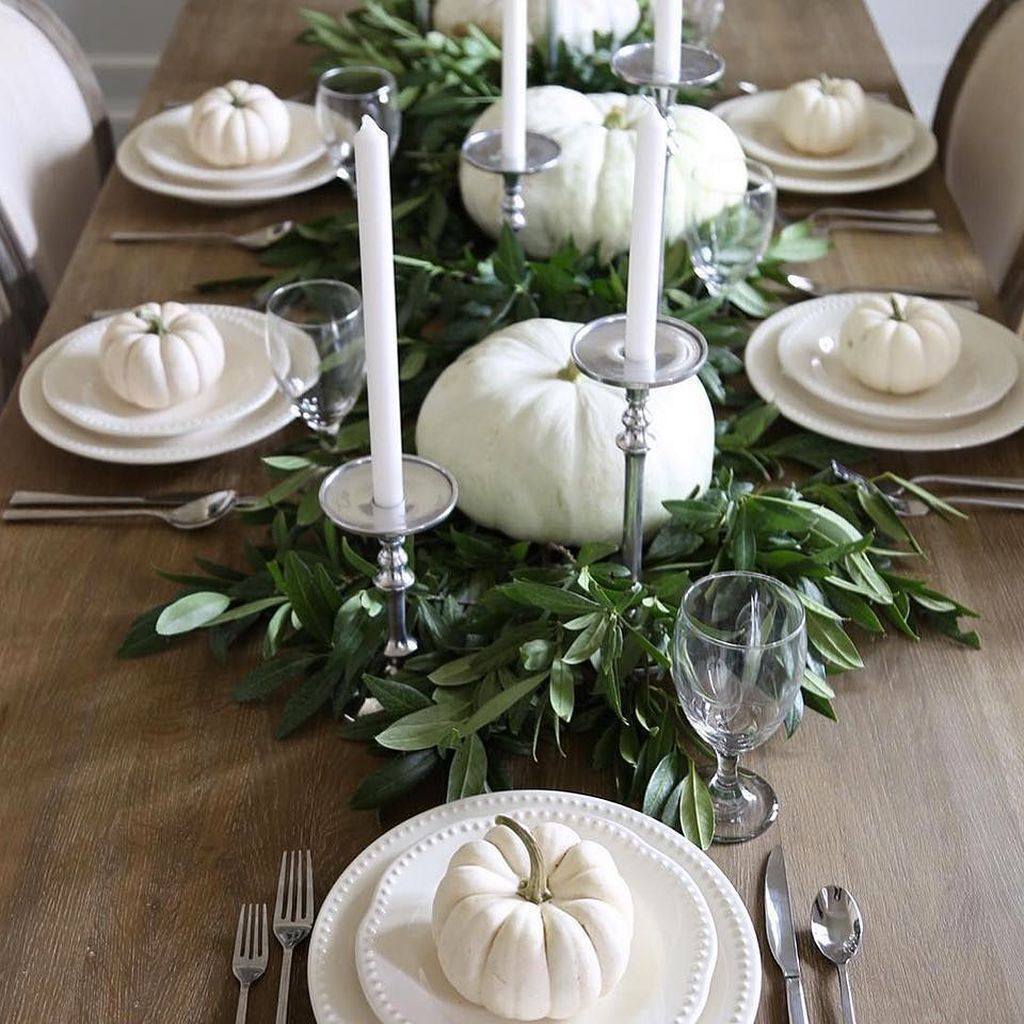 Monochromatic décor can easily be dressed up or down to match the atmosphere you want with your fall party. This tablescape is soothing and natural, with lots of white elements playing off the organic wood table top and greenery surrounding the centerpiece. Notice the contrast between the round, stubby pumpkin shapes and the tall, slender candle tapers – this juxtaposition creates strong visual appeal and detail within monochromatic décor.
Fall Dinner Party – Think Inside the Bowl.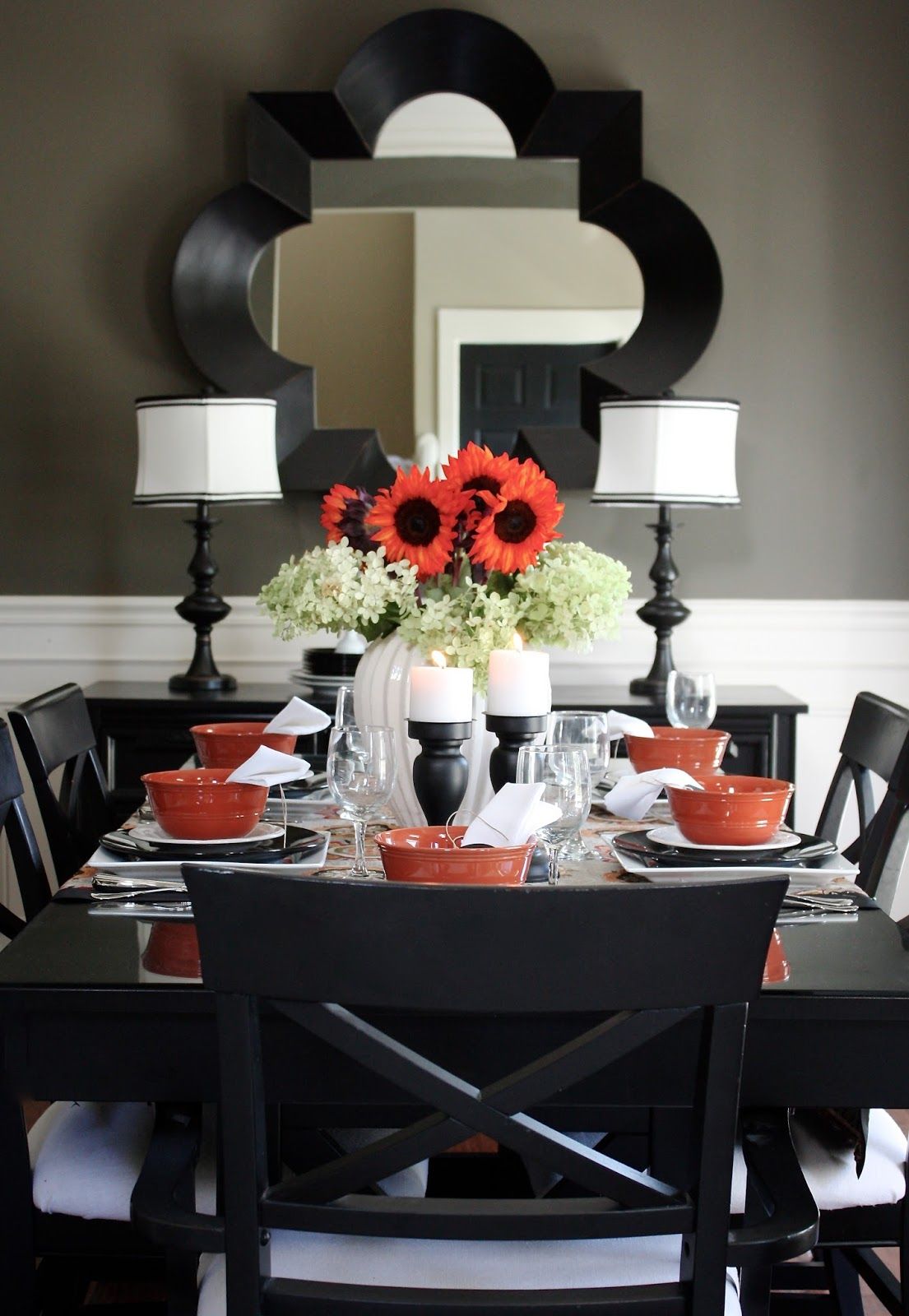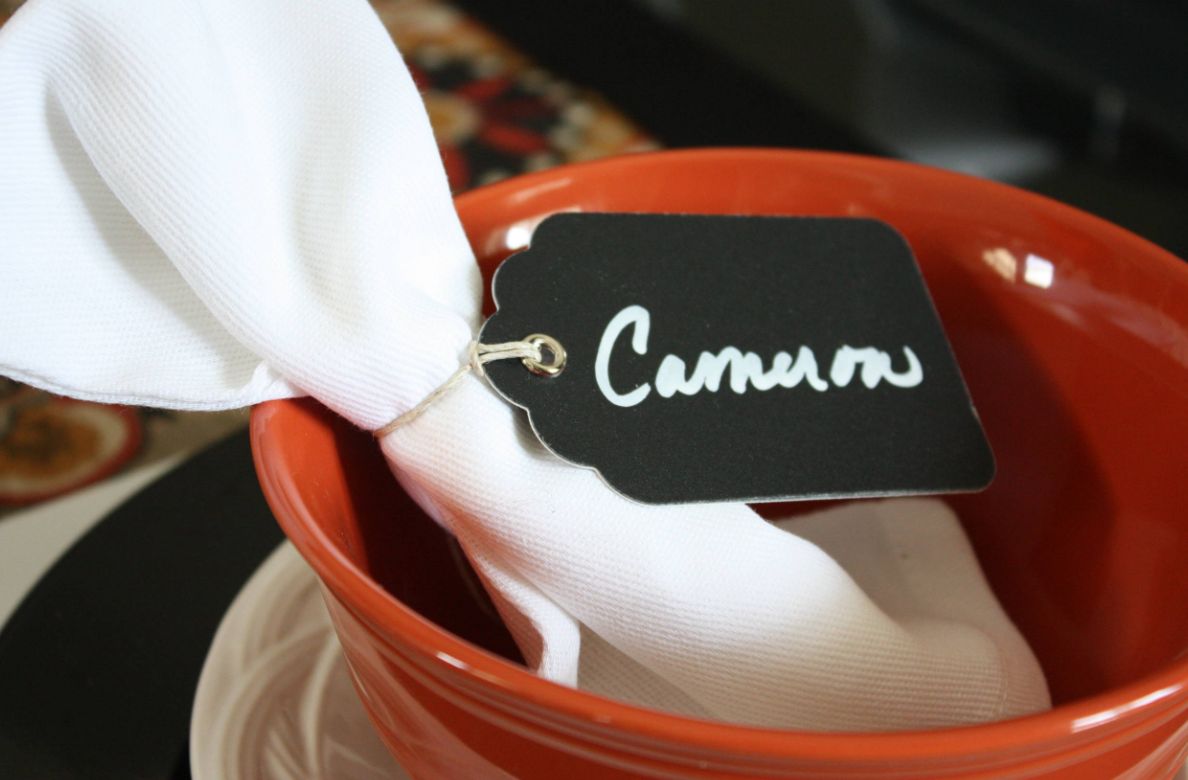 Add an informal vibe to your fall dinner party décor with chalkboard name tags tied with twine around dinner napkins. Rather than placing them neatly by the side of the flatware, toss the tagged napkin into a bowl at the place setting for a relaxed, cozy fall gathering.
Rustic Fall Party – Painted and Distressed Mason Jar Vases.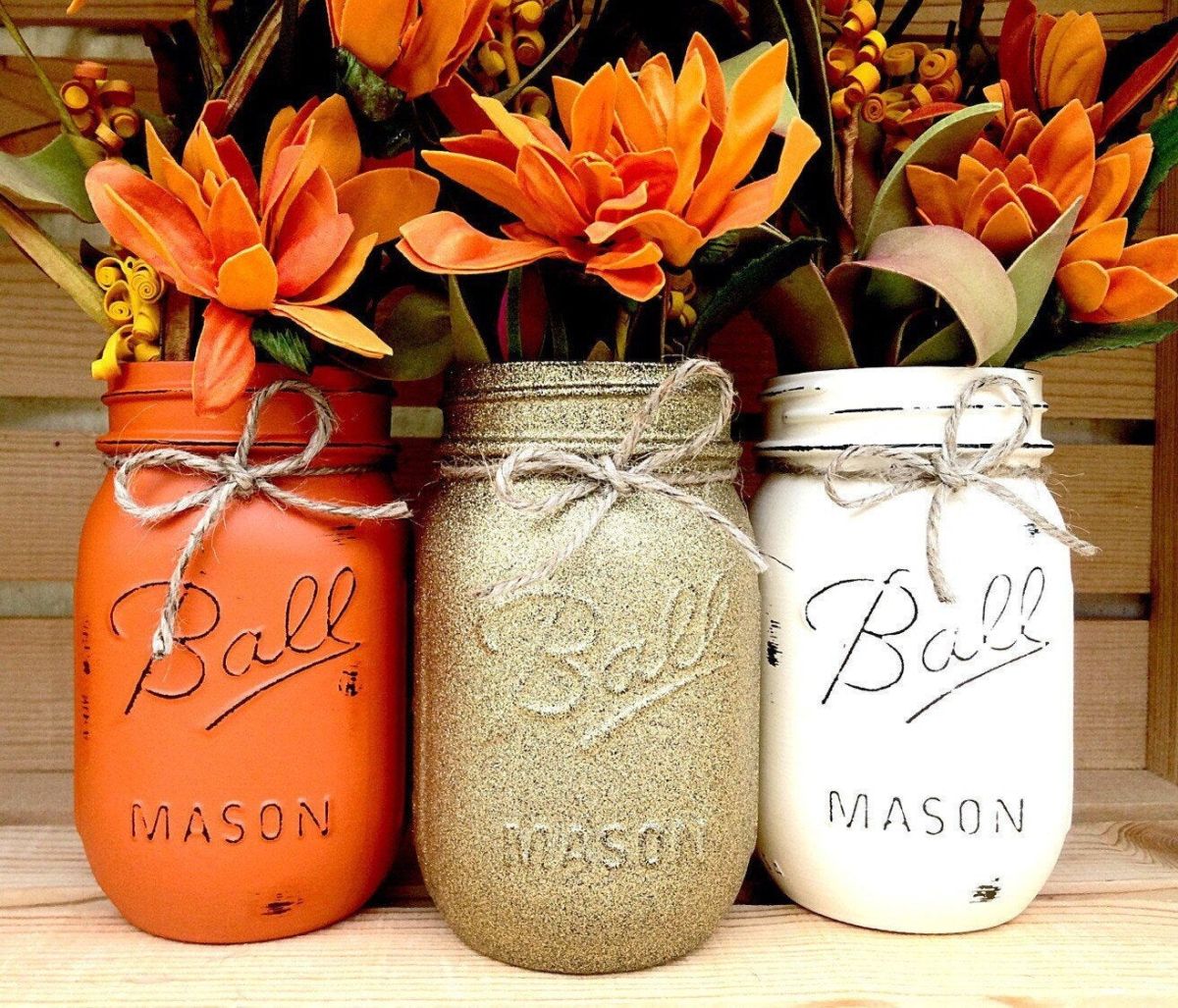 We're all well aware that mason jars can be painted and used as vases. What is striking about this fall party décor idea, though, is the injection of a pale icy blue jar amid the warmth of the other colors and the fall foliage. This cool shot of color keeps the fall party décor feeling fresh and perky, rather than dark and heavy. (Which, although cozy, is often the side effect of warm fall colors.)
Halloween Fall Party – Take 2 on the Painted Mason Jar Concept.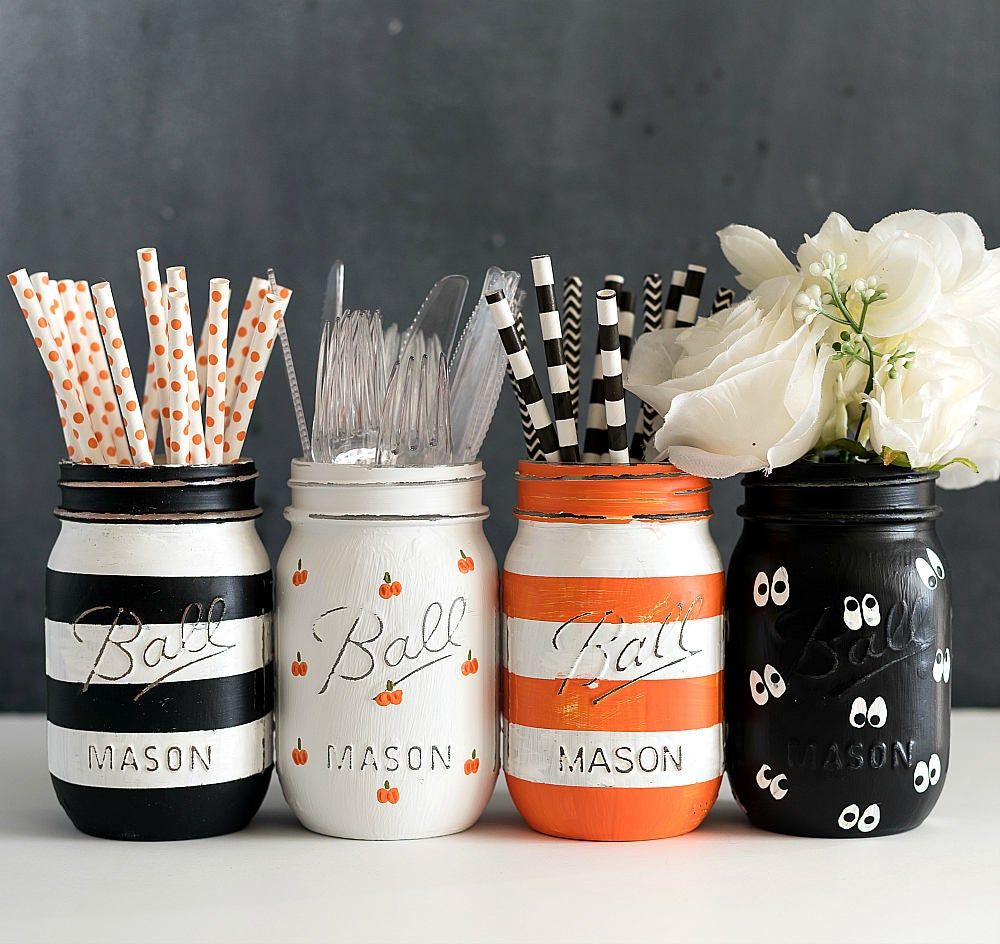 Consider making the painted mason jars a work of art, rather than just a punch of color blocking. These pint-sized mason jars are perfect for a Halloween-style fall party, with their simple yet graphic orange- and black-with-white stripes, googly eyes, and tiny pumpkins. The contrast of chunky stripes with tiny "prints" not only makes this colorful set charming, but it also provides easy access to straws, utensils, candy, or other need-on-hand party items.
However you choose to decorate, we hope you've found inspiration in this article fall party décor ideas. Enjoy!
The post Creative Fall Party Décor Ideas appeared first on Home Decorating Trends – Homedit.