The kitchen is undoubtedly the heart of every home and it is the engine that keeps the home running smoothly. In the contemporary home, the kitchen is much more than the heart of it all as open plan living spaces have turned it into a social zone that does it all. There are times when the kitchen acts as an interface between the living space and the rear yard. Then there are occasions when it combines the dining area with the home office next to it. And picking the right color scheme for the kitchen becomes absolutely essential.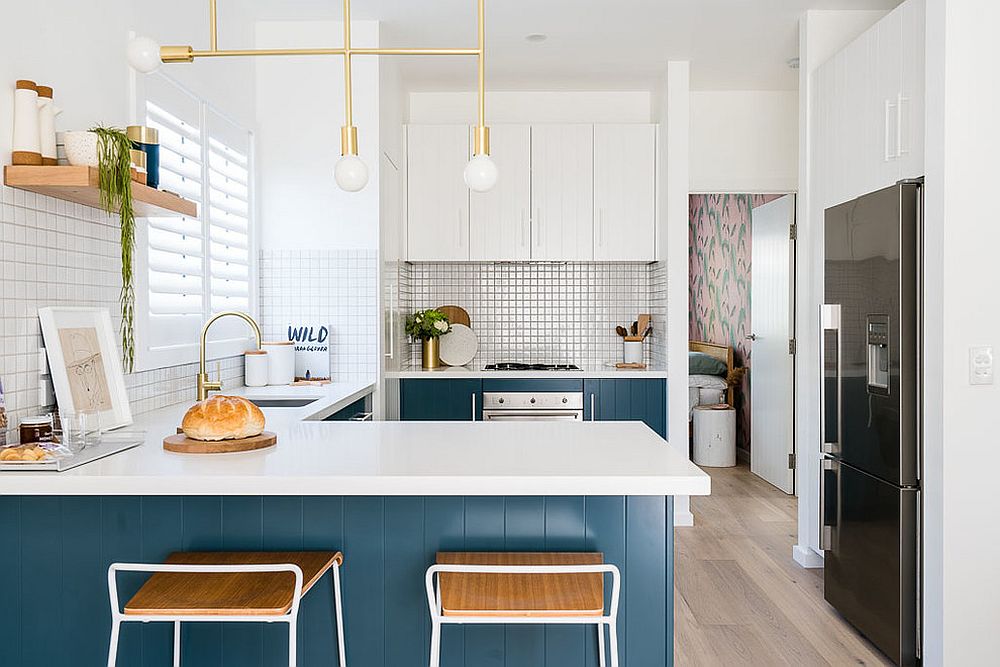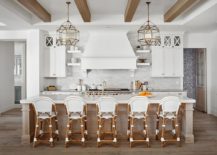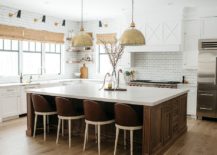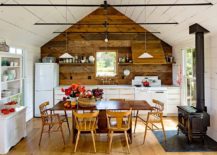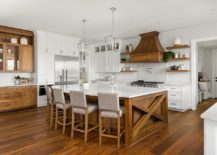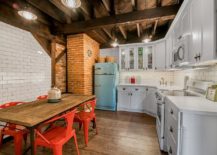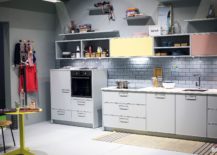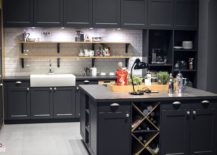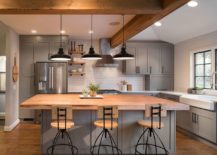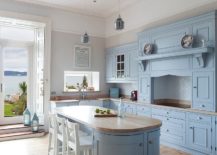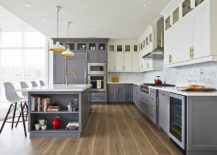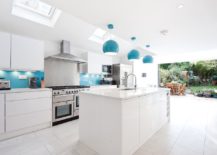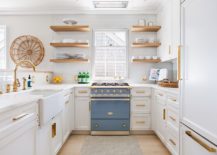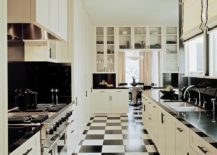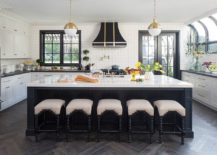 White is a color that is an automatic choice in the modern kitchen. It also makes sense to use a white backdrop in the kitchen where it sits close to the living area and feels like an extension of it. This is why we bring to you the best kitchen color combinations using white – from sophisticated gray thrown into mix to brick walls and a whole lot of wood. Each of the kitchen color palette is trendy, stylish and works with a variety of styles. Delve in and discover the 45 best inspirations as you plan for your smart kitchen makeover –
Classy Wood Coupled with White
If there is just one kitchen color palette that we were allowed to share with our readers as the best of 2019, then we would undoubtedly go with white and wood as our choice. Yes, there are many other options that run it close. But nothing matches the popularity and universal acceptance that this combination has garnered in the last 12 months. White keeps things modern, tidy and flexible while wood adds warmth, elegance and at times timeless appeal to the kitchen space. Best part of it all is how you can add color to this kitchen in tiny parts without altering the overall style.
RELATED: Classic Color Combinations: The Sophisticated Elegance Of Red, Black And White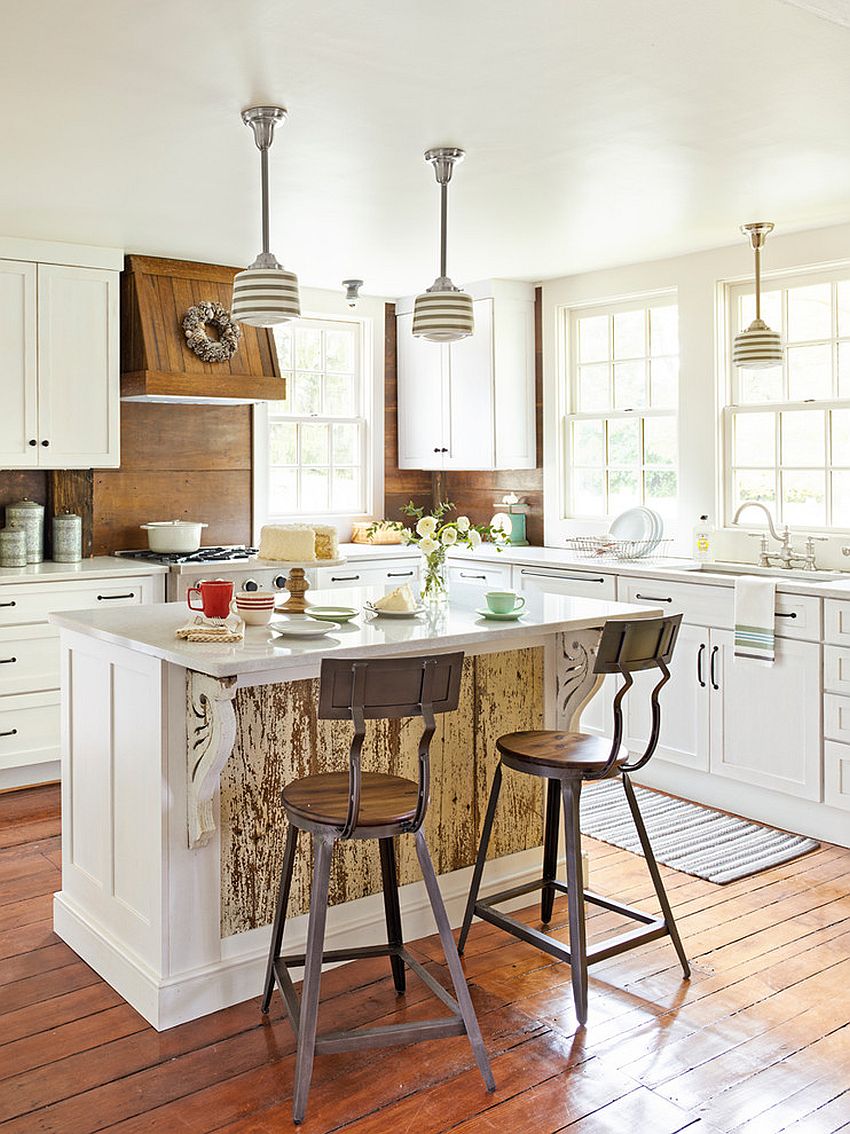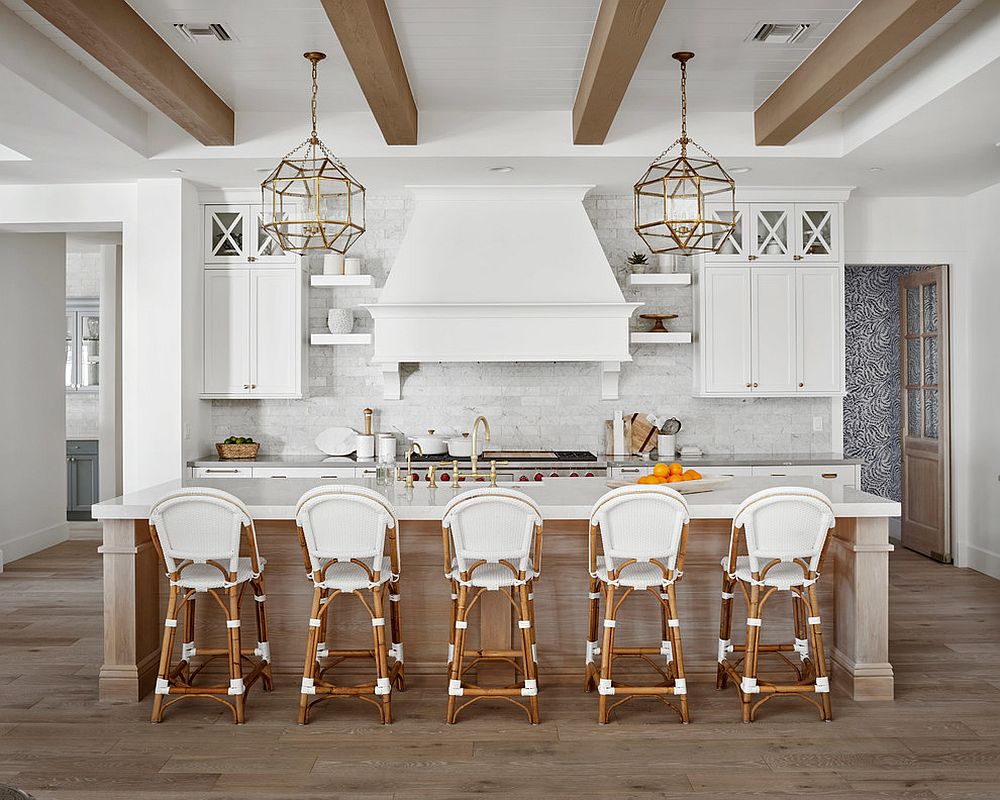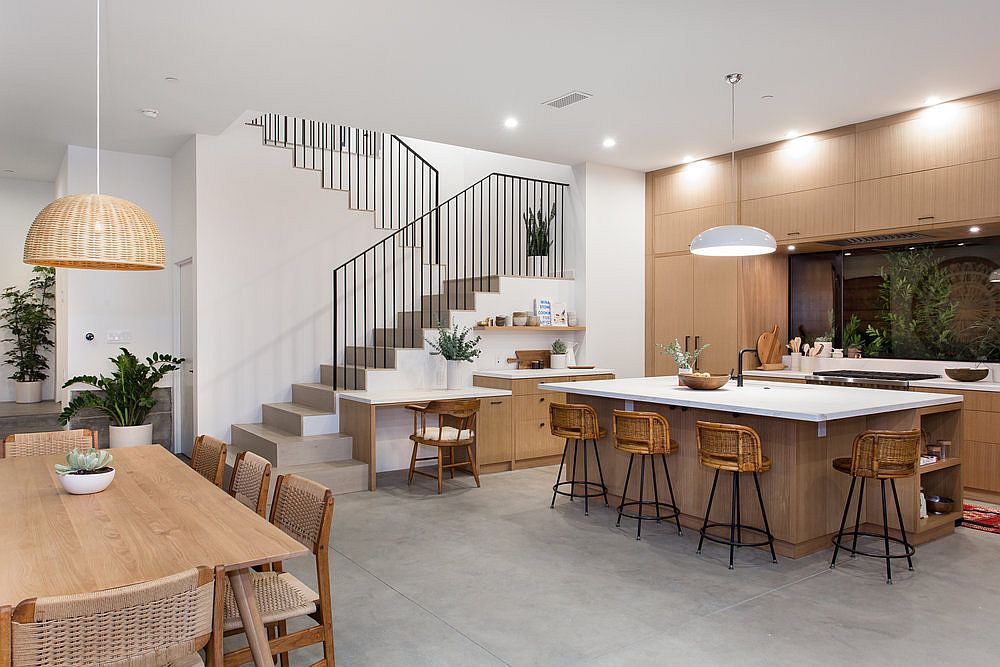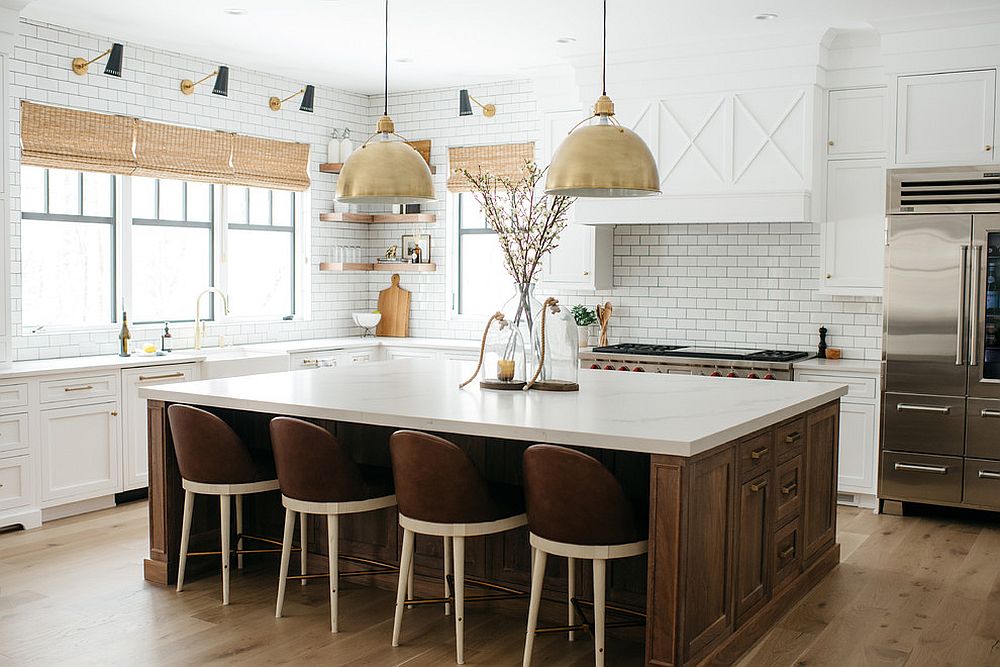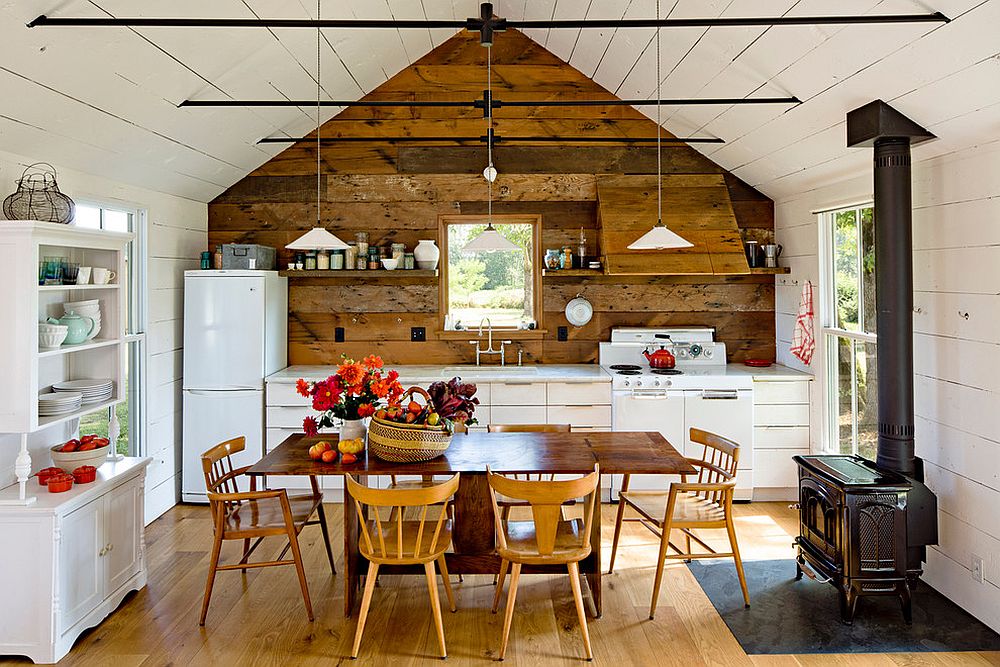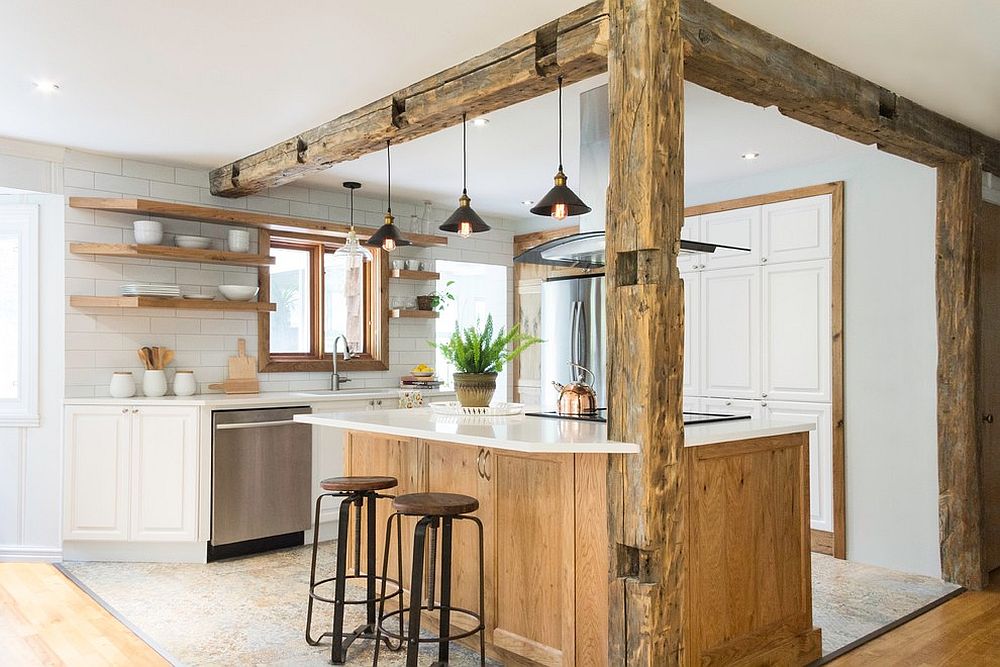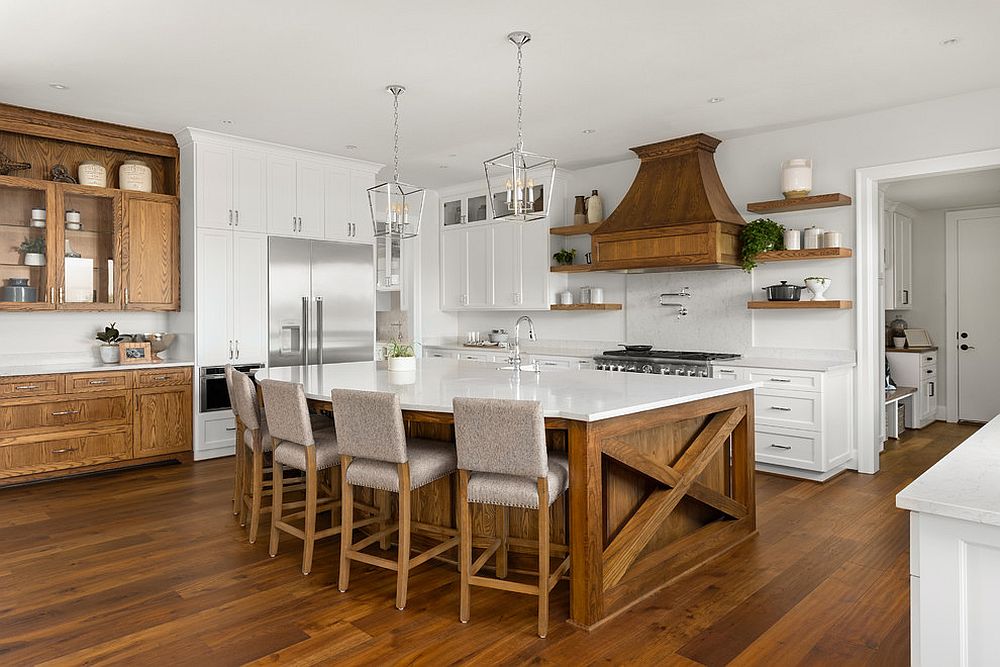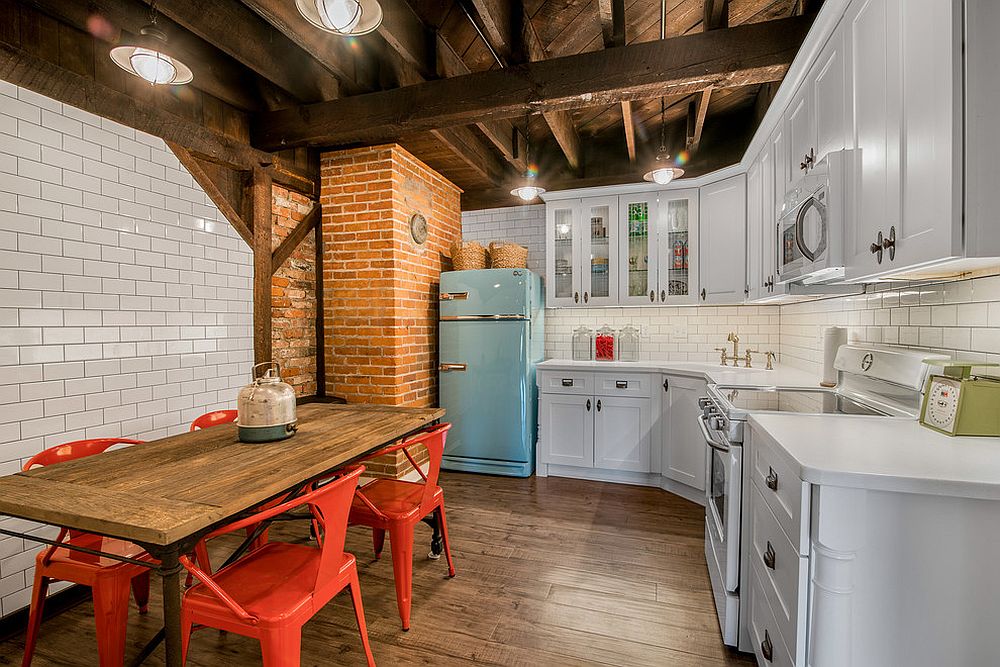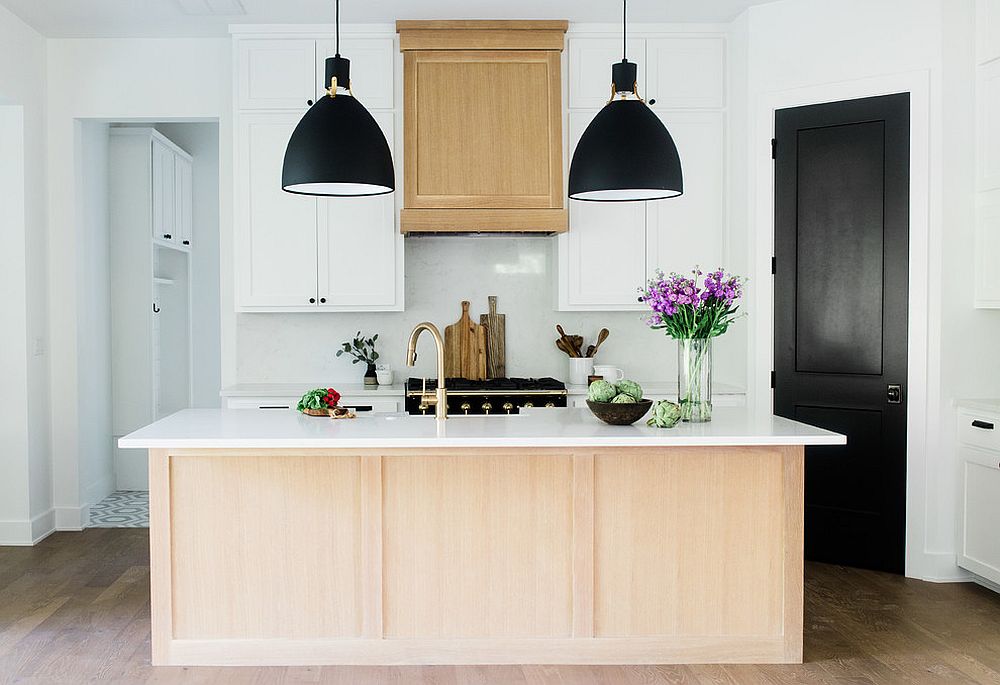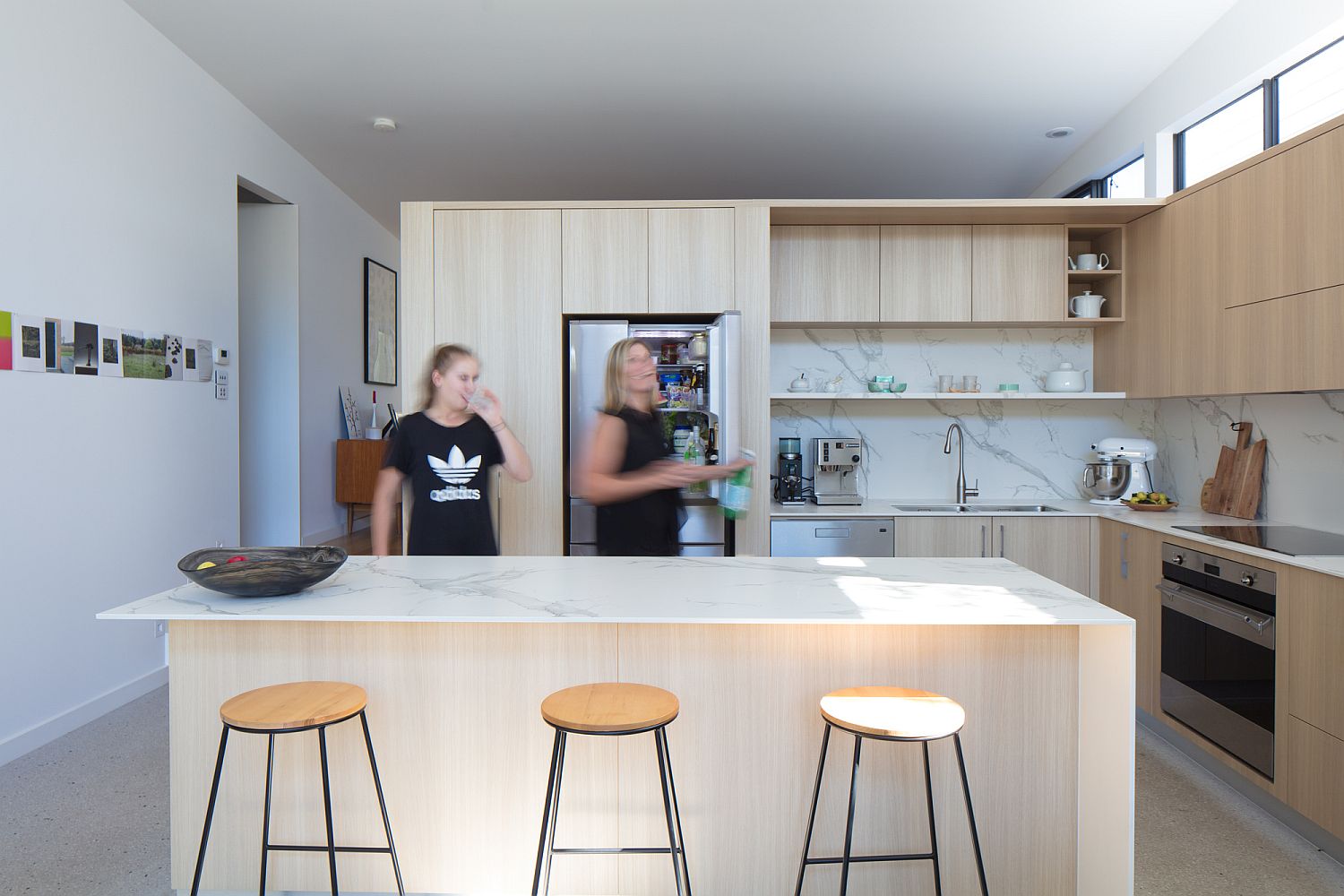 Sophistication of Gray and White Kitchens
From wood and white, we move in an entirely different direction with the gray and white color duo. This is a color scheme that has been on top of the trends chart for a while now and is managing to stay relevant even as we inch towards the second decade of this century. Gray, unlike wood, adds an air of urban sophistication to it all. Here white can be used to provide the warm, cozy touch as different shades of gray allow you to shift between styles and themes. Using gray for the kitchen cabinets and island while keeping the backdrop white is the simplest and most popular choice.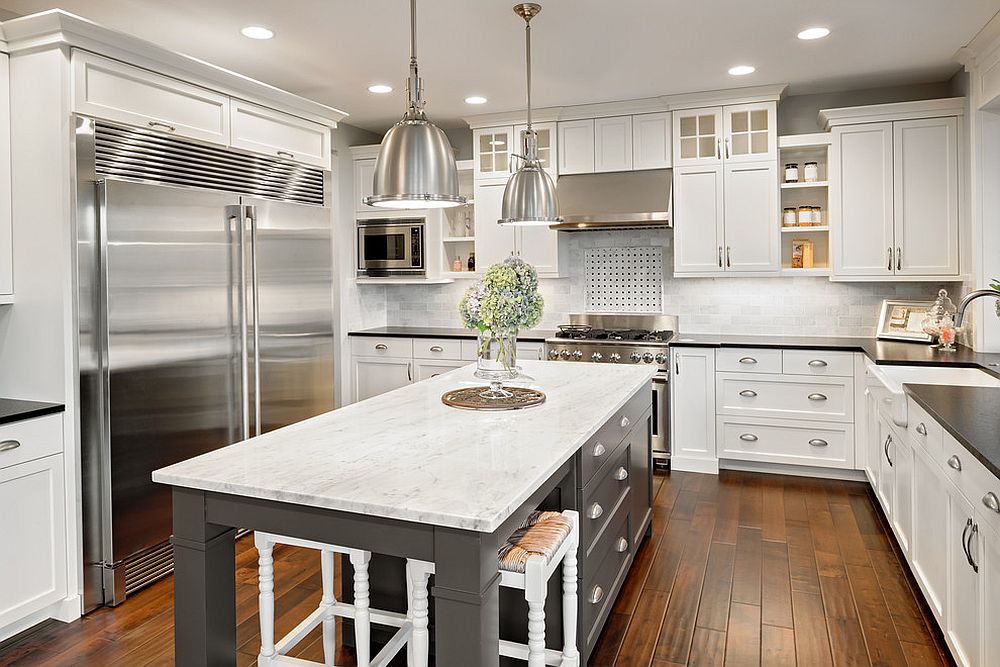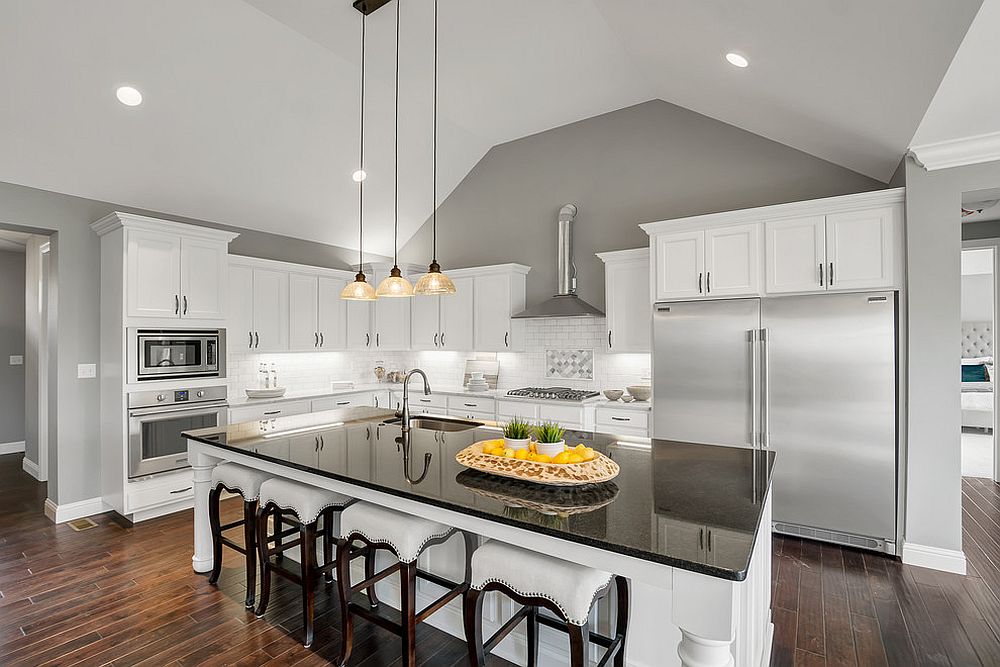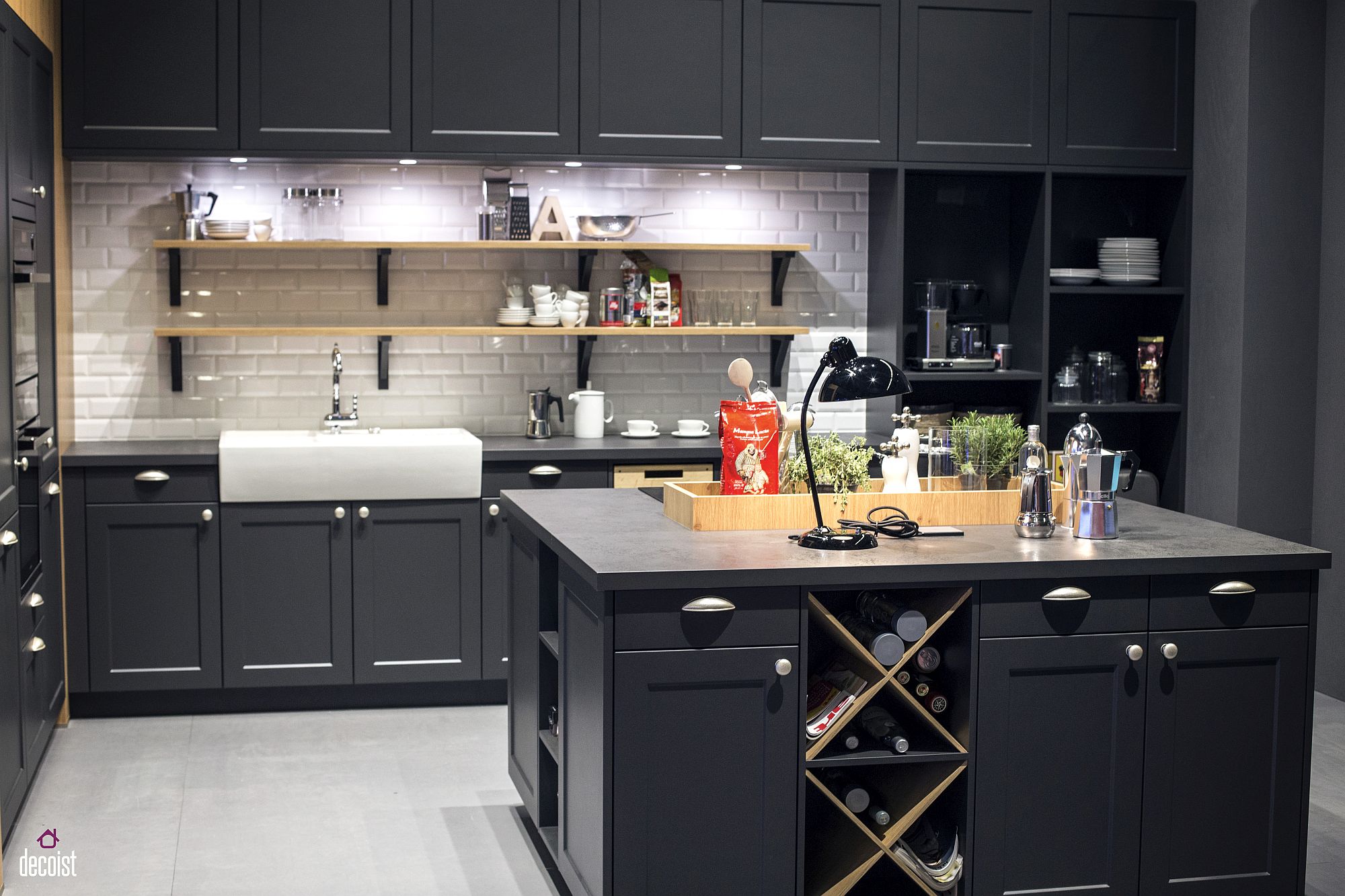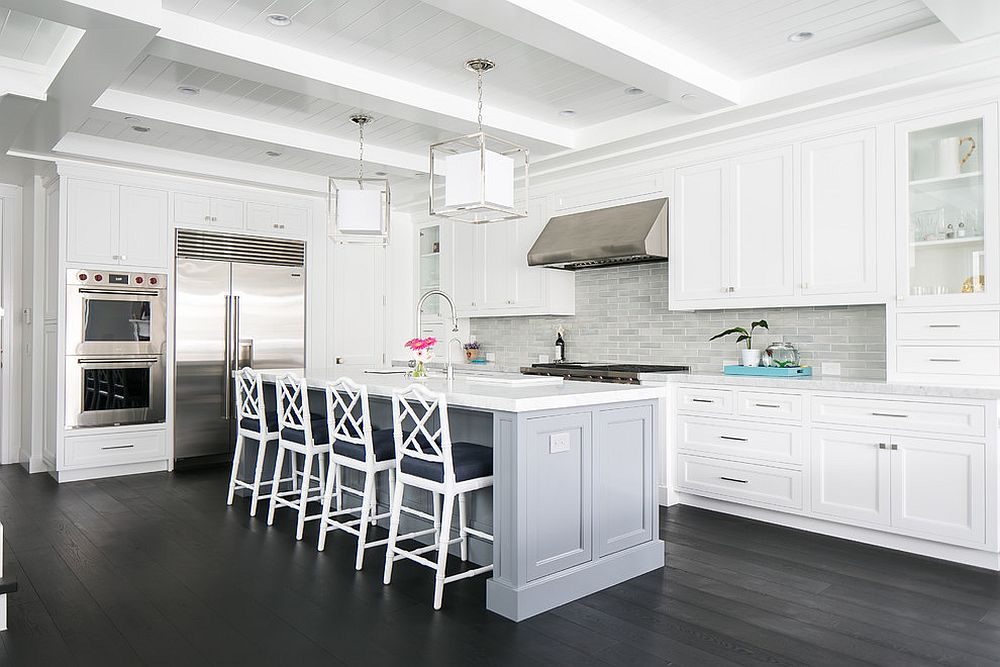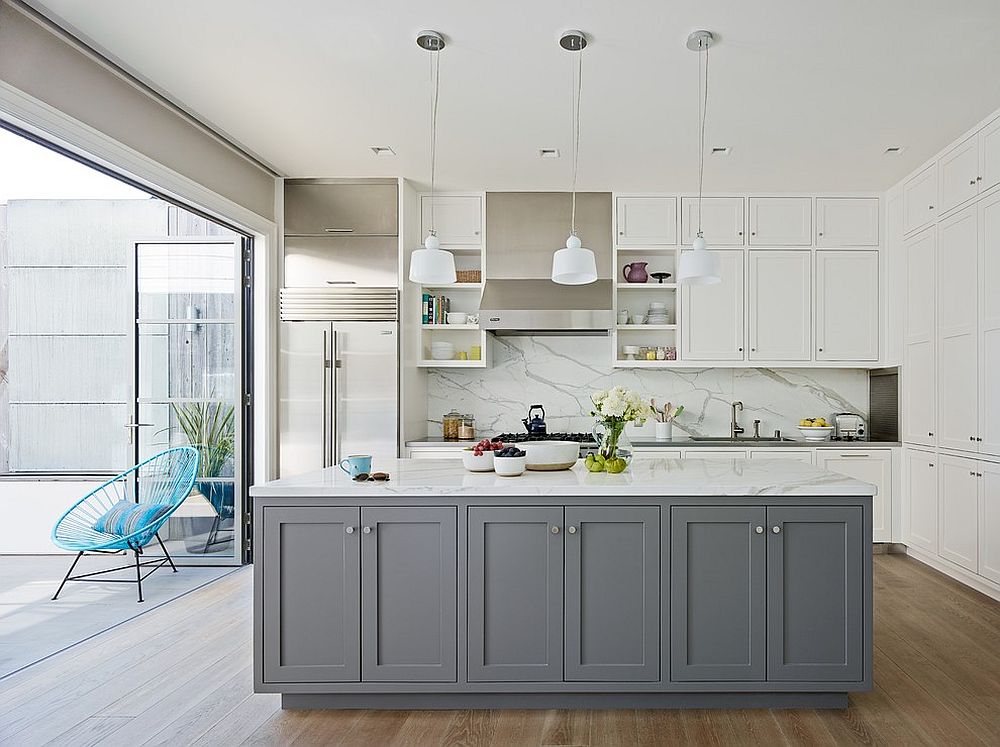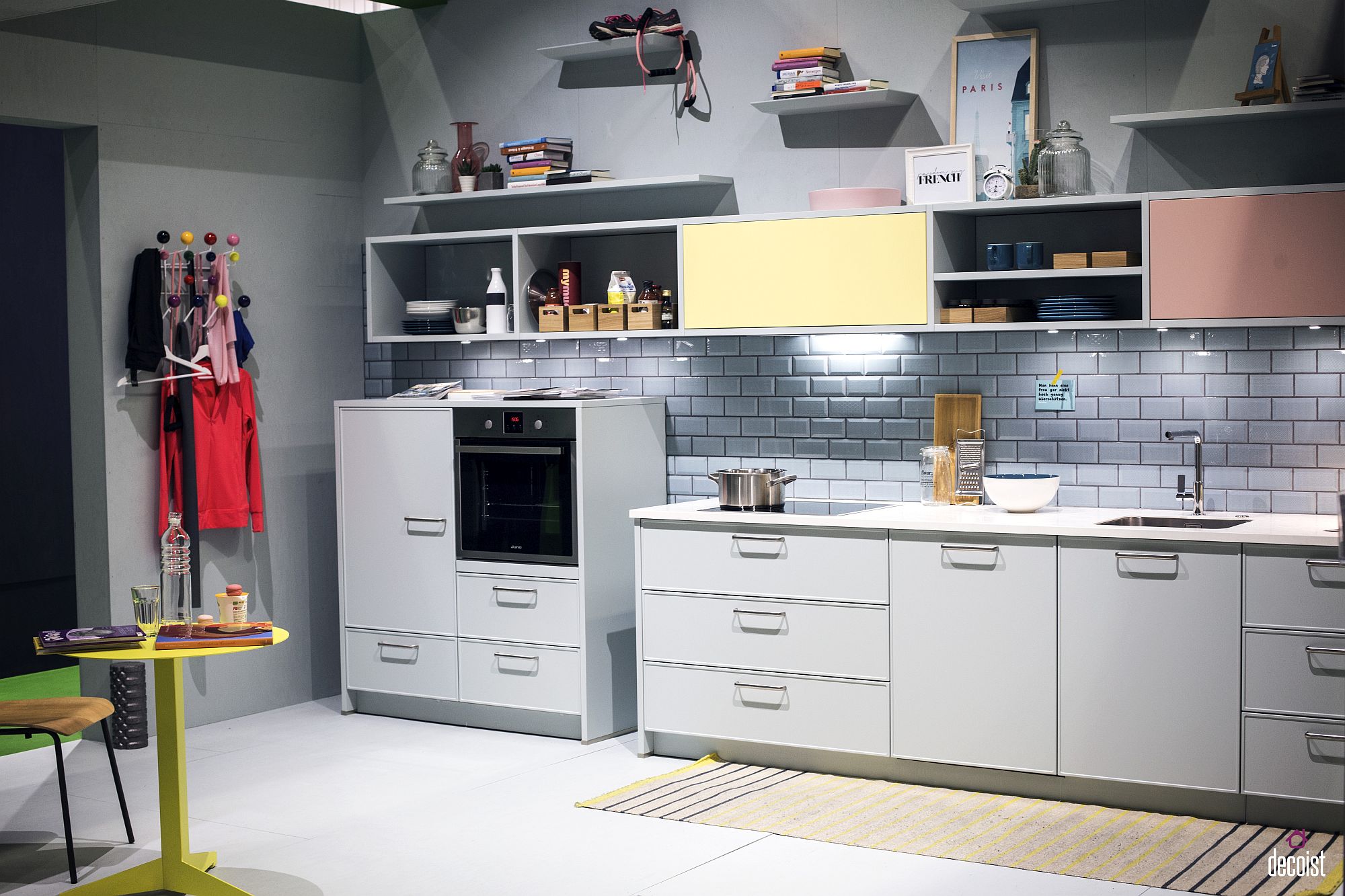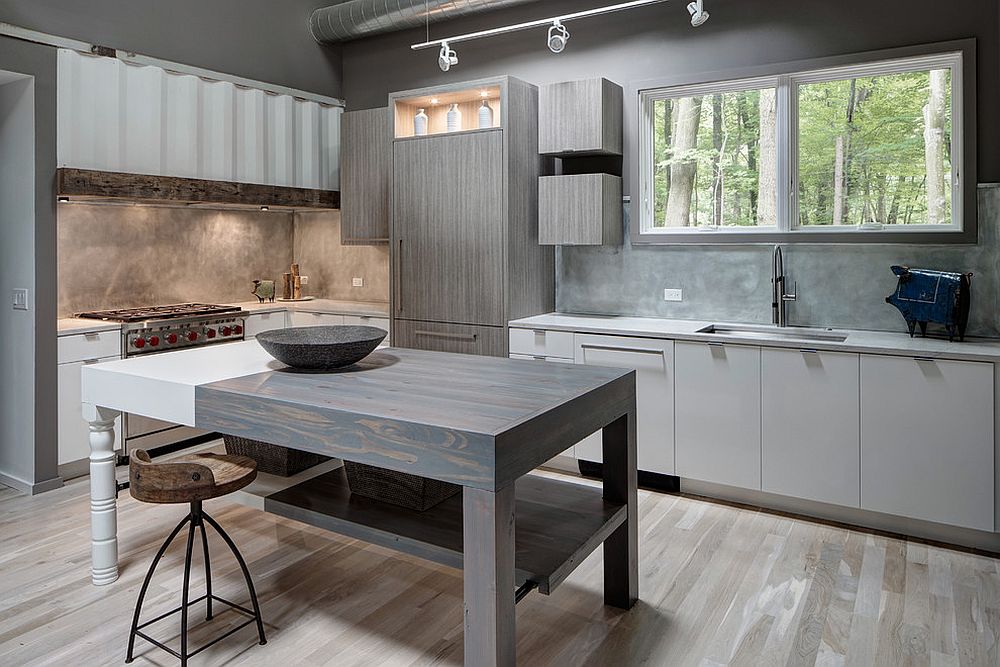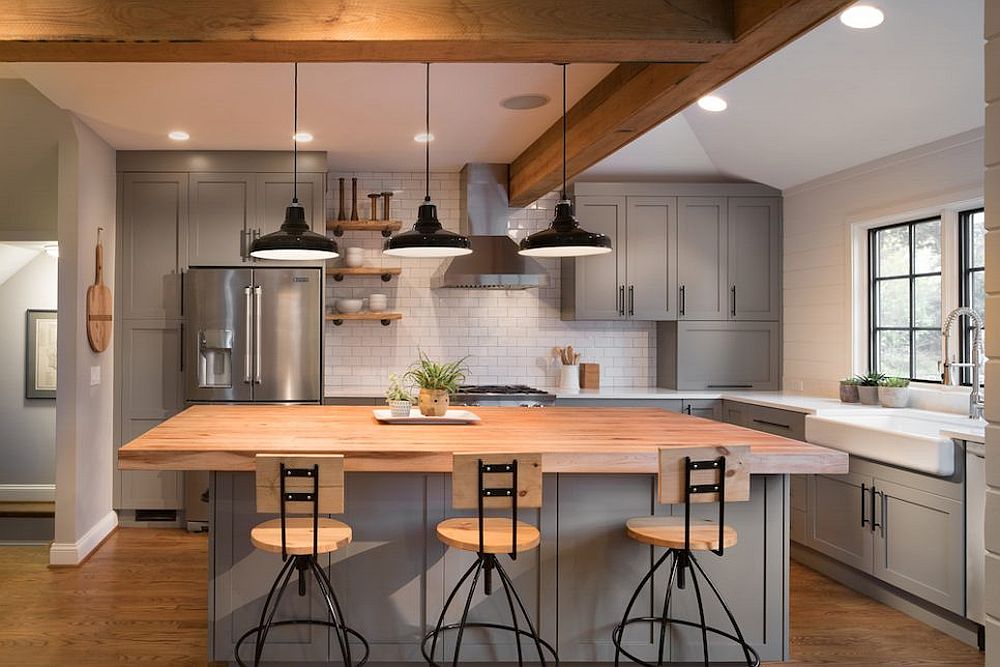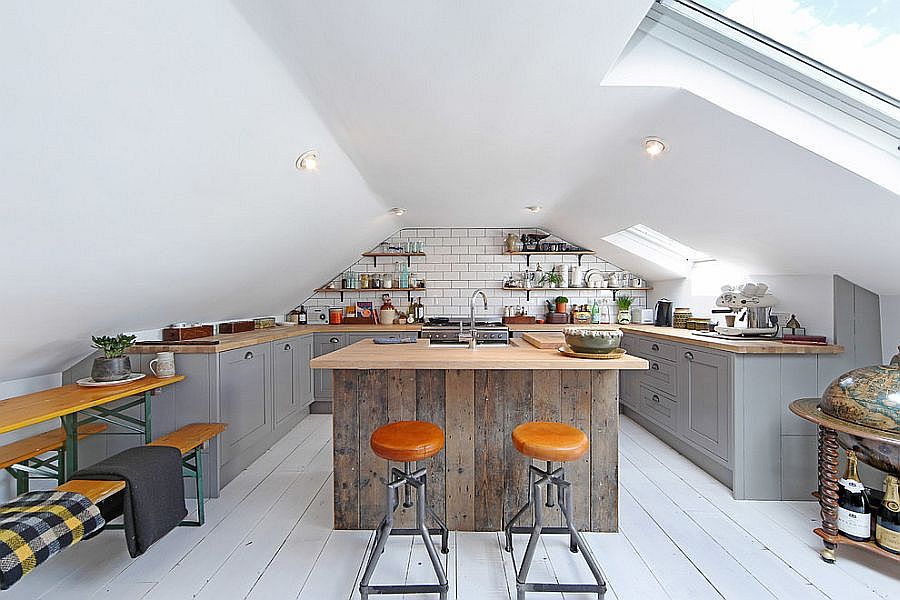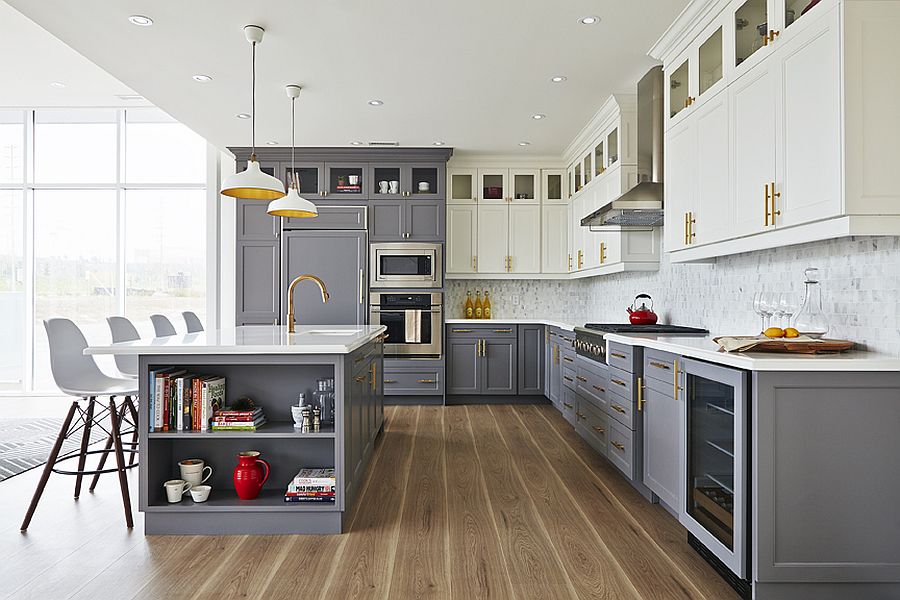 Timeless Blend of Blue with White
If the combination of wood or gray with white is new and a revelation of sorts, then the idea of blue and white finding space next to one another is as old as seemingly mankind itself! White and blue is a combination that is a classic for a reason. It never fails to leave you charmed, always gives a wide range of design and style choices and adaptability comes to the fore. Yet, this season, you can try colors that go beyond the usual shades of blue and venture into the world of turquoise and teal. No matter how far you decide to venture from your 'basic blue shades', remember that the simplicity of blue and white is where its true magic lies!
RELATED: Classic and Trendy: 45 Gray and White Kitchen Ideas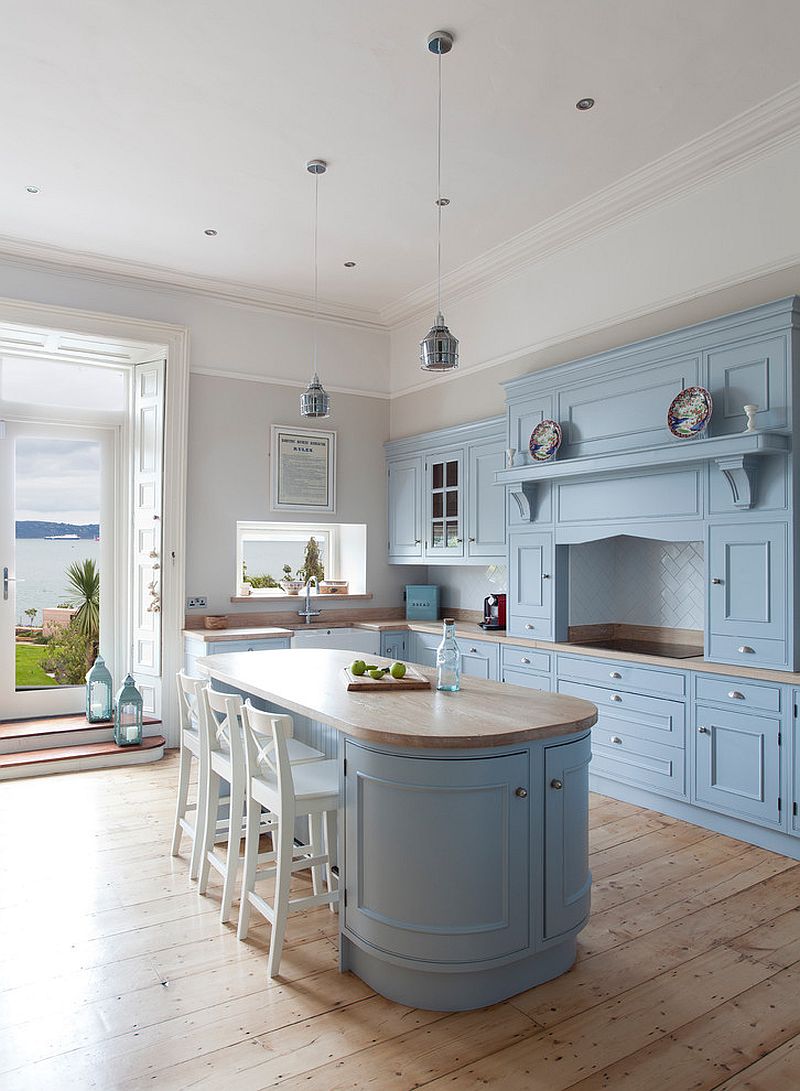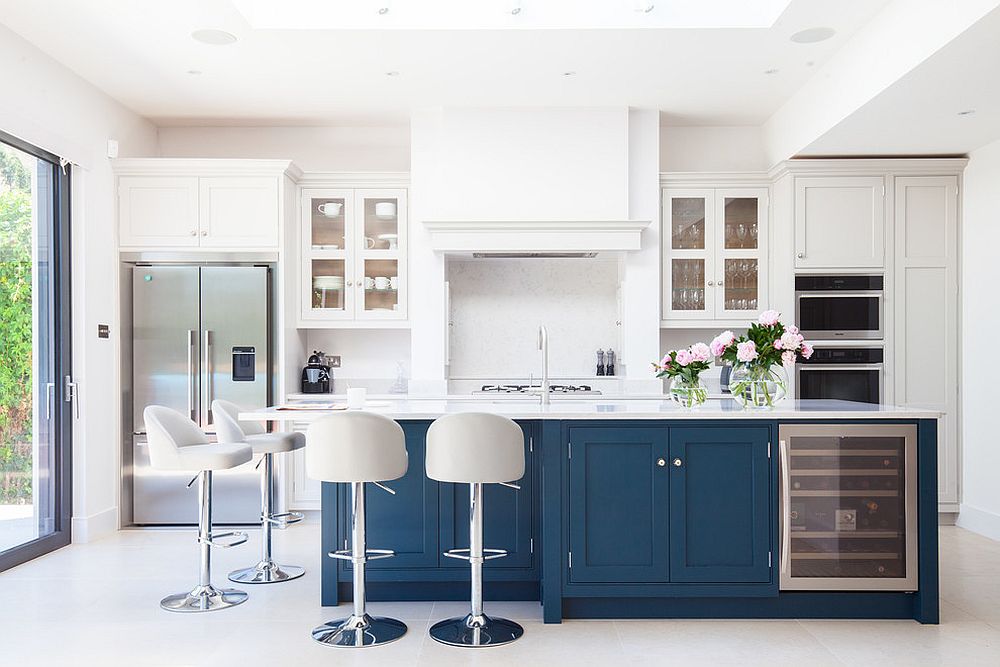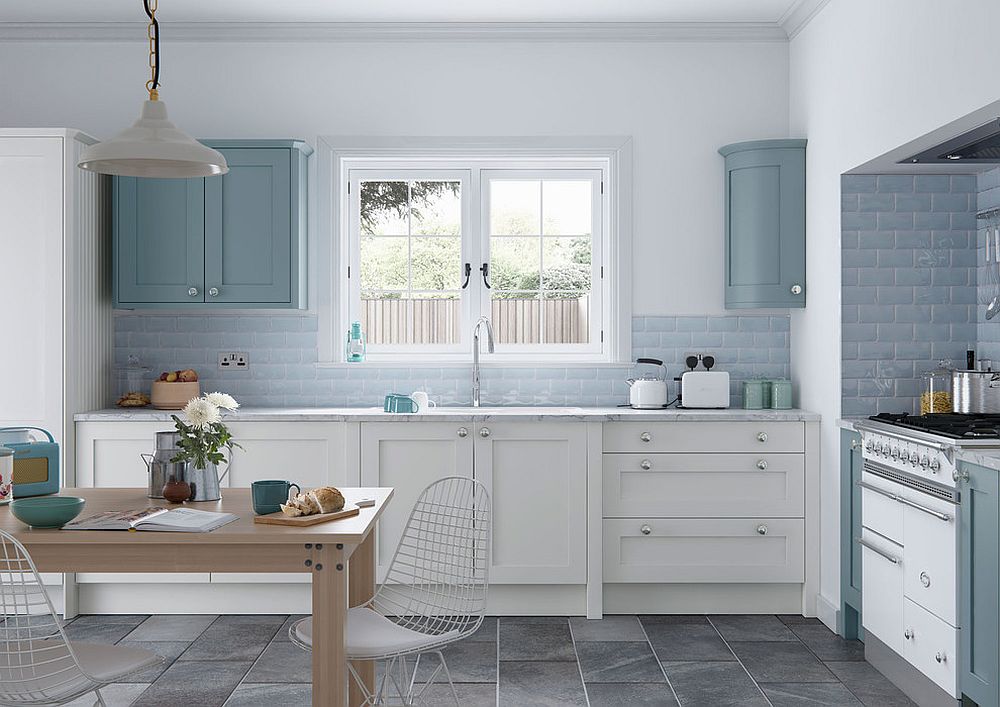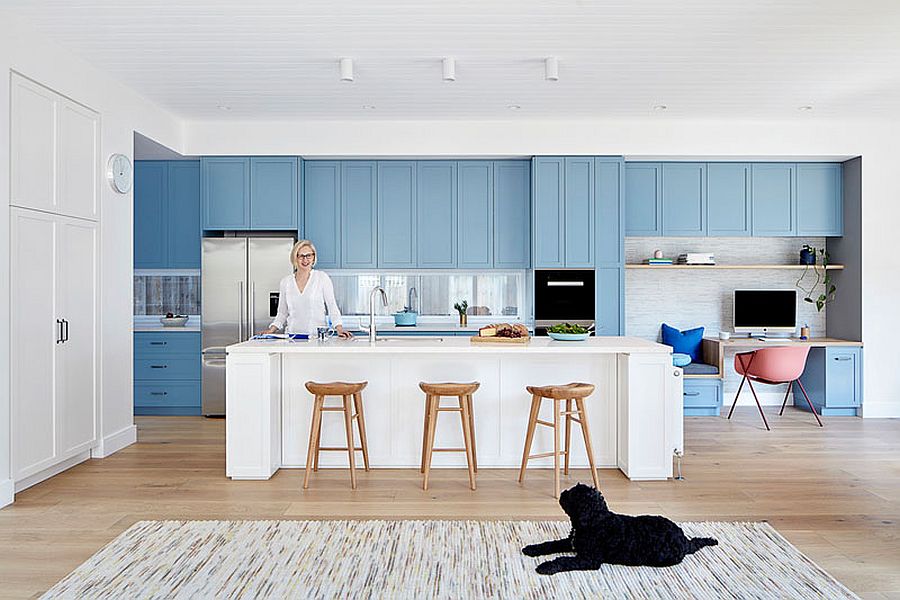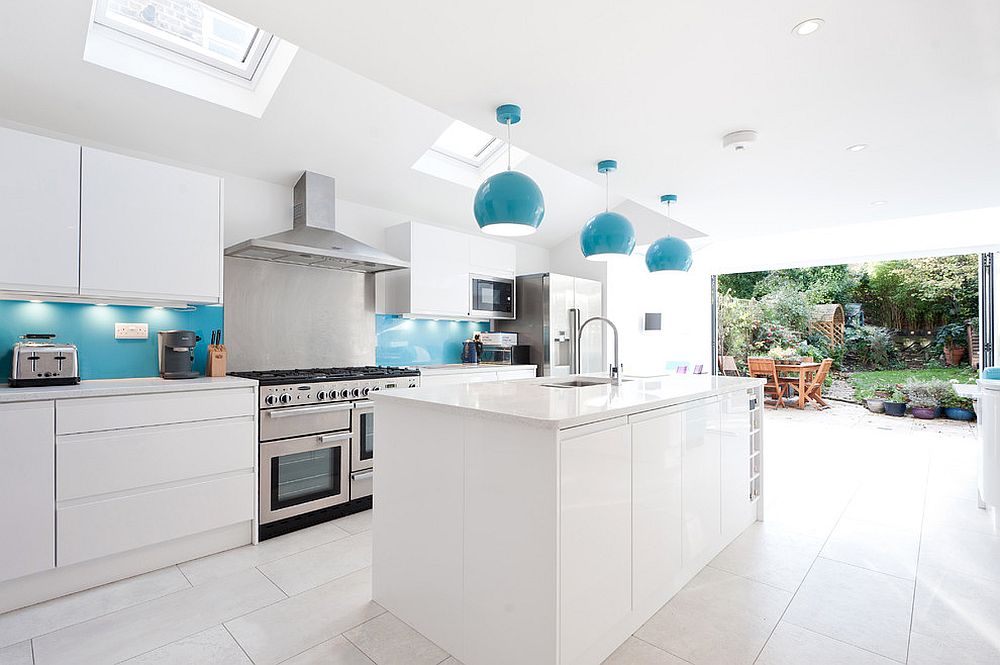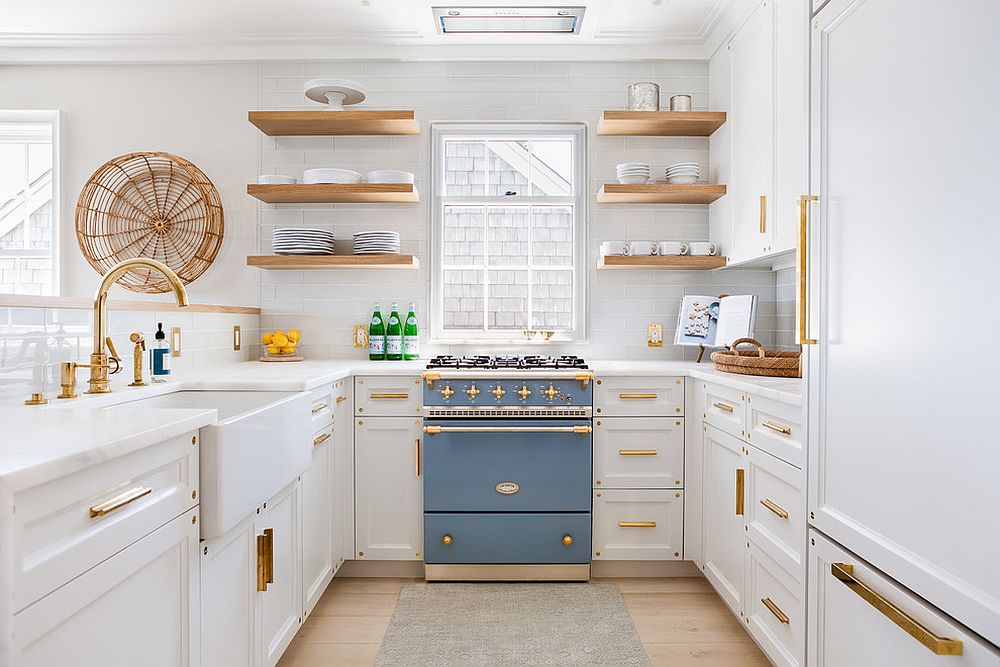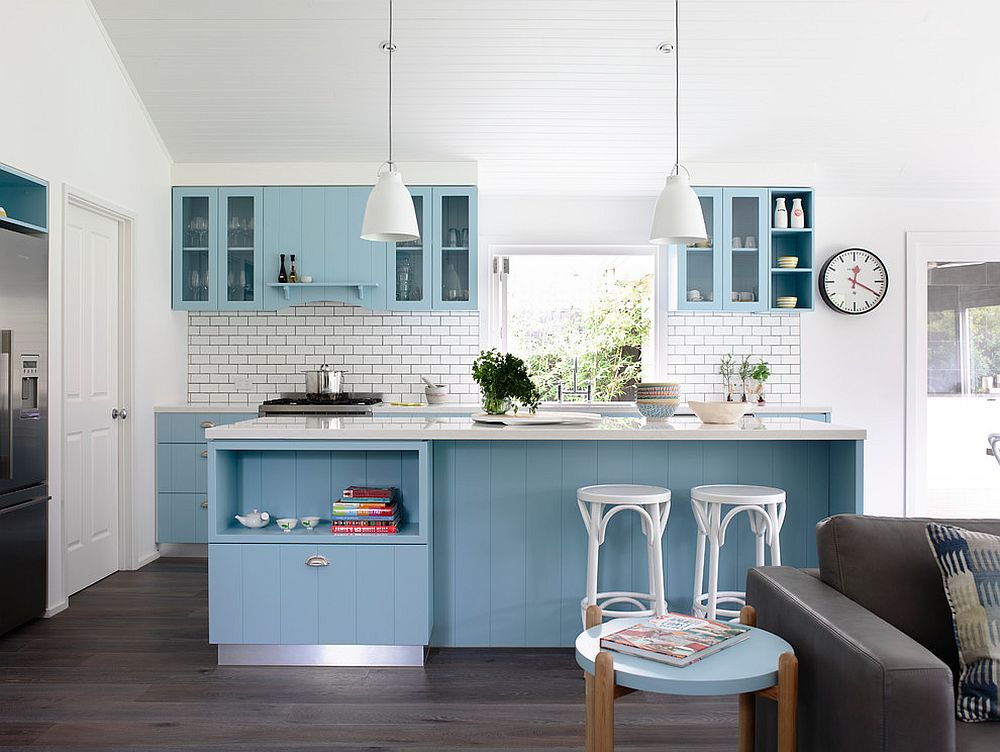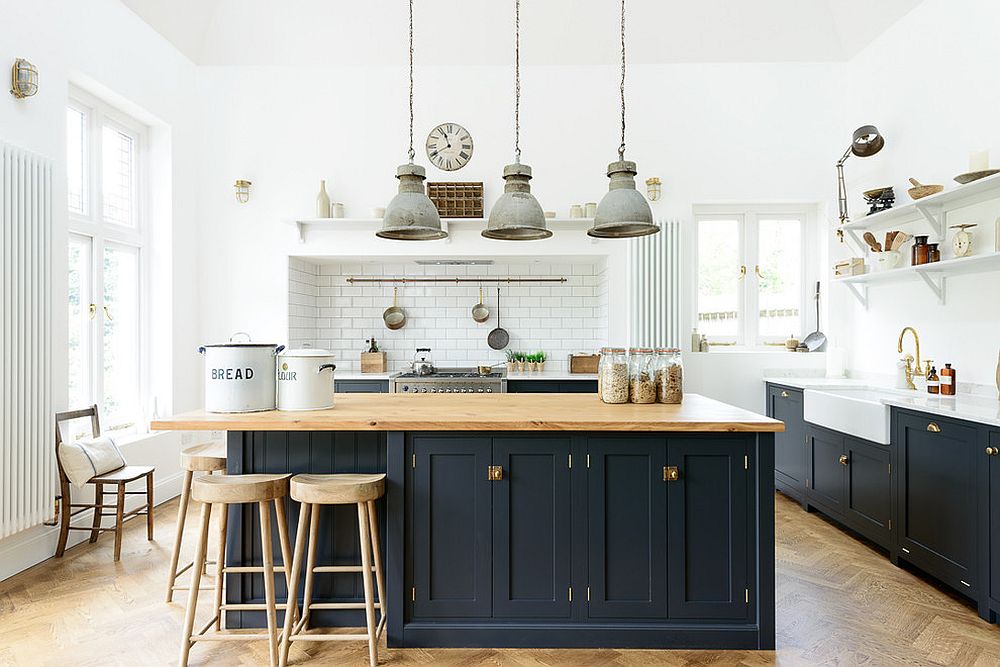 Giving it a Textural Brick Upgrade
Adding a brick wall to the white kitchen is a luxury indeed – one that not all of us can easily enjoy. Even faux brick walls do not feel as amazing and inviting as natural brick walls that have been uncovered after removing the plaster that has kept them hidden in the 90's! Whether it is exposed brick walls or those whitewashed for a distressed finish, the best ones are those that add textural contrast to the kitchen without altering its style. Industrial, farmhouse and rustic are obvious style choices here. But do not shy away from modern and contemporary looks despite the presence of a brick wall in the kitchen.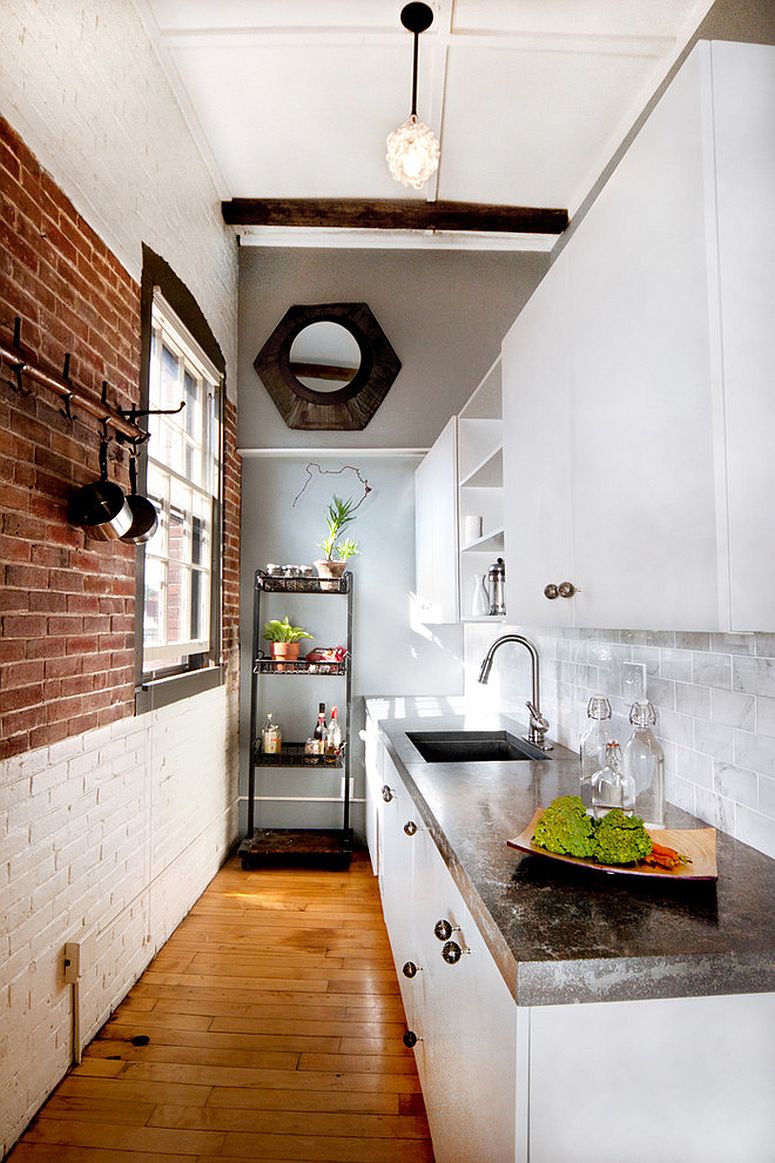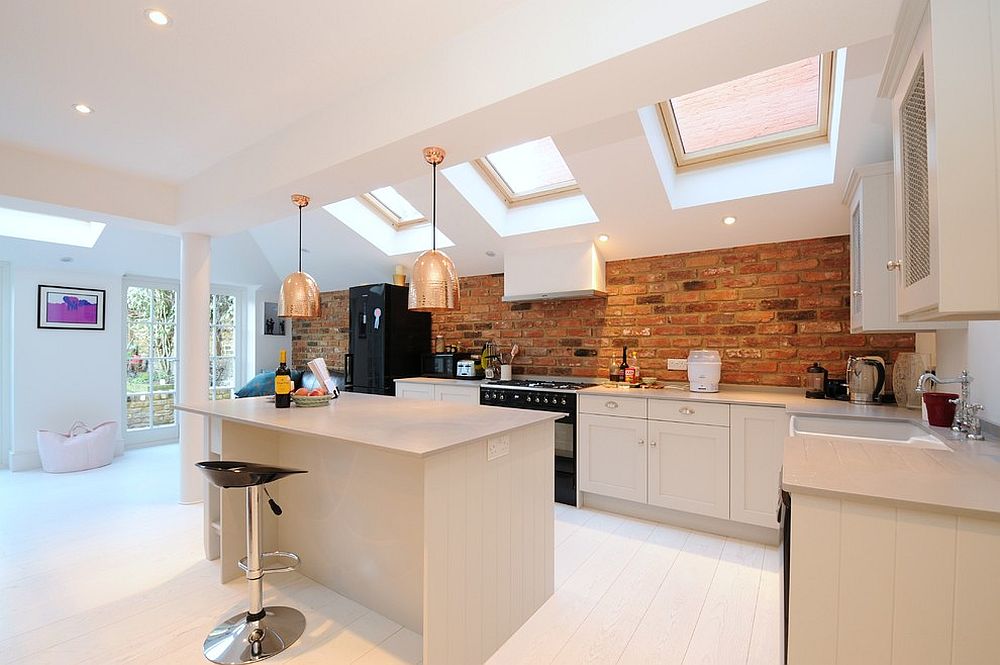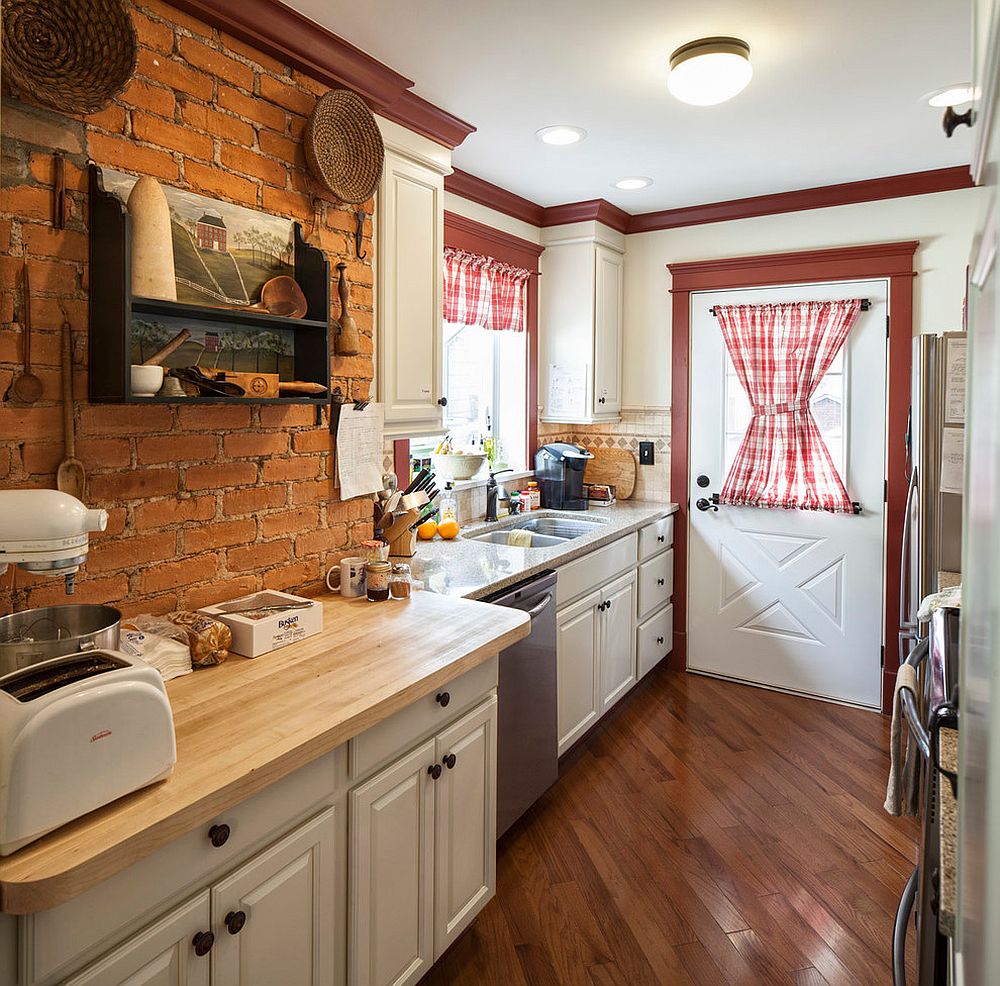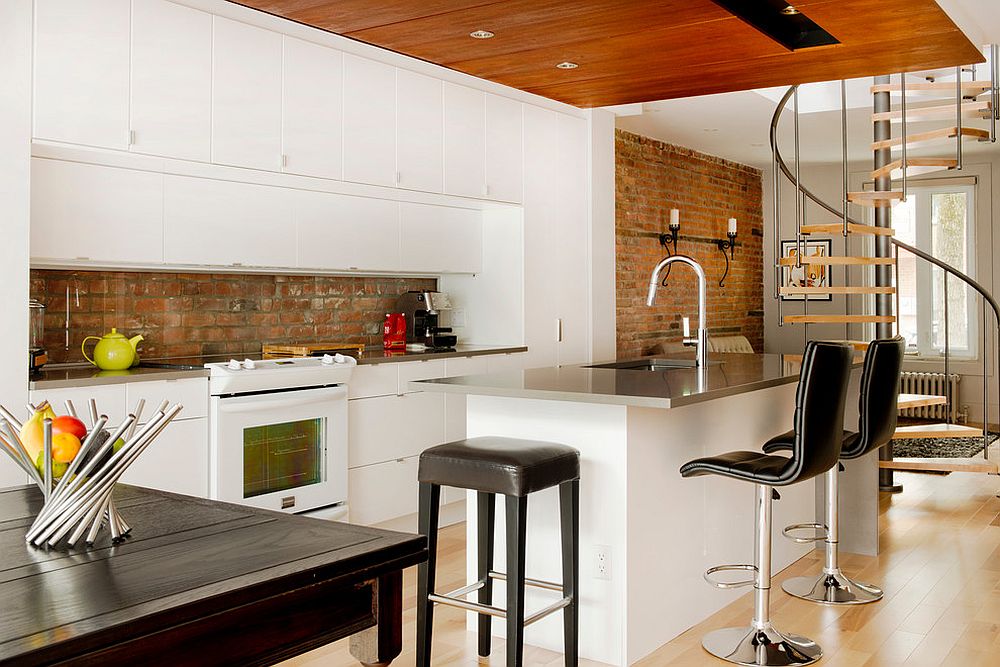 Black and White Makes a Statement
Much like blue and white, another timeless choice is black and white for the kitchen. This one though is far more dramatic than the more laid-back blue and white choice. It also has a few limitations in terms of style. But you can get over them with a bit of imagination and even styles such as minimal and Scandinavian look awesome when draped in the black and white cloak. Since the kitchen intrinsically adds metallic accents to any color scheme, a bit of brass glitter always helps enliven the setting. Make sure though that the lighting here is spot on to avoid a dreary and boring look.
RELATED: Summer Kitchen Trends: 30 Ideas and Inspirations for a Cheerful Makeover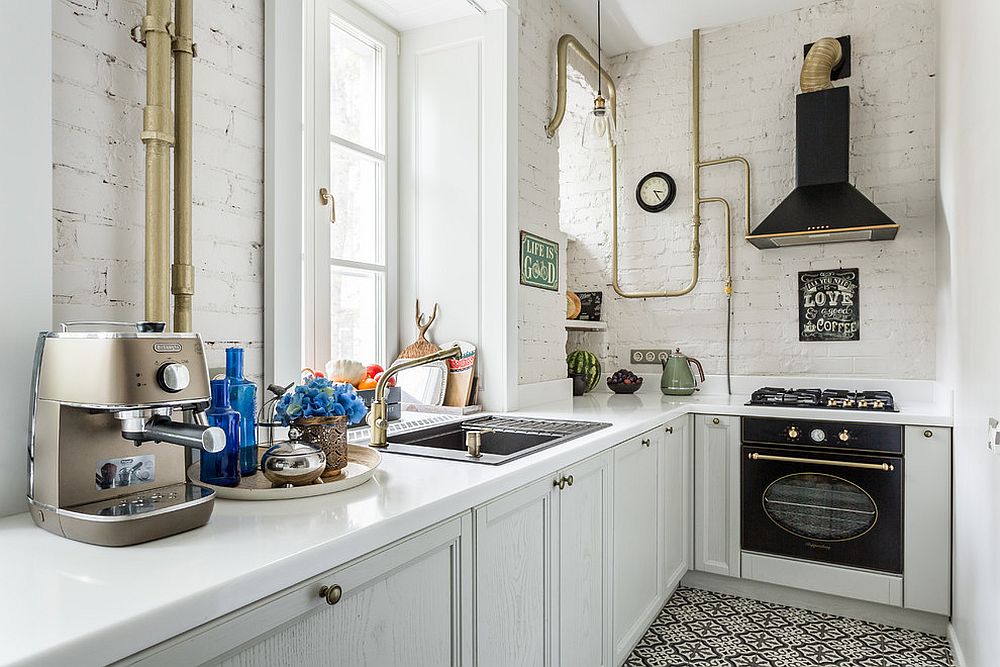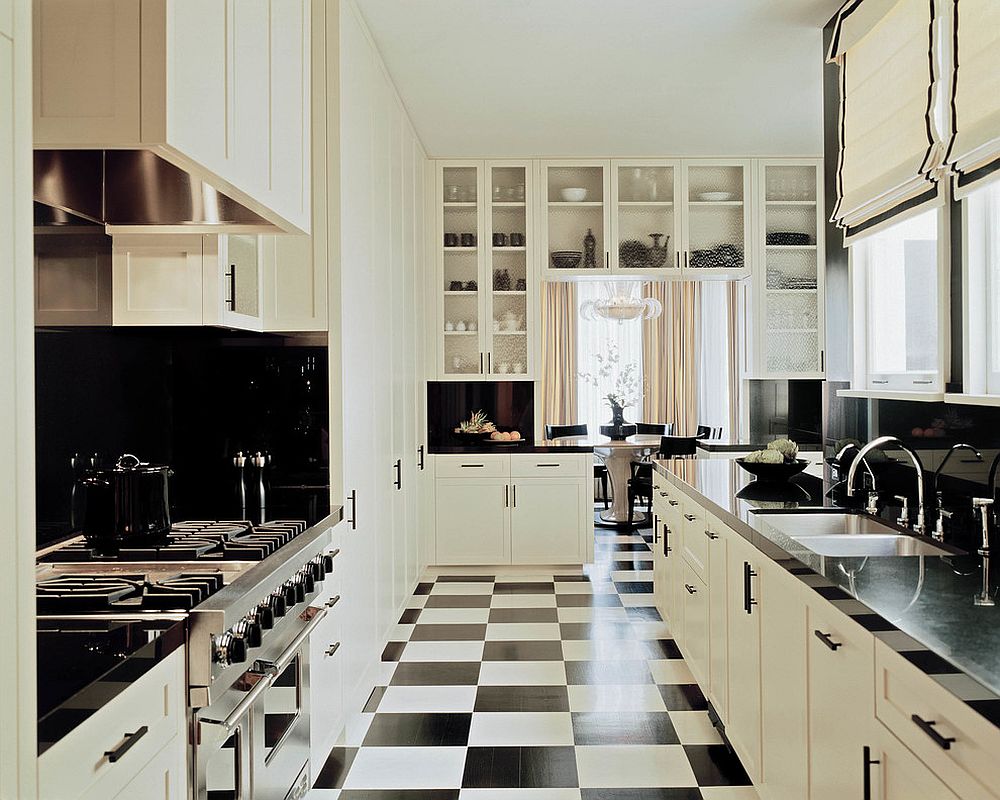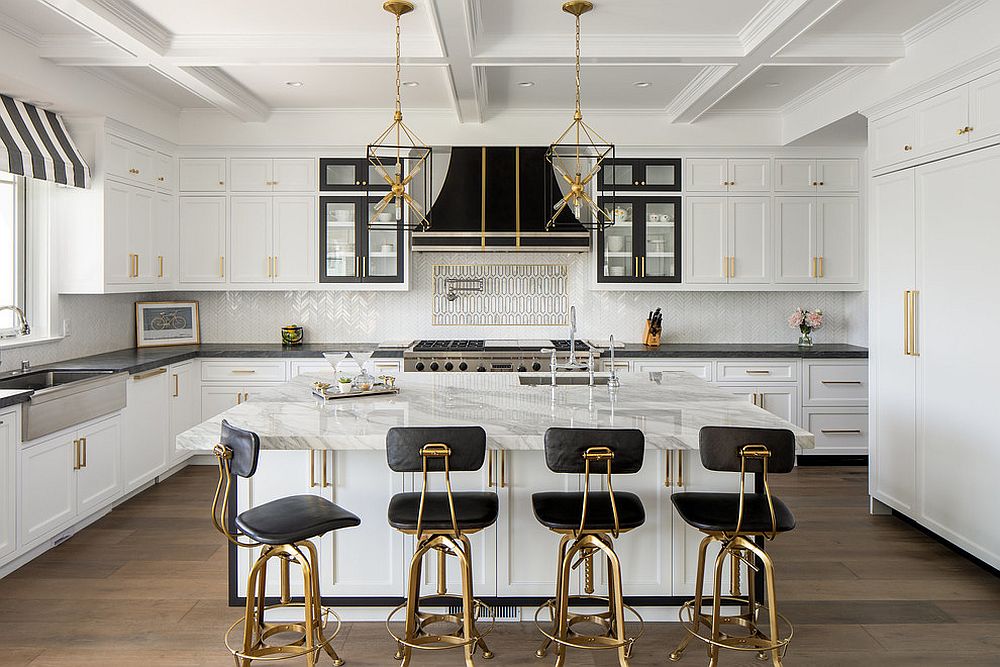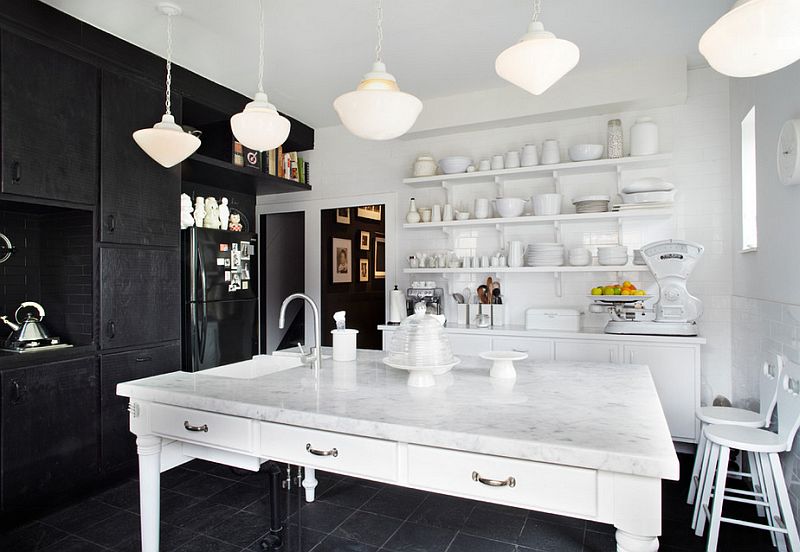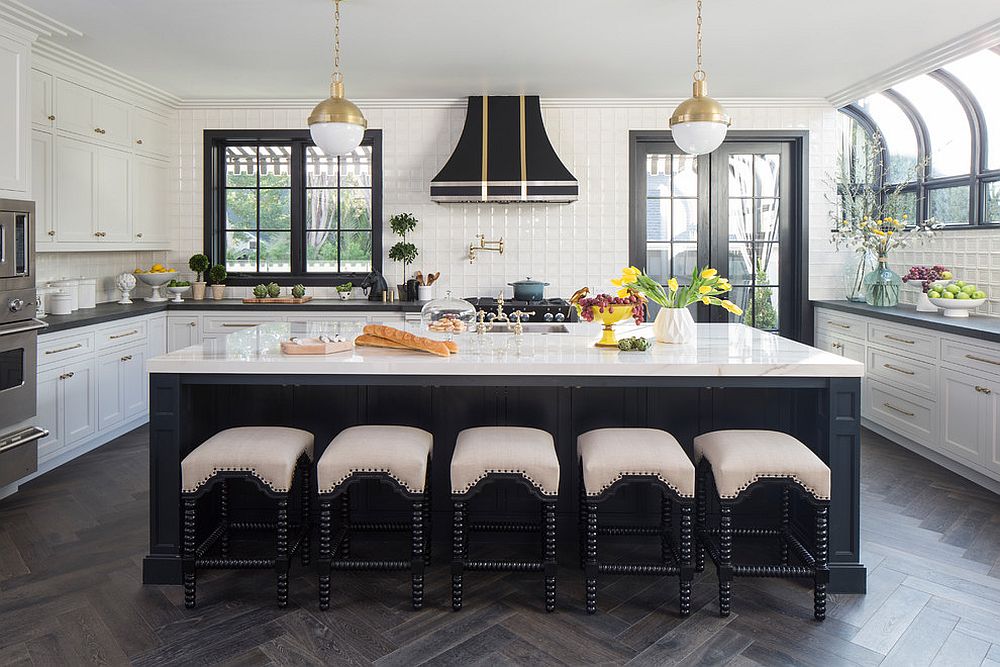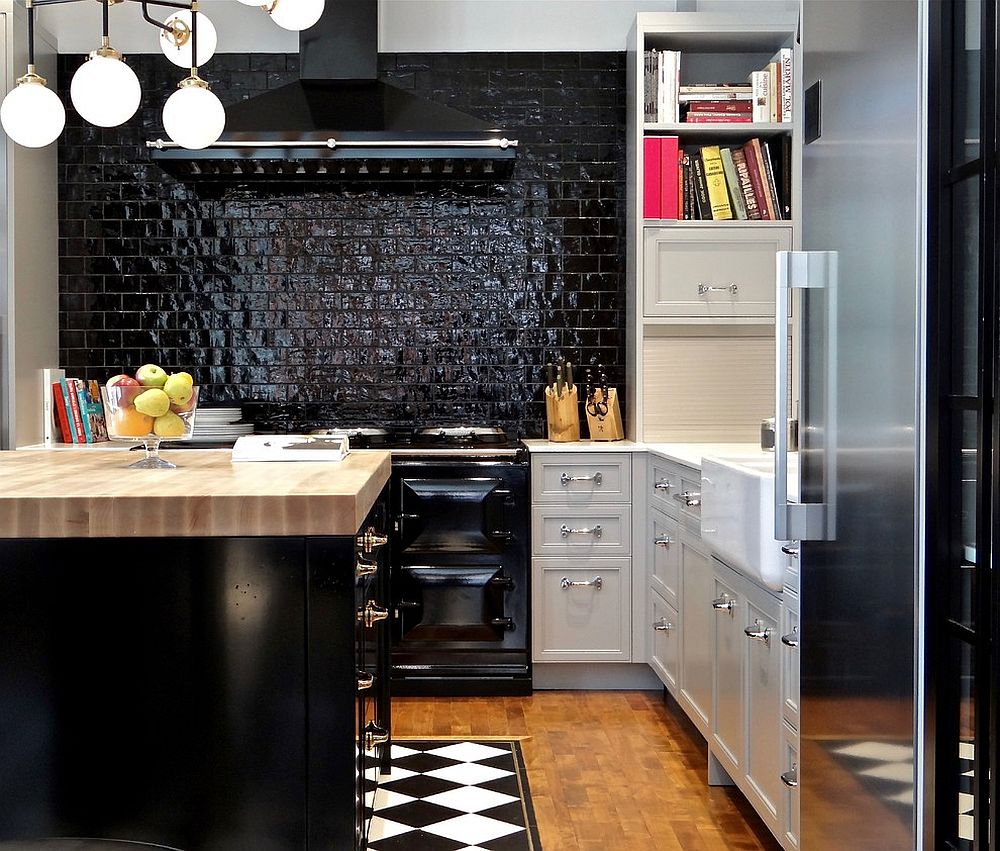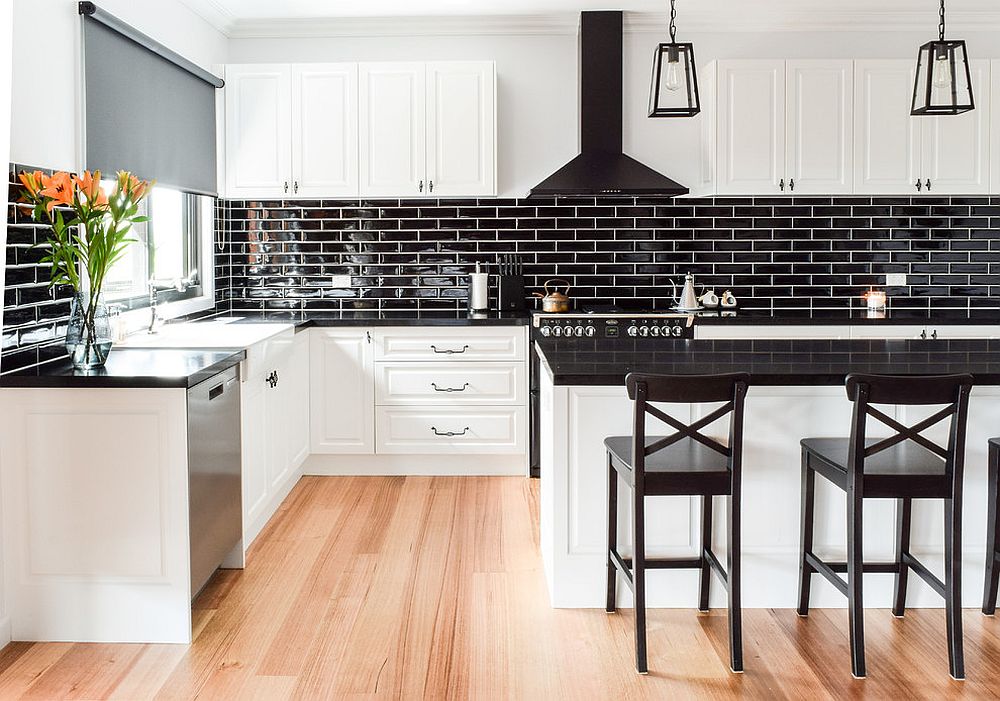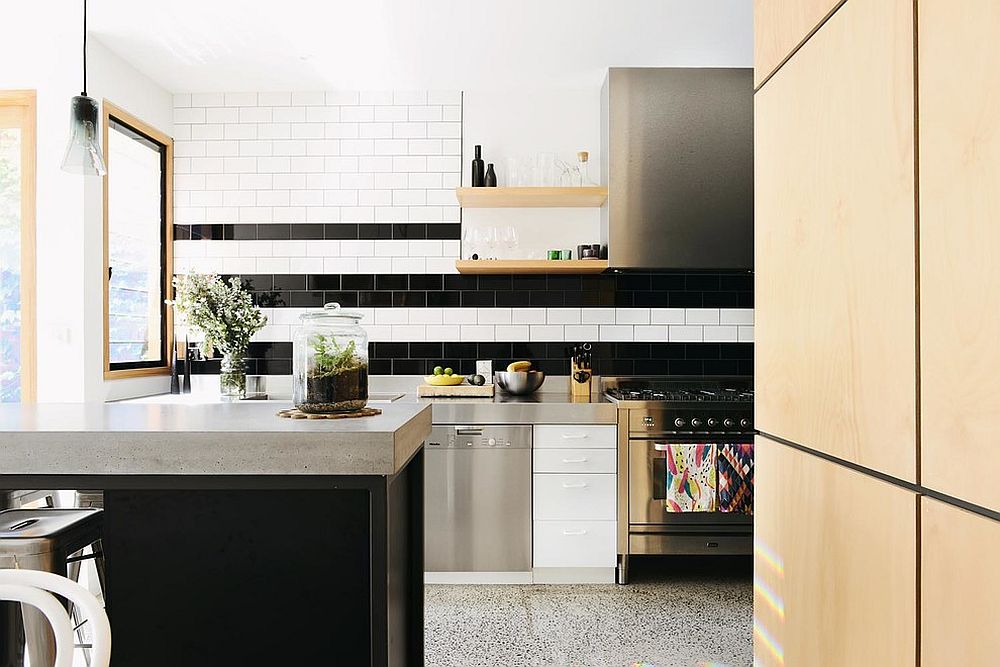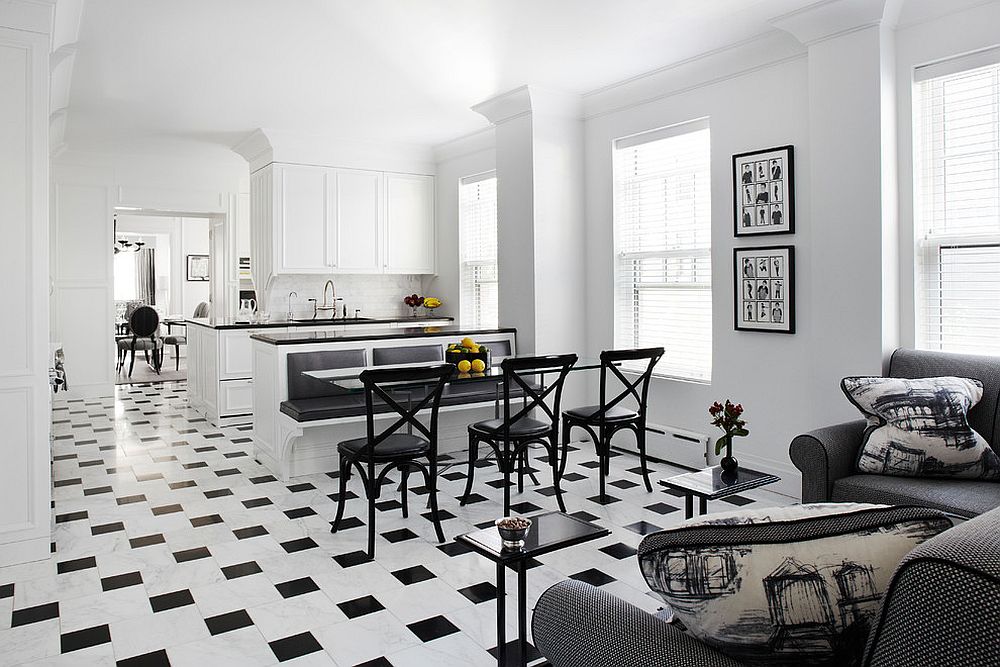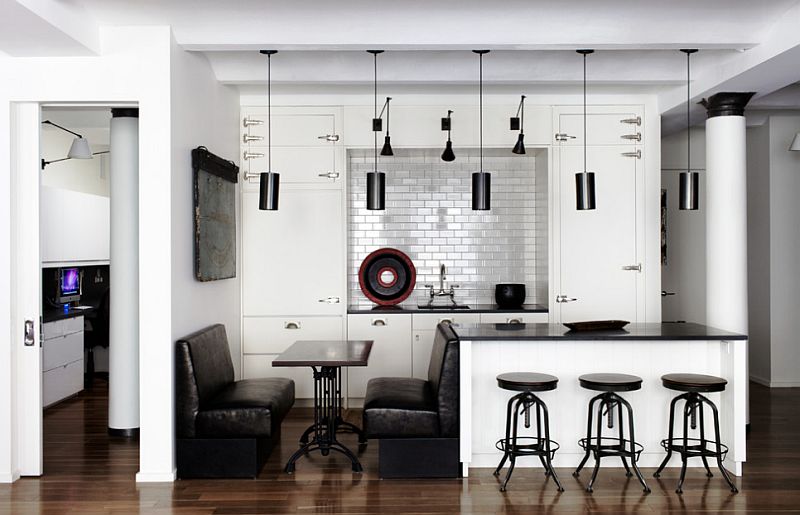 You're reading Best Kitchen Color Combinations with White: 45 Trendy Ideas, Inspirations, originally posted on Decoist. If you enjoyed this post, be sure to follow Decoist on Twitter, Facebook and Pinterest.