Looking for the next home improvement project you could do? How about something that would add some functionality to a space while at the same time contributing to its overall pleasant and welcoming decor? Farmhouse shelves can give you both. They're a great addition to any space and they'd make a nice DIY project. before you get started let us show you some of our favorites.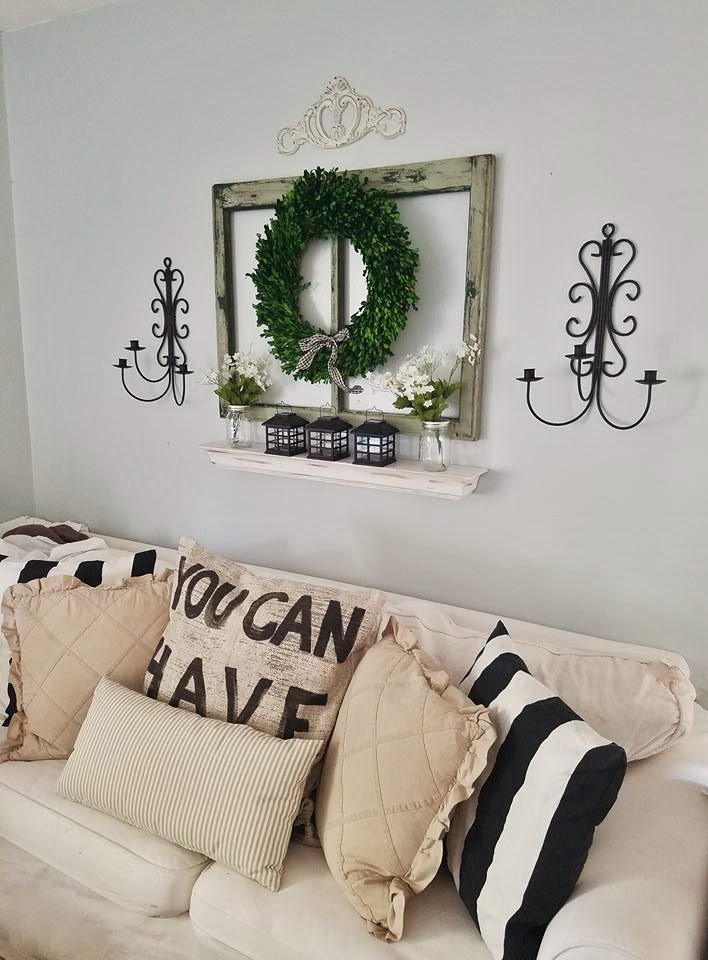 This right here is an ensemble which involves more than just a farmhouse shelf. The shelf is complemented by a rustic frame, a boxwood wreath, a trio of solar lanterns, two cute little jar vases and also a couple of candleholders that frame it all. Check out how the rest of this living room was decorated on thequaintsanctuary.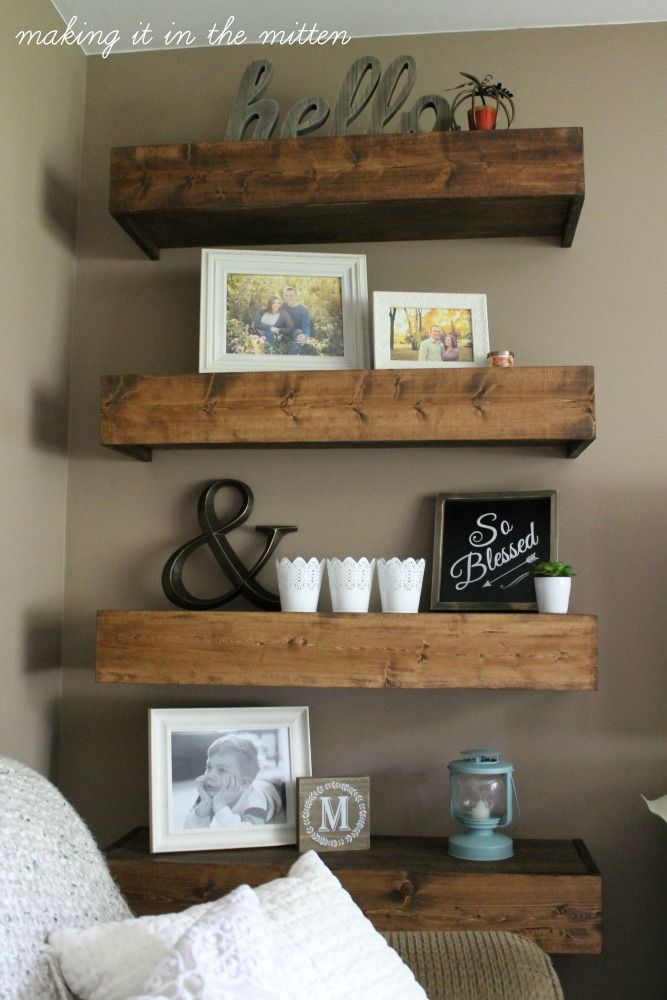 Turn an empty room corner into a cozy and charming setting by hanging a few farmhouse shelves on the wall and decorating them with things that you love. You can build the shelves yourself out of wood. Take advantage of any imperfections in the wood to give the shelves more character. Check out the details of the project on makingitinthemitten.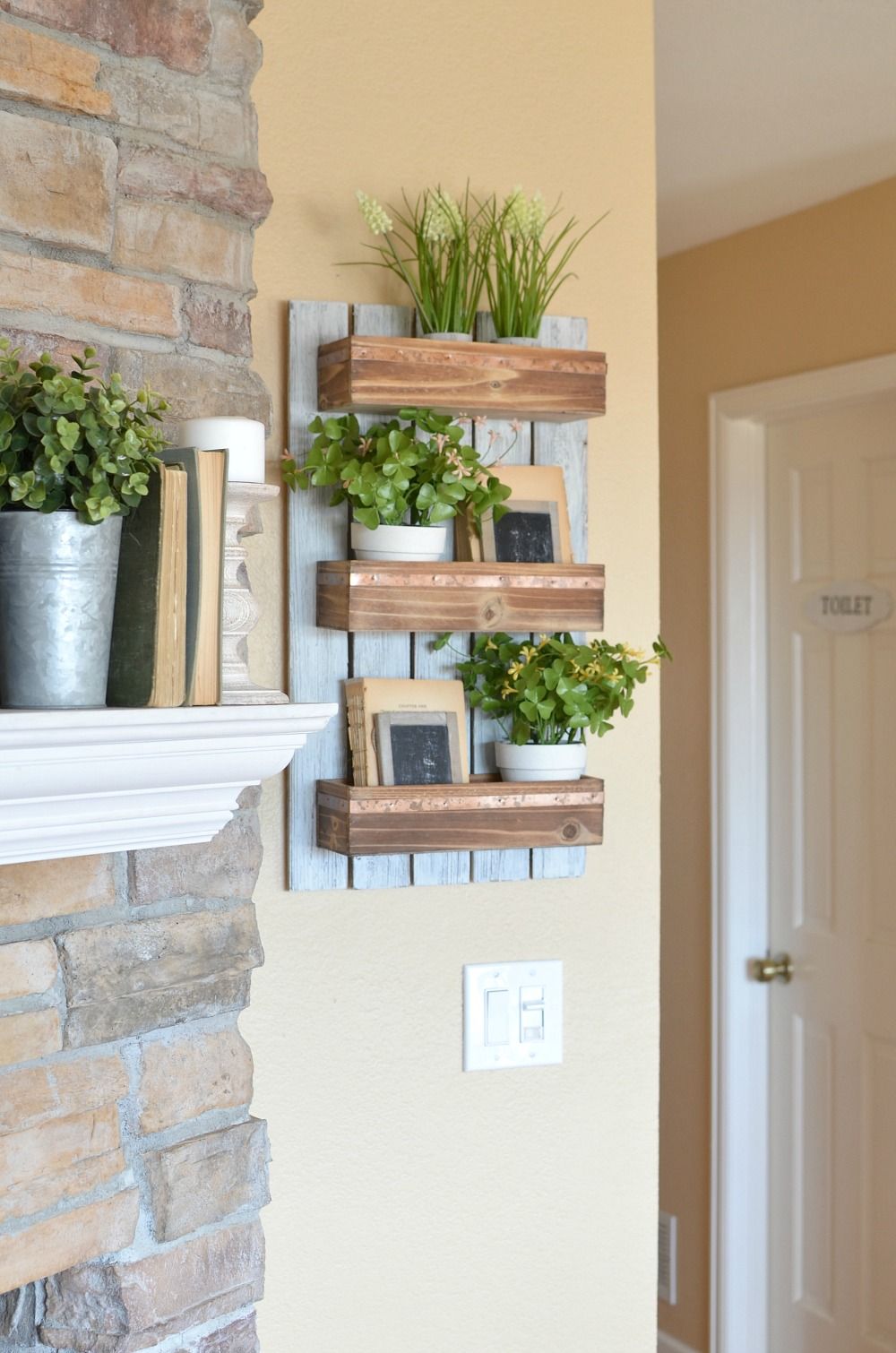 You only need a little bit of space on a wall to hang farmhouse shelves and to make the room more wholesome. These box-style shelves featured on sarahjoyblog look cute and are very practical at the same time. They can hold a variety of items such as small planters, vases, picture frames, etc. All three are attached to a wooden backdrop which makes installation easy.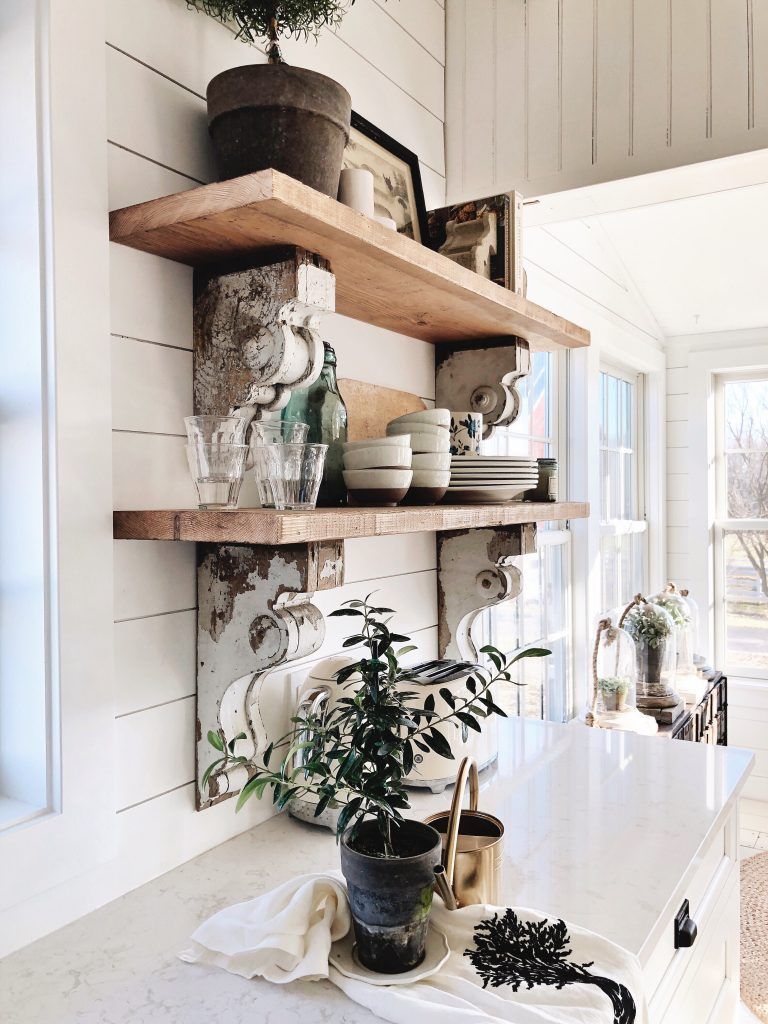 There are several ways in which you can achieve that rustic, farmhouse look even if your shelves are made of new lumber pieces. One option is to paint the wood and then to use sandpaper to give it a time worn look and the other is to use antique stain. The second idea is demonstrated in a project featured on lizmarieblog.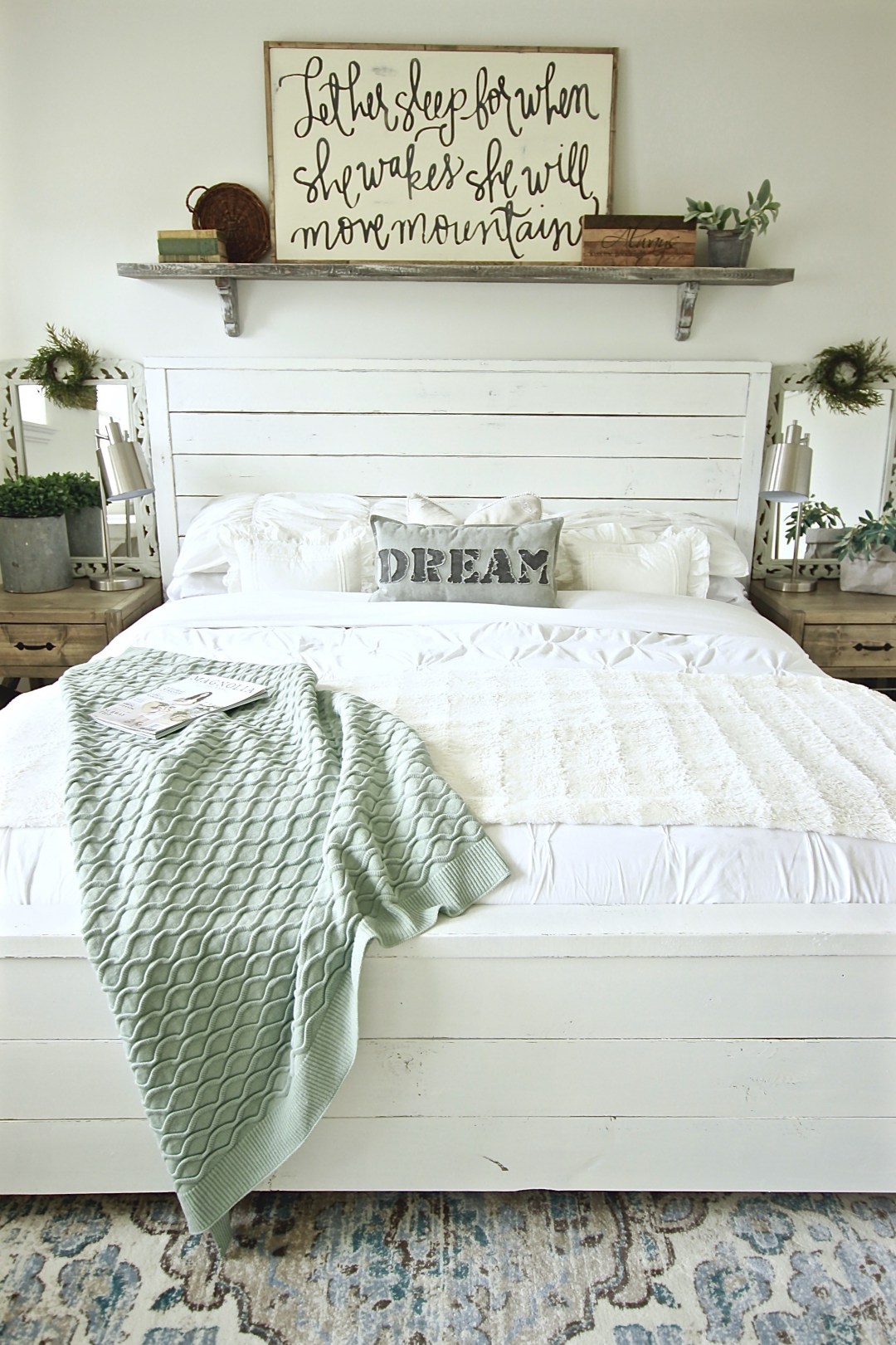 Shelves are great for storage and they're just as great for the display of decorations and all sorts of other things. For example, you can hang a lovely farmhouse shelf in the bedroom, just above the bed and turn it into a display area for posters, framed pictures and artwork. Check out theruggedrooster for inspiration.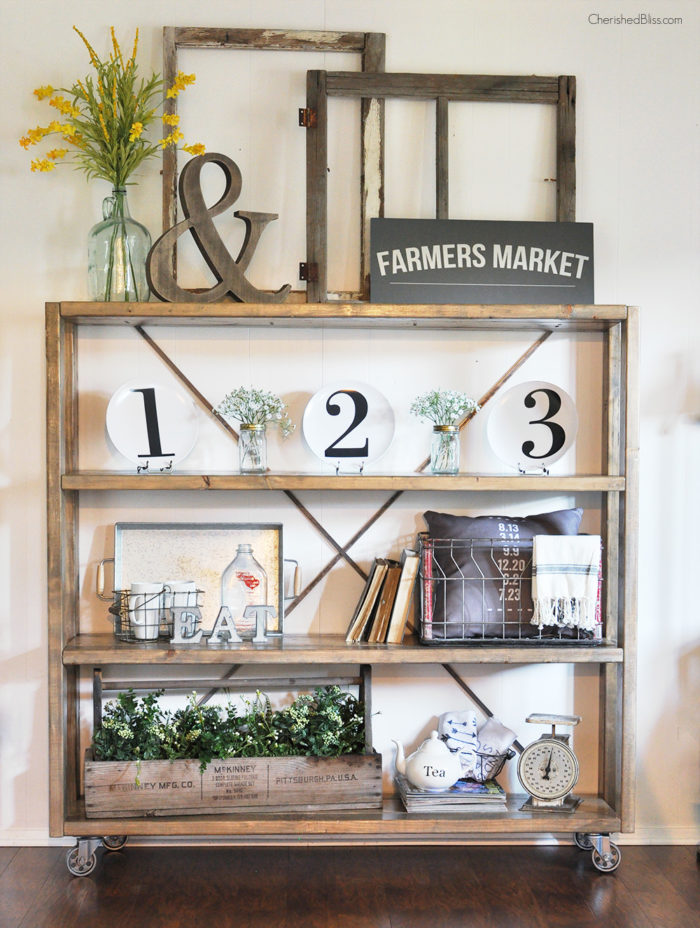 A cool project could be the restoration of an piece of furniture such as a shelving unit or a cabinet. You can still preserve some of its original charm and only make small adjustments and improvements. Find a nice spot for the piece in your home and enjoy it for years to come. Find more cool ideas on cherishedbliss.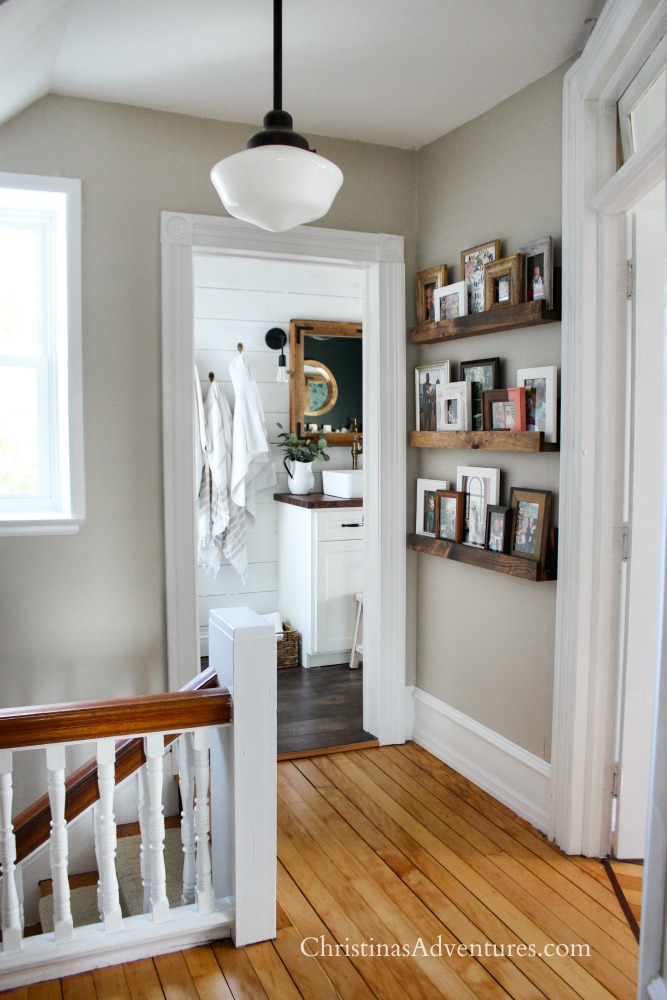 Ledge shelves like the ones featured on christina-maria are excellent for tight areas such as hallways where you don't want to take up space yet you want to put a few items on display on the walls. You can use farmhouse shelves to make the decor more warm and welcoming.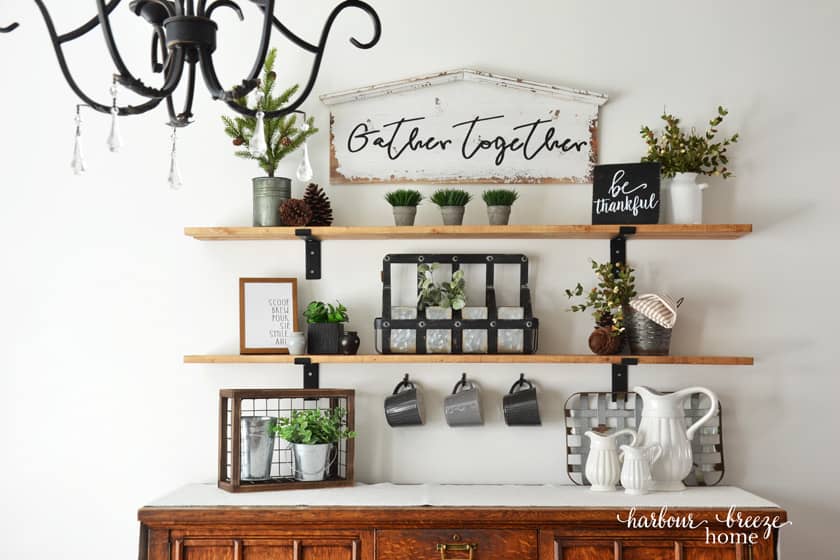 Check out this other great tutorial from harbourbreezehome. It shows you how to make farmhouse shelves from scratch and it also gives some ideas on how to decorate them and to integrate them into the overall decor of the space.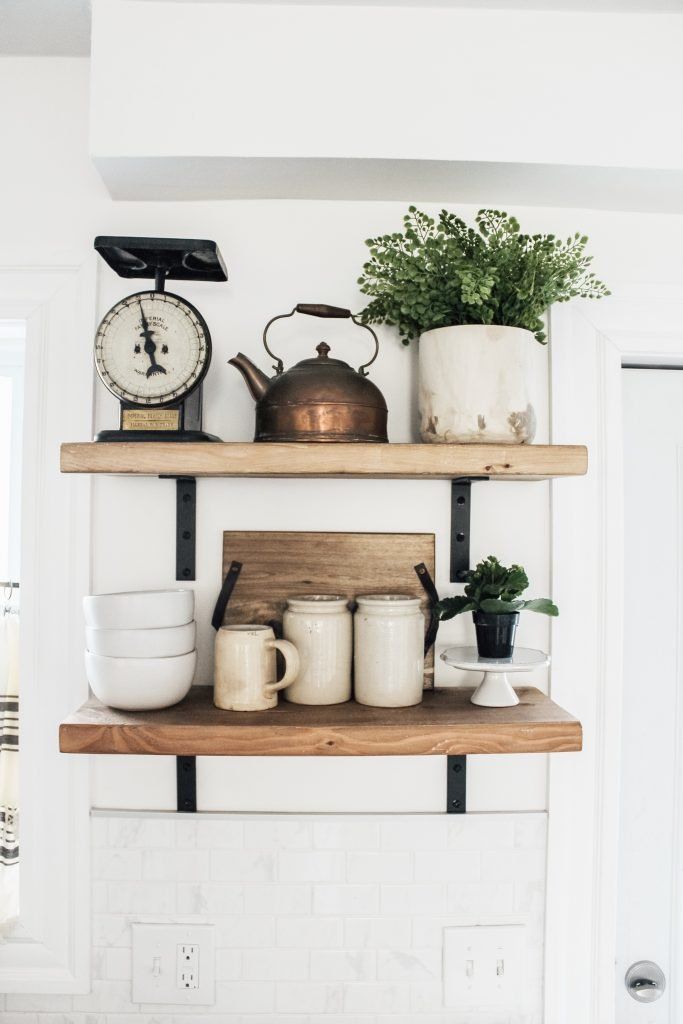 Building beautiful farmhouse shelves is just the first step towards improving your home decor. Once the shelves are in place it's time to style them and to give them more character through the items you place on them. group up similar objects but don't forget to diversify. You can find a few ideas on michealadianedesigns.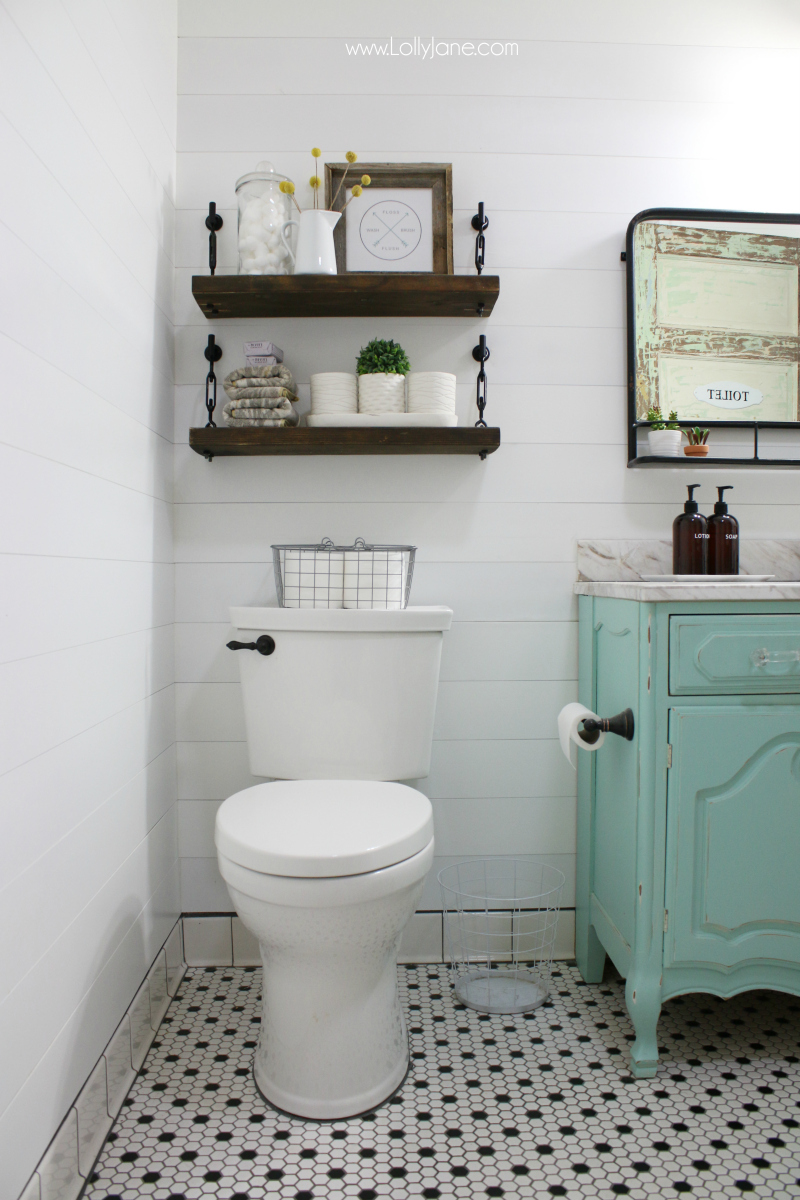 Farmhouse shelves look great in any type of space and that includes the bathroom. There's usually a perfect spot for them on the wall just above the toilet so perhaps you'd like to take advantage of that with your next DIY project. Check out lollyjane for details and more ideas. You can use the shelves for storage as well as display surfaces for small accent pieces and decorations meant to give the bathroom a more welcoming and stylish appearance.
Farmhouse shelves can look simple and still maintain their original charm. You can make the most of this look in a modern setting infused with rustic charm. Consider think, solid wood shelves which can be installed by completely hiding the mounting hardware. Check out this great project from shanty-2-chic as an example. If you feel like the shelves themselves are too simple, you can add extra hardware and details to make them stand out more.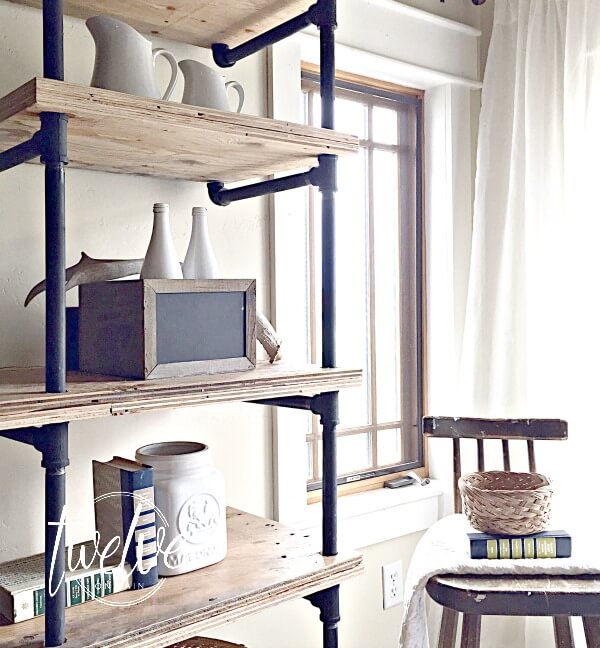 If you plan to make the most of your farmhouse shelves in the sense that you'll use them for storage, a good option could be to build a unit out of metal pipes and reclaimed wood. It's a very simple project which requires little effort and which give you the freedom to customize the overall design and structure in lots of different ways. You can find a detailed tutorial on twelveonmain. Use it as a reference to create something unique and perfect for your home.
The post How To Decorate With Farmhouse Shelves – A Charming Guide appeared first on Home Decorating Trends – Homedit.