Although you've probably seen zellige tiles before, you probably never realized what they were called. They are usually small, square, and slightly textured. These tiles have been around for hundreds of years, but are trending again in 2020.
You may be wondering right now if zellige tiles are for you. Well, you'll surely find out soon enough. Here's everything you need and want to know about zellige tiles, their uses, and why they are so popular.
What Are Zellige Tiles
Zellige tiles, or Moroccan tiles, are terracotta tiles that call Morocco home. Zellige tiles are similar to subway tiles only are more often square than a rectangle. They are also more expensive, which is why they aren't seen as often.
Although subway tiles were invented in the early 1900s while zellige tiles are hundreds of years old. They were first made in Fez, Morroco and the most authentic zellige tile still comes from that area.
Fez (or Fez) is a northeastern city in Morroco. It is known for its Fes El Bali walled medina and an old-world atmosphere. The city is littered with gorgeous tiled structures, which is why the tile from Fez is so popular today.
How Zellige Tiles Are Made
Making zellige tiles isn't as simple as turning on a machine at a factory. Zellige tiles are handmade by craftsmen called maâlems. Zellige tiles are made with natural clay and water. They are then hand-shaped and kiln-fired, originally with olive pits.
After they are fired, an enamel glazing is applied by hand. This offers protection and is a relatively new addition to the creation process. Ceramic tiles are much more common than zellige tiles and this intense process is why.
Zellige Tiles Aren't Uniform
This isn't necessarily a bad thing. If your zellige tiles are uniform, then you know that they aren't authentic. If they aren't uniform, then they probably are authentic. This weather, uneven look is the zellige tile's charm.
If you want uniform tiles, then you will want to get ceramic tiles instead, which are much more common and easier to work with. You can find ceramic kitchen and bathroom tiles that are affordable and that you can lay yourself.
Laying Zellige Tile
If you have an ounce of perfectionism in you, then you probably want to get an expert to lay your zellige tile. If you're a true perfectionist, you probably don't want zellige tiles at all. As stated previously, these tiles are not uniform.
Laying zellige tiles takes a lot of skill and focus. Unlike other tiles, very little grout is needed as it takes away from the natural aesthetics. However, an even layer of thinset is needed or your tiles won't lay properly.
How To Clean Zellige Tiles
Cleaning zellige tiles isn't the same as cleaning regular tiles. Most tiles can be washed just like ceramic sinks or bathtubs. You use cleaner, wipe it down, and move on. But the same can't be said for the zellige tile.
Because they aren't uniform zellige tiles take scrubbing, often with a special sponge. If not taken care of, they will also wear over time, especially if a protective layer of clear coat isn't added. Which takes away from the natural look.
Zellige Tile Ideas And Inspiration
Now that you know everything you need to know about zellige tiles, it's time to get into what you want to know. These ideas will surely get the gears moving in your brain and create brand new ideas to make them your own.
Bathroom Cabinet With Zellige Tiles
Creating a countertop out of zellige tiles is one thing, but creating an entire cabinet, countertop, and backsplash is another. This bathroom cabinet is gorgeous and it has been covered in long, vertical zellige tiles.
If you don't have enough tile or money for this entire project, you can always cut out the countertop or the front of the cabinet. Then, you can paint the remaining surface the same color or complementing color.
Surround A Wood Cook Stove
Wood cookstoves aren't nearly as common as they used to be. But if you have one safely installed, they can make a house look and feel toasty. Since some materials aren't safe to use around them, you have to be careful when building.
If you already have a fireplace, consider retiling it with zellige tiles. They will withstand the test of time and look much more natural than ceramic tiles. The more natural you go with a fireplace, the better.
Full Zellige Tile Shower
This project isn't one that can be done in one day, but it's definitely one of the most inspiring ideas we've seen. No one has ever regretted tiling their shower. Just make sure that if you do tile yours, a professional does it.
If zellige tiles don't work for you in the bathroom, then there are other options you can use to tile your shower. We'll learn more about different types of tile later on. Scroll down to do so now!
Mix And Matching Tiles
If you can't afford full zellige tiles, then consider mixing and matching. A row or two of zellige tiles can make a big difference. The rest of the wall, floor, or backsplash can be done with cheaper tiles.
Even if you already have a tile design in mind, a simple trim in zellige tiles will look amazing. Pick a neutral color or bright color to offset the natural-colored tile that you have picked out.
Zellige Tiles Shapes And Sizes
While most zellige tiles are small and square, that doesn't mean they don't come in an array of shapes and sizes. You can get them custom cut or buy sets that will fit together like puzzle pieces. With little grout needed, they work just fine.
You can also cut your own zellige tiles with a tile cutter, but it's recommended that you hire a professional. You may even be able to take the tiles into a home improvement or tile store and have them cut the tile for you.
Full Zellige Tile Walls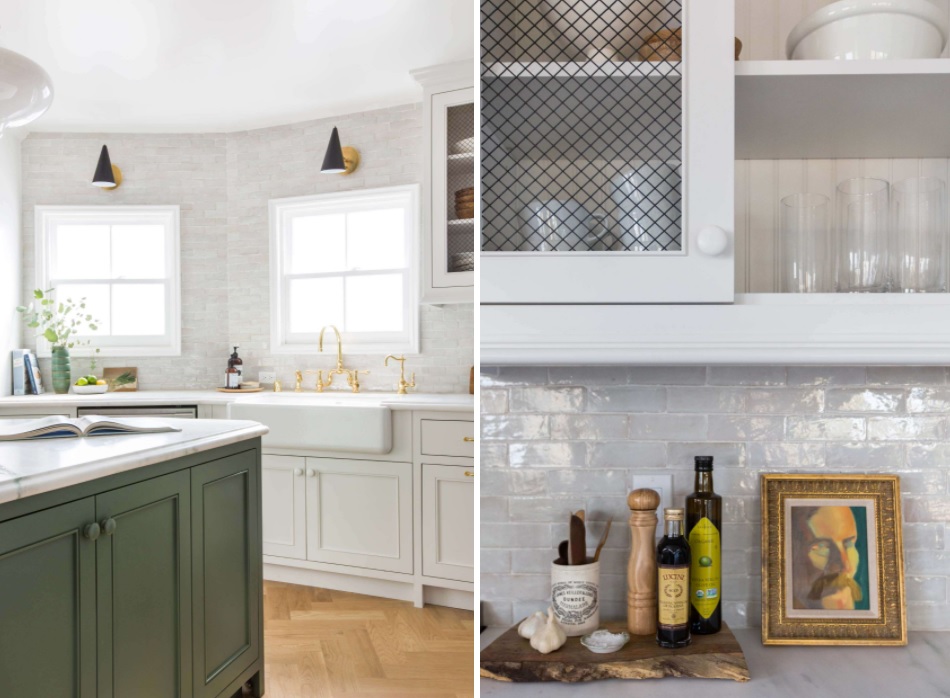 This works best in the kitchen as the lower half of the wall will be covered by cabinets. The rest can be fully covered in zellige tiles, creating an awestriking effect. This is much more than a backsplash.
A backsplash covered a small portion of the wall, usually over the oven and countertop. But this tile job makes a huge statement. For added personality, add a few stray brightly colored tiles at random places.
Zellige Tile Walkway
This walkway was inspired by the Mediterranean area, which also uses a terracotta tile. You can do the same thing with Morrocan terracotta tiles for a similar effect. A zellige tile porch or walkway is a great way to bring the tiles outside.
Morrocan tiles are generally lighter or brighter than Mediterranean tiles. Mediterranean tiles as well as Spanish tiles are darker and usually have a copper/bronze base. Morrocan tiles have a whiter base.
Square Zellige Tile Backsplash
While most backsplashes are oblong, the most unique backsplashes are square. An interesting take involves old-fashioned appliances with zellige tiles, which can also look old-fashioned. The tile is surrounded by shelves to complete the look.
Since zellige tiles are durable and heat-resistant, adding them above the stove is perfect. No grout is needed either so it makes cleanup a breeze.
Shelving In Zellige Tile Walls
Luckily enough, you can install shelves inside the zellige tile walls. This will create a sturdy base and a rustic-modern look. Since you can't install shelves very easily on top of tile, you'll need to install them before you lay the tile.
If you do put shelves into your tile, make sure the boards are at least two-by-sixes. A thicker shelf is preferable, but you can usually get by with two-by-sixes. Just add extra support underneath them as well.
Unique-Shaped Morrocan Tiles
If you want to pay tribute to the home of zellige tiles, then consider getting vibrant tiles like these. It's not easy to find real zellige tiles in such fragile shapes, but if you do, then you've found a real gem.
If you can't find tiles like these, you can get ceramic tiles in the same pattern and accent them with square zellige tiles for a similar effect. That way, you can still use the zellige tiles and pay tribute to Morroco.
Other Types Of Tile
If you don't feel like zellige tile is right for you, then maybe you are still looking for what tile you need for your home. Take a look at these different types of tiles that are readily available to the public.
Ceramic Tile
Ceramic tile is by far the most popular tile. It is cheap, easy to make, and comes in every shape and size. This tile is smooth in texture and easy to lay. About 75-90% of the tile you'll see is ceramic tile, it's definitely a safe choice.
Pros:
Water-resistant
Easy-to-clean
Easy-to-lay
Cheapest option
Cons: 
Everyone else has ceramic tile
Quite modern compared to others
Porcelain Tile
Porcelain tile is usually digitally printed on top, letting you get the look you want at an incredible price. Tile that looks like wood, ice, or fabric, is probably porcelain. Despite the name, it is even more durable than ceramic tile.
Pros:
Can get the look of any material
Durable
Waterproof
No VOC emissions
Cons: 
Not as natural
Time-consuming installation
Metal Tile
Metal tile is one of the newer tiles on the market. It adds a shininess and brightness to any room, though it should only be used indoors. Metal tile is for people who want a bit of glimmer but don't want flashy patterns.
Pros:
Durable
Can be scratch-resistant
Unique look
Only naturally shiny option
Cons:
Can rust
Not for outdoor use
Not ideal for large areas
Glass Tile
Glass tile is fairly self-explanatory. It is made from glass, so it comes in all types of colors and can be transparent or solid-colored. As expected, it's not as durable as other options, but it is the only one of its kind.
Pros:
Cleans with glass cleaner
Gorgeous shimmer
Only transparent option
Completely waterproof
Cons: 
Not durable
Not usually patterned
Quarry Tile
Quarry is probably the best tile for outdoor use. It can withstand any amount of traffic and is safe in just about every way. It is used for recreational, commercial, and personal projects. Not to mention, it's extremely low-maintenance.
Pros:
Perfect for outdoor use
The most durable
Very low-maintenance
Cons:
Limited color and texture options
Not at all flashy
Stone Tile
Stone tile is the most natural, and probably the oldest option as well. People have been paving with stones for thousands of years and to this day, they haven't stopped. You can get marble, granite, and textured stone, though it comes at a price.
Pros:
Will last a lifetime if cared for
Comes in multiple natural patterns
Natural
Elegant, refined, and high-end
Cons:
Not cheap
Not as customizable as other options
The post Everything You Need To Know About Zellige Tiles appeared first on Home Decorating Trends – Homedit.