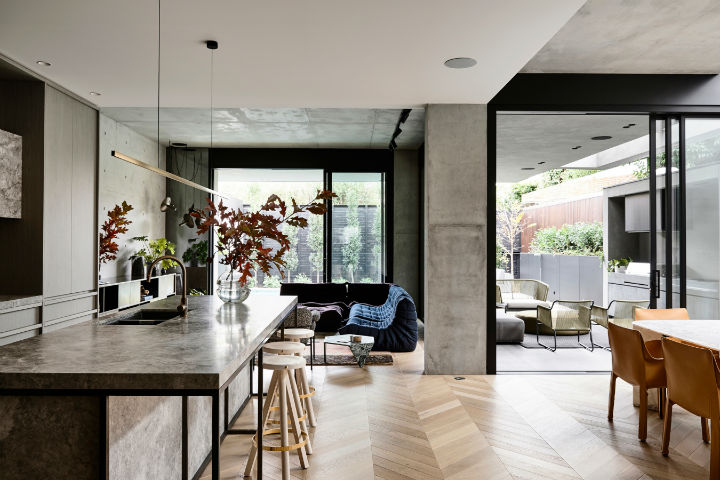 AGUSHI is a boutique residential building company that has established itself as a leading builder of contemporary homes in Melbourne's inner suburbs.
Contemporary architecture and interior design is their passion and they take enormous pride in creating highly detailed, bespoke homes.
HUNTINGTOWER
House size: 550m2 (inclusive of basement garage) per house
Land Size: 420m2 per house
Build budget: $2.8 million per house
Completed: 2018
Armadale is our latest development project comprising of two luxury 4-bedroom residences situated in Armadale's most coveted tree-lined street. Positioned atop basement garaging for four cars each, these homes comprise of four living zones, outdoor entertaining/meals areas and pool. The project has been a close collaboration between our principal designer, Workroom, and ourselves. The gardens and hard landscaping is by Jack Merlo Design with furniture, art and objects by Simone Haag. The Huntingtower project is a perfect example of how the tight relationship between a development manager and builder (Agushi) and their team of designers can provide an incredible outcome. AGUSHI won first prize in the 2018 Belle Magazine Luxury Builder Awards for the Best Use of Joinery and Materials Category for the Huntingtower project.
Architecture and Interiors: Workroom
Landscape: Jack Merlo Design
Furniture/Object/Art: Simone Haag
MALVERN
House size: 520m2 (plus 250m2 basement garage)
Land Size: 750m2
Completed: 2010
Construction of this amazing home was completed in 12 months and includes four bedrooms, four bathrooms, two living zones, study, scullery and laundry. With a north facing back yard, the house envelopes an internal courtyard garden to provide an abundance of natural light in all living areas. Decorated with a modern Scandinavian aesthetic, this home presents as one of Malvern's iconic contemporary residences of the 21st century.
Architect: David Watson Architect
Interiors: David Watson Architect
Landscape: Jack Merlo Design