Shopping for a mattress can be exciting, but it's also a daunting task that could turn into an enormous hassle. There are ridiculous amounts of brands and styles, and that makes it far more difficult to choose the right configuration for your personal needs. You also have to sort through prices and luxury levels to determine where you can get the most for your money.

There are tons of wonderful options out there, and it means you can really get nitty-gritty, once you know what you're looking for and what you need for your body and health. When you are looking for a satisfying sleep environment, you may want to start with the Nolah Sleep mattress, which incorporates proprietary technology, environmental concerns, and reasonable pricing to perform well and meet all your considerations.
$125 OFF
Nolah Mattress
Nolah mattresses are best for sleeping on your side or back, as the contouring properties allow for pressure point relief in these positions.
View Deal
The Beginning
Nolah was launched in 2015 so it has a building history of success. The founders of the Nolah company have a combined experience of twenty years in the sleep field and were determined to utilize top technological efforts to improve upon the sleep experience for consumers. That being said, the goal was to surpass what they felt was an outdated method of employing memory foam and latex, which can be comfortable for some but also tend to hold heat without specialized technology of their own.
Thus, Nolah Air Foam

was born, with the intent to provide a more temperate sleep environment that also assists in pressure relief for key areas of the body that tend to have aches and pains with other types of mattresses.
The Details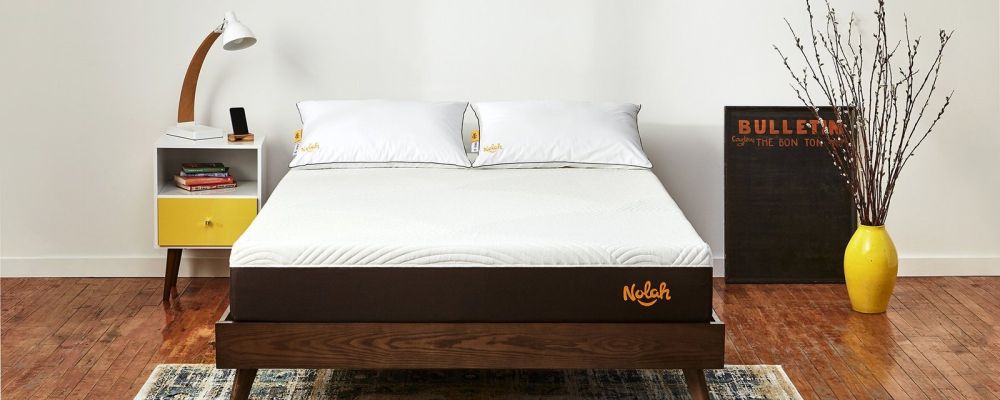 The Nolah Sleep mattress ships for free within the contiguous United States. Unfortunately, they are not yet available in Canada, mostly due to the fact that they don't use any retailers or have any brick and mortar stores. They sell their mattresses solely online through their website. All shipping is processed through UPS Ground so that delivery is guaranteed to be prompt and trackable.
Every mattress is made to order rather than stocked in a warehouse, and they are compressed, sealed in plastic, and shipped in a box. This process takes approximately three to five business days, and then shipping allows for arrival within another two to five business days. Overall, you can expect your mattress to arrive within five to ten business days of placing your order.
Unlike many memory foam mattresses, you won't have to worry about long term off-gassing periods. While there is potential for some off-gassing once the mattress is unpacked, the Nolah mattress requires a few minutes to expand to its full shape and perhaps a couple of hours to assure that any off-gassing is complete prior to sleeping on it. Overall, you'll be able to use your new mattress the night you receive it.
Initial Impressions
One thing that's interesting to note about the Nolah mattress and the Nolah AirFoam

technology is that the company utilizes this proprietary material to create two mattresses, a ten-inch Original 10 and a twelve-inch Signature 12 that is flappable, with one side rated as being medium-soft and the other firm so that it can accommodate just about any sleeper. The AirFoam

is a polyfoam with proprietary ingredients that are touted to offer excellence in contouring to the body as well as maintaining a lower temperature for a more comfortable sleep.
While edge support is not the Nolah's strong suit, it is adequate, and it more than makes up for its slight deficit hereby being extremely quiet, with little noise during movement, as well as with its motion isolation properties.
Construction
The construction of the Nolah mattress is pretty straightforward, with four layers in the ten-inch Original 10 and five layers in the twelve-inch Signature 12.
For the Original 10, Nolah has incorporated a moisture-wicking cover made of a natural viscose material, which aids in providing a cooler, dryer sleep environment. This allows you to get a better night's rest without concern that you'll wake up sweaty and uncomfortable.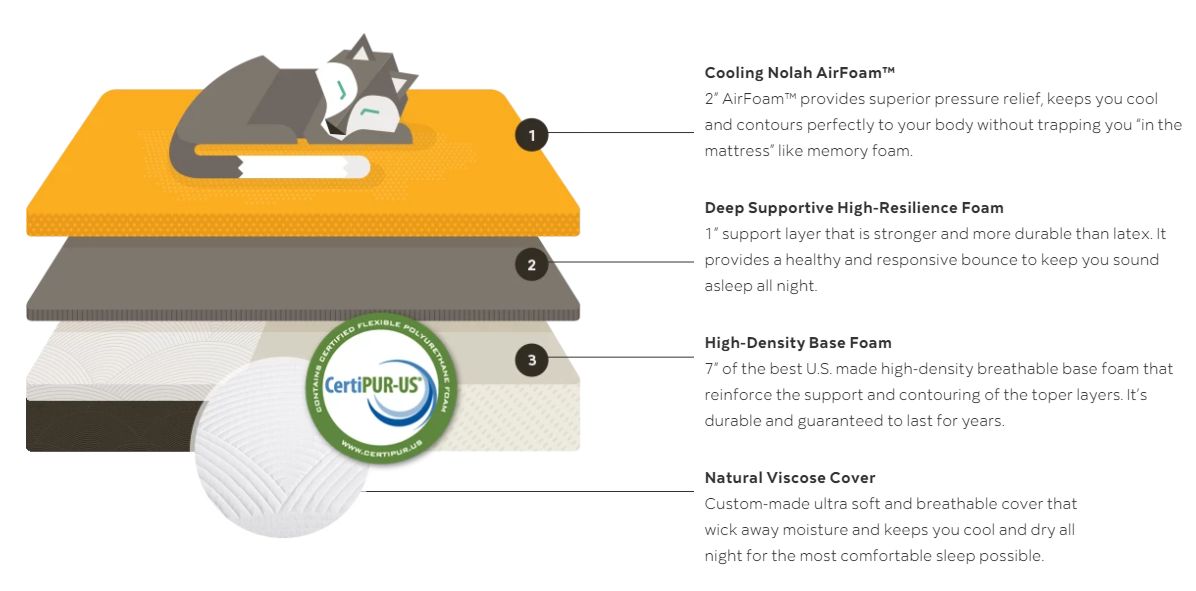 The second layer consists of two inches of the proprietary AirFoam

created by Nolah. This material is made to contour perfectly to your body and sleep position, which relieves pressure at certain points of the body for healthier joints and fewer aches and pains.
Beneath that, the third layer is an inch of Avena® foam, a branded foam technology that adds responsiveness (a traditional slight bounce to the mattress) that other foams often lack. If you have a preference for the feel of a traditional foam mattress, you'll love this added technology.
The final layer of the ten-inch version of the Nolah Sleep mattress is a layer of high-density foam. This seven-inch thick base provides the support required to create the structure of the rest of the mattress and maintain shape, comfort, and durability.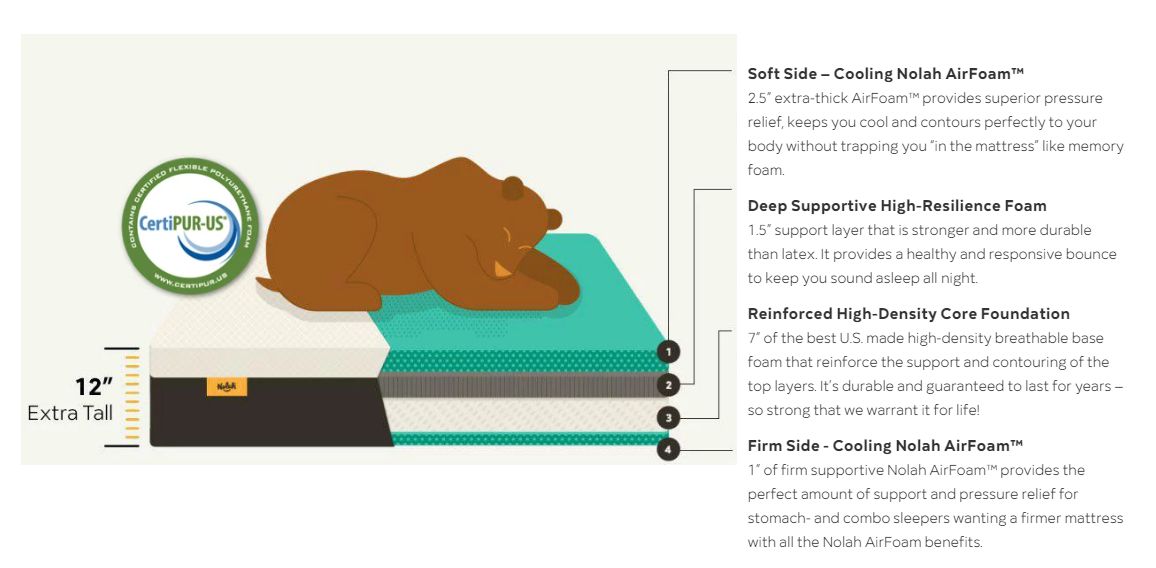 There are some marked differences in the construction of the twelve-inch Nolah Signature 12 mattress that may make an impact on your choice of purchases between it and the ten-inch version. The top layer is actually an organic cotton cover, which provides a smooth, soft comfort that you don't find with other materials. It's also great for those who don't care for synthetic fabrics or have allergies.
Layer two, starting on the softer side of the reversible mattress, is a 2.5" layer of the proprietary cooling AirFoam

developed by Nolah. Again, this is the layer that contours to the body and offers a soft, accommodating touch that envelopes you in all the right places.
The third layer is another type of foam that offers a transition from the softness that allows you to sink in slightly to the firmer foam beneath. This 1.5" layer of foam gives support and responsiveness that keeps you from 'falling' into the upper soft layer without stopping you roughly with the firmer foam below.
Layer four is the seven inches of high-density foam that is the core of the mattress and provides the support and structure necessary for the entire configuration to work.
The fifth layer, which is the top of the firm side of the mattress, consists of one inch of a firm cooling foam that is highly supportive and gives you a firmer surface that, while still contouring to the body, also helps you float atop the mattress if that's your preference.
$125 OFF
Nolah Mattress
Nolah mattresses are best for sleeping on your side or back, as the contouring properties allow for pressure point relief in these positions.
View Deal
Features and Benefits
The Nolah Sleep mattress offers a number of features and benefits between the two mattresses that point to the innovativeness of the founders and their expertise, as well as recommending the mattresses, especially for those who need added pressure point relief.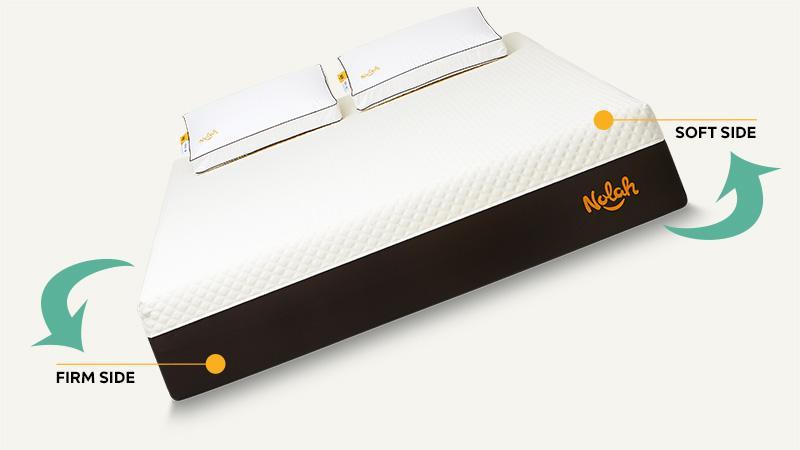 The Signature version is particularly versatile, offering two sleep options to help accommodate your sleep style and position. Because it's flappable, it can work for those who prefer a soft, somewhat enveloping mattress that comforts them, as well as those who like to rest slightly above the mattress with its firmer side, which still offers some contouring benefit and the ability to relieve pressure points. Of course, most people will prefer the soft side, as it's more accommodating to the hips, shoulders, and knees.
Also, the AirFoam

is truly a benefit in that it is naturally cooling. While still thick and soft, it has quite a bit of breathability with air pockets and flows through, thus giving it the name 'AirFoam

'. Heat diffusion is one of the major features preferred by consumers, especially those who sleep hot or suffer from night sweats. The Original can help with this even more, with its moisture-wicking cover.
One of the best things about the Nolah Sleep mattress is that, with both models, you get quality construction at an affordable price. Memory foam and latex can be expensive, and sometimes, you don't even get what you pay for. However, Nolah doesn't have brick and mortar stores, and since mattresses are made to order, they don't have a lot of overhead for storage. That saving gets passed onto the consumer at purchase without having to cut back on quality.
Sizes
There are six sizes available for Nolah mattresses, both the Original and Signature, ranging in the usual sizes from twin to California king, including an option for a twin XL, which allows for taller individuals to make use of a narrower mattress that may be required for a smaller room. This is especially worthwhile if you have children sharing a room, either with two twin beds or bunk beds that they can grow into. With the various size options, you can rest assured that you'll easily find the one fitted to your needs and space. In addition, the ten- and twelve-inch thicknesses mean that you don't have to search for specialty sheets with deep pockets. Traditional bed sheets should fit easily without trouble, making your search for the right sheets quick and easy.
| Size | Dimensions | Weight | Price |
| --- | --- | --- | --- |
| Twin | 10" x 39" x 75" | 49 lbs | $499 |
| Twin XL | 10" x 39" x 80" | 52 lbs | $634 |
| Full | 10" x 54" x 75" | 63 lbs | $754 |
| Queen | 10" x 60" x 80" | 73 lbs | $894 |
| King | 10" x 76" x 80" | 90 lbs | $994 |
| Cal King | 10" x 72" x 84" | 89 lbs | $994 |
Hot sleepers and those with joint pain and morning aches will best appreciate the Nolah mattress, and those who sleep on their sides will find the greatest comfort with the construction of the mattresses. Back sleepers may also enjoy the Nolah mattress. If you're a stomach sleeper, you may still like the mattress, but you'll definitely want to make use of the trial period to determine if it's right for you.
$125 OFF
Nolah Mattress
Nolah mattresses are best for sleeping on your side or back, as the contouring properties allow for pressure point relief in these positions.
View Deal
Heat Transfer
One of the biggest problems consumers face when purchasing mattresses is the idea that, while memory foam is better for contouring than the traditional spring mattress and allows for great pressure point relief, memory foam is essentially 'hot'. It retains heat and causes discomfort through the night. This is especially true for those that are hot sleepers and have night sweats. The Nolah mattresses, with proprietary AirFoam

, negate this issue.
Between the fact that you have a foam material that is made specifically to keep cool, with breathability and air pockets, and the idea that the Original comes with a moisture-wicking cover (as well as the Signature offering a breathable organic cotton cover), you'll sleep in a much cooler space overall, which will help you rest easier.
Durability
With four or five layers, depending on which mattress you choose, the Nolah products are reasonably durable. You have the inner core high-density foam that is seven inches thick forming the mattress and making it strong and sturdy, with plenty of support for the softer layers surrounding or topping it. In addition, while the edge support isn't perfect, it's capable of holding the mattress shape so that you don't experience dips and dents that make the mattress far less comfortable.
Maintenance, Protection, Care and Warranty
The Nolah mattress is CertiPUR-US® certified, which means that you can count on the product is rated to have safe levels (or none at all) of harmful chemicals used for processing. It's also considered environmentally friendly since it doesn't contain chemicals that are also harmful to the environment.
Care and maintenance for the Nolah mattresses are simple. You can spot clean the mattress itself, and the cover is removable for easy washing. It's best not to use bleach when washing, and use the delicate cycle. Hang to dry to avoid any issues that could occur with overheating using older dryers. Wait until the cover is completely dry to replace. It's a great barrier for stains on your mattress, especially with the moisture-wicking properties.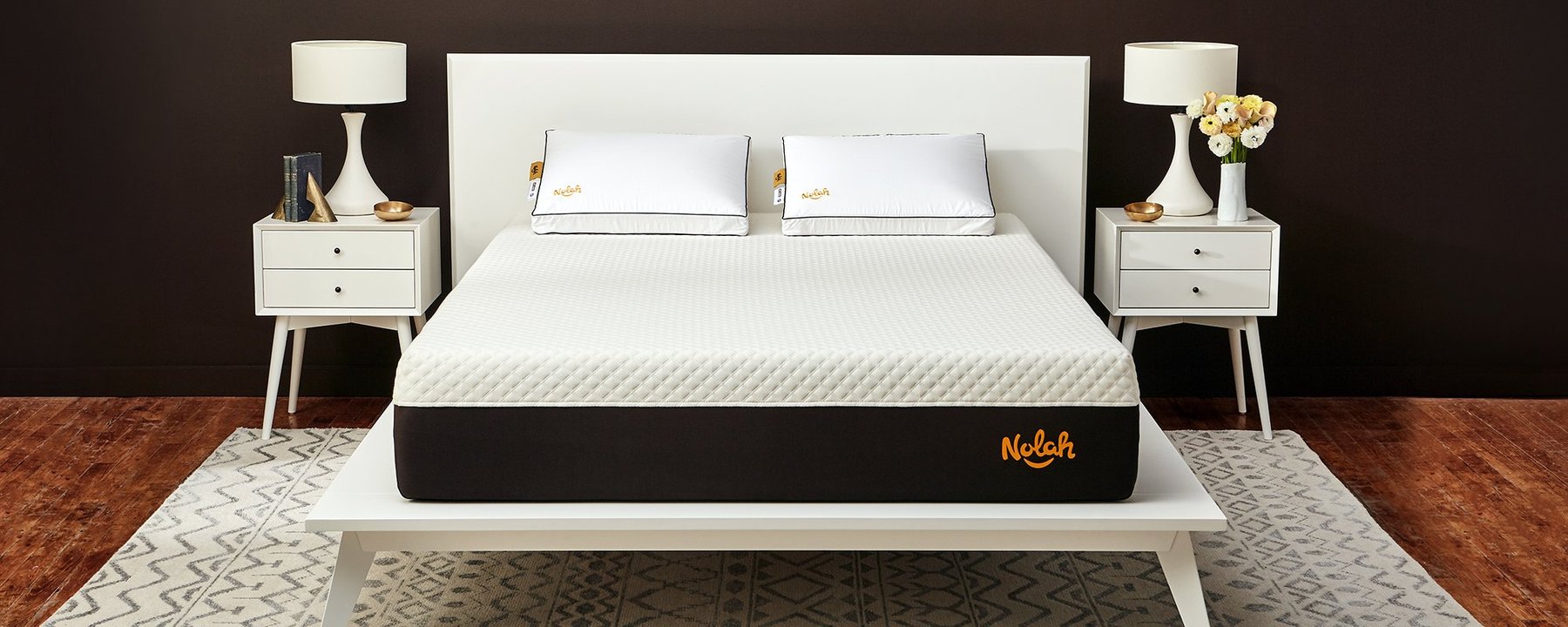 Nolah offers two different warranties, depending on the mattress you purchase. On the Original model (ten inches), they offer a full 15-year warranty, with free repairs and replacements based on a few caveats (which are reasonable and customary). You also have a 120-night trial period during which you can try the mattress and return hassle-free if you decide it's not for you. Be careful – the one requirement is that you keep the mattress for an entire 30-day break-in period prior to returns. For the Signature model, there is a lifetime warranty with the same requirements.
An additional benefit of purchasing a Nolah mattress is that you get to give back – with every mattress purchase there is an opportunity to 'save an animal'. Nolah has partnered with Defenders of Wildlife, and when you check out, you'll find the option to choose from among twenty different wildlife species, and Nolah will sponsor the adoption of one animal. You will later receive an adoption certificate in the mail for the adoption of a sea turtle, polar bear, or whatever choice you make.
Cost
It's important that you get the most for your money when choosing a mattress, and Nolah aims to help with that, having lower price points than many other manufacturers. Prices start at $549, with an Original Queen running you $949 retail (there are coupons and savings available). Overall, considering the care that is taken here and the proprietary design, it's definitely a great value.
$125 OFF
Nolah Mattress
Nolah mattresses are best for sleeping on your side or back, as the contouring properties allow for pressure point relief in these positions.
View Deal
Reviews and Feedback
Most reviews for the Nolah mattresses are positive. People who have tried the mattress testify to its assistance in relieving joint and back pain, and they feel that the description of the firmness is spot on, helping to assure that you get the right mattress for your preference. In addition, the reviews state that there is no overheating, and even many who suffer from night sweats report less moisture in their sleep space for longer-lasting rest.

When it comes to anything negative, some stomach sleepers are displeased with the mattress, but this also comes down to personal preference rather than the configuration of the mattress itself. Most reviews are extremely positive with few if any complaints.
Who Would We Recommend the Nolah For?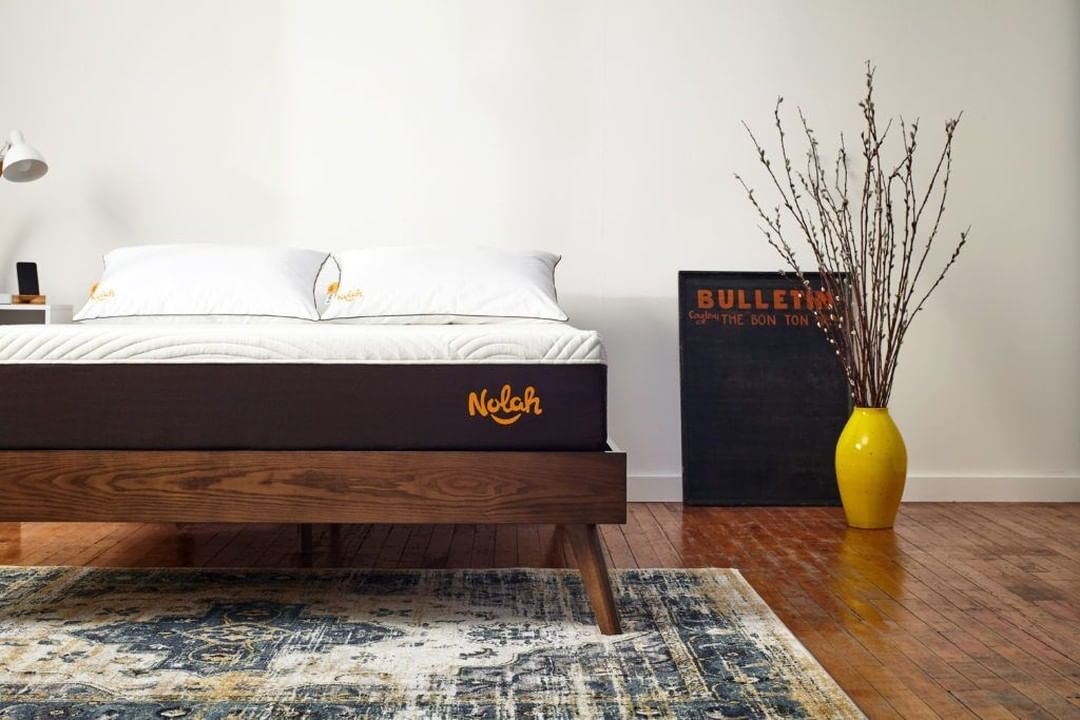 The Nolah mattress would be best suited for those who have arthritis or joint problems, as well as those who may easily overheat at night. It's also excellent if you take prescriptions or have underlying conditions that cause night sweats, especially if moisture and heat cause skin irritation.
If you have allergies, the Nolah mattress is also helpful. Side and back sleepers will find the mattress most welcoming. Stomach sleepers may still benefit, but that is something best decided during the trial period.
Our Final Verdict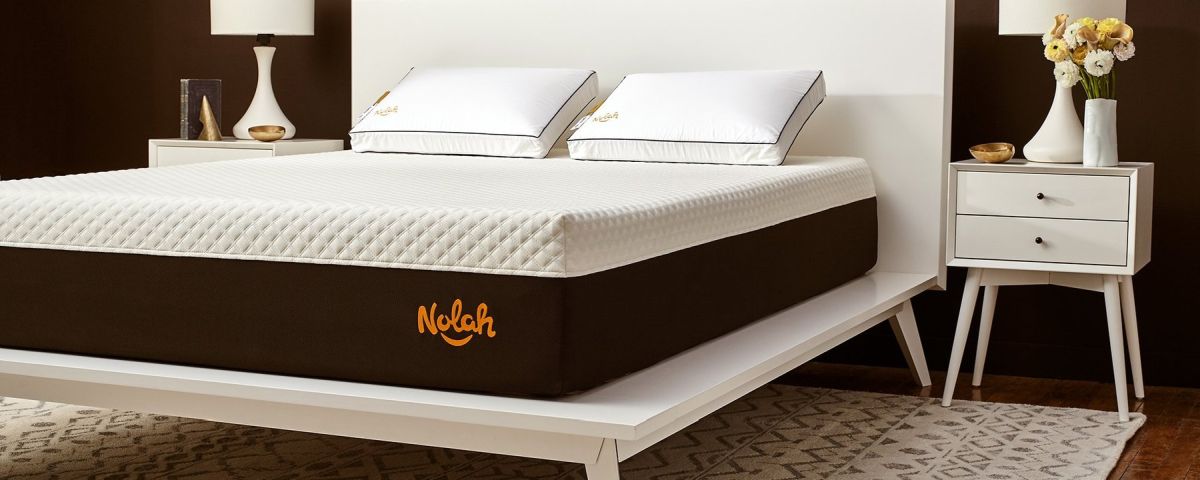 When it comes to overall value, the Nolah mattress, whether speaking about the Original or Signature model, is definitely not overrated or overpriced. It's worth every penny you pay, especially compared to other similar models and their price bracket. With a proprietary foam blend that is highly breathable and keeps your sleep space cool and dry while also offering support with contouring and pressure point relief to remove joint pain, the Nolah mattress should definitely exist at the top of your list.
The versatility of having two choices, one of which is highly versatile with its flappable configuration for soft versus firm sleeping also recommends this mattress as a great option for just about anyone.
The fact that financing is available as well, and that the company offers the opportunity for environmental friendliness, also make the mattress highly desirable. With few downsides, this is one of the best bed in a box mattresses on the market.
$125 OFF
Nolah Mattress
Nolah mattresses are best for sleeping on your side or back, as the contouring properties allow for pressure point relief in these positions.
View Deal
FAQs:
Is a mattress cover needed?
The Nolah comes with a removable mattress cover, so you don't need to purchase one separately.
How does the returns process work?
The Nolah comes with a 120-night sleep trial, with a required 30-night break-in period, and if you aren't happy with your mattress after that time, you can return for a full refund.
Where can these mattresses be shipped?
Layla mattresses can ship throughout the contiguous United States.
Is the loft adjustable?
The Signature mattress is double-sided, one side for firm and one side for medium-soft. The Original is one-sided and is rated as medium.
What type of sleeper is this mattress best suited for?
Any hot sleeper or sleeper who deals with joint pain, as well as side sleepers and back sleepers.
Nolah Mattress
Heat Retention

Quality/Durability

Loft (inches)

Edge Support

Off-gassing

Value (Price

120-night trial

Refunds

15 years (Original) and Lifetime (Signature) warrant
Best for what sleep position?
Nolah mattresses are best for sleeping on your side or back, as the contouring properties allow for pressure point relief in these positions.
Materials:
Cover – Polyester blend (Original), Organic cotton (Signature)
Fill – Proprietary AirFoam

, polyfoam, memory foam, Avena®
Base – High-density foam
Pros:
Versatility with multiple firmness ratings
Breathable and cool with proprietary AirFoam
Well priced for the technology
Little to no off-gassing upon opening